Before Kirk Smock founded his own organic, whole grain sourdough bread company, he was simply a fan.
"I've always been a lover of good bread," he said.
But it wasn't until he and his wife moved to the South American nation of Guyana that he tried making it himself.
"Guyana is primarily a rice-growing country," he said. "Rice is eaten three meals a day. Bread isn't as important."
When Smock couldn't find delicious bread in the local markets, Smock's wife handed him a cookbook called "The Bread Bible" and encouraged him to try baking some from scratch.
"I fumbled through the recipes," he said, "but end result — I loved it. The simplicity of it spoke to me. I was hooked."
For the next decade Smock, a travel writer, followed his spouse around the world as she pursued her career in public health. He also kept baking bread. In Brooklyn he encountered some really good sourdough bread, made with a variety of grains, and worked on duplicating it in his own kitchen. He then took this knowledge to Mozambique, where the local bread staple is a mini Portuguese roll.
"It's a quick yeasted bread made with white flour and baked in clay ovens in the villages. That's what sustains a lot of the population, but it doesn't offer much nutrition," he said. So he started looking for stone ground grains in South Africa and experimenting with making his own foccacia. "I thought about opening a little bakery, but instead I gave a lot of bread away to friends in the ex-pat community," he smiled.
By 2016 the Smock family had expanded to four and they decided to put down roots in Madison, to be close to relatives. He calls that his "now or never" moment in terms of taking the plunge into the baking business. Upon his return, Smock started researching the food regulations, looking for a kitchen space, and making connections with Lonesome Stone Milling in Lone Rock.
"I was enchanted by the idea that Wisconsin was growing lots of grains here, and I could build a bakery using only those local products." With some help from the UW-Madison Small Business Development Center, six months after moving back to Madison he founded Origin Breads.
In addition to organic whole grain wheat and rye flour breads, Origin currently offers varieties that use flax, sunflower seeds, millet, sesame seeds, turkey red wheat, spelt, emmer and kamut. Porridge loaves combine whole grain wheat flour with polenta, oats, millet or quinoa. Focaccia and pizzettas, available at farmers markets, might be topped with olives, dates, peppers and a variety of cheeses.
Smock is also experimenting with a whole grain granola, that he expects will be for sale soon. Working with a part-time baker and a part-time delivery driver, Smock estimates he bakes 600 loaves of bread per week, in addition to 175 mini-baguettes that are used for sandwiches at Underground Butcher. All the mixing is done by hand and his two ovens occupy a corner of a shared commercial kitchen space on East Washington Avenue.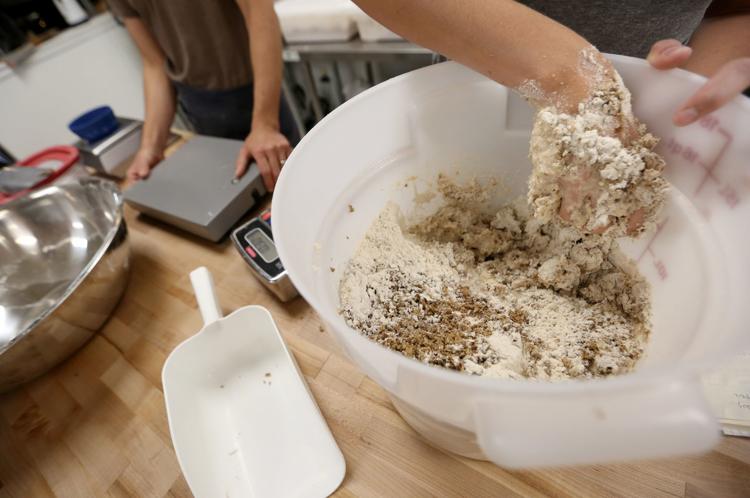 Origin Breads stand out at the East Side and Hilldale Farmers Markets, due to their distinctive boule shape and the graphics baked in. Using stencils, Smock dusts the loaves with extra flour just before baking to create a silhouette of Wisconsin, or a pattern of three wheat stalks to match his logo. The breads are also for sale at all Willy Street Co-op locations, the Regent Street Co-op and at Metcalfe's Sentry, and they are on the menu at Forequarter and Underground Butcher.
Though he doesn't have a storefront, Smock is working on offering a CSA-style subscription with a few pickup points around Madison this fall.
His favorite sales venue is the farmer's markets, where he can offer a wider variety of breads, try out new recipes, and interact with his customers.
"I love getting out there and talking to people while I'm giving out samples," he said. "It's great to introduce people to really good bread that's also healthy."
Because stone ground flour contains the endosperm, the germ and the bran of a grain, it contains lots of nutrients that are usually removed from processed white flour.
"People can taste the difference," he said.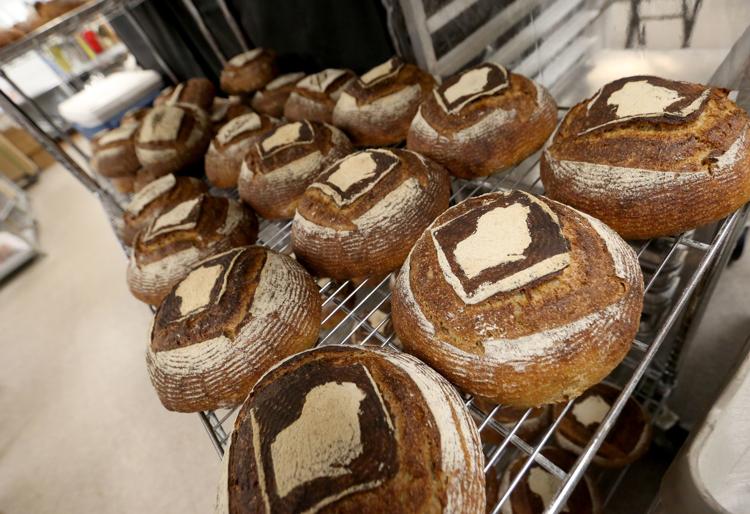 Regardless of health benefits, there is a lot to love about Origin Breads. Both the "Driftless" and the "Classic" loaves have dark, crunchy outer crusts and moist, dense interiors. The sourdough starter, which leavens the bread instead of yeast, provides a nice tang in the finished product.
A "spent grain" bread, using wheat, malt and barley, has a lighter color on the interior and also a chewier texture. These grains are literally the leftovers from the beer brewing process at Working Draft Brewery.
Soaked in warm water to extract the flavor for their beer, the grains are hydrated, but still intact — and they make a marvelous base for a hearty boule. Taking the product full circle, you can try this delicious bread as part of the cheese plate on Working Draft's menu.