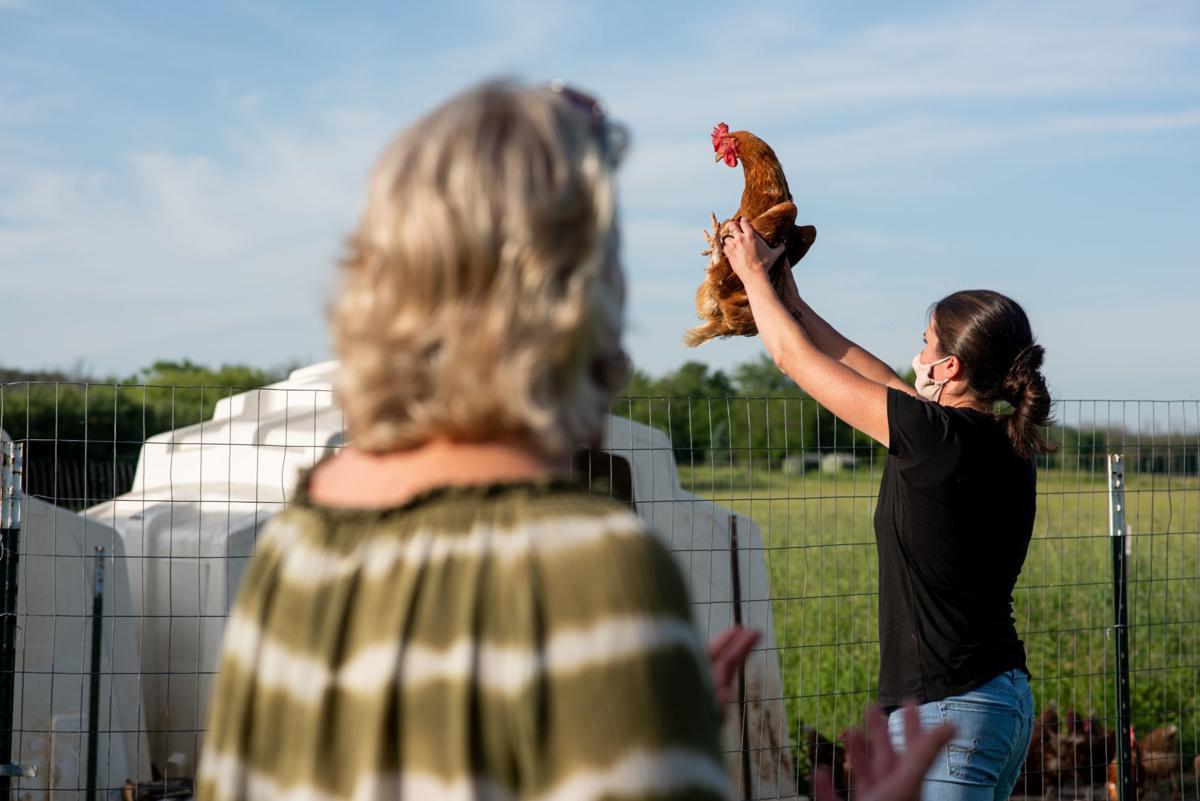 GREEN COUNTY — Terri Belz had no intention to farm. Then her son found a pig.
The mangy, bony piglet was running down a rural road with hooves the size of dimes. He was small enough to fit inside a cat carrier. Three years later, the doted-on Napoleon was an intact boar who weighed 1,000 pounds. He had tusks.
"He got the size of a banquet table. He thought he was our pet," said Belz. Eventually Napoleon had to be sent to slaughter. ("Pepperoni. That's about all they can do with an old boar.")
That experience, over a decade ago, was a crash course in animal husbandry and began Belz's quest to learn more about sustainable meat production and food systems. On a recent tour of her farm, Belz talked fast, flitting from idea to idea like the Monarch butterflies that pollinate her 50 acres south of Belleville along the Sugar River.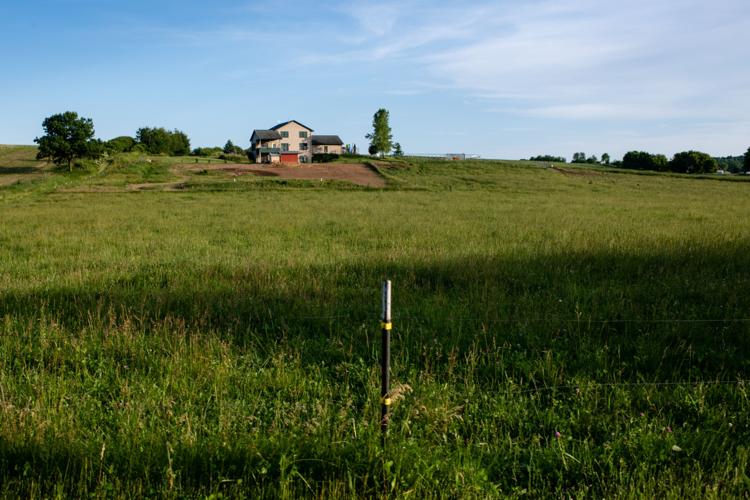 Belz's Sugar River Farm has never come close to turning a profit, but she built up a thriving operation she considers "a step above a hobby farm." Until recently she sold meats and produce at five farmers' markets and to a couple area restaurants while also working full-time in public schools.
Belz has asthma and is at high risk of COVID-19. A cancer diagnosis in 2018 was followed by a double mastectomy and chemotherapy treatment that left debilitating neuropathy pain in her feet. COVID, she said, "was like the last straw." 
Belz had to pare down — no more pigs — and find new ways to get her products to customers. Restaurant business has plummeted as people stay home or get take-out. Crowded farmers' markets with customer contact feel too risky.
Her first step was to develop a "symbiotic" relationship with The Grove Market in Evansville, owned by her daughter-in-law, Jen Wiedel.
A former teacher, Wiedel said she had an "early midlife crisis," studied culinary arts at Blackhawk Technical College and interned at the James Beard-nominated Jack Sprat in rural Alaska. She came back to Wisconsin in 2016 to start what she envisioned as a "little boutique grocery."
Over the years, The Grove Market became more of a restaurant while meeting demand for locally sourced fresh meals, Wiedel said. The pandemic this spring cut her sales in half.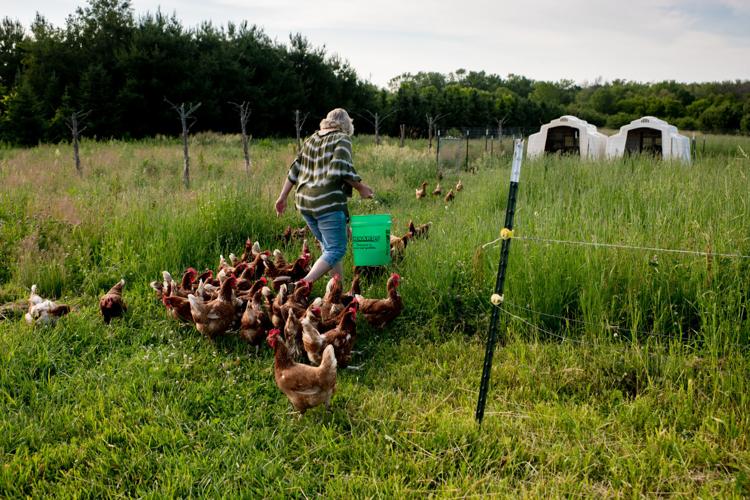 Wiedel decided to move back to a grocery and catering setup, increasing Sugar River Farm's role as supplier. Belz rents shelf space for her products and sells produce to Wiedel for cooking. 
They are also coordinating a "worker swap" where a Grove Market employee comes to the farm to work about 12 hours per week. Compost from The Grove Market comes back to Sugar River Farm to complete the cycle.
Other farmers in the area have also explored new ways to find customers during the pandemic. Clark Family Gardens in Orfordville still sells microgreens and mushrooms at the Janesville Farmers Market and has recently experimented with selling direct and delivering to customers.
"It actually caught on and people are loving it," co-owner Danielle Clark said. "We realized a lot of farmers are doing it." They plan to continue home deliveries within a 30-mile radius of their farm even after the pandemic.
Driftless Direct, a food wholesaler and farm in Monticello, started selling $20 home-delivered boxes of produce this spring. Owner David Parr said the boxes were a way to provide a needed service and fill the gap as revenue dropped from commercial kitchens. At the end of March and beginning of April, when there was a "run on the stores," Driftless Direct was sending out 1,000 boxes weekly.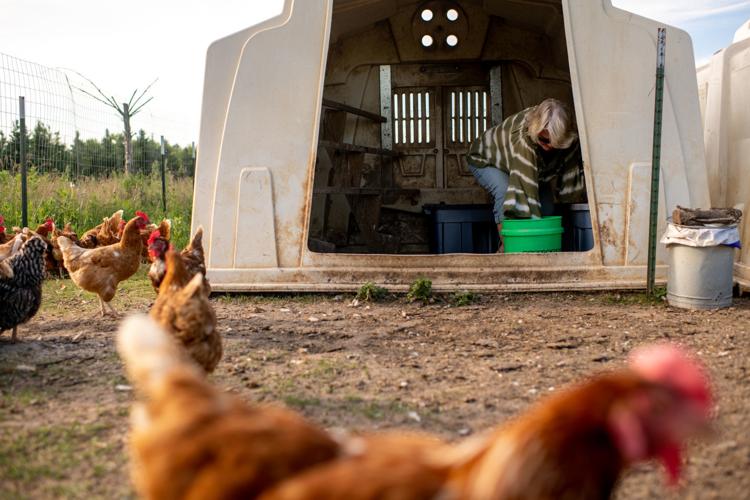 Clark is still evaluating whether he wants to keep doing it. One challenge is switching a wholesale distribution system to home kitchens. People want fruit and variety.
"We do all the kale for a big group of chain restaurants. ... You're not going to sell 500 to 1000 cases (of kale) to a family. Nobody wants even half a box of kale," Parr said.
Belz sends her beef, lamb and pork to local meat processors like the family-run Avon Locker in Darlington. She's on a waitlist now. Manager Andrew Ritchie said Avon is running 10-12 hours per day, six days a week, and booked through April 2021. Some meat processors are booked through fall of next year.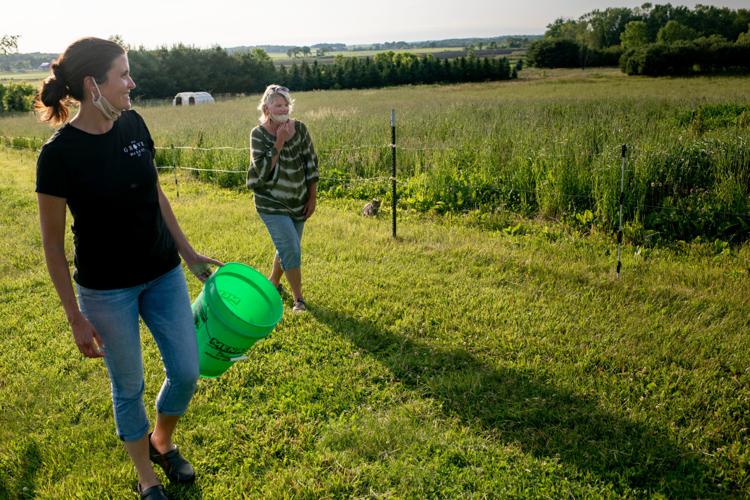 "It just got busy as hell because people needed the meat," Ritchie said. The national meat shortage "forced" many people to seek out local meat, he noted. He hopes customers get a taste for products from animals that are fed better and handled more humanely.
Belz also sees potential for her farm as a place of recreation and education, for adults to escape and city kids to learn about rural life. Her parents moved their family from near Los Angeles to an old farm house near Spring Green when she was 14. 
"They thought it looked like 'The Sound of Music' or something," she said.
As a teacher, she wants to use the farm to promote social justice, help families in need and educate the next generation "to realize there's options in life." She's donated her products and worked with disadvantaged communities in Madison in the past.
A couple of years ago she facilitated a field trip for students from an alternative high school in Madison. She took them kayaking and served them a farm lunch. 
At the end, one teen told Belz he wanted to be a pig farmer when he grew up. That made her day.
Stay up-to-date on what's happening
Receive the latest in local entertainment news in your inbox weekly!