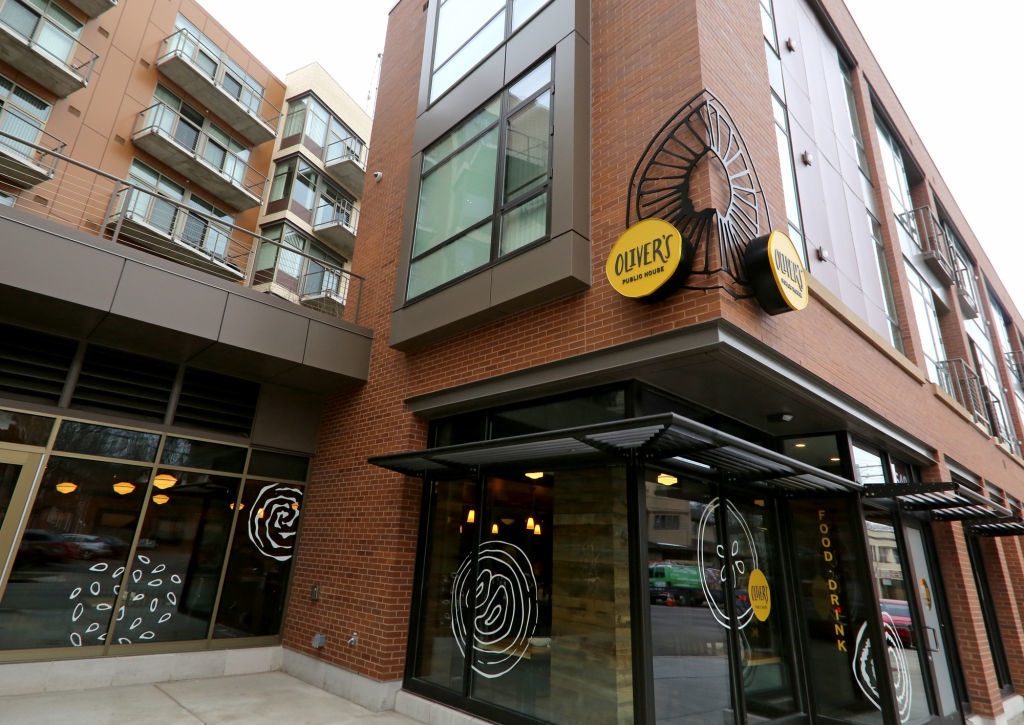 Evan Dannells, former chef at Merchant and Lucille, has taken over Oliver's Public House on the near west side.
At the end of September, Oliver's will close for a minor redesign, and is planned to reopen in early October under the name Cadre.
"They designed a good kitchen, the back end all works," said Dannells. "I love the bar and a whole lot of other things. We're going to do just enough remodeling to have the aesthetic match what I'm going for food-wise."
Dannells has a vision of rustic Southern French food with dishes like braises, confit, bouillabaisse (a French seafood stew) and steak frites. There will be roasted chicken and mussels, beef burgundy in winter and cassoulet on weekends. Dannells' version of cheese curds will involve goat cheese, served with chili honey, pickled radish and blue cheese.
"Cheese on cheese, what's more Wisconsin than that?" Dannells said.
Dannells was inspired by the etymology of the word "cadre," which used to refer to the frame for a painting. Another contemporary definition is of a group of people trained for a purpose.
"It was important to me to make a name for the restaurant that meant something to the staff," Dannells said. "It's just foreign enough to let people realize it's going to be more European, with a little nod to Wisconsin."
Cadre, like Oliver's, will seat about 100 people including an outside patio that faces old University Avenue. The restaurant will be open from 11 a.m. to "no earlier than 9 p.m." on weeknights serving lunch and dinner, with weekend brunch starting at 9 a.m. It will be closed Sunday nights.
Dannels has worked as a chef in Madison for 18 years. He started and co-ran 4&20 Bakery and Café on Madison's east side for several years, which taught him that "Madisonians will be willing to pay, and maybe even be inconvenienced slightly, if they get something that's worth it."
He worked at Merchant for four years and was the opening chef at Lucille, the downtown pizzeria on the corner of King and Main streets. He left that job in January to pursue other projects, including a stint at Pasture & Plenty, Christy McKenzie's café and meal kit business.
Dannells worked at L'Etoile twice, once under Odessa Piper and later as a sous chef for Tory Miller. He'll bring the local farm connections he's made over the years, including a stint as a farm chef at JenEhr, to Cadre.
"One of the benefits of being a chef in this town for so long is I have a lot of incredible people in my orbit," Dannells said. He's hired two sous chefs, Tyler Sundby and Caleb Stevens, and he's not concerned about ongoing staffing problems — at least, not right away.
"Being able to keep it small and control the culture," Dannells said, "and doing your best to be present and take care of people, it's all part of that equation. We haven't had a lot of staffing problems despite the market being the way it is."
Oliver's opened in 2014 under chef Patrick McCormick. Dannells is now majority owner of the restaurant, sharing ownership with general manager Ricky Pajewski and Bob Harriman of the construction company R.G. Harriman Inc.
Dannells acknowledges that the location, at 2540 University Ave., is awkward because of tight parking and part of the street being one-way. He envisions Cadre as a date night place, with entrees in the high teens and low 20s, among a supportive dining community that incorporates nearby Lombardino's, Blue Moon Bar & Grill and Pasture and Plenty.
Despite some high-profile restaurant closings recently with Sujeo and Forequarter, Dannells doesn't believe the market for restaurants is saturated.
"If people focus and work hard and try to do a good thing well, Madison will take care of those people and places," Dannells said. "You have to do the work to stay relevant and engage with people, remind folks you're out there. One of the big benefits of our big little city is there are lots of options."
Stay up-to-date on what's happening
Receive the latest in local entertainment news in your inbox weekly!