Squeezed in next to the craft beer and Stella Artois taps at Sardine on Williamson Street is something new to the Madison area: nitro coffee, a delicious national trend in cold brew.
Nitro coffee — cold brew infused with nitrogen — is creamy, velvety and very caffeinated. Like beer, it's served on tap from a keg, usually without ice.
Lately it seems like nitro is available at a new place in the area every day, from Rosie's Coffee Bar and Bakery in Monona to Yola's Café on the west side. Velostein, a mobile nitro coffee keg on a bicycle, pedaled around to local festivals starting this summer.
The first place to carry it locally was Crescendo Espresso Bar and Music Café on Monroe Street. About a week after owners Cait and Paul Sirianni perfected their nitro technique and introduced it last April, Bon Appetit ran a story about the nitro trend and mentioned Crescendo by name.   
"Our iced coffee sales went up 400 percent," said Cait Sirianni, "and our cold brew was super popular before. During the summer, (nitro coffee) was, by far, the number one seller."
Attracted by the lower acidity and smoother taste, many coffee lovers have started drinking nitro cold brew year-round.
At Crescendo, the Siriannis start with the toddy method to make cold brew, steeping grounds in water for 16 hours to make a concentrate. For the coffee, they use Atomic Blend from the Milwaukee-based Anodyne Coffee Roasters, a medium/dark roast with chocolate-y flavors.
Then Crescendo adds water to the concentrate in a not quite half and half ratio. The cold brew goes into a keg with 100 percent nitrogen, and sits for 48 hours before going on tap. A more typical beer mix of 70 percent nitrogen and 30 percent carbon dioxide didn't work as well, Cait Sirianni said.
"Nitro was ingredients we already had," she said. "It was elevating something we already did really well, without adding a lot of frills and keeping the integrity of the coffee."
Nitro coffee doesn't taste carbonated, but the tiny bubbles of nitrogen make already smooth, chocolate-y cold brew even smoother. It's refreshing and seems to taste sweeter, with a textural creaminess.
"It feels like this indulgent drink," said Jen Roth, who co-owns Cadence Cold Brew with her husband, Roy LaValley. "Cream and sugar is used to combat bitterness of coffee for most people. (Nitro is) comparable to having a latte, yet you are drinking just black coffee."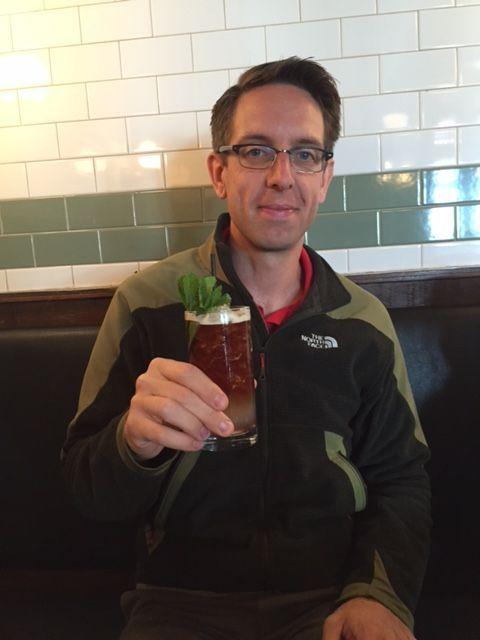 Cadence, which handles nitro service from making the cold brew to maintaining kegerators, is partly responsible for the proliferation of nitro coffee in the area. Short Stack Eatery carries Cadence's cold brew, while Sardine, Chocolaterian, Rosie's and Yola's all have their nitro. It's all made with beans from JBC Coffee Roasters (formerly Johnson Brothers), a blend of 80 percent South American beans and 20 percent Kenyan.
 "I like iced coffee, and I love the creamy yumminess of Guinness," said Leanne Cordisco, who co-owns Chocolaterian. "It's a real treat. My experience is that it's higher in caffeine, probably because I drink more of it."
Cadence sells to businesses, too. For $73 a week, they provide a nitro keg to Shoutlet and Propeller Health. Each five gallon keg holds about 65 cups of coffee, which works out to about $1.12 per cold brew.
"A lot of places want their people to stay in and not have that expense of paying double and triple for daily coffee," Roth said.
Some businesses are hesitant to bring in nitro cold brew in January and February, but Cadence has been trying to challenge that.
"On the coast cold brew has been ... bucking seasonality," Roth said. "It doesn't have to be a summer thing. I know I'm biased, but I so prefer the refreshing coolness in the morning as compared to hot coffee."
On Monday morning, Cadence will kick off a promotional growler program at Rosie's in Monona, and will give away nitro coffee for free until the keg is cashed. Customers can pay $5 for a growler, either 32 or 64 ounces, and be responsible for cleaning it out and bringing it back for refills. A growler should last about two or three weeks, Roth said.
After Rosie's, Cadence plans to do the same growler promotion at Chocolaterian and "go down the line" of places that stock their nitro.
The typical way to try nitro is straight and cold, though Crescendo adds ice because that's what most local folks expect from iced coffee. They also mix it up on a secret menu; those in the know can order a cold brew mixed with Lake Louie Dark Shadows Milk Stout, or nitro shaken with chocolate milk for an "After School Special," $3.75-$4.
At Sardine, the bar serves coffee cocktails like "... And Everything Nice," made with cold brew, Rittenhouse Rye Whiskey, spiced pumpkin simple syrup and half and half.
"It's enhancing something that's already really good, but taking it to the next level," Sirianni said. "That's what we feel the nitro does. It's just great coffee."