A San Francisco-based startup dealing in heart-shaped potatoes and surplus tomatoes opens its warehouse doors in Madison and starts deliveries Monday.
Imperfect Produce offers subscription grocery boxes of fruits and vegetables that, the company claims, farmers would otherwise be unable to sell — perfectly edible squash and onions that might be tilled back into the field or become animal feed. Prices start at $11-$13/week for the smallest box of fruits and veggies and top out at $39-$43 for an extra large organic box, plus $5 for delivery.
Imperfect Produce's stated goal is to combat food waste. A press rep for the company said Imperfect has recovered 40 million pounds of produce since launching in 2015, "32 million of which was recovered just this past year."
"We try to get in right at the farm level with independently owned farms," said Patrick Judge, Imperfect's Chicago-based regional director of operations. "We are moving in the online grocery direction, but it's 100% because we're trying to build a more sustainable food system."
Laurel Burleson owns the Ugly Apple food cart and catering company, turning local farms' seconds into apple fritters and breakfast frittatas. If people understand that misshapen food is still edible, that's a good thing, she said.
"People are already moving that way, with the resurgence of heirloom tomatoes and things like that," Burleson said. "And there are issues with accessibility."
Yet Burleson doubts that those who subscribe to a weekly box from Imperfect Produce are on the tightest food budgets. More likely, "it's cutting into the market of affluent customers who would get a CSA box from a farmer."
"I've been telling everyone I know not to do it," Burleson said. "Don't subscribe to it. Get a CSA share."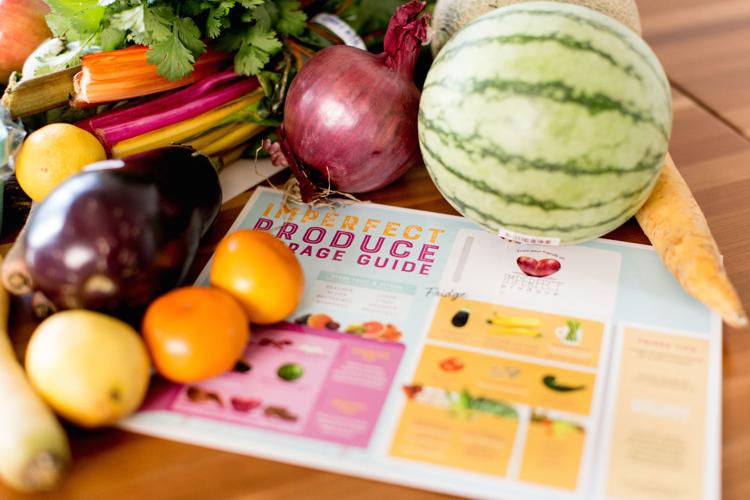 "When I first heard these numbers, I couldn't believe how much food is wasted in this country," Judge said. "It's insane. Once people start seeing that we're not just a company in business to try to be profitable ... we are trying to build better food systems and fight all this waste."
Yet "lost" food — good food that could be eaten by someone, not the brown lettuce in your fridge — is profitable, and the business of reclaiming it is attractive on several levels. As Inc. reported last month, "return on investment from interventions to limit food waste is quite high."
Imperfect Produce is venture capitalist funded, raising $2.8 million to expand across the country from Los Angeles, Portland and Seattle to Chicago and Indianapolis in the last four years. Co-founder Ben Simon told Food & Wine magazine last fall that the company hopes to distribute in "all major metropolitan centers on the East Coast by the end of 2020."
Hungry Harvest and Misfit Market, both concentrated on the east coast, offer similar services. Kroger introduced "Pickuliar Picks," a marketing campaign around misshapen produce, in its grocery stores in the first quarter of 2019, as part of its "Zero Hunger/ Zero Waste" campaign.
"There are rare instances in which we purchase produce from the wholesale market in order to fill shortages due to products that arrive in poor condition or products that yield lower than expected, in order to fulfill our customers' expectation," explained Lucy Mink, a press representative for Imperfect Produce. "When we do that, we're not informed of the brand that we receive."
Mink added that out of 200 growers Imperfect Produce works with, about 80% are family farms or cooperatives.
"We've heard directly from local growers that in any given year, anywhere from 5 percent to 50 percent of their produce is unmarketable in grocery stores due to surface-level cosmetic standards," Mink wrote, "ending up wasted or sold to processors and animal feed producers at a loss to their bottom line and resources."
Imperfect Produce gets a technology boost on several levels. Subscribers get a notice a few days ahead of their delivery with an option to customize their box (a feature CSA farmers have been experimenting with as well). Then they receive a text message when the box is about to be delivered, and drivers won't drop off if the weather is, say, below freezing.
The customization feature makes it more like a grocery box than a box of only vegetable seconds. Customers can add or swap for organic basmati rice, canned cold brew coffee, Annie's shells and cheddar, chocolate chip cookies and bagged popcorn, among dozens of items. Subscribers can browse among vegetarian options, gluten-free foods, salad ingredients and items "exclusively at Imperfect."
Every item has a story of why it's on offer, like "scarring, green shading" (lemons), "surplus" (fava beans, mangos, artichokes), or "short-coded" (veggie broth, spinach couscous). Short-coded items have expiration dates still months away, but too close for grocery stores to bring them in. 
Unlike Blue Apron or HelloFresh, Imperfect Produce sends most of its produce without additional bagging. The boxes are recyclable. A surprising study released in April indicated that meal kits have a smaller carbon footprint than the same meal sourced from a grocery store and cooked at home. If a home cook is good about using up her unattractive sweet potatoes and overstocked avocados, the same could be true for grocery delivery like Imperfect Produce.
When produce does come from Wisconsin, Imperfect Produce says so in the item description. Currently on offer: conventional onions, red and yellow potatoes, and sweet potatoes (from Madison). Locally, Imperfect Produce is already working with the Wisconsin Food Hub Cooperative. Because packing of boxes happens in Chicago, this means the produce goes from Wisconsin farms to Chicago, then back up to Madison and Milwaukee in refrigerated trucks. Food Hub general manager Tara Roberts-Turner called Imperfect "a great partner."
"We have shipped over 15 different category items to them from over 100 farms," Roberts-Turner wrote. This allows "farmers to sell products that aren't allowed into the retail mainstream."
Without a consistent purchasing outlet for these seconds, she said, those small to midsize farms "may not be able to stay in business." 
Chris Brockel, head of FEED Kitchens and founder of Healthy Food for All, said he's already had several conversations with leadership at Imperfect Produce. In addition to working with volunteer gleaners who recover produce from farms, Healthy Food for All has done food reclamation work with companies like Epic Systems and American Family Insurance.  
Kris Tazelaar, communications director at Second Harvest Food Bank, said he hasn't talked to Imperfect Produce yet but hopes to.
"We have to meet standards as well in terms of food we can distribute," Tazelaar said. "We are constantly looking for new sources of healthy nutritious food. If this is a possibility we'd be willing to have that conversation."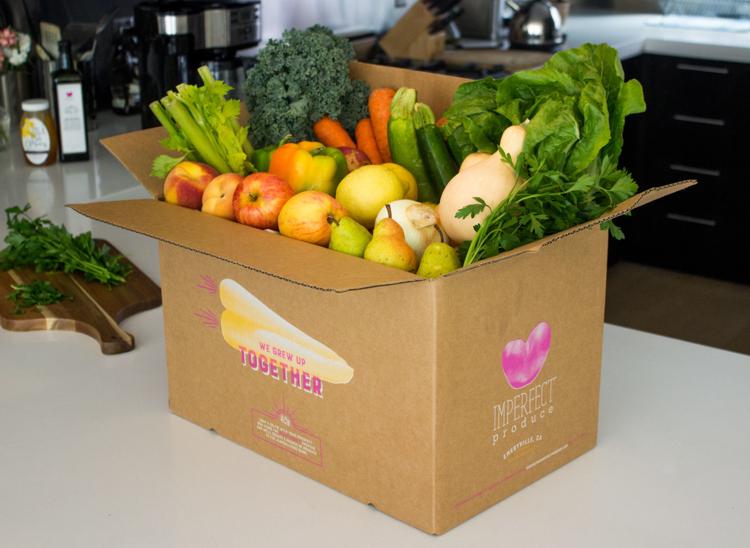 FairShare CSA Coalition director Carrie Sedlak said her main concern was that, for those unfamiliar with CSA, a company like Imperfect Produce could confuse people with good intentions.
"Non-CSA members will inherently assume that the produce in the boxes is sourced locally, aside from obvious non-local items like bananas," Sedlak wrote in an email. "I have concerns about this muddying the waters for the meaning of CSA, far more than I did with meal kit services like Blue Apron, since the Imperfect model is much more akin to the CSA structure."
Strader, an organic vegetable educator who works for both FairShare and Dane County Extension, said she's worried that instead of helping farmers, this could hurt them.
"Farmers suffer when produce prices are depressed," Strader wrote in an email. "Local farmers suffer when cheap food comes in from far away. ... To me it sounds like another company jumping on the success of direct organic markets with a greenwashed program that is meant to attract the same customers for less money."
Locally, Imperfect Produce will start delivery in Madison, some immediate suburbs (Fitchburg, Monona) and parts of Janesville. Judge was coy about how many customers they're trying for in the Madison area, but a press release declared, "If just 2,500 residents sign up, the community would be recovering 26,450 pounds of produce each week."
"As we start spreading out across the country, we're constantly looking for new partnerships with local farms," said Judge. "There's 20 billion pounds of produce that go unsold and unharvested. We're trying to do what we can to dive into that, to sell it to the consumer to a discount."