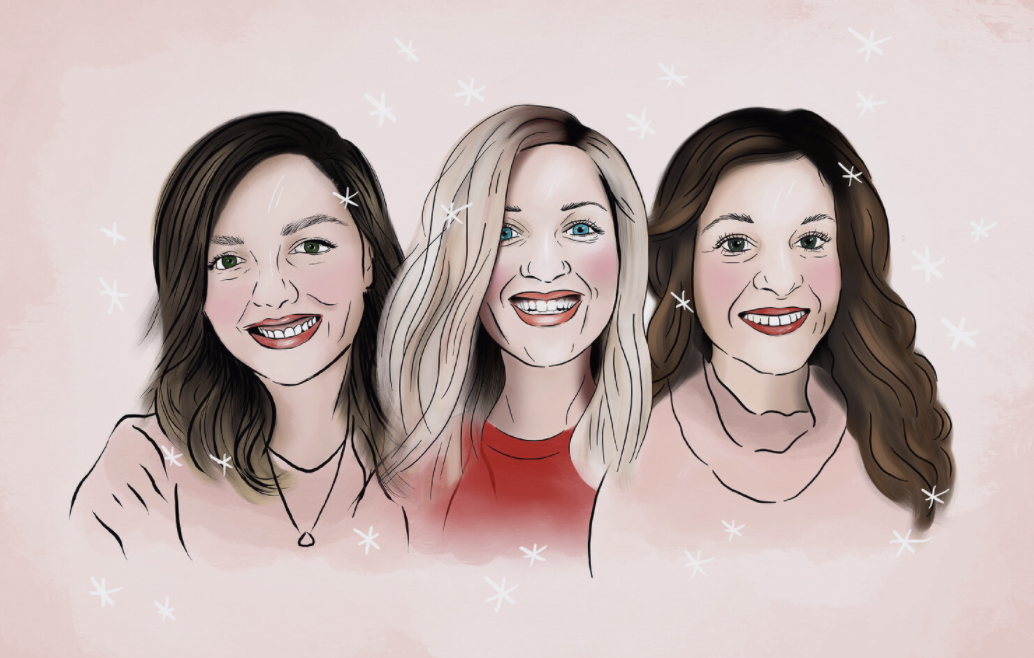 When New Fashioned Sobriety launched last year, it aimed to address one of the toughest things about living sober in the Old Fashioned state: keeping up a social life.
"So many events for women and moms are focused on wine time or happy hours," said Jenny Peabody, who lives in Sun Prairie. "We wanted to make connections that didn't revolve around drinking."
Peabody, Sarah Patnaude and Nicole Peaslee combined their respective strengths in event planning, marketing and design to create New Fashioned Sobriety, with community meetups and a line of branded merchandise. Rendered in peachy pinks and curving script, the collective presents itself on Instagram as an "alcohol-free community for sober + sober curious womxn based in WI."  
"We were going to be a Wisconsin-only community and focus on the Madison area," Peabody said. "We wanted to be on Instagram, but have a pretty significant meet-up component to it."
The "better" part of that launch date turned out to be the ability to reach sober and sober curious women from Nebraska, South Carolina and Florida, as well as cities further outside Madison.
"A lot of people said they were drawn to us because of the look and feel of New Fashioned Sobriety," Peabody said. "They wanted that comfort, that Wisconsin-warm hug from all of us."
That wider reach also led to some unexpected revelations.
"Did you know that 'kiddie cocktail' is not a term people use outside the Midwest?" Peabody said. New Fashioned Sobriety's "Kiddie Cocktail Club" Tee in cherry red costs $20.
The design of that Tee, with sparkles and a perfectly round cherry, came from Peaslee, who lives in Madison. Personally she's fine with "mocktail," but many prefer "nonalcoholic cocktail." Peaslee has been sober since Feb. 3, 2019.
"If I was still drinking, I would be a hot mess right now," she said. "It's easier to hide it when you're working from home."
Toward the end 2020's pandemic spring, 14% of American adults reported they were drinking more. According to a study by JAMA Network Open, the biggest spike came from women, whose heavy drinking went up by 41%. (Heavy drinking was defined as four or more drinks over a couple of hours.)
The members of New Fashioned Sobriety noticed.
"I actually saw a greater sense of pride within the sober community once the pandemic hit, because it became harder than it already was," said Peabody. "We started seeing a lot more marketing and commercials and memes and posts from our friends. 'It's 3 o' clock and I'm home, so it's cocktail time.'
"We as a community came together to say, what can we do to take care of ourselves during this time?" Peabody said. "There's so much outer influence. How can we support each other? That was a cool shift in the sober community."
New Fashioned wants to meet women where they are. Peabody and Peaslee both tried Dry January before they got sober and failed. Peabody kept trying and failing until April 22, 2019.
"It's important for people to hear that failure is OK," Peabody said, "it means you're trying."
"The thing I learned about sobriety is you have to be gentle with yourself, take it easy," Peaslee agreed. "There are failures but that's how you grow."
Sobriety empowered Peaslee to try new things, like getting back into running. (New Fashioned Sobriety sells "zero proof run club" racerback Tees, sweatshirts and hoodies.) She's been inspired to try new forms of art. Though she never thought of herself as a people person, she's been making new friends.
So far, New Fashioned has had only two in-person meet-ups. The founders are hoping for more of those in 2021, maybe even a group retreat.
"There's something different about being face to face," Peaslee said. "I'm excited to get back to that. But I appreciate the virtual meet ups. I look forward to them every other week."
"Once this pandemic is over I'm hoping that the sober movement in Madison will get a little bit more momentum," Peabody said. "We're stunted, compared to other states and places in the country, because of the super heavy drinking culture.
"But we've made connections with organizations, venues and restaurants, with people who want to expand sober awareness and branding," Peabody said. "We want to change the narrative of what being sober is. For so long it's been stuck in this narrow shame-filled box, and there's more to sobriety."
Share your opinion on this topic by sending a letter to the editor to tctvoice@madison.com. Include your full name, hometown and phone number. Your name and town will be published. The phone number is for verification purposes only. Please keep your letter to 250 words or less.