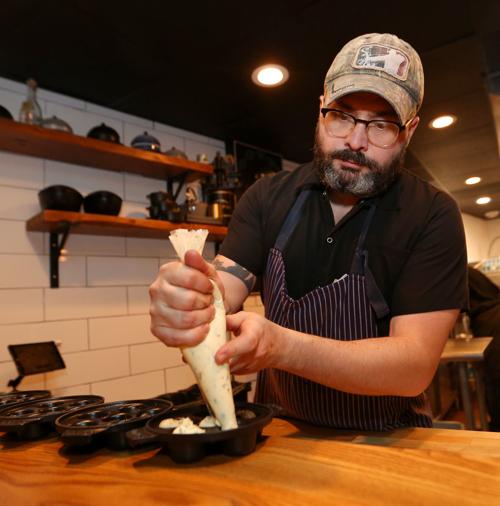 The sole Madison chef to make the James Beard Awards "long list" of semifinalists in 2020 is Sean Pharr, chef/owner of Mint Mark on Madison's east side. Pharr is a semifinalist for Best Chef: Midwest. 
"I'm insanely surprised," Pharr said. "This isn't anything that's on my radar. I'm incredibly honored to be among the people they selected." 
Pharr returned to Madison and opened Mint Mark in 2017 in the former location of the Mermaid Cafe. Previous credits include The Bristol (executive chef), Balena, Formento's, Tru and NoMI, all in Chicago. Previously in Madison he worked at Harvest. 
At Mint Mark, Pharr oversees a constantly changing list of small plates influenced by season and his Midwestern heritage as well as classical techniques. Recurring dishes include pierogi, sausages, bright and hearty winter salads, a flaky biscuit with honey and roasted cauliflower with bagna cauda.
Pharr runs Mint Mark with business partner Chad Vogel of the Robin Room and, for weekend brunches and Friday martini lunches, Kyle and Gwen Johnson of Johnson Public House and Kin-Kin Coffee. 
"The goal is just making sure Mint Mark constantly serves delicious food and taking care of my team," Pharr said. "It's nice to have validation for the team, that they're doing the right thing." 
Previous winners of James Beard's Best Chef: Midwest include Tory Miller (2012) and Odessa Piper (2002) of L'Etoile. Other semfinalists in recent years have included Dan Fox of Heritage Tavern, Jonny Hunter and Maggie Roovers of Forequarter and Francesco Mangano of Osteria Papavero. 
The full list of semifinalists for Best Chef: Midwest include: 
• Dane Baldwin, The Diplomat, Milwaukee
• Andrea Baumgardner, BernBaum's, Fargo, ND
• Karen Bell, Bavette La Boucherie, Milwaukee
• Steven Brown, Tilia, Minneapolis
• Michael Corvino, Corvino Supper Club & Tasting Room, Kansas City, MO
• Daniel del Prado, Martina, Minneapolis
• Linda Duerr, The Restaurant at 1900, Mission Woods, KS
• Michael Gallina, Vicia, St. Louis
• Nicholas Goellner, The Antler Room, Kansas City, MO
• Vaughn Good, Fox and Pearl, Kansas City, MO
• Lona Luo, Lona's Lil Eats, St. Louis
• Benjamin Maides, Au Courant Regional Kitchen, Omaha, NE
• Jamie Malone, Grand Café, Minneapolis
• Jesse Mendica, Olive + Oak, Webster Groves, MO
• Loryn Nalic, Balkan Treat Box, Webster Groves, MO
• Christina Nguyen, Hai Hai, Minneapolis
• Sean Pharr, Mint Mark, Madison
• Joe Tripp, Harbinger, Des Moines, IA
• Hai Truong, Ngon Vietnamese Bistro, St. Paul, MN
• David Utterback, Yoshitomo, Omaha, NE
Pharr said he hopes the awards can "bring smaller towns and markets in America to light as opposed to just Chicago, New York, San Francisco, DC. There's incredible chefs everywhere.
"Madison has so many great chefs, even outside Madison." 
Pharr and Vogel are working on opening the Muskellounge and Sporting Club in the Lake Edge Shopping Center, ideally by May. 
Nominees for all award categories will be revealed on March 25. 
"I'm really excited for my team," Pharr said. "This is about them." 
Stay up-to-date on what's happening
Receive the latest in local entertainment news in your inbox weekly!