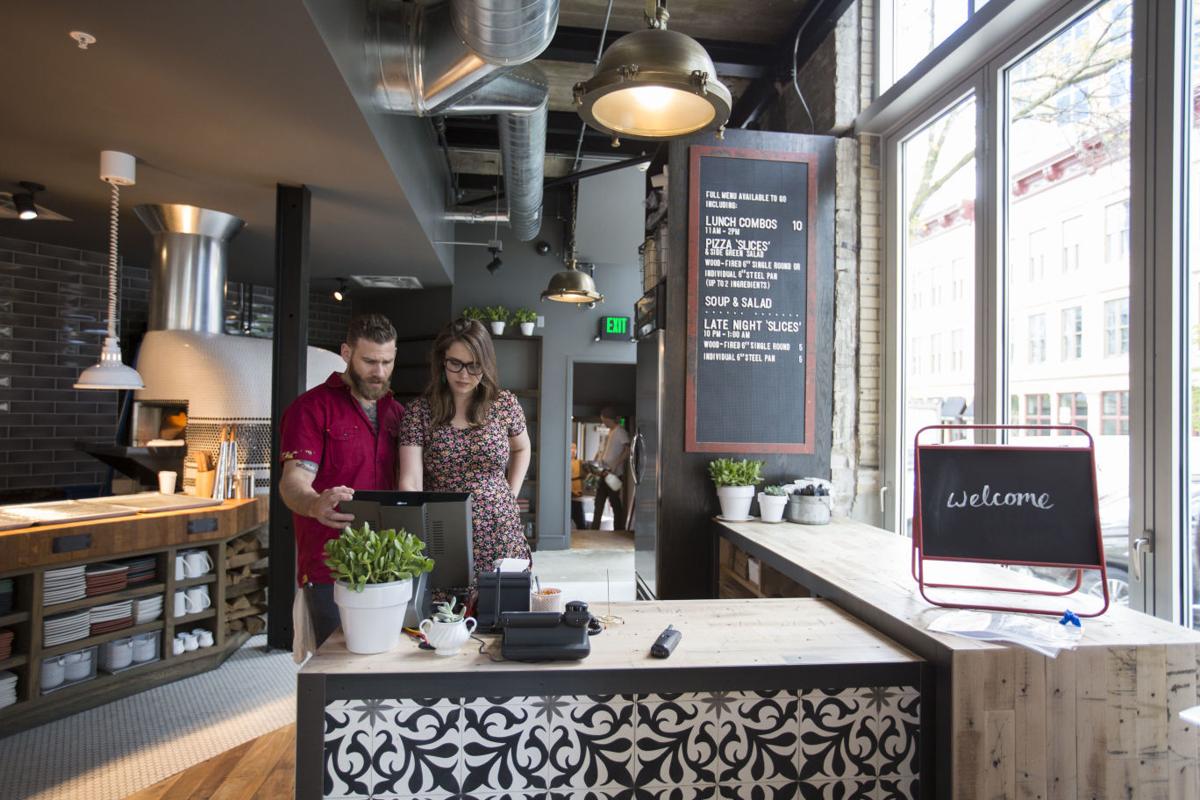 Within a stream of disappointing, dangerous and all-around bad news, at least there's this: Madison can still get cheese. 
In response, Madison's pizzerias, Mediterranean spots, cheese shops, coffee houses and fine-dining establishments have adapted in creative and evolving ways. Plan to pay online or over the phone, considered safer than cash. 
Many restaurants have laid off staff and/or closed their doors. Support local bartenders, cooks, servers and baristas via PayPal or Venmo (a very simple electronic payment option) at the Madison Virtual Tip Jar. As of this reporting, more than 1,000 industry folks had added their names. 
Alimentari by A Pig in a Fur Coat, 306 S. Brearly St. — The deli run by the team at nearby restaurant A Pig in a Fur Coat makes fresh pasta and sells sandwiches and charcuterie daily. Pig in a Fur Coat is also family meal-style fresh pasta (rigatoni or bucatini) with a choice of four sauces, including beef Bolognese and mushroom ragu. There are two kinds of lasagna for "a hungry family of four." Both of these options are available for curbside pick-up at Alimentari (11 a.m.-3 p.m.) or delivery by 4 p.m. the following day. Check Pig in a Fur Coat's Facebook, order pasta online at alimentarimadison.com or call 665-3650. 
Banzo, 2105 Sherman Ave. — In addition to the usual fantastic falafel pitas, creamy hummus and shawarma, Banzo is offering new "take and bake" meals for $45, meant for three to five eaters. These kits include falafel, kebabs, chopped salad, rice and lentils, and all the condiments (tahini, yogurt dill sauce and hot sauce). Available until 7 p.m. or until they run out. Banzomadison.com; 441-2002 ext. 2
D'Vino, 116 King St. — If "meatball Mondays" sound like the perfect indulgence while working from home, this new wine and small Italian snack bar has you covered. From 11 a.m. to 2 p.m. starting March 23, D'Vino will offer curbside pickup of meatballs (made with beef, pork and veal) stuffed into a Madison Sourdough baguette with red sauce, giardiniera and melted provolone, for $12. Order ahead for curbside pick-up at dvinomadison.com. 
Fromagination, 12 S. Carroll St. — The artisan cheesemonger on the Square has reduced its hours and will allow only seven people in its small shop at a time. Fromagination continues to ship cheese and will provide carry-out lunch items and cheese trays. Order an hour before you plan to pick-up. Current hours are 11 a.m. to 4 p.m. Tuesday through Sunday. fromagination.com; 255-2430.
Great Dane Pub & Brewing Company (locations downtown, Hilldale, Fitchburg and Eastside) — Madison's most popular pub mini-chain is offering food delivery and carry-out beginning at 11 a.m. daily. The limited menu includes a burger, a reuben, a chicken wrap, Cobb salad and "Wisconsin style cheddar mac." You can also get six- and four-packs of specialty beers, as well as the Great Dane's flagship brews. Orders will be labeled and placed on a to-go shelf at each location; phone or online payment only. They're working with EatStreet for delivery. greatdanepub.com/menus
Indie Coffee, 1225 Regent St. — This campus-area coffee shop will take your order for a bacon, egg and cheddar bagel sandwich and coffee over the phone and bring it to the curb. Counter service is available for take-out only. Call ahead at 259-9621 or visit indiecoffee.net. 
Johnson Public House, 908 E. Johnson St. — Seeing the entire bulk coffee aisle closed at the Willy Street Co-op was a blow. Thank goodness Johnson Public House, with its sister company Kin Kin Coffee Roasters, is offering pick-up at its coffee shop (8 a.m.-3 p.m.), free shipping for roast coffee beans and "very local" delivery. They've got five-pound bags of coffee available (!), or 12 ounces ground (this appears to be temporarily sold out, but it's ideal if you do toddy cold brew). Order at jph4ever.com; 347-0483
Lucille and Merchant have pooled their resources into a street-side takeout counter on Pinckney Street. Chefs Andrew Vogel and Gorman Hayes launched a new menu with a "big slice of the day" ($4 per slice) and a cool "bodega box" with rice, beans, fried plantains and a daily protein ($10/ $5 for students and service industry workers). From 11 a.m. to 1 p.m. there's a breakfast sammie on house ciabatta ($8), salads and empanadas ($3/each) as well. From 1-3 p.m. downtown workers can grab a mid-day snack of Merchant's crispy cheese curds ($6) and a "pastry of the day" ($6). Dinner, available curbside and for delivery from 3-8 p.m., includes one of Lucille's fat, heavily topped Detroit-style pan pizzas ($22) and wood-fired options too ($8/10 inch, $13/14-inch or steel pan). No cash. Merchantmadison.com 
Mint Mark, 1929 Winnebago St. — This cozy Schenk-Atwood restaurant is moving to family style meals. On Thursday, there's braised pork shoulder with sauerkraut, mushroom gravy and chef Sean Pharr's famousf laky biscuits ($35, for two). On Saturday, there's prime rib au jus with twice baked potatoes and grilled broccoli ($50/ two). Get a bottle of wine ($30) or beer ($2-$5) when you pick up between 5-8 p.m. mintmarktogo.com
The Nitty Gritty (locations in Madison, Middleton and Sun Prairie) — If you're craving a six-ounce patty with "Gritty sauce" on a honey wheat sesame bun, you're in luck. All three Nitty Gritty locations remain open from 11 a.m. to 9 p.m. for carry-out, curbside pick-up and delivery. "Recurring business or purchasing gift cards to use in the future is what I ask from you," wrote Eric Suemnicht. Visit thegritty.com to order. 
Nutkrack, 2086 Atwood Ave. — Folks who live in the greater Madison area from Sun Prairie to Fitchburg can get Eric Rupert's sweet and salty candied pecans delivered to their door. $1 of the $5 delivery fee goes to a local food pantry while the shop on Atwood Avenue remains closed. nutkrack.com/shop
Pasture & Plenty, 2433 University Ave. — This near west side cafe was already set up to do take-home meal kits, with its "farm to freezer" meals and locally sourced pantry. Current hours are Monday 3:30-7:30 p.m. for meal kit pickup, Tuesday-Friday 11 a.m. to 7 p.m. and Saturday 9 a.m. to 1 p.m. Lunch or dinner is available to-go or delivered. pastureandplenty.com; 665-3770. 
Pizza Brutta, 1805 Monroe St. and 6712 Frank Lloyd Wright Ave., Middleton — Place an order for Neapolitan-style pizza online or over the phone and both locations will do curbside pickup. (A recent Instagram post indicates that a gorgeous country loaf is also on offer for $5, added to any order.) pizzabrutta.com; 257-2120 in Madison, 841-1882 in Middleton
The Seafood Center, 712 S. Whitney Way and in the Willy Street Co-op — Get your traditional Lenten Friday night fish fry to go from The Seafood Center. Orders of cod, perch, catfish, shrimp, calamari and more come with french fries, coleslaw and sauce. Sides include onion rings, crab cakes and soup, and 12- to 20-piece "family size" is an option. Call 274-5255 to order ahead; hours are 11 a.m.-7 p.m. Monday-Thursday and Saturday and 11 a.m.-8 p.m. Friday. 
Many chain restaurants, even those with drive-thru, are offering free delivery. Many have an order minimum and a time limit, mostly through March 31. Locally, these include Famous Dave's (orders more than $25, use code FREEDELIVERY), Burger King ($10-plus, through Grubhub), Chipotle ($10-plus), Dickey's Barbecue Pit (through end of April), KFC (through April 26), Outback Steakhouse (throguh April 30), Popeyes, Red Lobster ($30-plus), Taco Bell ($12-plus, through Grubhub) and Which Wich.