If you can't bring yourself to turn on the oven this year (and can't sweet talk anyone else into doing it), plenty of Madison restaurants are open on Thanksgiving, Nov. 23.
Those who want something other than a traditional turkey dinner might look to international cultures. Haldi Masala and Ichiban Sichuan are both open on the holiday.
Hotel restaurants are usually open, and some serve Thanksgiving specials. Another good place to check is the Quintessential Madison website. Nadine Goff has historically updated a long list of restaurants with Thanksgiving meals. Goff said she's not going to update it this year, but it's worth a call if your favorite place isn't on this list and it has served on Thanksgiving in the past.
If you have the space to host but lack time and facility in the kitchen, many places offer pick-up meals that just need a few hours to reheat. Hy-Vee on East Washington Avenue does a precooked meal starting at $49.99 serving four people (place an order by Monday, Nov. 20).
Stalzy's Deli on Madison's east side will do it all, from a smoked or roasted turkey ($65-$70/ 12 pounds) to gravy, potatoes, green beans and pie (place an order by 4 p.m. Sunday, Nov. 19).
Whole Foods sells a fully prepped Thanksgiving meal featuring turkey, ham or prime rib, even scaling down to a turkey breast with side dishes for four ($69.99) or a vegan option for two ($39.99).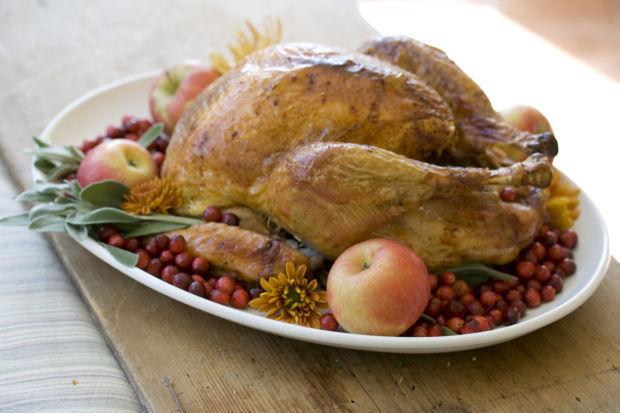 At Metcalfe's Market in Hilldale, Thanksgiving dinners start at $20 for one. Larger dinners serve six to eight ($129.99) or 10-12 ($159.99).
Those include a pre-roasted Butterball turkey, cranberry relish, sage marsala gravy, Hungarian sausage cornbread dressing, dinner rolls, cheddar mashed potatoes, green bean casseroles and an Elegant Farmer apple pie. These will be available until they sell out, so reserve by Monday or Tuesday.
If opting for dinner out, here's a list of this year's traditional Thanksgiving options:
Twist Bar & Grill
6617 Odana Road
Located inside the Radisson Hotel on the west side, Twist Bar & Grill will serve plated dinners with a choice of turkey, stuffed pork loin, roasted prime rib or salmon. There will also be Twist's Wisco mac and cheese, cavatappi noodles tossed with 3-year cheddar and gruyere, bananas foster French toast and a turkey benedict.
Each dinner ($16-$21.95) will be served with tossed salad or soup, stuffing and rolls. For a reservation call 833-0100, ext. 711.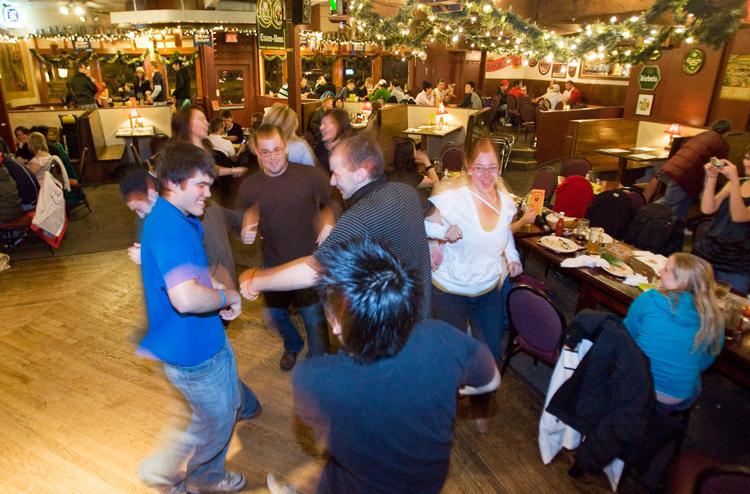 Essen Haus
514 E. Wilson St.
essen-haus.com/events/thanksgiving
Thanksgiving dinner at the Essen Haus is served family style, including turkey you carve at your own table, stuffing, mashed potatoes and gravy, yams, cranberry sauce, mixed vegetables, dinner rolls and assorted pies. Sides are bottomless and you can take the leftover turkey home.
Dinner hours are 11 a.m. to 7 p.m. and meals cost $22.95 for adults, $8.95 for children ages 6 to 10 and are free for kids younger than 5. Make a reservation at 255-4674.
The Great Dane Pub & Brewing Company
Various locations
greatdanepub.com/event/thanksgiving-day-buffet
Celebrate Thanksgiving Day at Great Dane locations around the Madison area. Hours vary by location. As one example, the Hilldale Great Dane is serving a "bountiful buffet of your favorite foods," including roast turkey with mashed potatoes, green bean casserole, stuffing, sweet potatoes, turkey gravy and a pretzel dinner roll. Each dinner costs $24.95 for adults or $9.95 for kids between 5 and 12 years old, and includes a slice of pie.
Hilldale buffet hours are from 11 a.m. to 5 p.m. There is late seating at 3:30 p.m. and a traditional turkey dinner ($15.95/$8.95) being served from 5 p.m. to midnight, as well as a late night menu starting at 3:30 p.m. Reservations are recommended: 661-9400.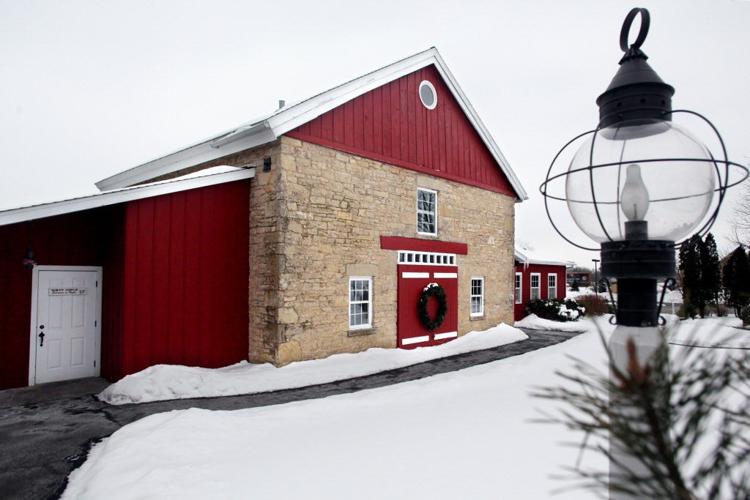 Quivey's Grove
6261 Nesbitt Road, Fitchburg
Thanksgiving is a 37-year tradition at Quivey's Grove Stone House and Stable Grill in Fitchburg.
The classic roast turkey comes with apple and black walnut dressing, pumpkin buttered carrots, mashed potatoes and cranberry chutney. There are other options, too: prime rib, crown roast of pork loin, roast duck, salmon and a vegetarian entrée with squash. Dinners cost $21-$31 and include a choice of cream of mushroom with wild rice soup or seasonal greens with cranberry walnut vinaigrette, and fresh fruit muffins. There's also pumpkin pike, apple crisp, turtle pie or chocolate pudding for dessert.
Hours for Quivey's Thanksgiving are 10:45 a.m. until 3 p.m. Call 273-4900 for reservations.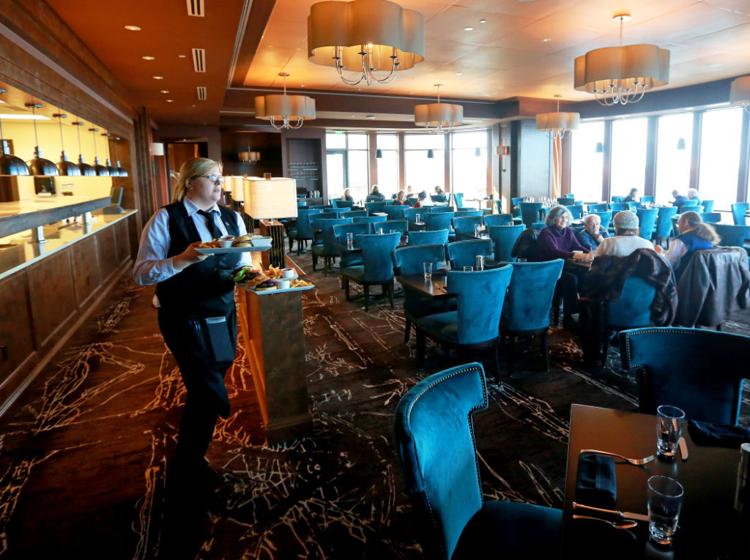 The Edgewater
1001 Wisconsin Place
The Edgewater hotel with its lakeside views and white tablecloths has one of the toniest turkey buffets in town. A small sampling from the menu includes smoky butternut squash soup with pumpernickel croutons, made to order buttermilk waffles with cider-poached apples, a "seafood display" (poached salmon, shrimp cocktail, smoked trout), an Amish turkey carving station, porchetta, Brussels sprouts with prosciutto and white cheddar mac and cheese.
The buffet runs from 10 a.m. to 2 p.m. and dinner in the Statehouse runs from 2 p.m. to 7 p.m. Reserve a seat at 535-8167.
CIRC in the Madison Concourse Hotel
1 W. Dayton St.
Thanksgiving at CIRC, the sleek restaurant inside the Madison Concourse, starts with a sliced fruit display, Wisconsin cheese and a charcuterie board, and proceeds to plated entrees. Some are traditional, like a roasted herb-buttered turkey breast with brioche stuffing, mashed potatoes and cranberry chutney, or a honey baked ham with sweet potatoes and creamed spinach. Others, like a butternut squash risotto or ravioli with gorgonzola cream, are simply autumnal.
Dinner runs from noon to 5 p.m. and costs $39 for adults and $15 for children ages 5 to 10 (kids younger than that eat free). Make a reservation at 294-3031.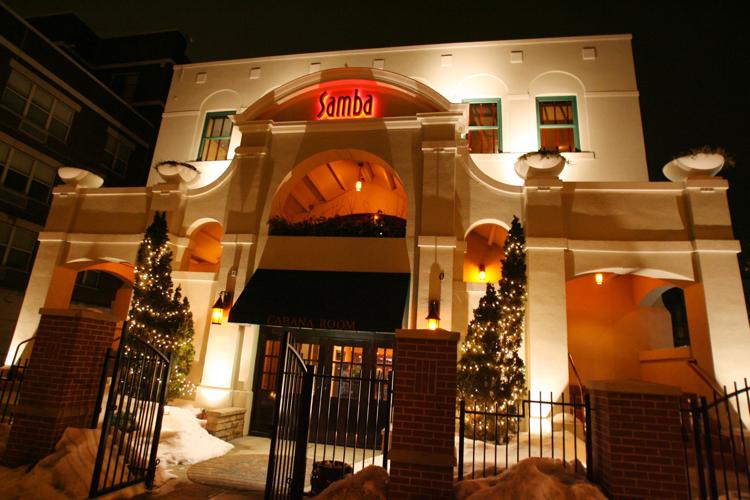 Samba Brazilian Grill
240 W. Gilman St.
The rodizio grill is open this Thanksgiving, serving spice glazed and ginger cranberry glazed turkey at Madison's South American-inspired downtown restaurant. Also on the menu will be turkey stuffing, green bean casserole, sweet potato salad, cranberry sauce, apple crisp and pumpkin pie.
One-size-fits-all dinners cost $39.95. Make a reservation at 257-1111.
Rare Steakhouse
14 W. Mifflin St.
madison.raresteakandseafood.com
The steakhouse on the Square has a set menu on Thanksgiving, featuring a butternut squash soup, turkey two ways (an herbed breast and confit leg), yams, green bean casserole and rosemary stuffing. There's cranberry cobbler for dessert, all for $45/person. Hours are noon to 8 p.m. and the kids menu costs $15. Call 204-9000 to make a reservation.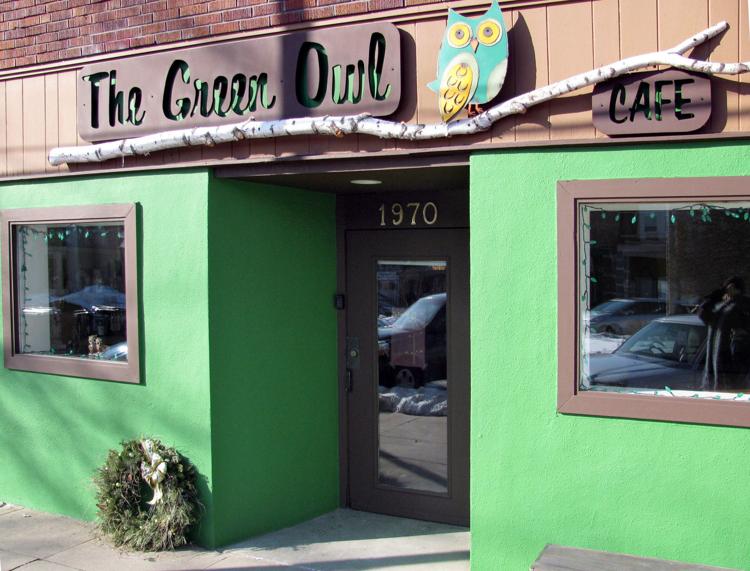 Green Owl Café
1970 Atwood Ave.
Have a no-fuss vegan Thanksgiving at the Green Owl Café this year. Starting with a half-dozen hors d'oeuvres like curry roasted cauliflower and green olives with hummus, the meal continues with smoked mushroom bisque with wild rice, as well as a roasted red and golden beet Caesar salad.
For the main, there's tofu based with orange, agave and soy, mashed potatoes with golden gravy and green beans with mustard seed vinaigrette and pecans. Pumpkin cheesecake with a graham cracker crust makes for a perfect dessert.
Five courses cost $43 including gratuity, and kids' tickets cost $20. Pre-payment through Paypal is required. The single seating starts at noon. Alternatively, to-go vegan Thanksgiving meals will cost $37 and be available starting at 11:30 a.m. Call 285-5290 for more information.
Erin's Snug Irish Pub
4601 American Parkway
242-7616
At Erin's Snug Irish Pub on the far east side, diners can toast the holiday with a pint of Guinness. From 11 a.m. to 4 p.m. there will be a Thanksgiving buffet with roast turkey, baked ham and a prime rib carving station, as well as classics like green bean casserole, corn, sweet potatoes and mashed potatoes. For dessert there will be fresh fruit fondue, and, of course, apple and pumpkin pies.
Cost for the buffet is $21.99 for adults and $13.99 for kids younger than 12. After 4 p.m. Erin's will start serving a turkey dinner special.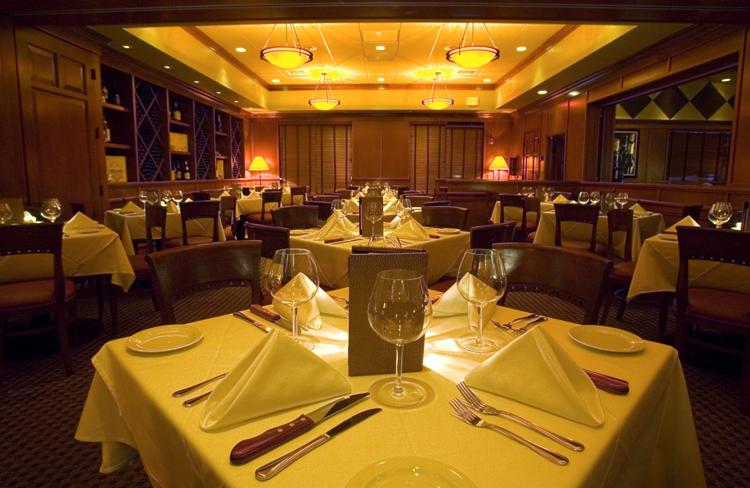 Fleming's Prime Steakhouse
750 N. Midvale Blvd.
flemingssteakhouse.com/locations/wi/madison
The Hilldale location of this national steakhouse chain is opening early on Thanksgiving, beginning at 11 a.m. to offer a prix fixe dinner at $40 per person. Start the meal with buttermilk biscuits with pumpkin butter and choose a salad or lobster bisque for a second course.
The main is mixed herb roast turkey breast with savory turkey gravy — served with cranberry, orange and cinnamon sauce, naturally, alongside sage brioche stuffing. On the side will be roasted sweet potatoes with marshmallows, mashed Yukon Golds, and green beans with bacon, onions and almonds. Pick from pumpkin cheesecake or carrot cake with a rum caramel drizzle for dessert.
Children under 12 will have a special $15 menu, and bonus: the full Fleming's menu will be available as well, for those who just aren't that into turkey. Call 233-9550 for a reservation or use OpenTable.com.
Old Feed Mill
114 Cramer St., Mazomanie
The Old Feed Mill in Mazomanie is a classic choice for a country Thanksgiving. The menu barely changes year to year, always featuring oven roasted turkey, the mill's "famous pot roast," classic bread stuffing and traditional pies. There have been a few tweaks: smoked pork gets dressed with bourbon and marmalade instead of maple this year, and there's now citrus kale slaw alongside garlic mashed potatoes, broccoli salad and mushroom strudel.
Dinner for adults costs $22.99. Seniors pay $20.99 and children under 12 cost $10.99. Call (888) 345-4909 for a reservation between 11 a.m. and 4 p.m.