The latest cuisine to make its way onto the Capital East mini-restaurant corridor hails from East Asia, with the auspicious opening of Little Tibet on East Johnson Street.
Little Tibet will be open six days a week (closed Sundays) for lunch and dinner by early March, if all goes well. The restaurant hopes to have a beer and wine license by April.
"I'm just waiting for my uncle to give us an auspicious day," said Namgyal Ponsar, who owns the restaurant with her brothers. "He's going to let us know soon."
Ponsar and her family opened the first dZi Little Tibet food cart about two and a half years ago, adding an additional cart last year. Bringing their curries and momos (South Asian dumplings) to 827 E. Johnson St. feels like fate.
"In 2016 when we opened the food cart, we were debating," Ponsar said. "Should we open a food truck or see if we can find a restaurant? We had to rent a commercial kitchen."
The Spot had just closed when Ponsar and her brothers decided to check out the building. They liked it, but "there was a lot of stuff to do," Ponsar said.
They drew up a business plan and applied, but the spot was in high demand and they lost out to Jeykell Badell and his wife Maria Zaid. Badell and Zaid opened a second location of their Venezuelan restaurant, La Taguara, in 2016.
"We were happy we didn't get it," Ponsar said. "We were not ready at that time."
Two years later, staffing pressures led Badell to close Johnson and refocus on the original La Taguara at 3502 E. Washington Ave. They were looking for someone to sublease. Little Tibet decided to reconsider.
"We loved how much they changed the space," she said. "There was no longer so much to do."
Little Tibet on Johnson will leave some of the décor the way it is, since the existing yellow walls with red and black accents feel appropriate, colorwise, for Tibetan culture, too. They're removing some of the seating, currently at about 55, and updating the art.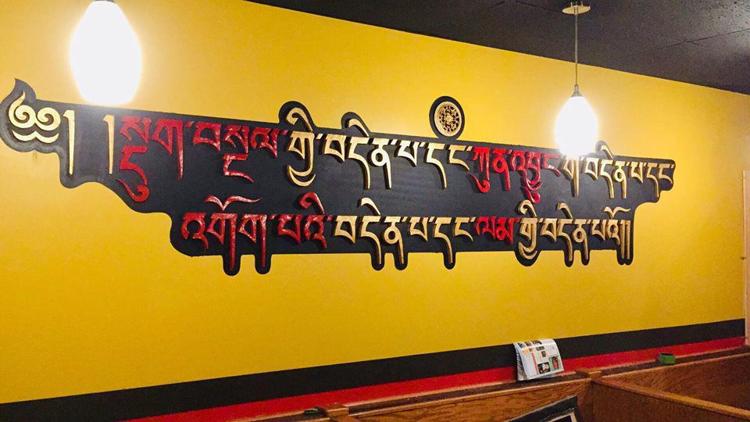 At a time when restaurants are struggling to keep staff, Ponsar feels grateful that Little Tibet is powered by her family. Ponsar's brother Thinley Tenzing will be the chef, bringing to bear his culinary training in India as well as their family roots. Another brother, Therten Tsering, is taking charge of the front of the house.
Ponsar herself will be present often, but she will keep her nursing job on Madison's north side.
The Little Tibet team plans to continue one of its food carts, which vends on the University of Wisconsin-Madison Library Mall, and still prepare curries and momos for that cart at FEED Kitchens. The future of the other food cart is up in the air.
The menu will be small and "nothing fancy, traditional homemade food," Ponsar said. She mentioned Tibetan curries, thali plates — a mixed platter of chicken or lamb with lentil soup, rice and other sides — and a noodle soup called thukpa.
"Some of the menu will be Nepalese, and two or three items from Bhutanese food," she said. She expects the most expensive entrees to top out at $15, with appetizers starting at $5. Where La Taguara had counter service, Little Tibet on Johnson will go back to table service.
Badell at La Taguara believes Little Tibet will succeed. He called the East Johnson location "his first failure," and said he and his wife mourned the difficult choice.
"We tried the location for two years," Badell said. "It was so hard on me. One, to keep the staffing — these past two years, restaurants are suffering because we're competing with factories. It's been hard to keep people. It's been crazy.
"But the main reason, it was a hassle me running around covering shifts, trying to get people to work," he said. "We never gathered enough at that location. It was hard for me to know what we were going to do on sales, to be prepared. On a Monday we could sell what we should sell on a Friday but we're short staffed. On Friday we are fully staffed and we'd sell what we should sell on Monday."
Ponsar's family chose East Johnson because of the adventurous eaters in the neighborhood, who "may be willing to try" a departure from Wisconsin tavern food. With the closure of Taste of Tibet, Ponsar also hopes Little Tibet on Johnson can be a gathering place for her community.
"When I first moved to Madison, I was shocked we didn't have any Tibetan restaurants here," Ponsar said. "We have a big community of 600 people. The young generation always said we wish there was a place where we could hang out and eat familiar food."
As for that opening date, she's waiting on her uncle, a Buddhist monk who lives in New Zealand, to say the word.
"We look to astrology," Ponsar said. "It's like with hanging prayer flags, it has to be the right time. We are trying to do a soft opening based on the auspicious day."