This may be an unusual way to start a review of a new Wisconsin brewpub, but let's talk about vegan food.
Before choosing beers to sample at Union Corners Brewery, start with harissa lettuce wraps ($8). I know! I know. There'll be time for burgers and fries in a minute.
Check out these little boats of baby romaine, filled with a baba ghanoush-like eggplant puree. Seasoned with curry spices, dotted with raisins, when you hit 'em with charred lemon they're a great match with Union Corners' classic wheat (Weizen Not?) or fine, funky Belgian single (Patersbier).
And try the beet tartare ($9) —that's beet, not beef, doused with coconut dressing and served in the classic four-inch-wide puck. A dollop of sunny yellow mango sauce takes the place of an egg yolk, with cucumber slices and toasted baguette for scooping. I love a sweet and dirty beet, but for those who are more unsure the coconut does some kind of alchemy, smoothing out those earthy edges. It's a surprisingly delicate dish for a bar.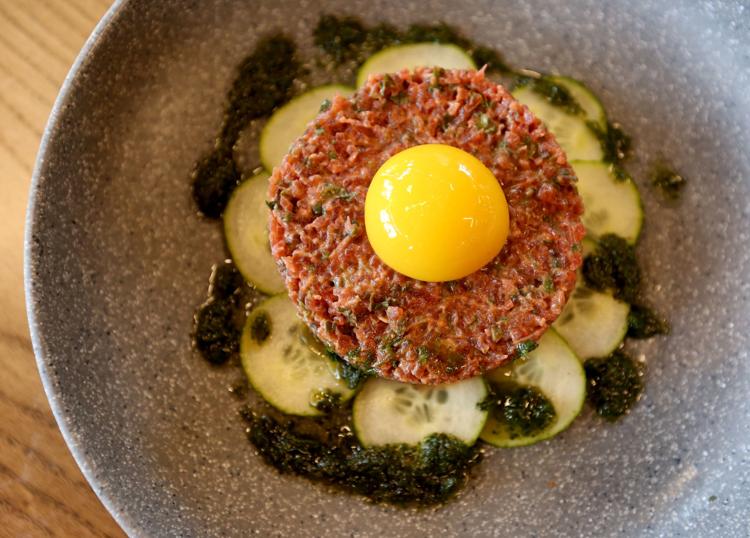 That's mostly what Union Corners Brewery is: a showcase for 12 brews made in-house and 12 guest taps from compatriots at Lakefront and Pearl Street and Capital Brewery. Big flat-screens and beefy burgers make it an obvious choice for game days. Because it's new construction at the developing Union Corners site, the space is easily accessible for wheelchairs.
What's less expected is how many dishes are accessible for the veggie-first crowd. Union Corners' kitchen, led at present by Corey Stroner, goes beyond Clock Shadow cheese curds ($9) with dishes like an eggplant banh mi ($13), piled high with pickled carrots, fried tempeh and pickled serrano peppers.
Owner Eric Peterson had a vegan girlfriend for six years. Even though the relationship didn't last, his interest in vegetarian cuisine did.
"It's a huge priority," Peterson said. "There's whole meal options that are entirely vegan."
This is not to say Union Corners doesn't do right by omnivores. I can't think of a single flaw in the buffalo chicken sandwich ($12), a perfectly crunchy piece of bird slathered with Sriracha and blue cheese dressing, with pickles on a pretzel bun. A bacon cheddar burger ($13), cooked medium rare, was a classic of the form.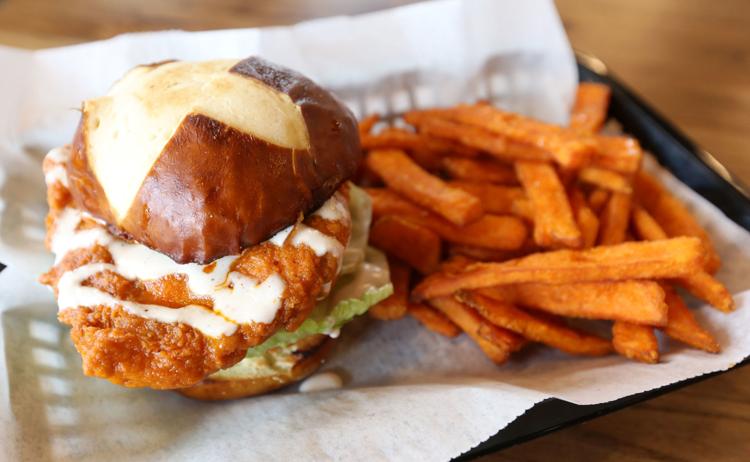 The challah, baguette, and whole wheat bread on the menu is mostly from Stalzy's Deli, which had a fire last spring but hopes to reopen soon on Atwood Avenue. Their bread, as well as housemade focaccia on the porchetta sandwich ($12), is all pretty great.
The menu fits on two sides of a standard size sheet of printer paper, folded into threes like a brochure. It changes a fair amount, but it's not hard to avoid the few duds — "pretzel rods" ($8) that are just soft breadsticks, a BLT with pork belly ($11) that's all soft and squishy.
Sometimes fryer oil threatened to undermine otherwise tasty things, like fiery Cajun rice balls ($9) with a peanut romesco. A nicoise salad ($14) raised my expectations with the "nicoise" bit and dashed them with a glop of tuna salad.
I have yet to try a beer float (and would be into it!) but so far, I also can't recommend the desserts. I had high hopes for churro cheese curds ($7), developed by a cheese distributor who also does a few cooking shifts a week at the brewery. This could work, I thought, like a burger on a doughnut bun.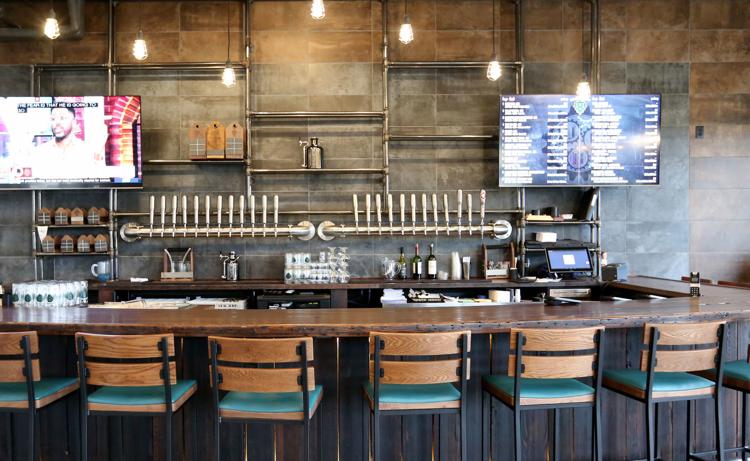 Union Corners takes fried Clock Shadow curds and dusts them in cinnamon and sugar — so far, so delicious. Then they're served like an ice cream sundae with chocolate sauce. The heat from the curds makes the ice cream melt and the curds go soggy. Pretty soon it's a gooey sweet fatty dairy mess.
UCB also makes ice cream in house, inventive flavors that change all the time. I'd be game to try any other flavor than the one we did: chocolate garlic ($4/scoop), which tasted just as bad as you think.
Mostly people aren't coming to Union Corners for ice cream, though. They'll come for head brewer John Puchalski's varied lineup of beers ($2 for a 5 ounce pour, $5 for an American pint).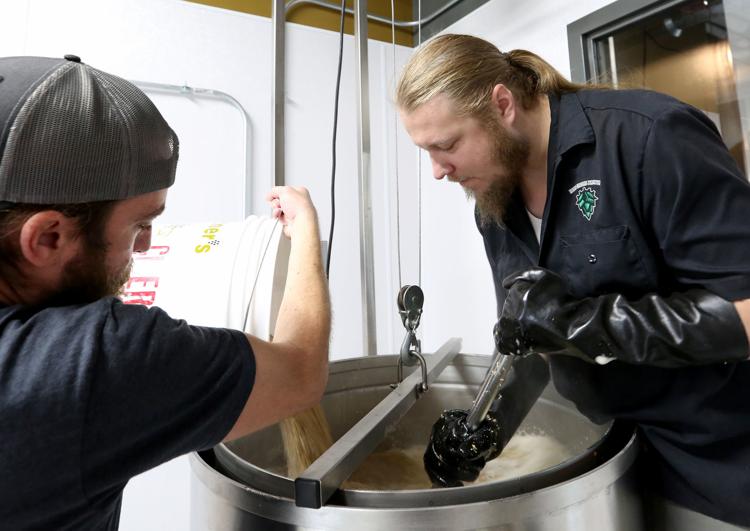 As winter comes, Peterson said he plans to shift from the lighter brews of summer to darker, aged things, porters, stouts and an orange/cherry-spiked beer inspired by the Old Fashoined cocktail, aged in bourbon and brandy barrels.
Personally I hope they keep the Full of Nothing, an easy-drinking dark ale that tasted like iced coffee, and the My Dude, a brown IPA that recalled espresso and tonic.
The Droids I'm Looking For, a bright American wheat made with mosaic hops, was less sharp than a typical IPA with a round body, almost like an oaked chardonnay. A cherrywood sour called Over the Line was the better of two sours, approachable and lightly nutty. The fruitiness was pronounced in a dark wheat (Dunkelweizen) called Romance.
Only a couple of the beers had a bitterness that lingered in an unpleasant way (an amber ale called Expedient Means, the American pale ale called APA #1). Flavors of pine resin came through on the APA #2, a hoppier, more intriguing APA made with comet and cashmere hops. I kept coming back to the Belgian Patersbier, which with flavors of banana and the slightest funk was great with the food.
Weeknights are pretty quiet at Union Corners Brewery, even with the Geeks Who Drink pub quiz every Tuesday night and various sporting events Wisconsinites tend to gather for. As development fills in around the pub, it may not stay quiet for long. Peterson and his team are taking calculated risks on the east side. Soon, they could pay off.