Audrey Munson goes by many names—and believe it or not, you've seen her around the city.
She stands along the Capitol's east pediment, where she's known as Liberty. You'll find her at the north pediment, with the name Sapientia (a.k.a. Wisdom). Most famously in Madison, she's known as "Wisconsin," the gold-gilded bronze beacon that crowns the Capitol's dome.
Considered America's first supermodel, Munson was the most-sought-after artist's model of the early 20th century. Sculptures inspired by her (oft-nude) figure adorn fountains, archways and monuments from Manhattan to Missouri. Her likeness is iconic, but her name is largely forgotten.
But not to The Audrey Kitchen + Bar, at 9 E. Wilson St. in the Hilton Madison Monona Terrace, which immortalizes Munson in a different way.
"The more we looked at [Audrey Munson] and thought about that, it was the story that's really not told or not known in Madison," said Skip Harless, the Hilton's general manager. "She's got quite the history."
Opened in early May as part of the Hilton's full-hotel renovation, The Audrey occupies the former Olive lounge. The hotel worked with California-based Linda Snyder Associates to transform the masculine space into something decidedly more feminine—more Audrey, said Harless.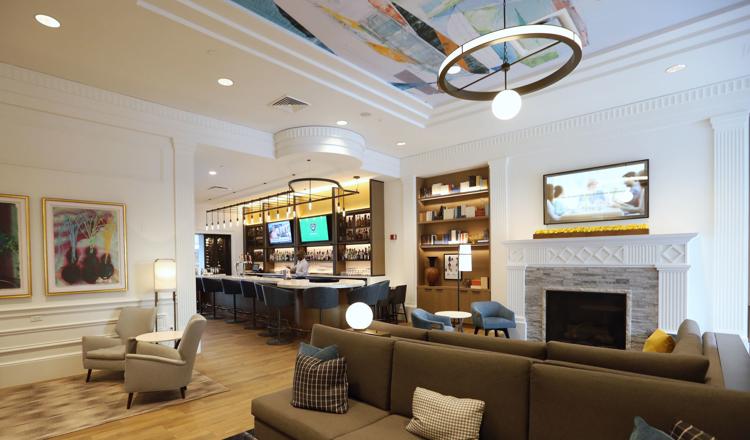 Imposing jewel tones have made way for dusky marine blues and breezy grays. The 1,700-square-foot space is sprinkled with cozy niches bordered by semi-private lattices. Artwork from artists with ties to Wisconsin—including two large-scale ceramic installations by University of Wisconsin, Madison, professor Brian Kluge and a pair of original Dale Chihuly prints—line the walls, fireplaces and even ceilings. The traditional dark wood bar is gone; a sleek, contemporary bar now bridges the gap between the main dining space and the lobby.
"We just sort of pulled all of that together and just made it one big open-concept space where everything can happen all together," Harless said. "It's comfortable yet refined."
The same can be said for the restaurant's dining options. Featuring breakfast dishes alongside full-fledged entrees, The Audrey's menu is primarily constituted by all-day items, which include sandwiches and salads.
Chef Jeff Orr, a hospitality stalwart with stints at Michelin-starred spots Le Bernardin and Bouley and Madison favorites Harvest and Cocoliquot under his belt, has created dishes rooted in tradition—with a fresh take.
"We've taken a lot of combinations of things that may seem very familiar to people, but we put our own twist on those things...maybe it's introducing a little bit of a new flavor in there," Orr said.
The North African-spiced lamb meatballs with fried chickpeas and mint yogurt ($14) are particularly noteworthy, Orr said. There's also a comforting grilled cheese sandwich ($12), elevated here with nutty Sarvecchio cheese. For snacks, a market vegetable assortment comes with a garlic dill Greek yogurt ($10).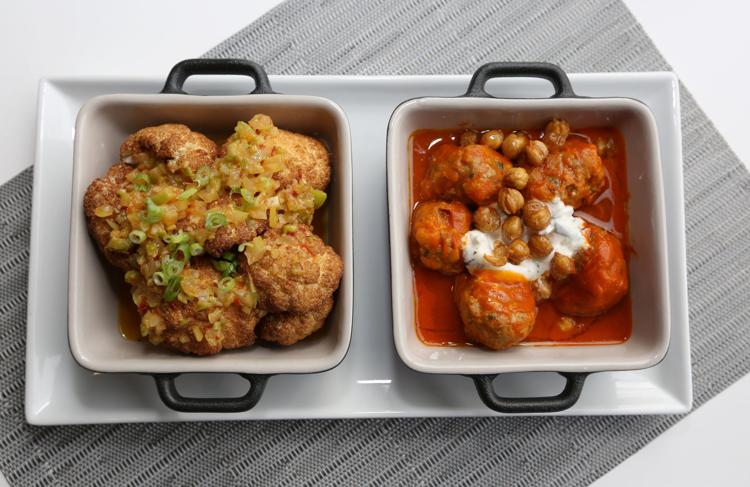 Because The Audrey's menu isn't bound by a strict culinary focus, Orr said there's a little something for everyone here. Diners can chow down on a classic Reuben sandwich ($14) alongside a plate of fried cauliflower ($10) and ale-marinated chicken wings with yakitori sauce ($15).
"This is not a Mexican restaurant. This is not a Japanese restaurant," Orr said. "But we can do all of these different things, and they all find a different home on our menu."
While this global approach may appeal to the hotel's many travelers, it's also a response to diners' evolving tastes as a whole—and hopefully, Orr said, a draw for Madison locals as well. Fresh produce features prominently on the menu—Orr works with Garden to Be and local growers at the nearby farmers' market—and many items are made for mixing, matching and sharing.
"I think that some of those boundaries [of traditional dining] have kind of broken down where people eat—you know, you can see we feature a lot of shareable plates," Orr said. "So people can kind of build their own meal out of the raw materials we provide them with here, in a sense."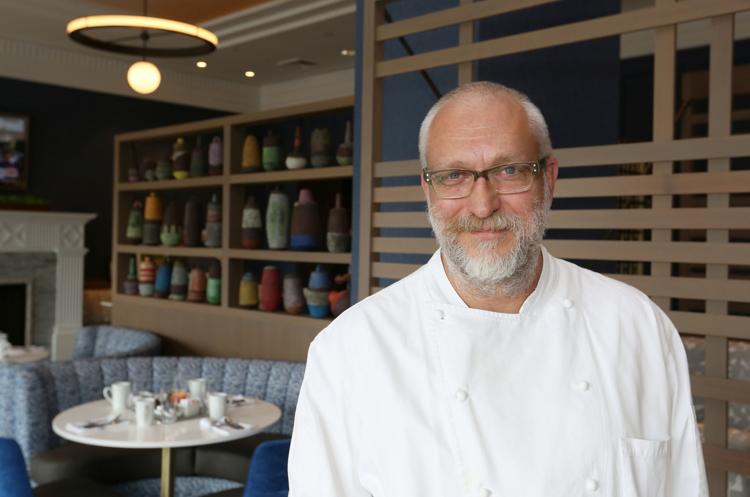 It's like breaking bread, Orr said. That experience extends to the restaurant's healthy lunch business, as well as its booming happy hour. The cocktail menu, designed by Matthew Angelucci, nods to Orr's traditional-with-a-twist inspiration as well as Munson herself.
The "Miss" Manhattan ($14), a title Munson enjoyed thanks to her prominence on buildings throughout the Big Apple, is a faithful rendering of the classic cocktail, made from bourbon, sweet vermouth and Angostura bitters. (Purists may prefer rye whiskey). The Panama Pacific ($13) offers a riff on a New York sour, pairing the expected lemon juice and egg white with white rum and port wine.
While gathering figures prominently in The Audrey's identity, there are still opportunities to cozy up in a semi-secluded nook or enjoy a more traditional dining experience.
"We're just kind of trying to be able to hit everything and make everyone feel comfortable and at ease," Harless said.