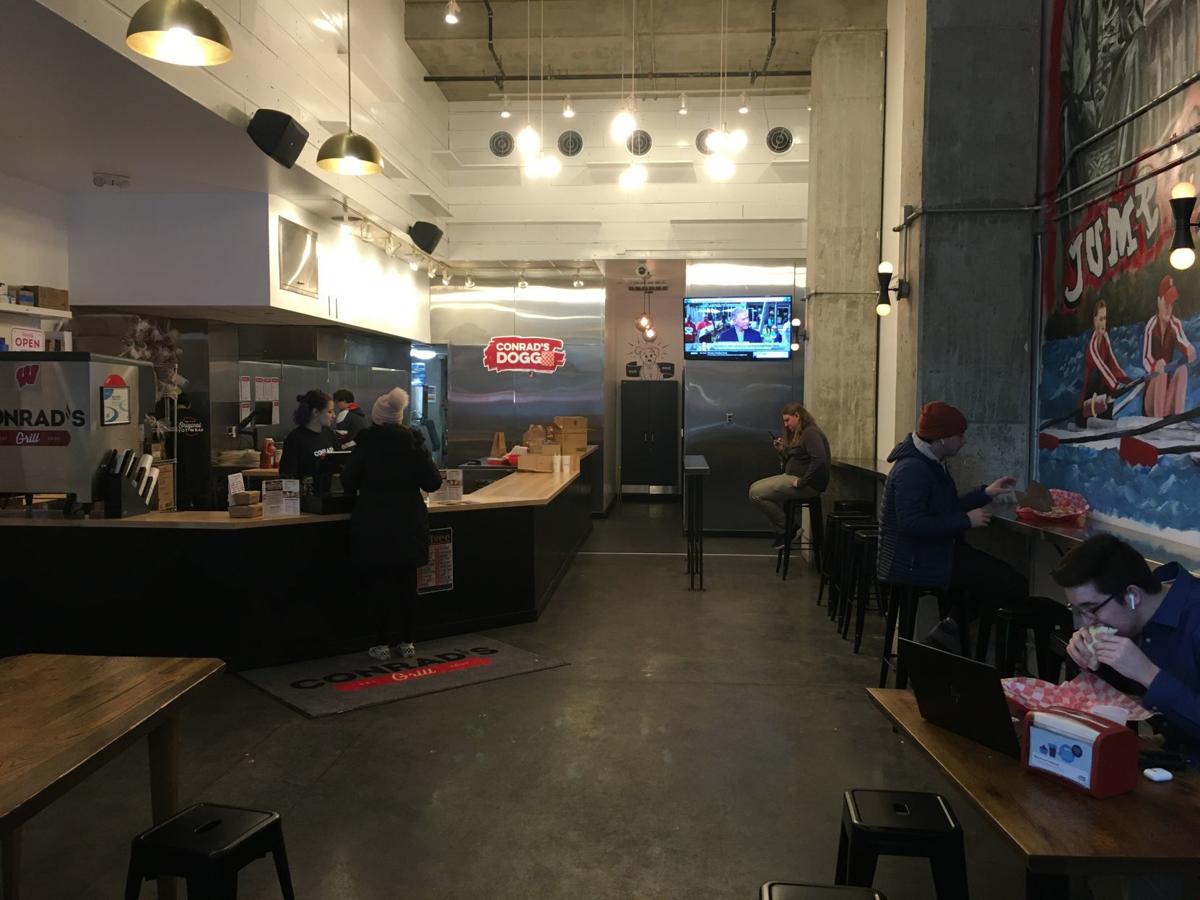 The tater tot is a powerful little spud. If you doubt it, cast your eyes westward to the Iowa Caucuses, where Democratic presidential candidate Sen. Amy Klobuchar hoped her Minnesota Midwesternness would put her over the top with fellow heartland voters.
Tater tots are such a staple of upper Midwestern cuisine that it's not surprising somebody built a restaurant around them. A new location of the Michigan-based Conrad's Grill opened recently on State Street, using the tiny hash brown buttons as the heart of its wraps.
For some, the notion of putting tater tots in wraps will bring up memories of Burgrito's, a similar franchise that opened on Monroe Street two years ago. Burgrito's bound up the ingredients of a good cheeseburger, including french fries, into a warm tortilla and called it a burgrito.
At first, that combination didn't sit well with me. The starchiness of the fries threw off the balance of the burrito. But, occasionally and somewhat inexplicably, I found myself craving a burgrito, and when the spot closed on Monroe Street in late 2018, I missed it. The only location left is in upstate New York, but I'm still subscribed to their e-mail list, just to see what they've been up to. It's sad.
I thought a tater tot wrap place might help me move on, so I went down to the 500 block of State Street. This is a block I call "Handheld Row" for its proliferation of fast-casual restaurants aimed at college students, who can eat their burrito, sub sandwich or falafel wrap with one hand while scrolling through Instagram with the other.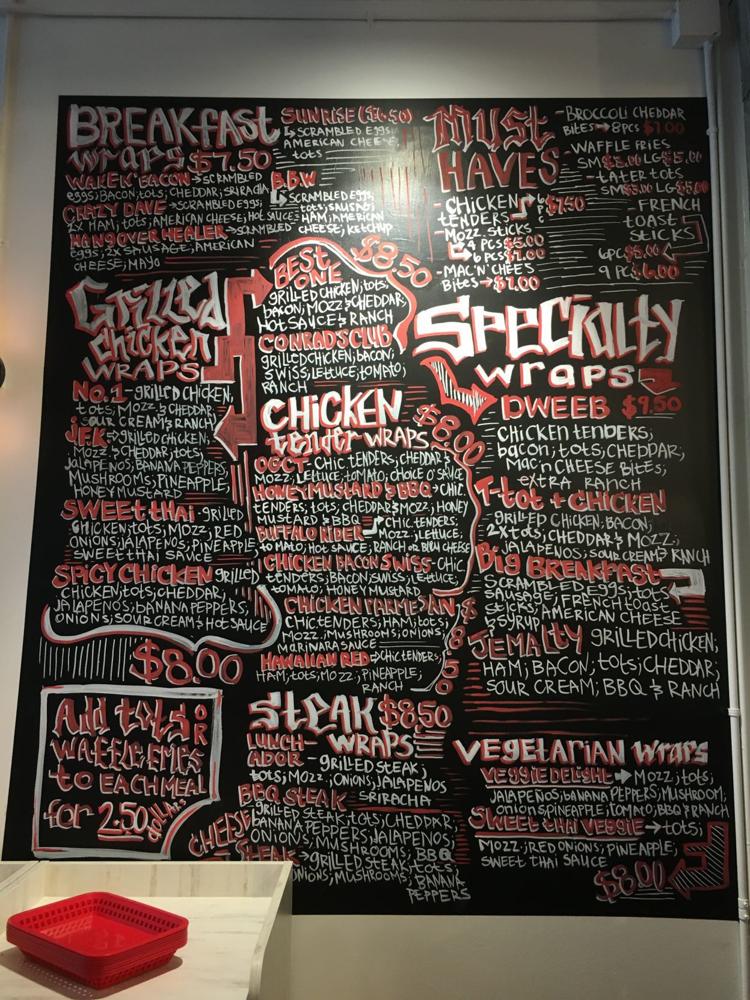 Conrad's is a small place, with a utilitarian gray design and small wooden tables. The exception is an 18 by 26 foot wall mural by Niki Urban and Josie Cutrara that mashes together a mess of Madison signifiers, from Bucky Badger to the new Orpheum Theater sign.
The "mashing things together" theme extends to the wall menu, a chalkboard which crams menu items onto every available inch of the board. Reading the menu made me feel anxious. What would happen if Conrad's came up with another idea for a wrap? Would they scribble it in the margins? Or unceremoniously drop another wrap to make room?
Options on this culinary word cloud ranged from breakfast wraps to chicken tender wraps to grilled chicken wraps to steak and veggie wraps. Most wraps have tater tots, but some don't, and you have to carefully scan the ingredient list to figure out which.
I was especially perplexed that Conrad's sells both a "Best One" wrap and a "No. 1" wrap. Wouldn't those usually be the same thing? Or have the two wraps worked out a sort of power-sharing agreement?
Anyway, I went with the "Best One" wrap, which features grilled chicken, tots, bacon, mozzarella and cheddar cheese, dressed with hot sauce and ranch. It wasn't a crazy mix of flavors, and the hot sauce and ranch weren't so liberally applied that they took over. More importantly, the tots stayed crunchy, and their taste was better integrated into the overall flavor then those starchy Burgrito's french fries.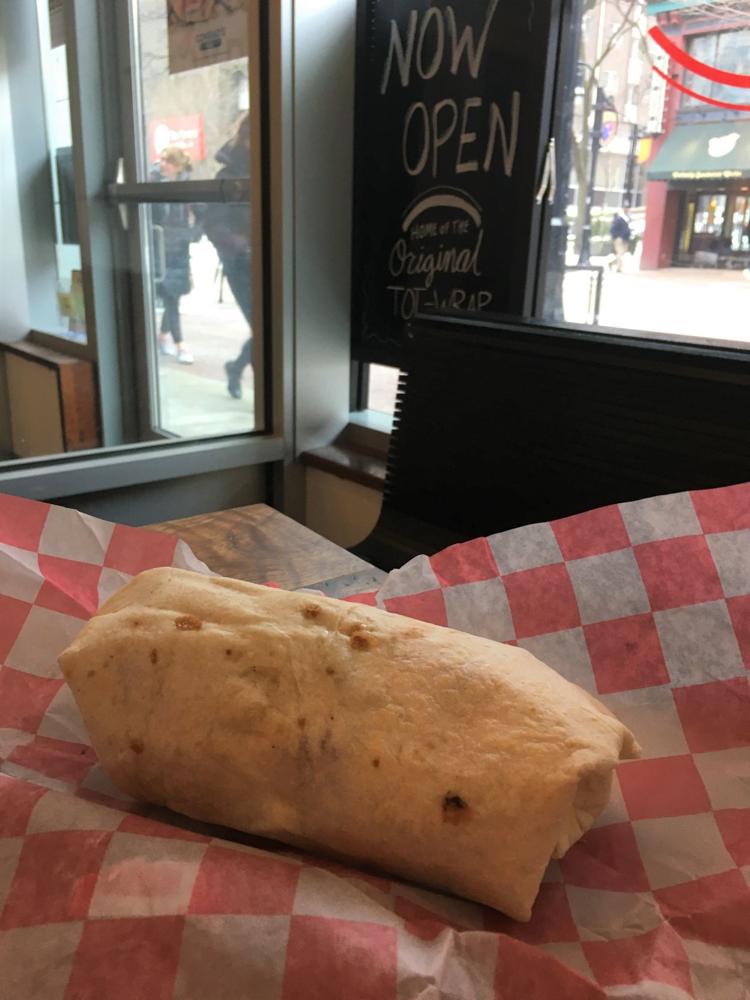 All of this was fine, but I've had breaded chicken sandwiches with basically the same flavor combination. It didn't have that "wow" factor that I thought a wrap called a "Best One" would have. (I guess it wasn't "No. 1" for a reason?)
Later, I returned to Conrad's to try a breakfast wrap. Although Conrad's doesn't open until 11 a.m., that is arguably breakfast time for many college students. Conrad's certainly knows its audience, calling one of its breakfast wraps the "Hangover Helper." Oddly, while tater tot wraps seem tailor-made for late night bar crawl food, Conrad's closes at 10 p.m.
That "Hangover Helper" wraps up scrambled eggs, double sausage and tots with American cheese and mayo. I swapped out the mayo for more hot sauce, because I'm all about health when it comes to eating tater tots for breakfast.
This worked for me, reminding me of the great breakfast tacos I had on a trip to Austin a few years ago. It tasted like a full Sunday breakfast in a wrap. And again, the tots stayed crunchy, offsetting the softness of the sausage and the eggs.
The Iowa caucuses turned out to be more of a hot mess than hot dish. But at Conrad's the humble tater tot reaches across the aisle, a versatile foodstuff that brings people together, all wrapped up any way you want it. 
Stay up-to-date on what's happening
Receive the latest in local entertainment news in your inbox weekly!