Crystal Jones is an accountant by day and a French dessert baker by night. Having grown up in Milwaukee, Jones moved to Madison 10 years ago with her husband and high school sweetheart, Chaz Jones, to take a job at the University of Wisconsin-Madison. 
Jones was raised by bakers, and it was her husband's obsession with macarons that kickstarted the idea for what is now Jones' sweet business: Mac-A-Holics.
"I pretty quickly fell in love with mixing colors and flavors together in these little cookies," said Jones, who began teaching herself to bake macarons in 2017. "It was a challenge at first, mastering the process. But I like to think I'm there now."
Jones had a booth at the Madison Public Market's holiday bazaar and has vended at local farmers' markets, but for now, Mac-A-Holics is primarily an online ordering and catering business. Jones makes 25 flavors of macarons, from mint chocolate chip and pistachio to limeade with key lime buttercream. 
A pretty "Celebration" macaron has a funfetti cake filling. She does seasonal flavors, like sugar cookie and gingerbread for the holidays, s'more macarons for the summer and sweet potato pie in fall. Chocolate covered strawberry — a strawberry cookie with strawberry buttercream, dipped in milk chocolate — is coming back for Valentine's Day. 
Jones likes to create new flavors with her 5-year-old daughter, Cori, Mac-A-Holics' "chief taste tester." Cori's favorite macaron is cotton candy.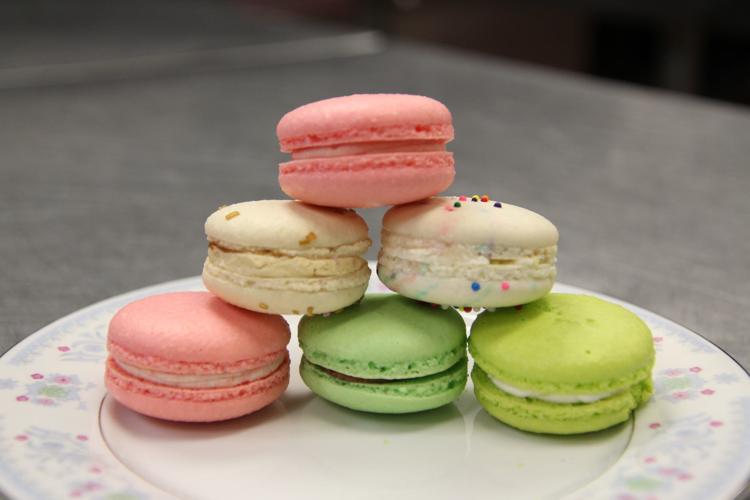 "I think it's mostly because of the color," said Jones. "She also likes strawberry because it's pink."
The lightly crisped, spongy, tiny cake-like cookies are enough of a draw, but it's the vibrant, almost unreal colors of Mac-A-Holics macarons that capture attention. For a wedding, Jones made golden swirls on a sage green macaron. Her most popular cookie, salted caramel, includes amber-colored flakes of caramel sprinkles on a vanilla bean shell. She's open to custom flavor and color requests.
"What I enjoy most is interacting with the customers and getting their feedback on the colors and their reaction to tasting the cookies," said Jones. "Everyone always loves them so much, so it makes the job easy."
The social aspect attracted Jones to baking from an early age, having been trained in the ways of the whisk and oven by her mother, grandmother and great grandmother. She says the kitchen was the "bonding room" for the women in her family.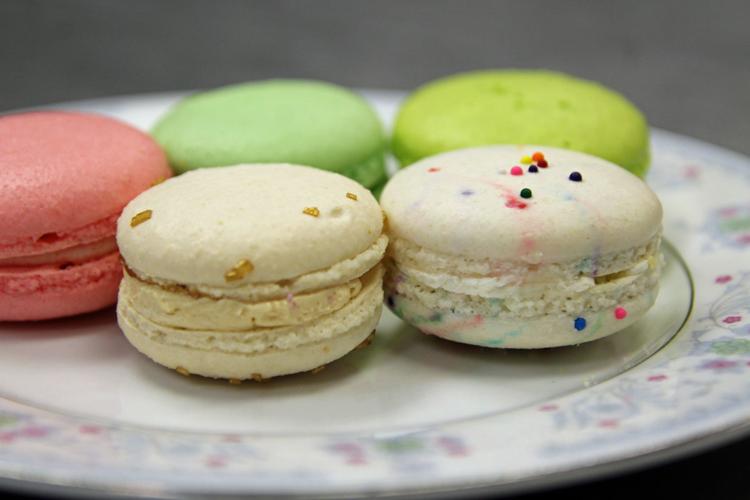 "It was where we all gathered around a lot," said Jones. "My mom would be baking her famous chocolate chip cookies and I'd get home from school and that's where we would talk about our days. A lot of the memories I have in the kitchen with my mom and grandma are not of the baking, but of the conversations we'd have about life."
Jones also inherited her mother's love of cookie experimentation. One of the first desserts Jones learned how to make was her mother's "magic cookie bars," with a graham cracker crust, sweetened condensed milk, coconut, chocolate chips and butterscotch chips. 
Now, Jones is teaching her own daughter the art of macaron cookie making. That's when Cori isn't too busy taste-testing, of course.
"She actually just likes eating the shells," said Jones with a laugh. "She doesn't even need them filled with anything."
For adults only, Mac-A-Holics offers "Mactails," macaron cookies with a little alcoholic kick. There are four flavors — Bailey's Irish Cream with chocolate, Blue Moon (a Belgian white beer) filling with orange zest shells, a "Mac-A-Rita" with tequila and lime, and Strawberry Champagne.
"I'm trying to create a vegan-friendly macaron, where I substitute egg whites with chickpeas," said Jones. "It's been challenging because these cookies are very finicky and hard to bake. If you're off by a couple grams on any of the ingredients, it throws off the entire recipe. But that challenge is what makes it fun for me."
"I'm so grateful for all the great feedback and support from Madison," said Jones. "I also like that this is something I can pass down to my daughter."