Madison diners are well familiar with Japanese gyoza, Chinese potstickers and Italian ravioli. Now the pierogi has officially arrived in Madison.
The filled dumplings, similar to their world cuisine cousins, are the national food of Poland, where there are festivals dedicated to their consumption and special variations of the recipe for holidays and weddings.
Popular throughout Eastern Europe, pierogies consist of a basic flour dough wrapped around a savory or sweet filling, then dropped in boiling water. Typical fillings lean towards hearty foods like potatoes, sauerkraut and cheese. They may be topped with butter, sour cream or fried onions for added richness and flavor.
Laila Borokhim, chef/owner of newly relocated nuuNoosh on Regent Street, has many fond memories associated with pierogies. As the granddaughter of Polish immigrants, she remembers her mother preparing dinners of the traditional potato dumplings when she craved comfort food.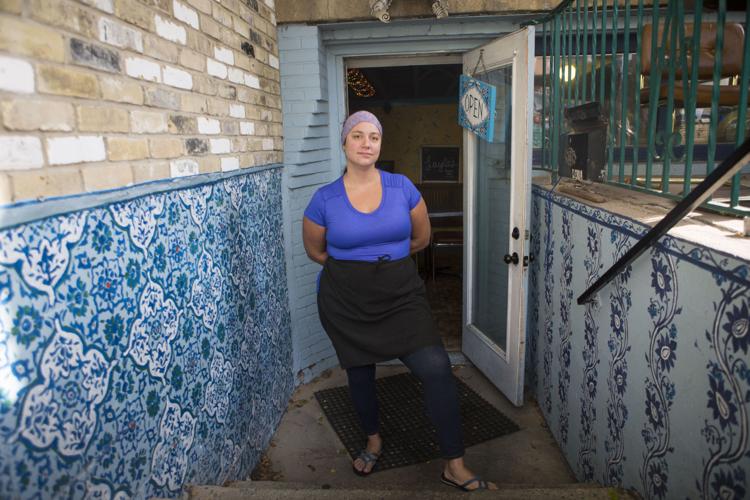 "We would buy them at the grocery store and serve them with sour cream or cottage cheese," Borokhim said. "As a dish from the old world, they were traditionally a food of necessity, using whatever ingredients were available."
Pierogis are a popular item on her restaurant menu. In the colder months, Borokhim fills them with mashed potatoes and a blend of cheddar and a Polish white cheese, similar to farmer's cheese, which she sources in Chicago.
Simmered in borscht (beet) broth, the dumplings take on a pink hue. Borokhim garnishes them with lightly fried shallots and dill sour cream.
"Everyone loves them!" Borokhim said. This summer she's considering a slightly lighter version, appropriate for the restaurant's sunny patio.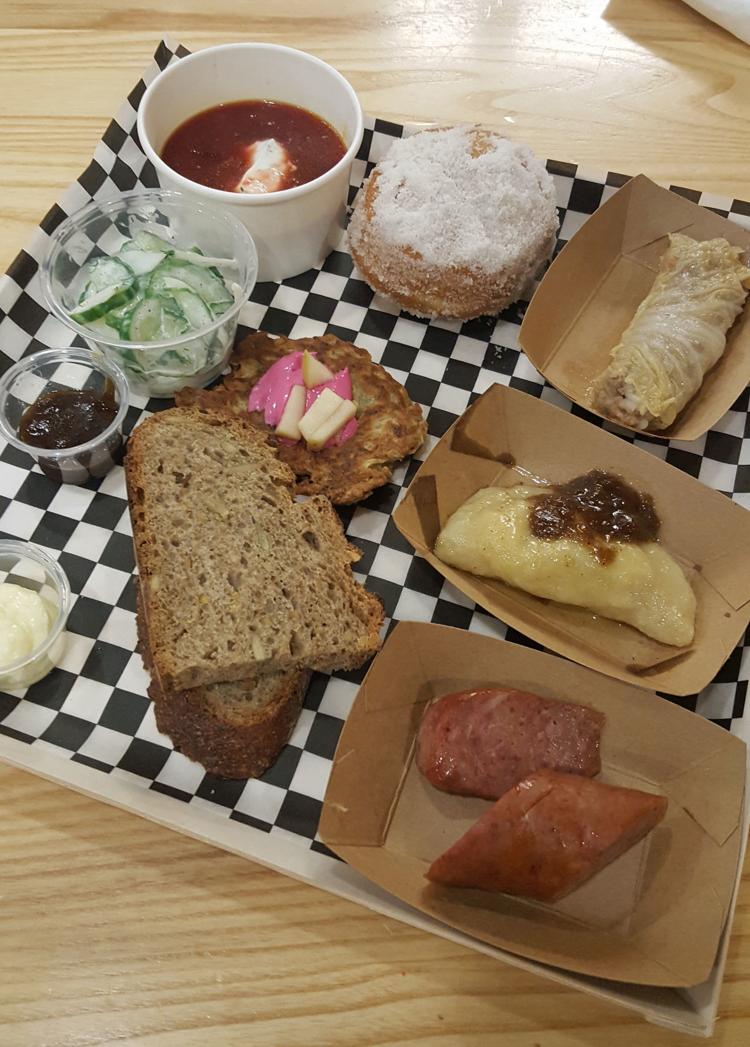 In March, Madison Sourdough chef Molly Maciejewski hosted a Polish dinner as part of Madison Chef Week, calling the event Stół Baba Jaga. Maciejewski and collaborators, including Borokhim and Camp Trippalindee's Shanna Pacifico, served pierogi on a tray crowded with stuffed cabbage rolls, kielbasa and potato pancakes. 
"I designed the menu around foods that I remembered my babcia (Polish grandmother) making," Maciejewski said. "She didn't use recipes, and I haven't had her cooking since I was fairly young, so I did my best to recreate flavors that I remembered."
Maciejewski is pretty sure she knows why the pierogies were a big hit at the dinner.
"Potatoes, cheese, dough and butter — what's not to like about that?" she said. "With all of Wisconsin's excellent dairy products, they are a natural fit. And they are meant to be eaten to get through a long, hard winter. I think Wisconsinites can relate to that!"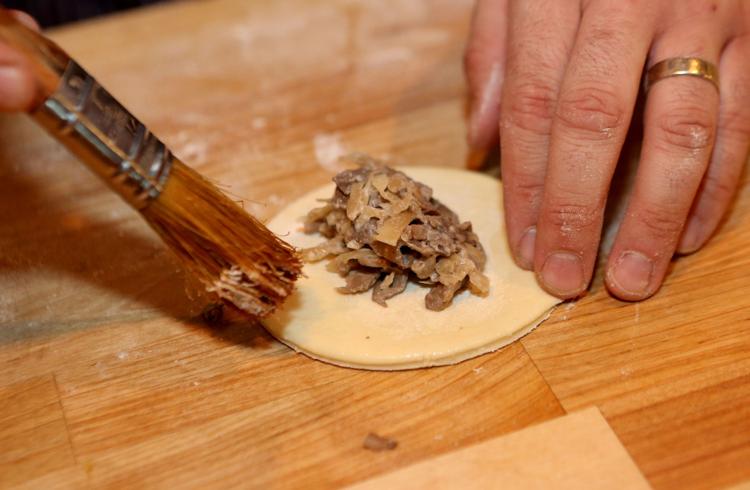 Though making pierogies isn't difficult, working with the dough takes some practice and the project is time consuming. It's unlikely they'll become a regular item on the Madison Sourdough menu.
"The dough has to be the right consistency and they need to be sealed well so they don't open up while cooking," she explained. "If you have made any sort of filled dumplings or ravioli, it's the same basic technique.
"I think it's fun to make them with friends or family so you can chat while you work," Maciejewski said. "They freeze beautifully and make easy meals later."
Her favorite pierogi variation is stuffed with potatoes, cheese and chives.
"I make a shallot, sherry vinegar and brown butter sauce to serve over them," she said. "It's a pretty amazing dish."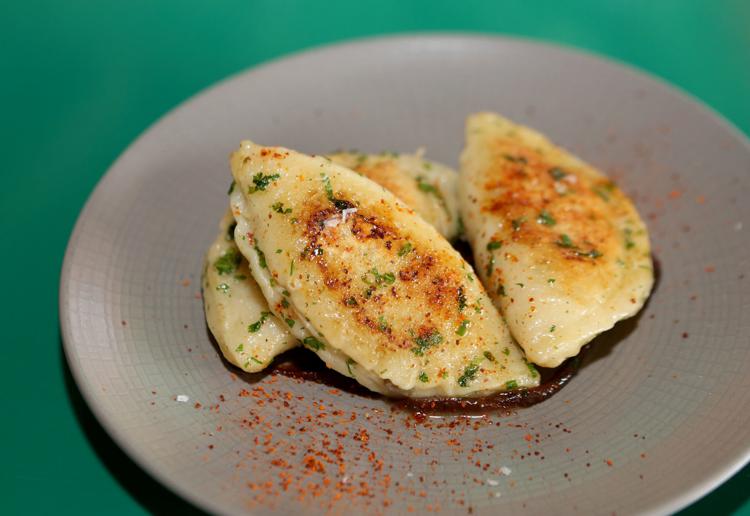 Mint Mark chef and co-owner Sean Pharr lived in a Polish neighborhood in Chicago where pierogi and other "beige" foods of the region were offered in abundance in local restaurants and grocery stores. When Pharr moved to Madison, he was surprised that the dish wasn't a staple. 
"When we first opened, we offered pierogi filled with smoked potato, gruyere and mushrooms, served on a bed of red cabbage braised in wine," he said. "They were incredibly popular."
Recently Pharr demonstrated how he and the Mint Mark staff made the pierogi dough in a Kitchenaid mixer — a much smaller batch than the restaurant normally prepares.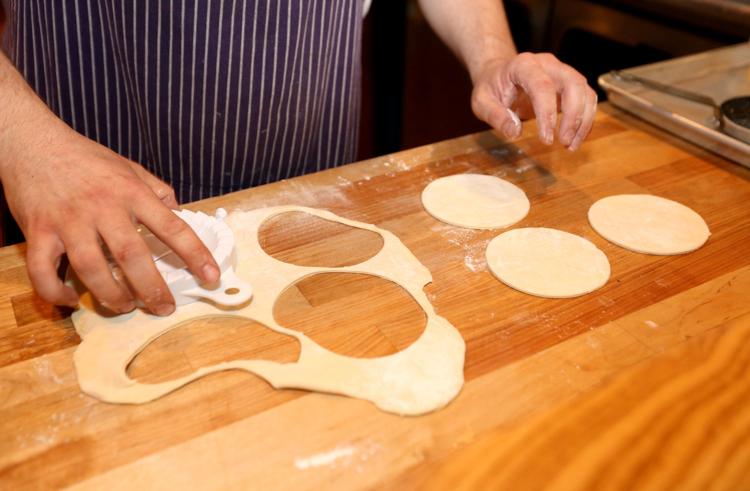 His own take on the recipe includes flour, salt, sour cream, egg, butter and oil. After letting the dough rest overnight, Mint Mark's prep cooks normally make five dozen filled pierogi every morning, just to keep up with the nightly demand.
For our private cooking lesson Pharr rolled out the dough, cut out disks, filled them with a mixture of sautéed cremini mushrooms, house-made sauerkraut, crème fraiche and roasted garlic, and then brushed the edges with an egg wash before sealing the pierogi using a commercially available press.
"It's the cheapest one they make," said Pharr with a laugh, "but it works great."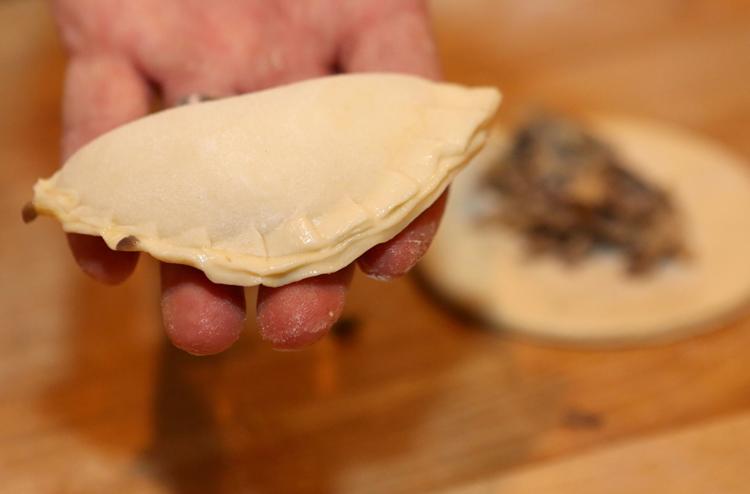 When an order for pierogi comes in, the kitchen drops two in boiling water, cooking just until they float to the surface. Then the half-moon dumplings are sautéed in butter until they are golden brown.
Pharr's team finishes the pierogi with fresh herbs, a dash of sweet-smoky Espelette pepper, and an intensely flavorful caraway raisin jam.
The process, including making the filling, dough and accompanying sauce is takes several days. Though potatoes and sauerkraut are very traditional fillings, Pharr does not himself to a single cuisine.
"When we're a little further into the summer season I'm planning to try a filling with fresh peas and potatoes," he said. "Then maybe we'll add some curry to do a fresh take on an Indian samosa."