When I moved to Madison from the Chicago area 20 years ago, I missed the city I left behind. I missed the people. I missed my favorite restaurants and bookstores.
I definitely missed the hot dogs.
You can keep your manhole-sized Chicago deep-dish pizza, but the Chicago dog is a delicacy that defines the Windy City for me. When revisiting the city, if I have the time I stop by a hot dog stand, little places with names like Parky's Hot Dogs or Superdawg or, my personal go-to, Tommy's Red Hots.
The restaurants were usually pretty utilitarian — a few booths, a menu board with a few letters missing, and that '80s linoleum on the floor that's supposed to resemble hardwood flooring. They all seem to be run by two brothers engaged in a passive-aggressive power struggle behind the counter. But then you got the dogs, each one wrapped in white butcher paper.
Hot dog place proprietors never ask what you want on your dog because there is only one right answer: one wiener (has to be Vienna Beef) on a poppy seed bun with mustard, relish, chopped white onion,  tomato, pickle, celery salt and sport peppers. (Sport peppers, for non-Chicagoans, are "medium-hot, naturally bite-sized, and packed in a seasoned brine," according to Vienna.)
One was never enough and two was always a little too much, yet worth the post-meal regret.
Portillo's was the big dog in the Chicago frankfurter scene. Having started small in the '60s as a cart nicknamed The Dog House, locations spread throughout the Chicagoland area in the 1990s when I lived there. The company went nationwide in the 2000s, opening 60 locations from California to Florida.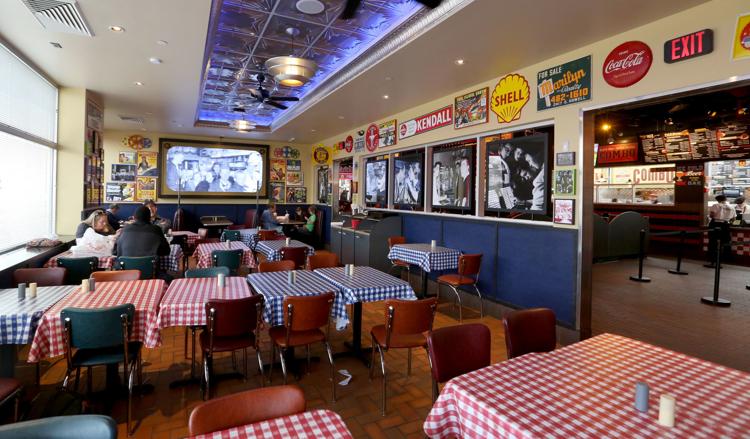 When Portillo's announced its third Wisconsin location in Madison, the news was big enough to warrant a red "Breaking News" banner on Madison.com. Located next to East Towne Mall just up the road from Wisconsin's own Culver's, Portillo's has made a big splash. The dining room and the two-lane drive-thru have been doing brisk business since it officially opened on March 4.
This Portillo's is a far cry from the Chicago hot dog stands I'm used to. It is essentially a big, smoothly humming fast casual franchise that uses the vibe of those old hot dog stands (and old school diners in general) as loose inspiration. The interior walls and ceiling of the restaurant are festooned with '50s kitsch — vinyl 45 singles, electric guitars, retro ads for Coca-Cola.
By the pickup window, I spied an autographed photo of Jim Belushi. As with so much of Portillo's, the question of whether it's real or a reproduction comes to mind. But then, does it matter?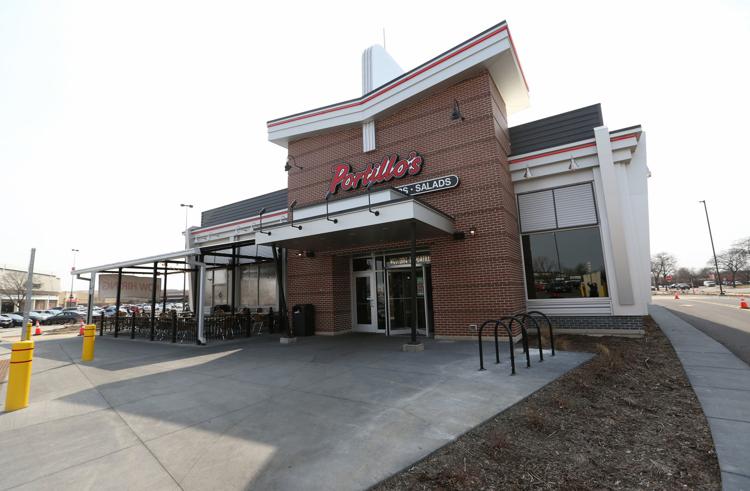 Portillo's is a 21st-century restaurant, too, with its own app for ordering ahead online. The menu is based in Chicago standards like that hot dog and an Italian beef sandwich, along with slices of chocolate cake. There are also several salads and a portabello mushroom burger, for vegetarians. A menu item called the "Garbage Salad" seemed like a perfect synthesis of both worlds.
On my first visit I kept it simple and ordered a Chicago dog from the bow-tied gentleman behind the counter. He asked if all the ingredients listed on the menu were OK with me, which I thought was a rather elegant way of making the traditional Chicago dog ingredients the default, rather than just asking what I wanted on it. It forces the customer to "opt out" of the Chicago dog in order to put something like the taboo ketchup on their dogs.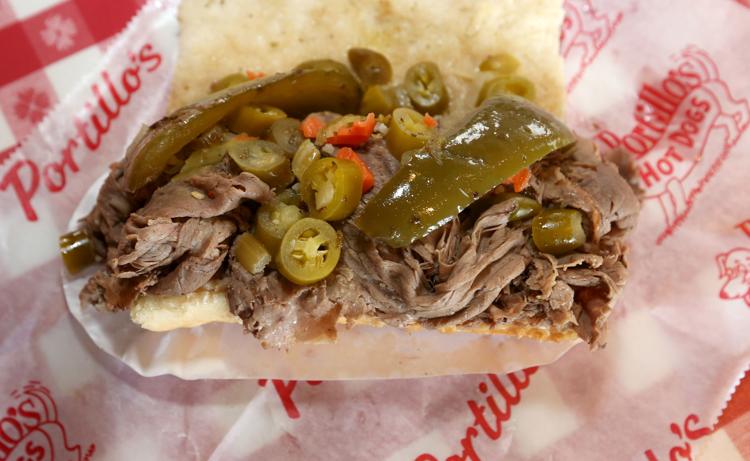 To this, I added crinkle cut fries and a "chocolate cake shake." The shake mixes ice cream and chunks of the chocolate cake, which has a secret ingredient. Online sources claim it's mayonnaise (but don't worry, you can't taste it.)
The dining area was a cheerful, bustling place, and as I waited for my order number to be called, I listened to the folks at the next table discussing theories about the Jordan Peele horror movie "Us." My number was called within about five minutes, with the employee using well-worn rhymes ("384, you'll be hungry no more!")
After all the hubbub, it all came down to the dog. I say with hard won authority that Portillo's Chicago dog captures the Windy Spirit flavor in all its glory. It even comes wrapped in white butcher paper.
Portillo's may now be a big-time national chain, but it still makes a small-time hot dog. And I mean that in the best sense.