Marie Arzel Young was always a master of unconventional business ideas, even before the pandemic forced many restaurants and bakeries to think outside the box.
Young has run storefronts, farmers market tables, food carts and even a bakery bicycle.
"It was when the price of gas went up," Young explained. "I think the brick and mortar thing is not 'it' anymore. Mobile means flexible. I can go to where the customers are rather than try to make them come to me."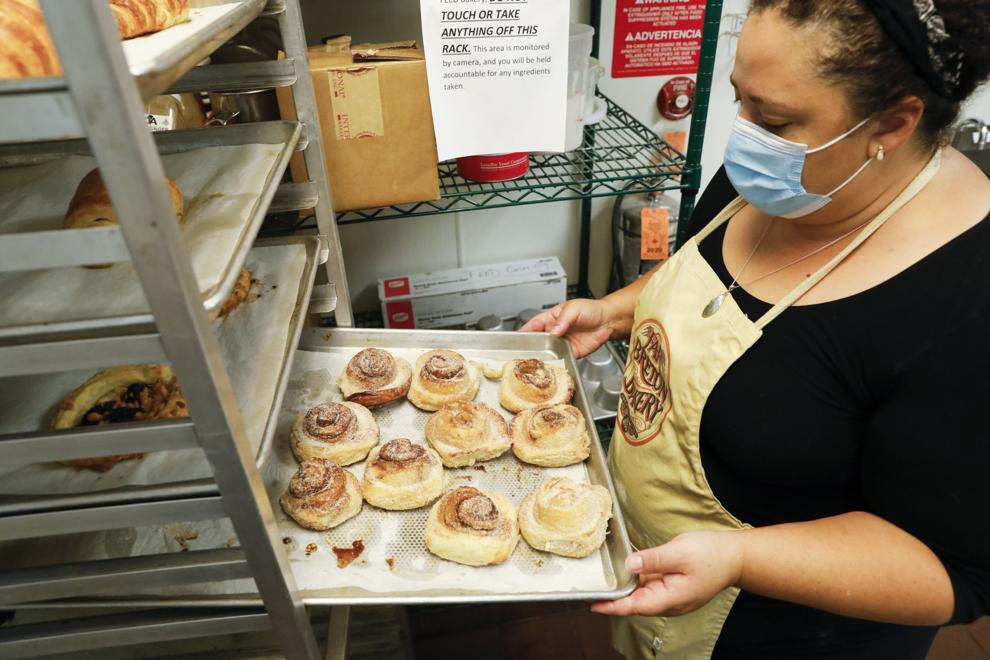 Young started her most recent baking endeavor, Far Breton Bakery, in 2019 — the latest example of the her ability to adapt. Young has worked as a professional pastry chef since 2000 at several restaurants, including the Ovens of Brittany, L'Etoile, Harvest and Samba Brazilian Grill. After struggling with her own ventures, including a bakery in Eau Claire, Young realized that she would have to change her approach to find success. Instead of investing in a building and retail space, Young focused on the food.
On an early Friday morning, Young carefully prepares kouign-amann (pronounced queen ah-mahn, $4), pain au chocolat ($4) and the crowd-pleasing spiced sugar buns ($3) at FEED Kitchen, where Far Breton rents space. All baked goods are made from scratch with organic flour and rolled by hand. A sheet of butter lays ready to be used for the bakery's all butter croissant ($3.50), promised to be "the best croissant you've ever had!"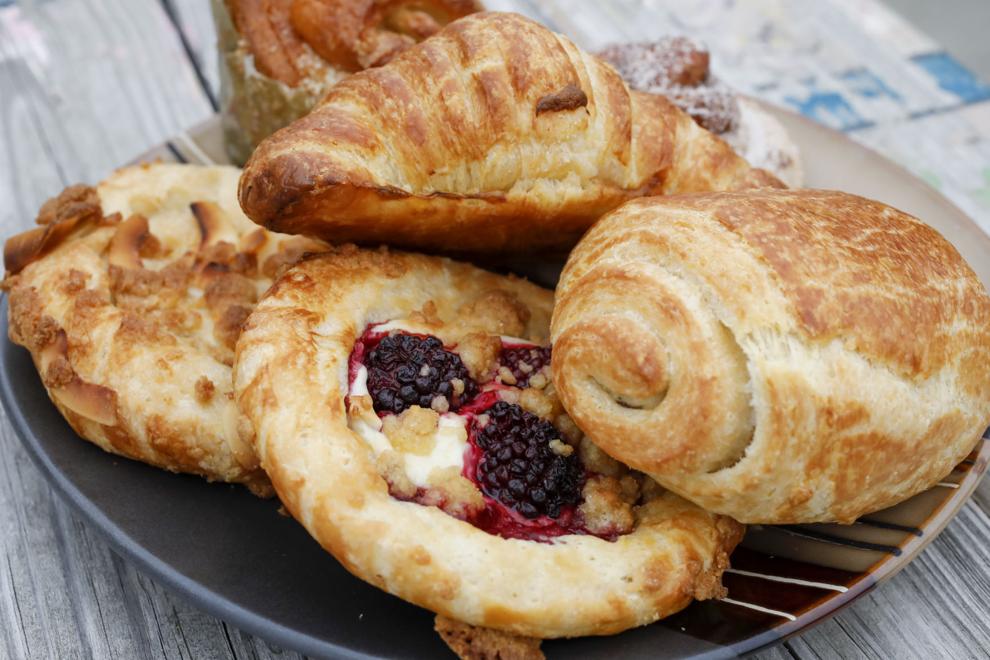 This claim holds up. These croissants, with airy, buttery layers, are undeniably artisan — no shortening or soft outer layers here. According to Young, the first time that someone tries one of Far Breton's original baked goods, they're usually "gobsmacked" by what a good pastry can taste like.
In addition to her culinary education and experience, Young spent summers with her mother's family in the Noirmoutier and Aix-en-Provence regions of France; most of Far Breton Bakery's goods are influenced in some way by her experiences there.
"We would get a bag of frozen, all-butter croissants and drive it back up into the mountain top," Young recalled from her time in Aix-en-Provence. "That was my first experience, as a little girl, wrapping (a croissant) in foil and baking it to bring it back to life. You can only do that with a good percentage of butter. All-butter croissants reheat beautifully and flaky and fall apart. That's the style that I do."
Anything that can be prepared in advance is, from the filling to the dough, in an effort to help Far Breton keep up with crowds at the Northside Farmers Market on Sunday morning. Young's choice to place her bakery on the Northside was strategic. Most of Madison's bakeries are concentrated on the east side off of Willy Street, leaving the north side underserved. It ensures that Far Breton has a large, hungry customer base.
The pandemic quadrupled Far Breton's business at the farmers market as well, leading Young to search for new ways to grow. Inspired by tiny houses, she invested in a trailer to haul her pastries. Young also enlisted the help of three bakers, Marena Fox Baker, Elle Herman and Jacina Krohn, to assist her in the kitchen and at the market. Herman manages the bakery, Krohn works as the assistant bakery manager and Baker makes kouign-amann better than Young herself.  
"I need to train the next generation, and this is my next generation. I love having an all-women team. That's really important to me," Young said.
Since Far Breton got its trailer, it's been able to take its goods even farther than the Northside Town Center. To keep up with demand outside of Madison, the bakery sells par-baked (partially baked) frozen pastries at the Just Local Food Co-op in Eau Claire and takes part in Food Truck Fridays in Eau Claire as well. Far Breton also offers pickup services at FEED Kitchen on Fridays, giving new customers the option to choose a sampler pack of six pastries.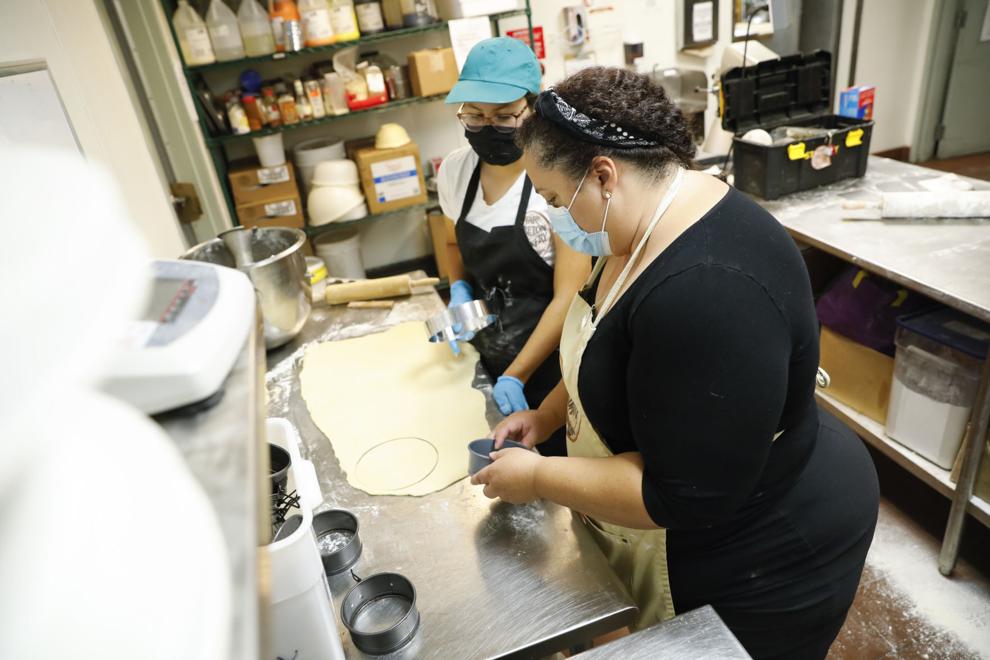 "It's expand or die," Young said. "We don't have a choice but to expand. It's a good problem to have."
Young still hopes to have her own, freestanding bakery one day. Her goal is to keep teaching and growing her team of bakers, and one day open a production facility to go along with a public-facing shop on the north side. As long as Young can sell her pastries, she'll be happy. 
"I used to think, 'Oh, I want to make this beautiful ambiance. I had an espresso machine and little antique espresso cups. I wanted it to be this real European experience for people to go along with the goodies. All my energy was in the front of the house," Young said. "But having taken some hits and some trip-and-fall-on-my-face events, I feel like what's important now is keeping the business running, keeping people happily employed and mentoring people.
"I'm getting older, but we'll be able to do this forever."
Share your opinion on this topic by sending a letter to the editor to tctvoice@madison.com. Include your full name, hometown and phone number. Your name and town will be published. The phone number is for verification purposes only. Please keep your letter to 250 words or less.