The James Beard Awards, casually known as the Oscars of the food world, dropped its long list of semifinalists this morning. On the list: Tory Miller, a 2012 winner for Best Chef Midwest, now up for Outstanding Chef for his work at L'Etoile. 
"I'm almost speechless," he said. "I got nominated before in this category, and I was baffled at that point. To be nominated with people on the list is just wild."
Miller's competition in that category includes Missy Robbins of Lilia in Brooklyn, Gabriel Rucker of Le Pigeon in Portland, David Kinch from Manresa and Sarah Grueneberg of Monteverde in Chicago. 
Miller was a semifinalist for Outstanding Restaurant in 2017-2018 for L'Etoile and a semifinalist for Outstanding Chef in 2016. His predecessor, L'Etoile founder Odessa Piper, won a Beard Award in 2002.
"I'm so proud of my chefs and everything they do for me," Miller said. "My business partner Diane (Christensen) supports me. And my wife Kristine, all the things she's done this year, having a baby and allowing me to do what I do and perform at a high level.
"It always takes a village, but it's incredible to be on that list, in that category." 
Madison's only other nod, for Best Chef Midwest, was for Jonny Hunter and Forequarter, the neighborhood restaurant on East Johnson Street. Hunter is a co-founder of Underground Food Collective, which also runs Underground Butcher, Underground Meats and a new near west side cafe called The Heights.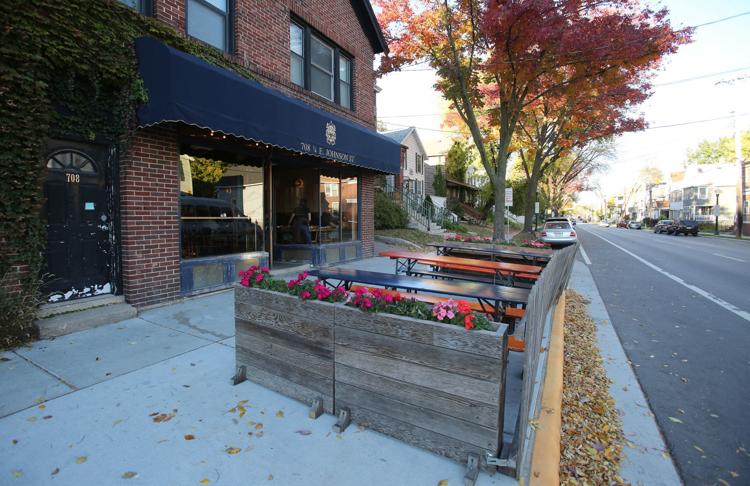 "I know the model is set up to recognize individuals. I hate individual awards," Hunter said. "It's such an honor to get recognized but I want to recognize the people who are in my team."
Hunter contacted the Beards after the list was announced and asked them to add Maggie Roovers, chef at Forequarter. 
"Maggie at Forequarter has been leading the kitchen for two years now," Hunter said. "She's brought focus and creativity to the kitchen that has kept it relevant and interesting." 
Hunter also credited Mark Bystrom, general manager, who's been at Forequarter off and on since it opened, and the contributions of founding business partner Mel Trudeau. 
"The thing about Madison is because we don't have the same spotlight from national media outlets but have been so good for so long we can't get discovered," Hunter said. "We've had the best farmers' market and outstanding restaurants for 40 years now. 
"So it says a lot, both the access to amazing producers and the sophisticated customer that's here, who appreciates and demands we put forward wonderful, good food. You can't rest on things here in Madison." 
On the Best Chef Midwest list from Milwaukee are Dane Baldwin at The Diplomat, Karen Bell of Bavette La Boucherie, and Dan Jacobs and Dan Van Rite, both from EsterEv (DanDan is their more casual Asian-inspired restaurant). Minneapolis chefs Christian Ngyuen from Hai Hai, Karyn Tomlinson from Corner Table, Ann Kim from Young Joni and Jamie Malone from Grand Café made the list, among several others. 
Absent from the list for the first time in several years is Justin Carlisle, who started at Harvest in Madison and now runs Ardent in Milwaukee. 
Last year was a challenging one for many local restaurants. Miller believes the number of available seats is outstripping current demand. 
"It's been rough and all of us are feeling that," Miller said. "It's been the climate in Madison, to have the market not really grow that much to support all these restaurants. Every night you're hustling.
"To get a win like this does make it feel validating. It's not why you work but when it happens, you're like, someone's watching."