It was 5 p.m. on a Friday night in the Sardine kitchen, and in a few minutes nearly 200 guests would be coming through the doors.
All of the $250 tickets for this dinner had sold out in less than four days back in August. There were a half dozen passed appetizers to finish, Brussels sprouts to cook, carrots to roast in vats of butter.
But for the moment, all canape prep and potato peeling had stopped. Chefs from more than a dozen of Madison's top restaurants stood quietly in their clogs and aprons as chef Jacques Pépin rounded the corner into the kitchen.
Event organizer Joe Gaglio of Gotham Bagels stood to one side and made introductions.
"Patrick, Tim, Elizabeth, Shinji," Gaglio said. "Here we have Chef Evan. Chef Francesco — he's from Italy, so be nice to him. Chef Molly. Chef Dan."
Pépin, dressed in a blue sport coat, gray vest and bright red pocket square, smiled graciously and posed for photos, the first of dozens he would take that evening.
And when he passed chef Jed Spink's cutting board laid with thin-sliced wagyu beef, Pépin swiped a roll for himself.
Pépin, now 82 and based in Connecticut, traveled a thousand miles to be in Madison for the evening, yet he seemed right at home. The master chef, cookbook author, television star and longtime educator has spent almost seven decades in kitchens.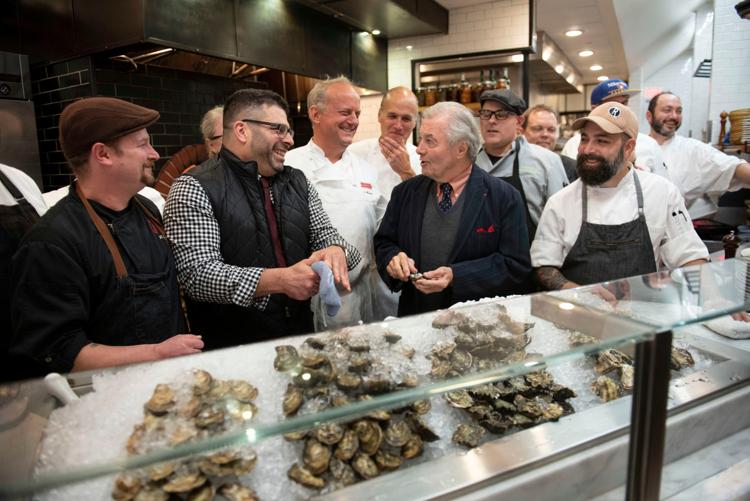 The chef also empathized with the evening's purpose — to raise money for Journey Mental Health's suicide prevention work in Madison. With the passing of chef, author and television host Anthony Bourdain earlier this year, mental health challenges in professional kitchens have been increasingly in the spotlight.
"Our business is a very, very tough business to be in," said Pépin, who came to Wisconsin with his daughter Claudine for a dinner, farmers' market tour and a brunch. "I've been in the kitchen almost 70 years now. That's a long time. The pressure of it is difficult. You get a great deal of joy as well, but you have to go in for the right reason.
"You work Saturday, Sunday ... you have a family (but) you work holidays, late at night," Pépin added. "It's a tough business and you really don't make much money, except when you get to the end and get lucky. You really have to love what you're doing.
"That's the secret of life, to be able to make a living out of something you like to do."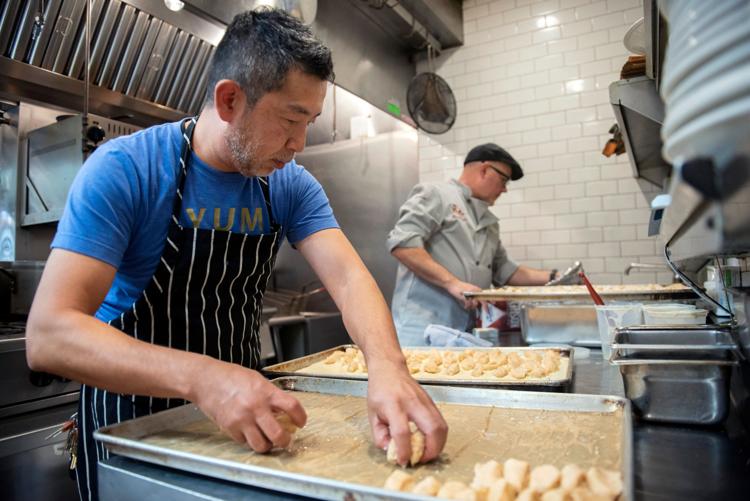 Starting with "La Technique" in 1976, Pépin has spent his career teaching America's home cooks how to smash potatoes and roast chicken in the classic French style. Just like amateur cooks, many professional chefs grew up watching Pépin on PBS before studying his work in culinary school. 
"Honestly I would have paid to be here," said chef Francesco Mangano of Osteria Papavero, peeling potatoes before Pépin arrived. "You go to school, you hear about his techniques. I'm just happy to be here."
Chef Tim Dahl was excited to get his "La Technique" signed with a "happy cooking!" from Pépin. Patrick DePula, chef/owner of Salvatore's Tomato Pies, remembered watching "Julia and Jacques Cooking at Home" as a kid with his grandma.
"My grandmother would use recipes of his and experiment," DePula said. "It's really an awesome experience to do this dinner in his honor."
"He's someone people relate to because he makes cooking so accessible for the home cook," said Sardine chef and co-owner Phillip Hurley. "He's not intimidating. You don't think of Jacques and think of the 10 restaurants he owns."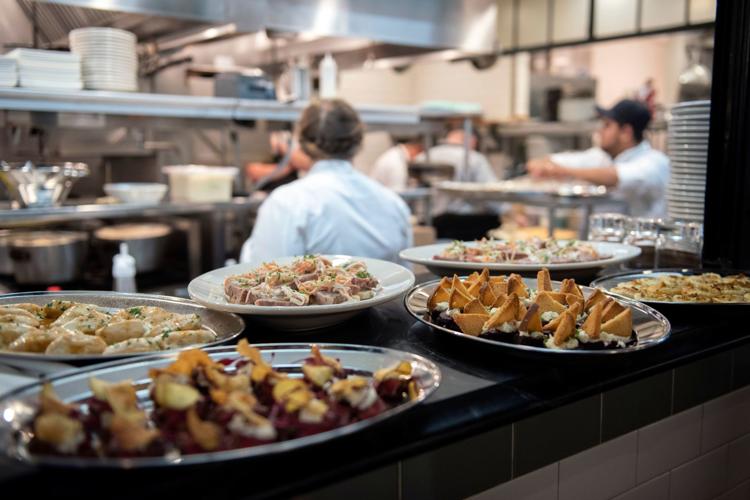 Friday's "Evening with Jacques" started with sparkling wine and passed apps, like a tartlet with chevre and herbes de Provence from Madison Sourdough's Molly Maciejewski, country pate from Mangano and brûléed buttery quenelles with smoked trout made by chef Shinji Muramoto.
"I love that it's family style," said Tami Lax, owner of Harvest. Lax made a quarter-sized potato canape with Lake Superior herring, pickled onions, roasted beets and crème fraiche. She also coordinated the end-of-meal, all Wisconsin cheese plate.
Several chefs teamed up on dishes. Evan Dannells of Merchant and Lucille collaborated with Gaglio on the salad course, "autumn greens" — mustard greens, tat soi and baby kale — with thin-shaved beauty heart radishes, sunshine squash, candied hickory nuts and a vinaigrette with Banyuls, a fortified French wine vinegar.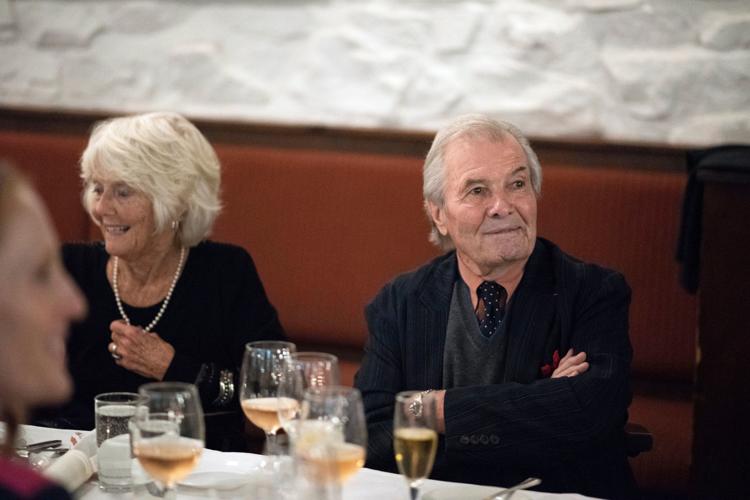 Tim Dahl of Merchant and Lucille and L'Etoile pastry chef Elizabeth Dahl made a crepaze, layered thin chestnut crepes with a dark chocolate cremeaux, similar to a mousse. They served wedges of this delicate crepe cake with caramelized pear puree, roasted sweet Harrow pears and buttermilk ice cream.  
Some chefs also took the opportunity to show off classic French techniques. Chef Dan Fox of Heritage Tavern spent three hours carving fluted mushrooms for a dish of Dover sole stuffed with foraged mushroom duxelles and scallop mousse. He plated it with a Madeira mushroom cream sauce, melted leeks, osetra caviar and a crispy potato crisp called a gaufrette.
"We've been practicing this dish for a couple weeks," Fox said. "We actually sent one of our office folks to the Wisconsin Dells to pick up button mushrooms, because they needed to be super fast to carve them otherwise they break down."
Pépin critiqued the dish, which delighted Fox.
"He said he could have used more sauce," Fox said. "Which I was really worried about, because when you do it family style you pick up a scoop and that mousse, it begs for sauce. It has to have sauce."  
As dinner wound down, Gaglio paused to address the room about the cause he'd chosen for Pépin's visit. Not only was Bourdain's death a touchpoint for him and others in the culinary industry, Gaglio's daughter, Alessandra, benefited from local mental health services two years ago.
"I had someone who I love very much go through this, and that's when it hit home for me," Gaglio said.
Other chefs echoed this.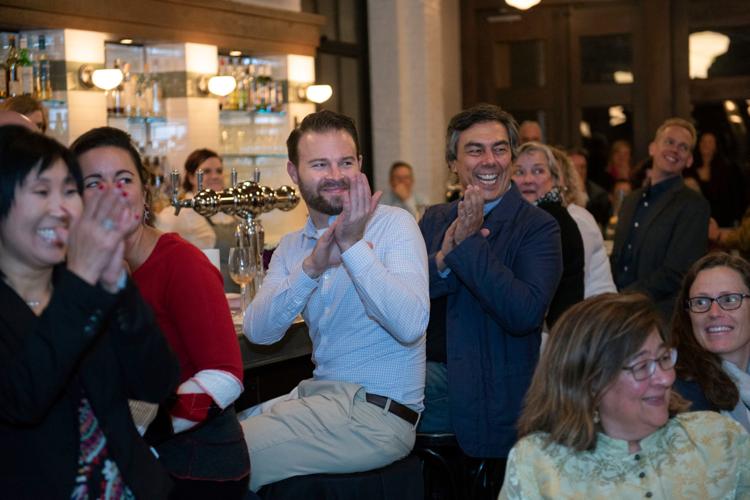 "I've had a lot of people, close friends and family members, affected by mental illness," said Spink, chef at the sushi restaurant RED. "I think people with mental illnesses are really good at hiding them. I've known a lot of people who it's taken a long time for them to come out and admit it."
Claudine Pépin and her father learned about the cause on the night of their arrival. When she rose to address the diners, Claudine said her dad "reminded (her) of how giving chefs are."
"You walk into any executive chef's office, there is a bin that has 45 invitations — my kid's PTA, the school, the playground, the sports teams," Claudine said. "It's one after another. Can you do this? Can you do this for free?
"Chefs give and give and give, and sometimes they need more support than we have traditionally given."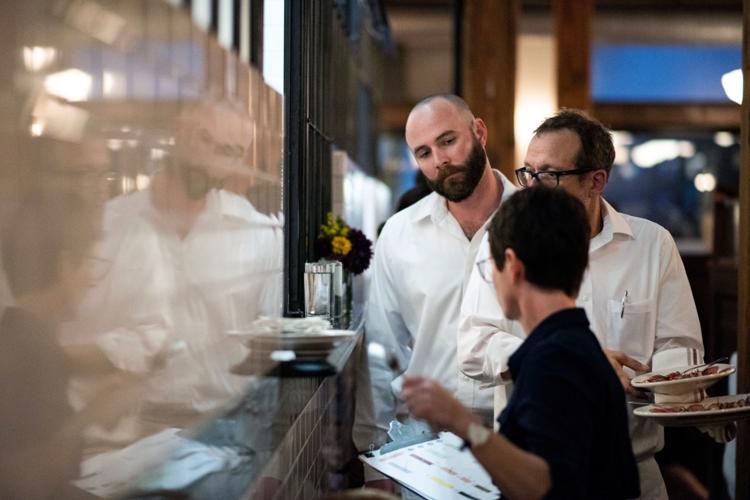 Jacques himself said the pressure of twenty-first century culinary work seems different than when he was coming up.
"Young people now are probably more subject to that type of depression than when I was a kid, and for different reasons," Pépin said. "There were no big stars. The cook was very low on the social scale. Now we are genius. It puts a lot of pressure to it."
But he seemed to share a belief echoed by several of the chefs cooking for him that night, that food could be a healing, restorative force. 
"Food is an equalizer, not only in the cooking but in the dining room," Pépin said. "This is what the table is all about, sharing food, cooking together. I have been blessed with happiness, so I am delighted to be with you. Bon appétit!"