The start of the pandemic gave everyone a mini-crash course in food supply chains. That unsettling feeling, of not being able to quickly and easily find the food you want, is one Ho-Chunk chef and educator Elena Terry knows in her bones.
"One of the luxuries we don't have in Indigenous communities is we can't just go to the grocery store and purchase what we need," Terry said. "Ancestral ingredients need to be grown. They need to be mindfully and intentionally brought to spaces where they're going to thrive and be cared for."
Terry is the founder of a food-focused nonprofit called Wild Bearies based in the Wisconsin Dells and a lead mentor for the Native American Food Sovereignty Alliance. Terry, her daughter and her inter-tribal grandmother Jessika Greendeer work to save Indigenous seed varieties of corn, squash, sunflowers and more. The trio is currently featured in the spring issue of Edible Madison ("Seed Work is Slow Work," by Jonnah Perkins).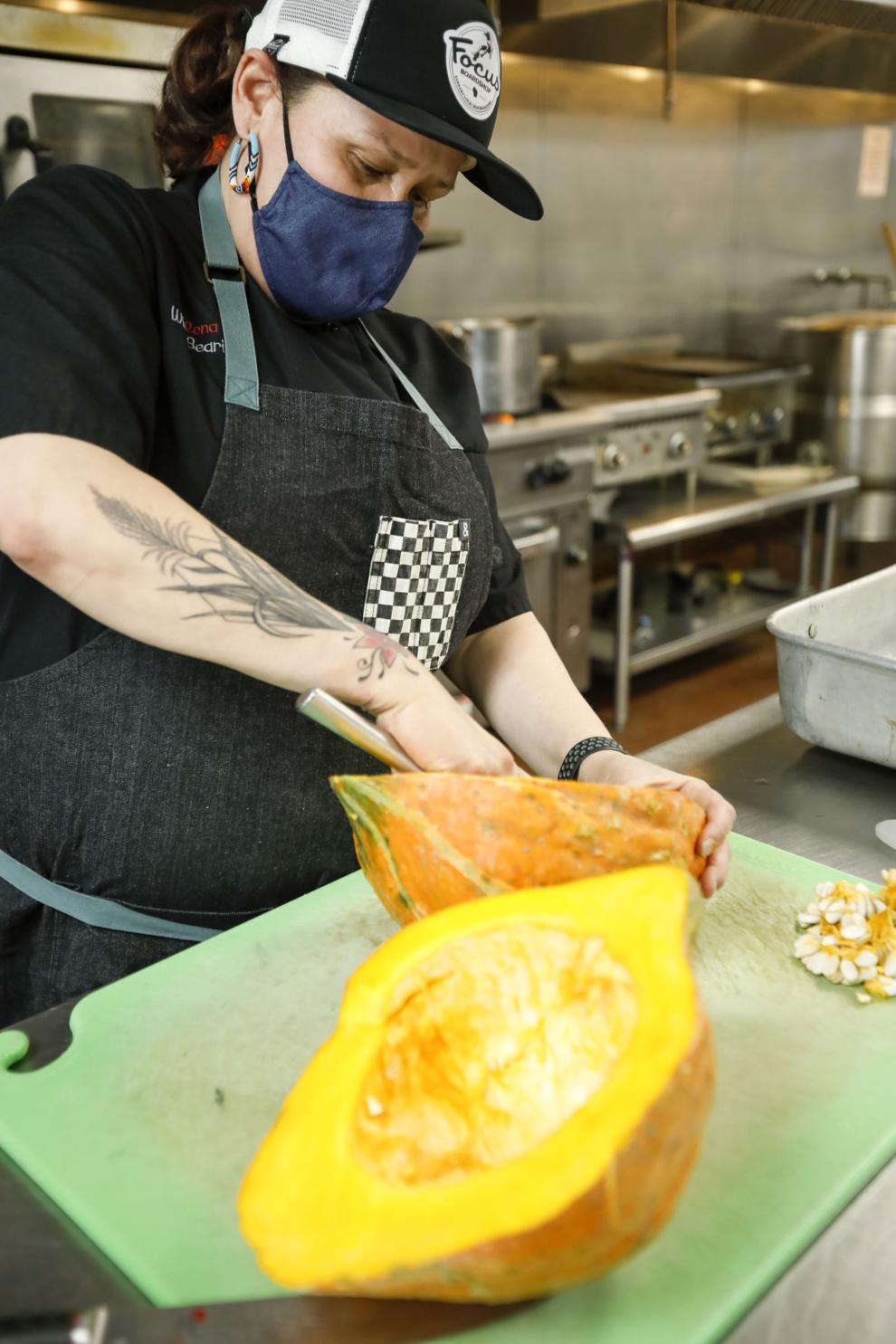 Terry "has emerged as a leader in Native food reinvigoration through her work as a chef, seed keeper and community organizer," Perkins wrote in the piece.
The pandemic has been isolating for Terry, who flourishes when sharing food and knowledge.
"For a group of people that thrive on the busy movement of the kitchen, it's been hard to adjust," she said. "But there's been a great deal of healing in being able to shift our focus to support the ones growing and producing our foods.
"It changed our attention to supporting growing efforts, and being able to provide food sources for everyone," she added. "Food security has been a huge issue this year. It really made us stop and say, we have to get this basic education out there."
Pre-pandemic, Terry and sous chef Yusuf Bin-Rella brought the Bearies to Femmestival at Garver Feed Mill. Patrons lined up at their booth for a wild rice bowl with fresh berries and cranberry maple vinaigrette. Terry, beaming in a striped apron, looked visibly delighted as she passed out plates.
"For us culturally, especially Ho-Chunks but many Indigenous people, sharing a meal is one of the highest (honors)," Terry said at the time.
On a recent Saturday, Terry demonstrated how to make a variation of that same salad for several dozen people over Zoom. Via Pasture and Plenty on University Avenue, each attendee had received ingredients to assemble the salad, as well as a take-and-bake "Indigi-shepherd's pie" with bison and sweet potatoes and a blue corn pudding dessert with maple walnut frosting. (Terry grabbed one of the desserts the day before, and it didn't make it all the way home in the car.)
"For me, it's enjoying the purity of all these incredible flavors," Terry said as she began to assemble greens and grains on camera. "I want to be able to taste the rice and salad greens as much as possible."
Terry has partnerships with the Intertribal Agriculture Council and the American Indian Foods program, from which she drew to source some of the products in the box. She used a reserve of maple vinegar from a producer in Michigan for the vinaigrette, and shared her source for the bison in the shepherd's pie. The blue corn pudding included roasted Dakota squash from Sean Sherman, founder/CEO of The Sioux Chef in Minneapolis.
Cooking over Zoom wasn't the same, but Terry's warmth came through the screen. She couldn't stop grinning as she talked about a tree sap run ("warmer days are coming!"). Terry aims to demystify her ingredients in much the same way that Christy McKenzie at Pasture and Plenty wants to connect diners to local farmers, so they'll seek those farmers out at markets and on restaurant menus.
"I really appreciate the flavors we're able to get from these Indigenous ingredients, and complementing them with a little bit of relatability for our palate," Terry said. "Somebody might perceive a shepherd's pie as a comfort food. Everything I put into this pie, for me, is comforting.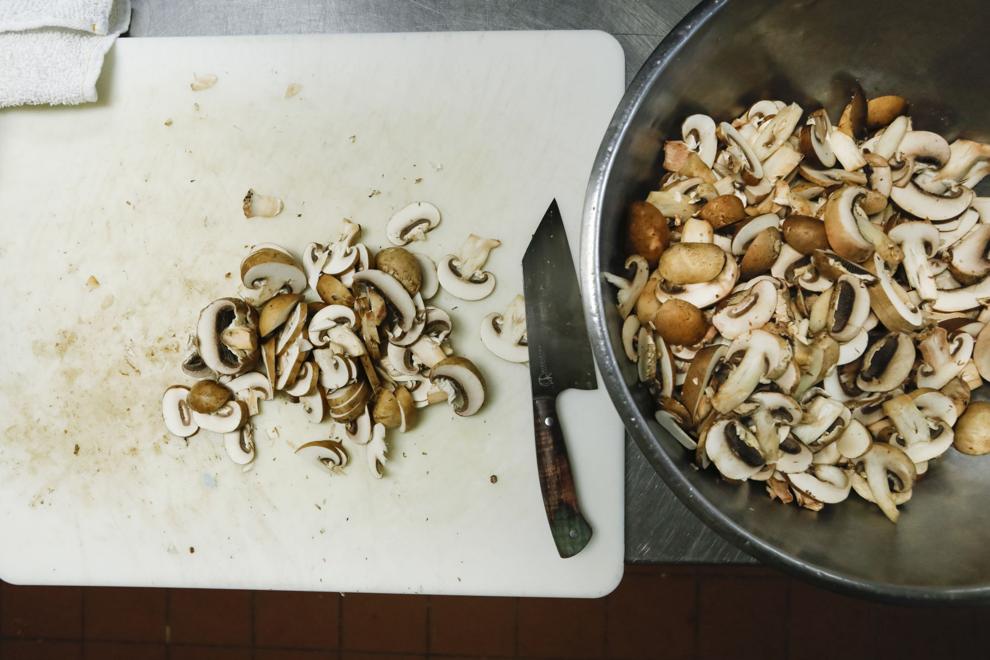 "The flavors, textures, go together. ... Even this onion is fulfilling its destiny by flavoring our food and providing nourishment. I want to use as much of it as possible."
Pasture and Plenty wants to do at least one more of these cooking demonstrations with Terry, likely more of a class, scheduled around Earth Day in April. (Other chefs, including Adrian Lipscombe of Uptowne Café & Bakery in La Crosse, are also working on cook-along events.)
Terry's goals are simple and consistent. She wants more people to cook. She's working on a Garden Bearies initiative, to get children involved in gardening. And she's continually connecting Indigenous produce, meats and grains to new advocates who can enjoy and preserve them.
"I stand behind the work being done in our communities by Indigenous people, any time I can get education out there and break that intimidation barrier," Terry said. "If ever there was an awakening and a moment where we realized we need to do more to support responsible growers, it's now ... really making sure we have what we need for the long run."
Share your opinion on this topic by sending a letter to the editor to tctvoice@madison.com. Include your full name, hometown and phone number. Your name and town will be published. The phone number is for verification purposes only. Please keep your letter to 250 words or less.