Dayton Street Grille in the Madison Concourse Hotel has remodeled and rebranded itself as CIRC. 
The new name reflects the new lobby design, which is full of circular and semi-circle shapes, as well as the Concourse's location on West Dayton Street. 
"That played into the naming of the restaurant," said Madison Concourse marketing director Tim Brechlin. "We are in the hub of downtown Madison."
"The space itself has been completely remodeled as part of our lobby renovation," Brechlin added. "We rebuilt it from scratch, essentially. We're really proud of how it turned out. It's a great open air communal environment."
The restaurant, which re-opened in mid-February, has the same executive chef, Charles Lazzareschi, who led Dayton Street Grille for eight years. CIRC serves breakfast, lunch and dinner and is open seven days a week (there is no dinner service Sunday); the bar is open daily. 
For lunch, the salad bar has returned, and Brechlin noted the addition of a "powered cold table" instead of trays of ice.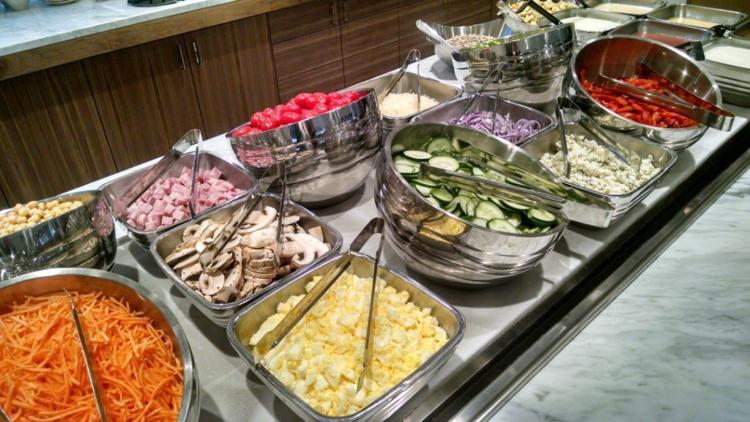 One side is a build-your-own salad station. On the other are more composed salads that change almost daily, including some with farro and quinoa as well as a shrimp and crab salad, for example. Dressings are prepared in house.
Lunch includes cold open faced sandwiches with "almost a Norwegian inspiration," Brechlin said, as well as standbys from the previous menu, like burgers, grilled cheese and popular tomato basil soup.
CIRC features four soups served daily year-round and a dessert station, with cakes, tarts, petit fours and cookies from the CIRC pastry team. During colder months, there's usually a hot dessert like a cobbler or crisp, according to director of food and beverage Keith McCredie. 
"There's a scallop dish with braised veal cheeks and pasta that is out of this world," said Brechlin. "We've got a rib-eye that is amazing ... it runs the gamut." 
Also on CIRC's dinner menu are a citrus crab salad, baked blue crab dip, house-made ricotta cheese with meyer lemon, olive oil and rosemary honey, braised lamb with gnocchi, "chicken fried chicken" with collard greens and corn bread, hanger steak with blue cheese and roasted porchetta.
"At its core, the cuisine is primarily contemporary American," Brechlin said. But "there are global influences in every single dish that we are serving."
Dinner entrees cost about $22-28, while at lunch most items are $10-14. 
The Concourse still offers banquets and catering, as well as a private dining area. The restaurant now seats 72 people, slightly lower than Dayton Street Grille. The tables are arranged more efficiently now, mostly in pairs, according to McCredie.