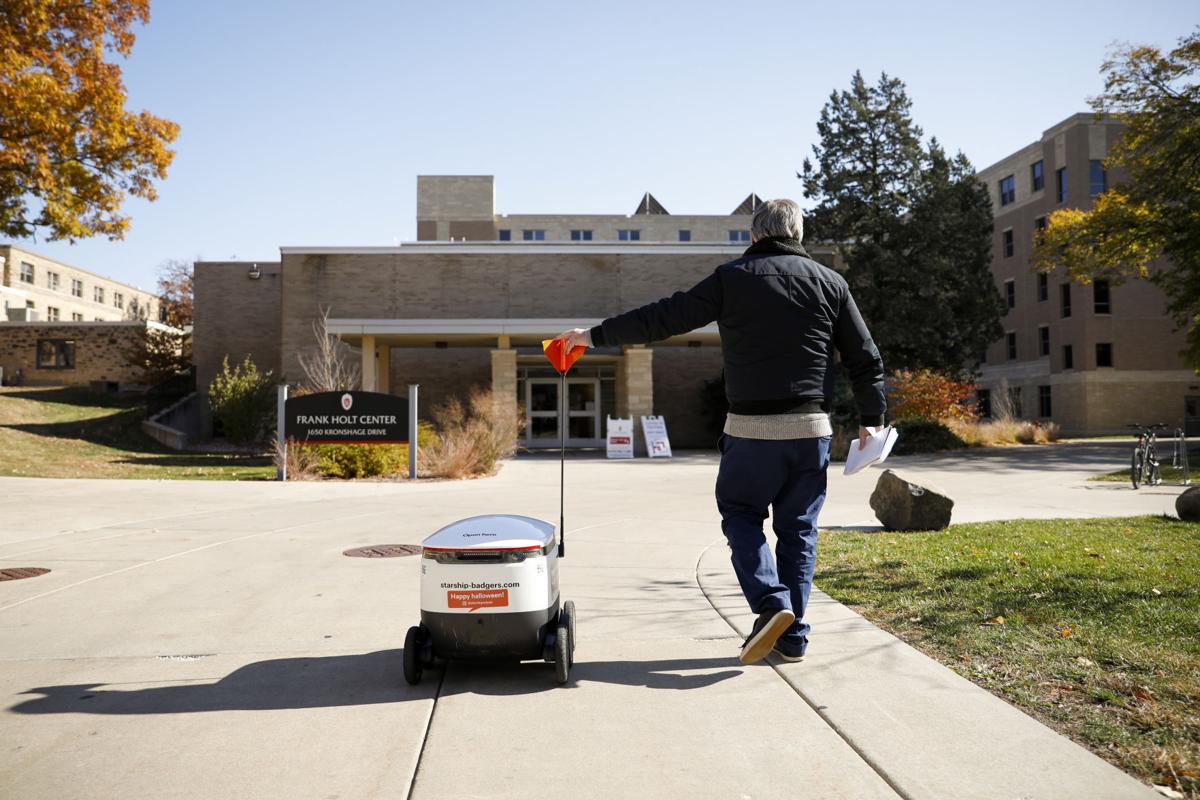 Mason Crooks was hungry. As he does for lunch about three times a week, the University of Wisconsin-Madison freshman grabbed his phone in his room at Slichter Residence Hall and ordered lunch: rotini pasta with chicken and mushrooms and a can of iced tea.
Half a mile away, 6E70 sprang into action.
6E70 is one of the Starship Delivery robots that have been rolling around the UW-Madison campus since last fall. Looking like a cross between a picnic basket and a Stormtrooper, the squat, six-wheeled, adorable little robots owned by Starship have transformed, in a small way, how the campus eats.
Launched in November 2019, this fleet of 30 rolling lunch boxes became increasingly useful during the pandemic, when many preferred to stay home and order in food.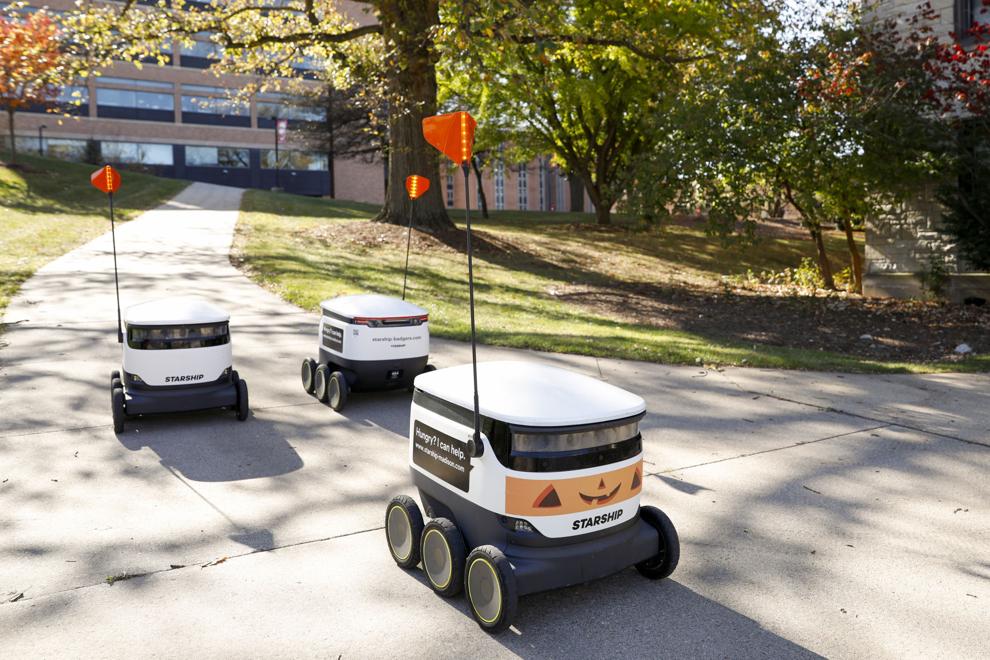 At the moment Crooks' sent off his pasta order, 6E70 was parked outside Dejope Residence Hall, waiting to be called into service. He (it's impossible not to call the robots "he") had arrived outside the hall just a few minutes earlier from delivering another order, neatly maneuvering into a marked space next to another robot.
All gleaming white surfaces and sporting a tall orange flag for visibility's sake, Starship robots look the same. 6E70 was the only one we saw sporting a festive Halloween touch, a jack o'-lantern bumper sticker on his front. The sticker was an official Starship addition — otherwise, it's forbidden to add any stickers or other decorations to a delivery robot. 
(We later learned that 6E70 was nicknamed "Pumpkinbot" as part of a Starship promotion. Those who spot him and post a photo on Instagram can get a "spooky promo offer.")
Inside Four Lakes Market at DeJope, food service worker Riley Yauch took Crooks' order via app. He loaded the pasta container and can of iced tea into a plastic bag, which had an adhesive strip inside to seal the food inside. Then he brought the bag out to 6E70.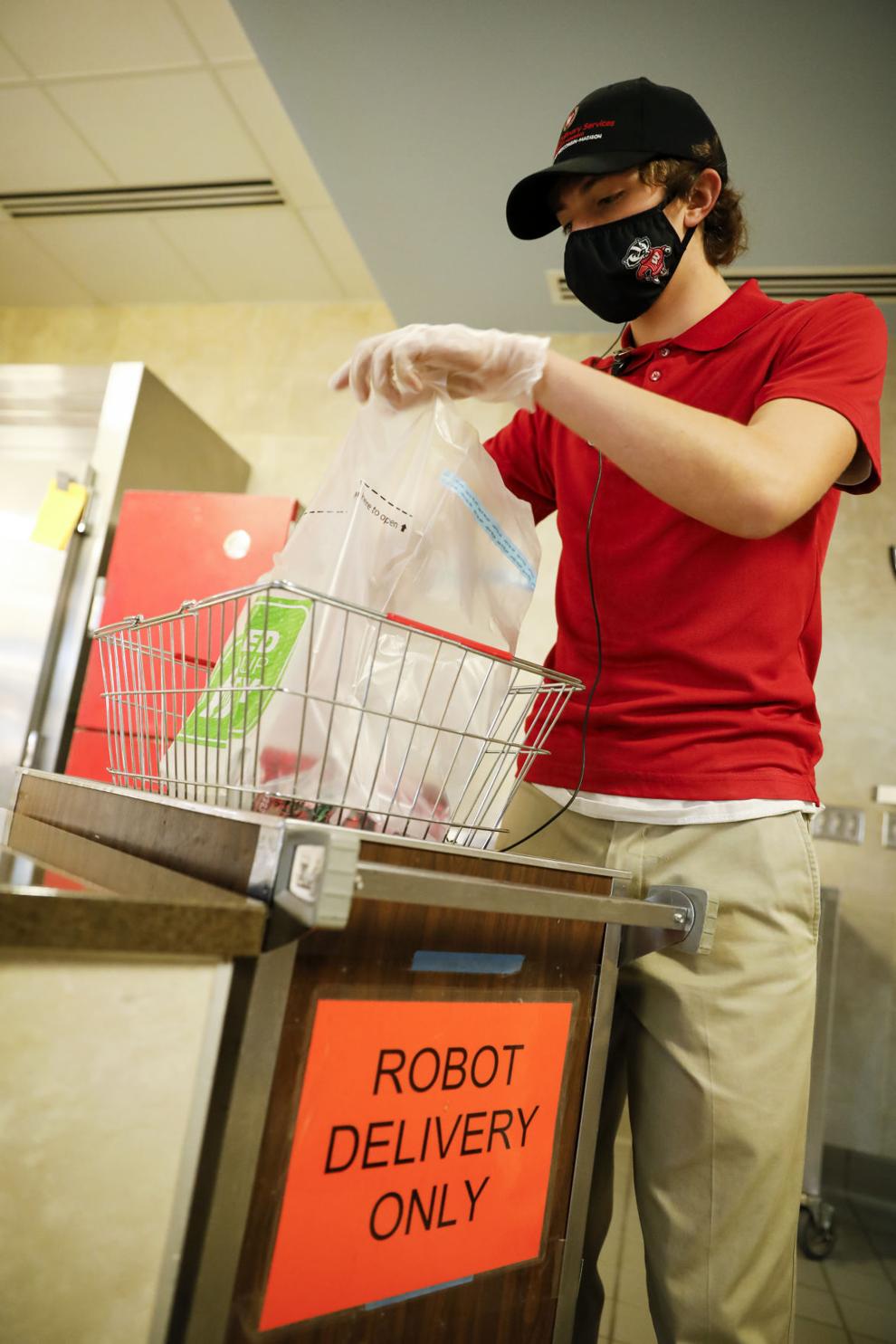 Using the app on his phone, Yauch unlocked 6E70's lid, which opened to reveal two insulated compartments. The larger one was for food, while the smaller one contained drink holders. Yauch wiped down the entire interior with a sanitized wipe (now standard procedure before every order is sent out) and loaded in Crooks' food. The lid closed.
"Many thanks!" 6E70 chirped in a cheerful male voice, and zoomed off towards Slichter Hall.
With a reporter and photographer following along (sometimes jogging to catch up — on an open stretch the robots can hit 10 miles per hour), 6E70 carefully negotiated his way along the campus footpaths and up Observatory Drive. One passing student pulled out a camera to take pictures of 6E70, but most students walking past ignored him. He didn't seem to mind. He was on the job.
6E70's 360-degree cameras surveyed his surroundings as he rolled, looking for obstructions or obstacles. If a student crossed in his field of vision, even a good 20 feet away, he would stop immediately. Unit manager Greg Heintz said the robots' safety record is impeccable so far.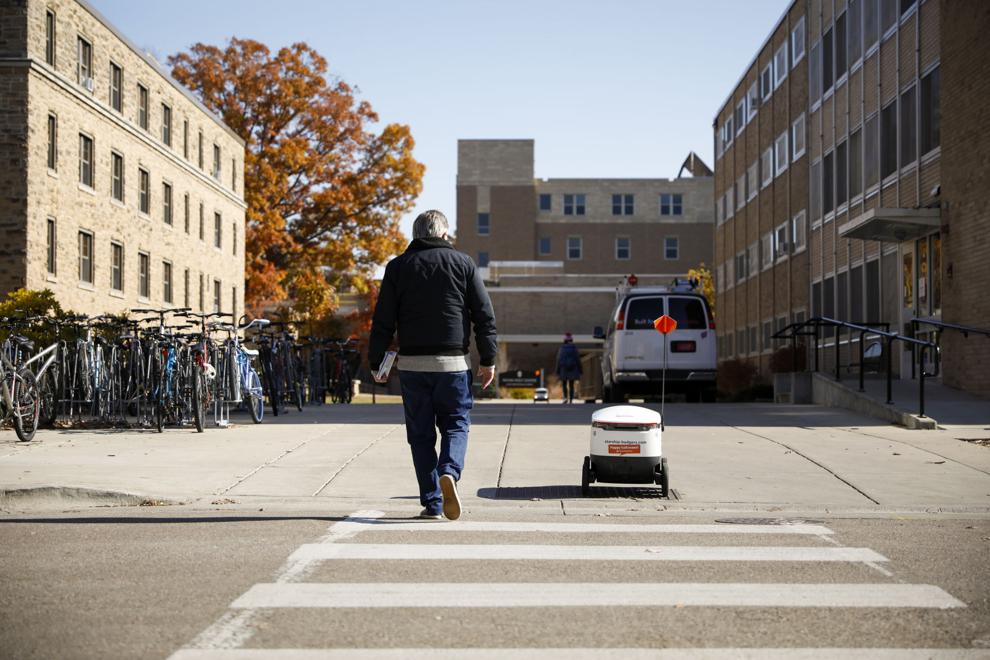 "I don't know that we've ever had any purposeful damage to them," Heintz said. "We've never lost one. We had one that fell into a manhole on State Street. There was some construction and it didn't know, and it fell in ... some construction workers picked it up and put it back out."
The robot's wheels allow it to climb over curbs, and Heintz said the robots can traverse up to six inches of snow.
"They're actually built in Estonia," Heintz said. "They know a cold climate." Last winter, there were incidents of robots getting stuck in snowfall, but helpful humans swooped in to extricate them.
There've been no incidents of students hazing, defacing or otherwise messing with the robots, who will react to those who try to keep them from their appointed tasks. 
"It will politely tell you, "Please excuse me, I'm on my way to work," said Peter Testory, director of dining and culinary services for campus housing. "It slowly gets more aggravated and intense and direct in its language, to the point where it will finally yell at you 'Get out of my way' and alarms will go off."
When 6E70 had to cross a street, he stopped dead. At that point, Heintz said, a human driver will take over remote control and guide the robot across the intersection. Crossing Linden Street, 6E70 stopped, waited until the road was clear – and then suddenly lurched into reverse towards photographer Ruthie Hauge.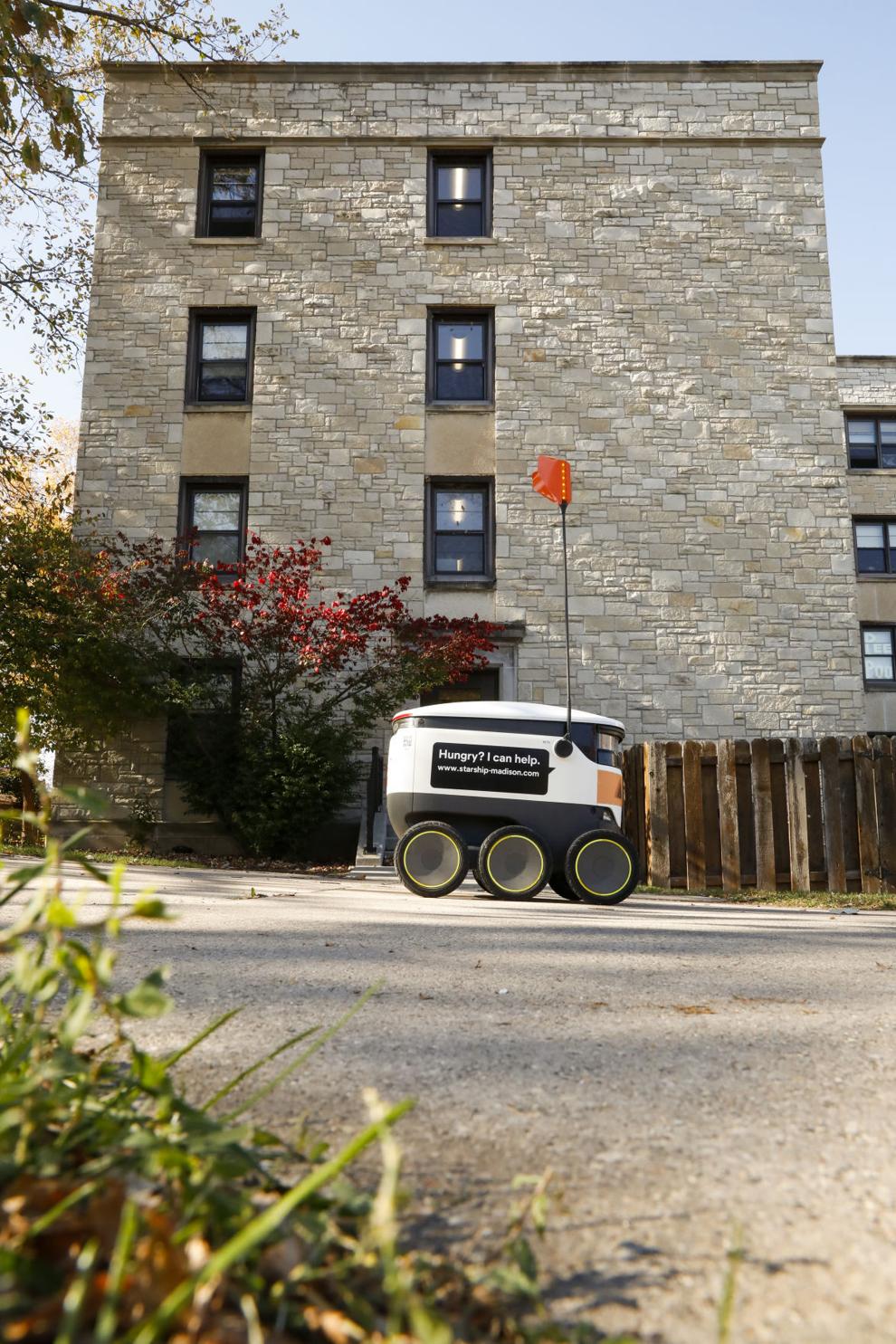 We're fairly sure that was just a human driver somewhere, messing with us.
The funniest interactions came when 6E70 came across another robot heading the other direction. Both robots would stop, moving slowly back and forward as they negotiated around each other. It looked from a distance like passing co-workers making small talk. ("Morning, Steve." "Morning, Frank." "Catch that Rocket League game last night?")
Cruising up Observatory Drive (the incline didn't seem to slow down 6E70 one bit) we saw another robot heading downhill. It stopped dead in its tracks as if seeing 6E70 coming, turned to the right, and blasted down a side path. We assume there was some unresolved workplace tension between those two.
By the time 6E70 got to Slichter Hall, it was one of four robots on the same path, all heading to different destinations. 6E70 parked in front of the door to the residence hall and waited patiently. The app notified Crooks that his food was here, and a couple of minutes later he came out to retrieve it. Just like Yauch had done, he used the phone app to unlock 6E70's door and retrieve his lunch.
"Thank you!" 6E70 exclaimed. "Have a nice day!"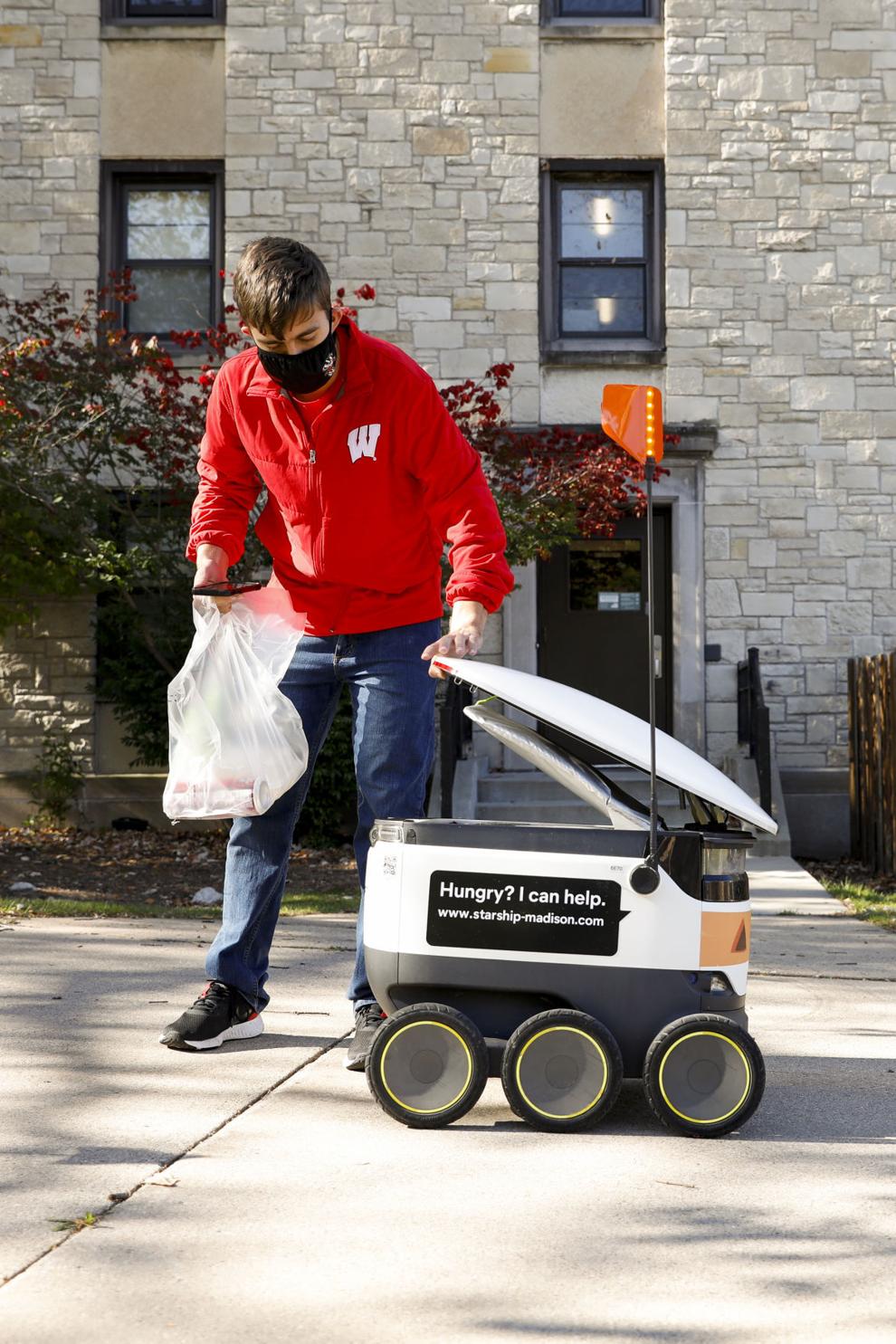 As an engineering major, Crooks said he's particularly fond of the robots. "It's really fun to see this technology being used in this way. I just like them."
6E70 zipped back up the way he came, and Ruthie and I assumed we'd follow him back to Dejope. But instead of turning right at Observatory Drive, he turned left. Another order must have come in at another food service location requiring his attention.
At the end of the day, all the robots come back to Dejope, where they go down into the basement and park on charging mats for the night, getting ready for the next day's tasks. Heintz said we weren't allowed to see the charging stations. I guess even robots need a little privacy.
If you see a little robot with a jack 'o' lantern sticker rolling around campus, be sure to say hi to 6E70. But don't get in his way. He has work to do.
Share your opinion on this topic by sending a letter to the editor to tctvoice@madison.com. Include your full name, hometown and phone number. Your name and town will be published. The phone number is for verification purposes only. Please keep your letter to 250 words or less.