Store dietitian Andrea Erickson is trying, through cooking classes, prep parties and meal kits, to get more people to cook at home.
"A lot of people know what they need to do or have this desire, but they are lacking the time or the energy to do it," said Erickson. "My main role is to help make that more feasible for the consumer. Our biggest push is helping customers make more meals at home."
One new way Erickson is pursuing that goal is with a simple meal kit service modeled after Plated, Hello Fresh and Blue Apron. It's called Simple Fix To Go, and it's box of protein, produce and grains/ pasta that shoppers can pick up from the meat department.
Customers choose among six entrees, like curried chicken and rice, beef taco bake, BBQ cornbread casserole or Sriracha salmon with spring risotto. These options change monthly and generally don't include vegetarian dishes.   
Shoppers place an order the week before they want to cook. Prices range from $30 for a "whole" recipe (6-8 servings) of zesty flank steak with baby Dutch potatoes to $7 for a "half" recipe (2-4 servings) of adobo chicken legs.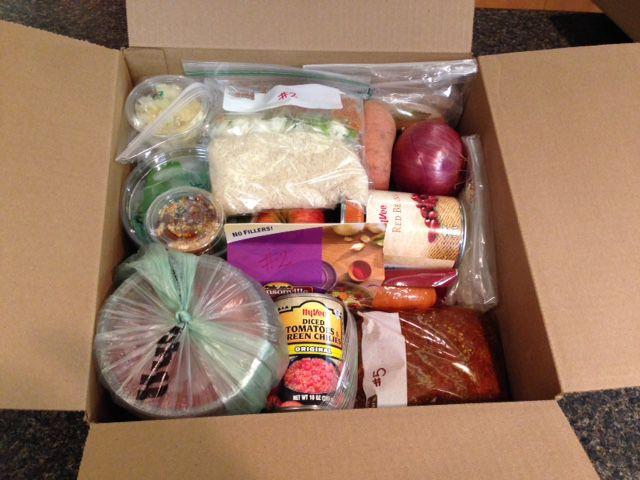 Most people choose two to four meals at a time, Erickson said, and baked ziti, Italian beef and salmon have all been popular. Pickup is every Tuesday at the meat counter from noon until 9 p.m. and Erickson assembles and packs the ingredients that morning from a dedicated pantry.
The goal with these is less to teach someone to cook, as some delivery services seek to do, and more just to get something home cooked on the table in less than an hour on a busy weeknight.
"Our meals are probably more simple than some of the others, like Blue Apron or Plated," Erickson said. "It might appeal to somebody who has simple tastes. The meals aren't as complicated."
Novice cooks using the Hy-Vee recipes would have trouble recreating ones they like, since there were few measurements — this, Erickson said, allows her to use the same recipe for both the large and smaller orders. And they are, as promised, very straightforward. No frills.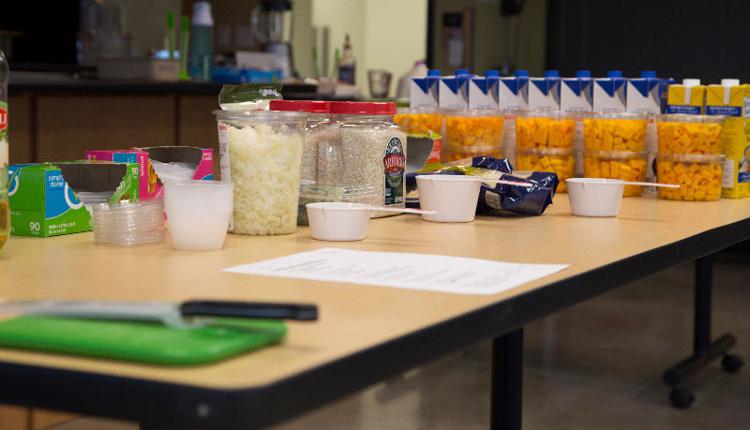 Erickson adapted the recipes for Simple Fix To Go from Hy-Vee's group cooking sessions. A few times a month, groups of friends or coworkers come in to the store's service kitchen and together prep a half dozen or more freezable meals using the Hy-Vee pantry.
"They mostly do it as a social gathering," she said, "and the bonus is they take home six meals they put together."
At the group prep sessions, Erickson learned that people want to know what's going into their food. Some are nervous about doing something wrong if they eat a tomato sauce or chicken with noodles instead of rice. They want to know the right way.
"They'll ask, 'What am I going to make with this? What do I eat with this?' They want very specific instructions," Erickson said.
When she adapts those recipes for pickup, she's offered more complete meals, but found them less attractive to customers than the simple ones.
"At first I was trying to get such a complete meal," Erickson said. "I've been starting to try to make them less complicated. I'm trying to find that balance, especially for the order pickup service."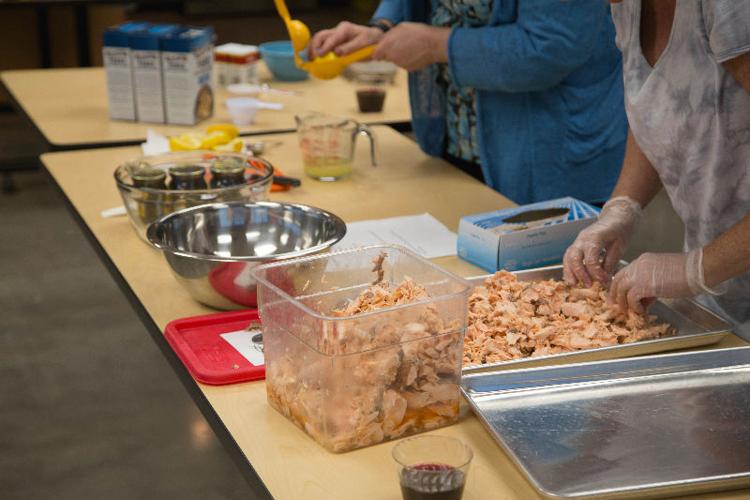 Hy-Vee Madison West rolled out Simple Fix To Go quietly in October and started advertising it this spring. Erickson has been getting three to seven orders per week, and she's hoping to add more.
She also wants to start opening up group meal prep sessions to the public with pre-registration. Hy-Vee staff does the shopping and preps most of the ingredients, and attendees can pay per meal or choose all eight for a flat rate ($130 in May).
Options for this month were set to include shrimp, bean and rice bowls, pulled pork tacos, goulash and veggie curry with fragrant rice. (Hy-Vee's website indicates the May session has been canceled).
It may not be exactly parallel, but Hy-Vee's Simple Fix could solve the same time challenges that meal kit delivery services were designed to address: grocery shopping and meal planning.
"We have Aisles Online, where people can order and have it delivered," Erickson said. "But you still have to figure out what you want to make.
"A lot of people like that the meals are already picked out for them and they have a smaller selection to narrow down their options."