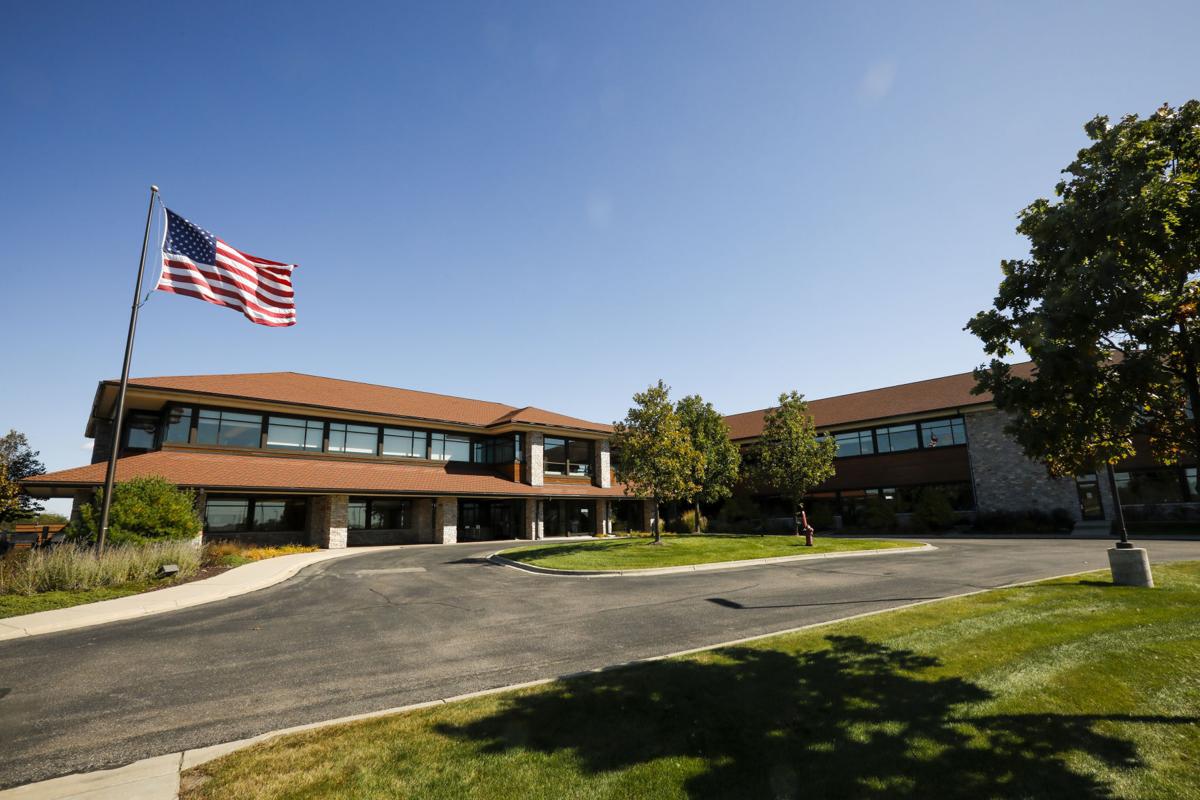 Many of the menu development chefs at Culver's headquarters in Prairie du Sac came from high-end, fine dining kitchens.
The gulf may look wide between delicate steak tartare and a fat ButterBurger. But behind the scenes, they both demand precision, layering flavors, an eye on quality and constant awareness of cost.  
"Menu development is a heady blend of art and science," said chef Quinn Adkins, Culver's menu development director. "You use both in almost equal proportions every single day."
Adkins and his team are the "gatekeepers" for the burgers, crinkle cut fries and concrete mixers that appear at Culver's restaurants from Idaho to Florida (775 locations in 25 states, with another 50 set to open by the end of the year).
Each item on Culver's core menu must be efficiently replicable, marketable and consistent, all at the right price point. It can take a long time to zero in on exactly what fits. 
"We turn to our network of vendors and suppliers to find exactly what we want," said Adkins. "The Easter egg hunt is the most fun. It has to check so many boxes." 
The latest addition to Culver's year-round menu took a full four years of testing. The Harvest Veggie burger debuted officially on Sept. 28 and has already sold 25% more than what the company forecasted for the rollout.
Locally, Culver's aficionados may have spotted it even earlier. Madison was one of three test markets for the new veggie burger, joining Tampa and Minneapolis.  
"We don't add core menu items very often," said Adkins. "It has to meet a much higher standard of performance" than, say, a pumpkin concrete mixer just for fall.
"This filled a vacuum on our existing menu," he added. "My vision was that this was a product that our vegetarian guests could substitute. If we launch a new pub burger, they could say, 'Can I get that with a Harvest Veggie patty?'"
As many vegetarians know, there already was a veggie burger at Culver's. It just wasn't advertised. Similar to how Culver's allows franchisees to set their own prices for menu items, the company also allowed them to order whatever veggie burger their broadline distributor had in stock.
But distributors vary, so burgers did too.
"We didn't have something consistent," Adkins said. "We believe our defining traits are those unique experiences to Culver's."
As Adkins worked on the new veggie burger from 2016 to 2019, the number of restaurants offering an optional add-on was trending up, without a marketing push, indicating a growing demand.
"That was wind in our sails," Adkins said. "People want options."
Veggies at Culver's? It's possible
Perhaps in part to distinguish it from the trendy Impossible and Beyond plant-based burgers sold at Burger King, White Castle and A&W, Culver's made its patty with "easily identifiable" ingredients, Adkins said.
"When the guest looks are their sandwich, they'll be able to say, 'Oh! That's a bell pepper, that's a mushroom, that's corn,'" he said. "Every ingredient has to stand on its own merits."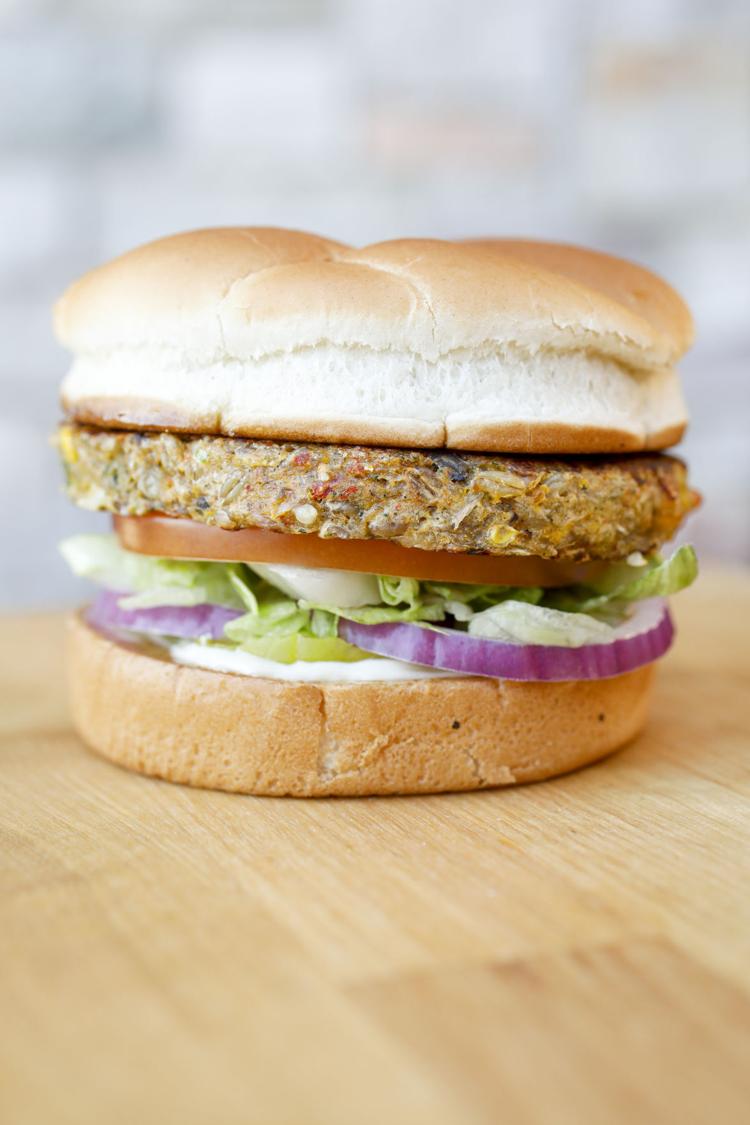 Bell peppers and roasted corn gave the patty flavor, kind of a Southwestern vibe. Mushrooms added umami. Chickpeas offered structure and creaminess. Queso fresco and Wisconsin parmesan added saltiness and heft, plus a potential cheese pull while you eat.
Culver's decided early on that the patty would not be vegan. "That was a deliberate nod to our close association with the dairy state, and our affinity with dairy farmers," Adkins said.
Including gluten was another dividing line. Wheat berries lent nuttiness and texture, and wheat flour was added as "a functional ingredient."
In addition to cheese, the Harvest Veggie patty has milk and eggs, xantham gum as a binder, sodium phosphate and sugar. It's not marketed as a "health" food. The patty itself is 260 calories; with a bun, mayo and veggie toppings, it's 590 — 200 more than a basic ButterBurger.
The patties are made somewhere in Wisconsin, the company said, and would not be more specific than that. Shipped frozen to each location, the veggie patties are ready to eat without cooking, which could encourage "cross-utilization" as a salad topping, for example. The recommended cost before tax is $4.19 or $7.19 for a regular value basket with fries and a beverage. 
Culver's veggie-and-grains patty takes a deliberate left turn from competitors like the Impossible Whopper at Burger King, a vegan patty made with Impossible brand meat substitute (soy protein, a "meaty" ingredient called heme, coconut oil and binders).
"Did we want to pile on the bandwagon and offer something our guests could get at any number of other brands, and that they can get at their local grocery store?" Adkins said. "We don't want to do things our competitors are doing, or that is commonplace within the industry."
All of these food companies are trying to solve a similar problem: How to make something marketable that meets the "less meat" moment.
Meanwhile, burger dudes on YouTube, accustomed to reviewing greasy bags of Five Guys and Arby's from the driver's seat of their cars, don't know what to make of the texture of the Harvest Veggie patty. It falls apart. The cheese inside confuses them. 
Plant-based "meat" is trying for similarity, while the Harvest Veggie burger looks and tastes like vegetables, cheese and grains. That seems to be the point.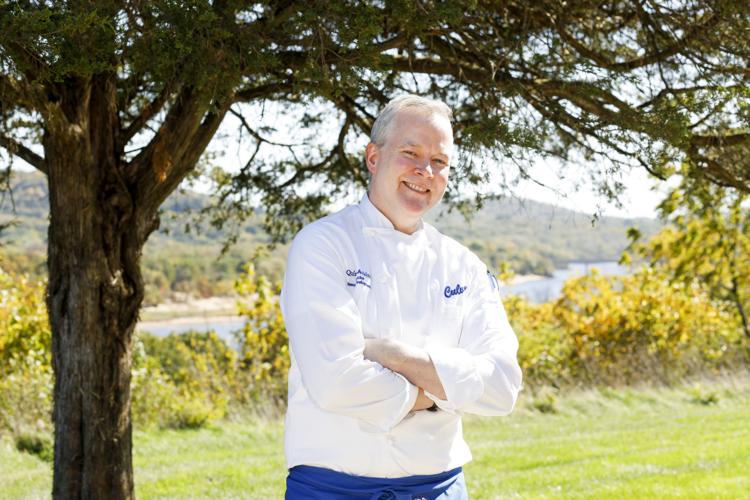 Growing through a pandemic
With contact-light drive-thru windows and comfort foods like cheese curds and milkshakes, Culver's was well-positioned to ride out the pandemic. Certain individual Culver's stores in Appleton, Kenosha, Oshkosh, Sheboygan and Sturtevant took out Paycheck Protection Program loans, but most did not.
"I was astonished, gobsmacked at the numbers," Adkins said, "and the incredible perseverance and creativity that our franchisees exhibited to accommodate that shift in service to a single drive-thru lane."
Meanwhile, the pandemic led not only to changes in how the restaurants were run, it upended the supply chain. With restaurants shutting down, food manufacturers shifted to retail, then had to swing back again in early summer. This was so drastic, Adkins compared it to "turning an aircraft carrier with a canoe paddle."
"You just can't flip a switch," Adkins said. "The folks in supply chain management are the unsung heroes of our industry. They did superhuman things in order to keep groceries coming to the restaurants."
Frequently listed among top franchise opportunities, Culver's has established itself as a successful and growing brand. Craig Culver founded the restaurant in Sauk City in 1984 with his wife, Lea, and his parents, George and Ruth Culver. In 1988 they started franchising, and later became known for a rigorous training program to ensure new franchisees would succeed.
Now, Culver's is seeing growth in the southeast part of the country — Florida, which already has 68 Culver's, is set to get six more. And people have continued to join ButterBurger University, training to become franchisees. The program graduated a class early in the pandemic, paused for awhile, then shifted to virtual training about a month ago.
Culver's is still partly owned by the Culver family. In 2017, the company sold a minority stake to the Atlanta-based equity company Roark Capital, which also has in its portfolio Arby's, Corner Bakery, Jimmy John's, Naf Naf Grill and Wingstop.
Culver's recently announced it would discontinue its mobile ordering app as of Oct. 16, and is in the process of launching online ordering at participating restaurants. The Harvest Veggie burger is another way the brand continues to evolve, making a step toward more plant-forward food.
"There's a growing percentage of the population that is looking for something other than a traditional burger, or other animal protein," Adkins said. "We staked out a claim for who we are as a brand. But we also recognize it's an opening line of dialogue with our guests to say, 'Let's talk some more about this. What else would you like to see?'"
And of course, no one will tell you not to customize your Harvest Veggie burger. 
"It's delicious with bacon," Adkins said.
Stay up-to-date on what's happening
Receive the latest in local entertainment news in your inbox weekly!