On an unusually boisterous Monday night at L'Etoile downtown, chef Odessa Piper climbed the stairs of the restaurant she opened 43 years ago, now an elegant, high-ceilinged space full of natural light.
The night was special not only because of who was in the room, but who was behind the scenes. Madison's own Culinary Ladies Collective and Spirited Women, two local groups that offer support and opportunities for women in the hospitality industry, were efficiently running the show both at the bar and in the kitchen. It was the start of Madison Chef Week, collaborations, fundraisers and pop-ups that conclude this Sunday. 
"Honestly some of my favorite men are women, and some of my favorite women are men," said Piper as she took the microphone from her successor, chef Tory Miller. "It seems more a style, a mothering, a leadership that has a fierceness with heart and passion and love.
"We're really celebrating women's leadership," Piper added. "Sometimes we lead from behind and step out of the way. We really see it in these women's stories."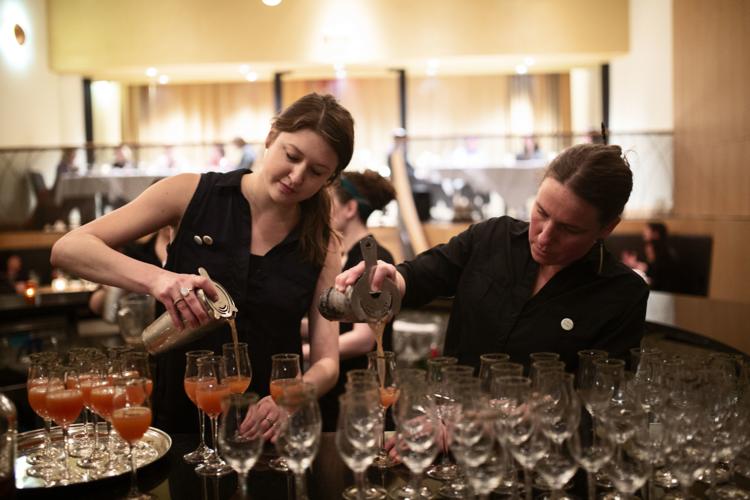 Piper's legacy, influence and aesthetic were an inspiration for Honoring Our Roots, a nine-course fine dining event featuring an all-female culinary team. Chefs included the recently James Beard-nominated Maggie Roovers from Forequarter, Francesca Hong from Morris Ramen and Shanna Pacifico, head of the Graduate Madison's food programs.
Several chefs came from the Deja Food restaurant group, including L'Etoile sous chef Helen Carey, pastry chef Elizabeth Dahl, head baker Katie Dramm and Sujeo executive sous Jamie Hoang.
Piper made her way back to her seat for the first course, a dish of green garlic, caviar and hamachi presented with an aromatic centerpiece: a Champagne bucket full of lemons, topped with dry ice. It was an introduction to a meal that was both sophisticated and playful, as each chef took dual inspiration from her personal roots and root vegetables.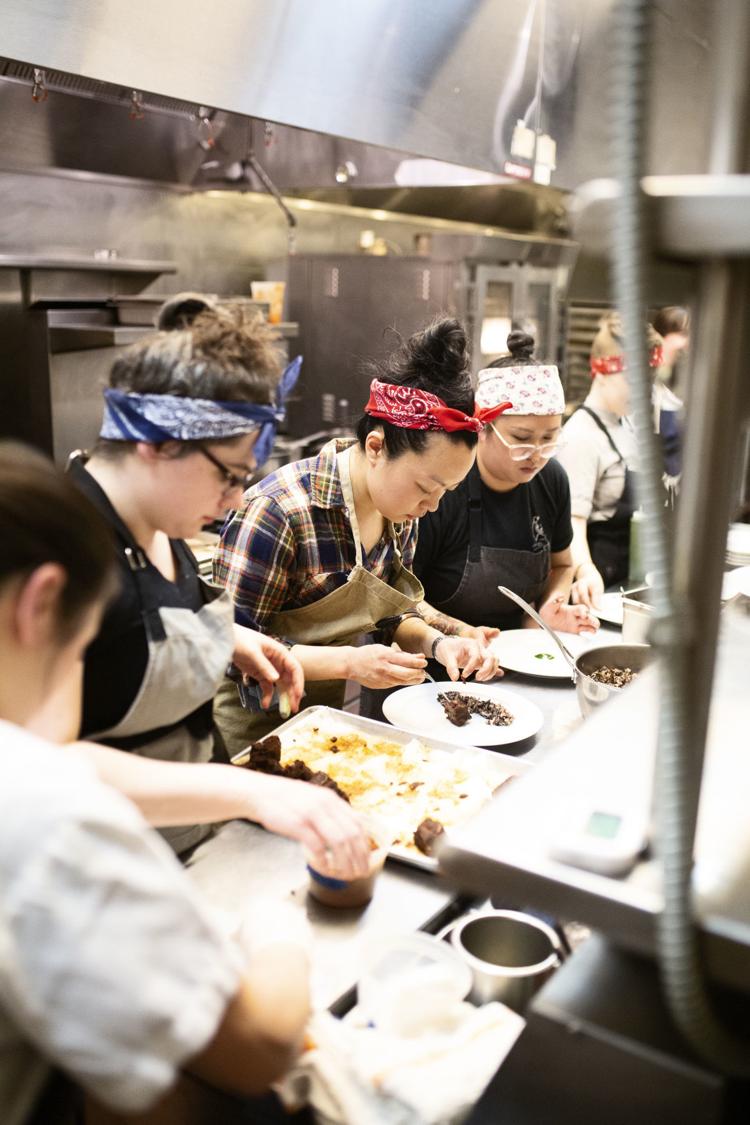 Dramm's potato rolls each came with their own quenelle of soft, compound butter. When Piper saw it, she exclaimed, "Oh my god, I love this restaurant."
Piper had written a few thoughts before the dinner, about how in 1960s Madison, "newly hired females were called 'salad girls' no matter their age or training. Waitstaff were routinely disrespected. Exploited kitchen staff routinely turned to addiction as a way to cope."
Some of this has begun to change, Piper said, which makes her "heart swell with joy." Back at the table, Piper clarified her "men are women" thought.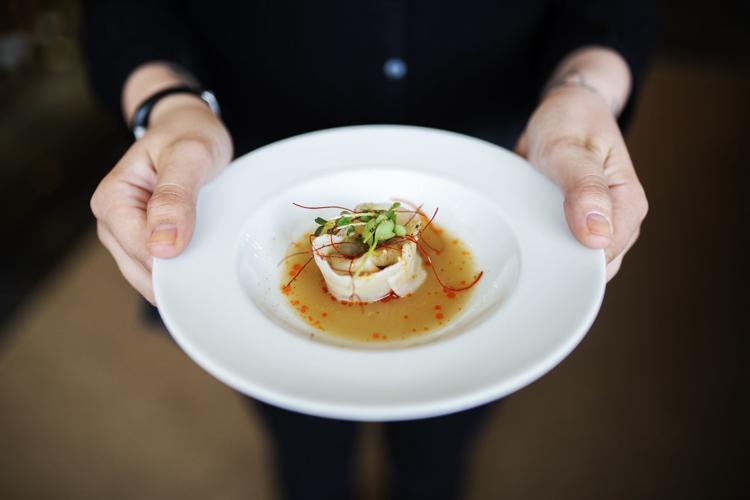 "Men can have feminine managing styles and women can have ball-busting traditional guy styles," Piper said. "It's not exclusive. Back when I was in my final years at L'Etoile, the big thing was women chefs who could swagger like Anthony Bourdain, who could be mean and cut people down and be fierce. Sort of be like one of the guys. These badass women were so ruthless.
"But there's this consensus emerging that those kind of ruthless kitchens and dining rooms are not really all that (sustainable). And men can nurture just as well as women can. That's an important distinction."
As the courses continued, each chef took the night's theme in a slightly different direction. Hoang, whose family runs Ha Long Bay, incorporated foie gras and mildly numbing Sichuan peppercorn into a dumpling served in an umami-rich savory broth.
Pacifico is a first-generation Brazilian American and trained in high-end kitchens in New York. For her dish, a root vegetable ceviche with rainbow trout, she took inspiration from a Brazilian fish stew called moqueca.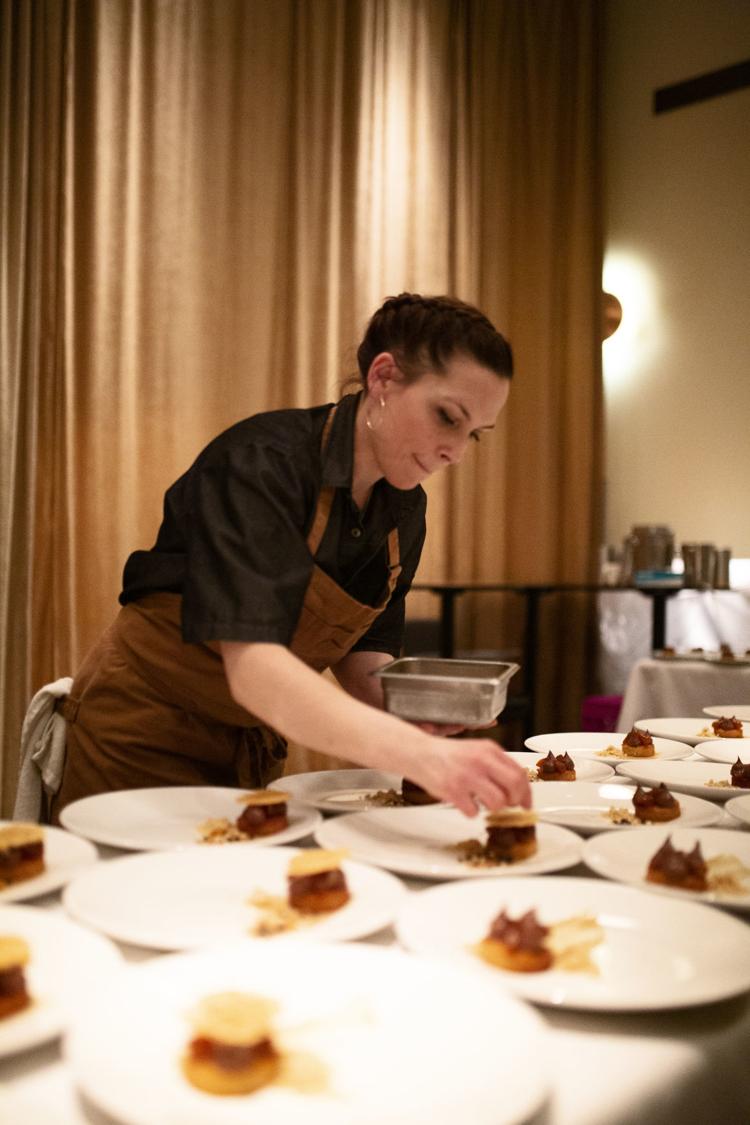 Laurel Burleson, chef and owner of a creative food cart called The Ugly Apple Café, created a poultry course with späetzle and a breadcrumb topping with garlic, lemon zest and chicken fat that was a deliberate callback to Shake 'n' Bake. The chicken from Bryant Family Farms made Piper swoon ("We dropped our forks and said, 'Oh my god.'").
"Box dinners were my mom's favorite things, Hamburger Helper, chicken patties," Burleson said. "I started cooking for my family in junior high and she'd leave me these boxes. I got so bored. I thought, what can I throw in this to make it better? That's where I fell in love with making food."
Morris Ramen chef/owner Francesca Hong made a beef cheek melting with fat, with Korean touches from powdered gochujang and perilla alongside a northern Midwest staple, wild rice.
Maggie Roovers hails from central Wisconsin and has been reclaiming her family's food through the dishes she creates for Forequarter. Her dish, the final savory course, looked like noodles but was crunchy shaved parsnip, accented with a mild, super creamy blue cheese from Carr Valley, almonds, supremed citrus and pink peppercorns.
Pastry chefs Elizabeth Dahl and Kristine Miller, both moms of multiple children who have worked through their pregnancies, brought the meal to a close. Dahl's dish, a sesame financier with dark chocolate, kumquat and tahini ice cream, finished with a sprinkle of crunchy round balls called hundreds and thousands.
"There's been so much change," Piper said. "But we're picking up the same causes. I was fantasizing about setting up daycare in my restaurant. In the '80s, we were a safe haven for women who wanted to stay working while they were pregnant. They couldn't find jobs anywhere else, so we had all these pregnant ladies working in the kitchen. We began to talk about pooling our resources and having a work daycare."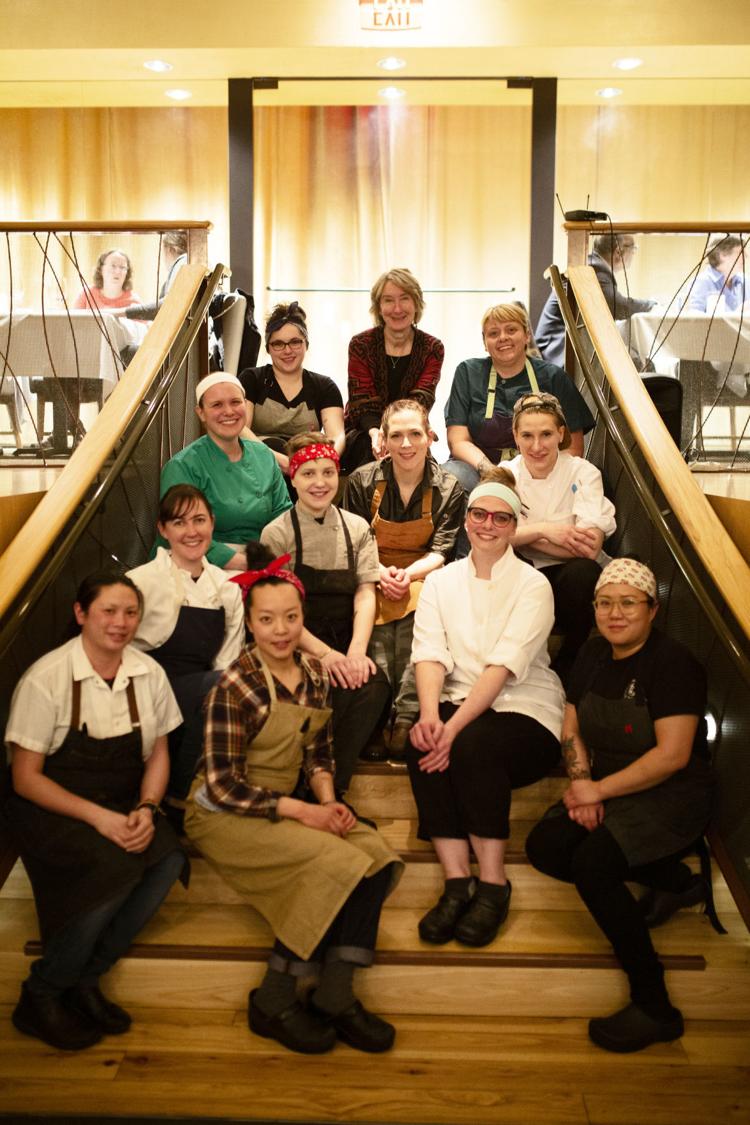 Now Miller, founder of Dough Baby Bakery, wants to do something similar. The Culinary Ladies have been talking about how to make restaurants a more family-friendly kind of workplace.
"I'd like to help figure out how to make this profession easier for mothers and parents," Miller wrote in a pre-dinner statement. "If we are truly going to make this industry a positive option for women, this needs to be creatively addressed.
"Having a chance to change the game the way Odessa did, on our own terms and often times our own businesses, and create environments of collaboration and inclusion is such a gift. And one we don't take lightly."
"Foodways are leading the way for conversations about social justice," Piper said. "We're looking at it with wages, women's issues, diversity. It's justice."
As the evening ended, the chefs began to come out of the kitchen, and the music changed. The final guests walked out the door to Beyonce's "Run the World (Girls)."
It sounded just about right.