In a twist of blustery irony, beachy new-to-Madison bartaco scheduled its opening right in the middle of the coldest of Midwestern cold snaps.
"We had to postpone our opening due to the polar vortex," said Sabato Sagaria, president of the growing bartaco chain. Bartaco opened its 160-seat restaurant in Hilldale Shopping Center on Monday.
Sagaria was in Madison during the delay, and sought to use it as best he could. About 18 of the staff volunteered their time.
"We did two days of community service with Second Harvest," Sagaria said. "We were able to donate food to local pantries that we had prepped in anticipation of opening.
"Then we did more training. Especially in a college town, where people are thirsty for knowledge, it was awesome ... to show people how they can be a part of a company that's growing."
Bartaco launched its chain of beach-themed restaurants in Norwalk, Connecticut in 2010. Currently there are 19 locations, including one in Nashville, three in Atlanta and one each in Boulder, Colorado and Chapel Hill, North Carolina.
Bartaco's Madison location in Hilldale is between a new jewelry store called Kendra Scott and the University Book Store. Previous news reports about the opening noted that it will have outdoor seating for another 56 people when it's not polar vortexing, and that Sagaria does not believe the new restaurant competes with Pasqual's Cantina.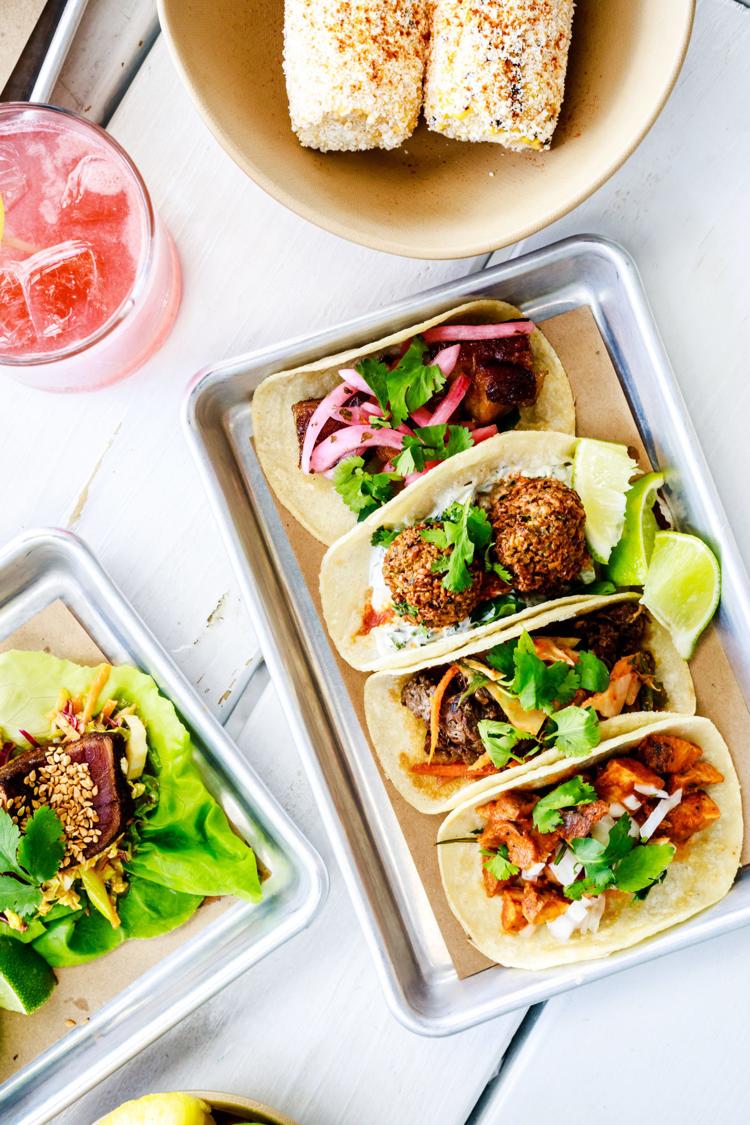 "It's not Mexican, it's not Tex Mex," Sagaria said. "It's inspired by taco truck culture and coastal cuisine and foods from South America. It's not bound or restricted by a specific cuisine."
Some of Bartaco's tacos have familiar Southern California flavors, like fried cod with chipotle slaw, carnitas with mojo sauce, and crispy rock shrimp with remoulade. There's also a taco filled with falafel and another with roasted duck. Most of them can be made into rice bowls.
On the section of the menu entitled "not tacos," there are plantains, a tuna poke (which might be swapped out for ceviche in the summer), pork posole and empanadas. Tacos run $2.50-$3.50 and rice bowls cost $8.50, with horchata and churros for dessert.
Currently on the cocktail menu are options with mango nectar, watermelon and fresh pomegranate. A mojito tinto incorporates "winter sangria," while the bartaco margarita is built with Libélula Joven tequila (a blend of blanco and reposado tequilas). 
Bartaco fits neatly into national restaurants trends around eating healthier, adaptability for dietary restrictions, and the general interest in "bowl food." The company acknowledges diners' interest in sustainable options by getting rid of plastic straws (paper are available upon request). There's a seasonal "secret taco," currently featuring Brussels sprouts, that could theoretically source ingredients from local farms in season.
General manager Chris Myers and executive chef Ryan Manning moved with the company from its Asheville, North Carolina location.
Sagaria acknowledged that staffing pressure is a challenge for all of its locations, and Madison is no exception. Bartaco offers health insurance to employees who work a minimum number of hours each week, as well as a 401(k) and a fund to which employees can apply if they need emergency help.
"This is the only industry I've ever worked in," said Sagaria, who served as chief restaurant officer for Danny Meyer's Union Square Hospitality Group in New York. He went from overseeing 17 locations in New York with different concepts to one concept in 19 locations.
"If we can find a way to provide employees with an opportunity to see this as a career, a profession, rather than a pit stop, that's a win," Sagaria said. "Our whole industry benefits from that, the professionalization of it."
Bartaco's hours have been limited to start, with dinner only this first week. Lunch is expected to start this coming Monday.