Christine Muhlke, Bon Appetit magazine's editor at large, was raised in Racine to be a voracious eater. She likes to tell the story of how her Wisconsin enthusiasm for food landed her an early writing gig.
"My intense appetite and my ability to consume enormous quantities of food in one sitting has helped my career," said Muhlke, who left the New York Times Magazine in 2010 to join Bon Appetit as an executive editor. "I was given my first freelance writing assignment at a press luncheon.
"I was an intern and the magazine sent me because they couldn't pay me," Muhlke said. "I sat next to this editor from a music magazine, and as I was finishing his sundae too, he said, 'If you can write like you can eat, I would love for you to write for us.'"
Muhlke has lived in New York for the past 20 years, but she returns to the state where she was raised next weekend for the Wisconsin Book Festival. She contributed a short essay to "America: The Cookbook," a new five-pound doorstopper published this fall by Phaidon Press.
"America: The Cookbook" contains some 800 recipes from around the country. Muhlke contributed a short essay to the Wisconsin section, working in references to sauerkraut, kielbasa, lutefisk and kingrle. Milwaukee-based chef Dave Swanson, a four-time James Beard Award nominee from Braise, offered a recipe for crispy pork with creamy polenta and goat cheese.
Muhlke will appear at the book festival with "America" editor Gabrielle Langholtz and Ari Weinzweig, from Zingerman's in southeast Michigan.
"There are a lot of regional differences but I don't think there is any one American cuisine," Muhlke said. "I think this book is proof of that."
Muhlke spoke with The Capital Times a few weeks before heading to the Midwest.
The Capital Times: When you thought about how to represent Wisconsin food culture to the rest of the country, what did you think of first?
Christine Muhlke: There are so many stereotypes about food in Wisconsin. I had to address those stereotypes, but hopefully let people know, hey, it's only so funny for so long. There's a lot of great food that comes out of there and more importantly, there are great eaters that come from Wisconsin. It's a real eating culture.
When I was growing up in the '70s and '80s it was really bratwurst, and I much preferred Polish sausage and kielbasa. It was Kopp's frozen custard.
If there were good restaurants, I wouldn't know. My parents would go to Madison without me. They would come back with croissants, or as we called them then, "crescent rolls."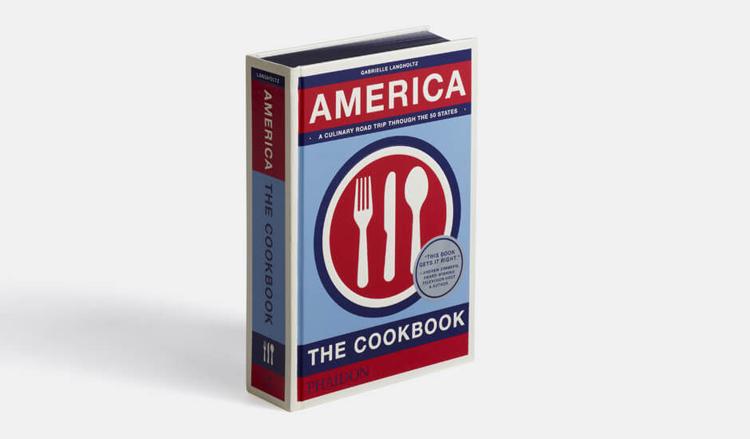 Does being from a culture of eaters cultivate a curiosity about food?
I wasn't seeking out new types of food. I was really lucky in that my mom is a good cook. She loved cookbooks, recipes, trying new thing. A love of food at Oktoberfest or a street fair or Salmon-A-Rama in Racine, having it be a fun part of life, definitely makes you curious about eating.
I would go visit my dad in California and he would want to eat sushi or Mexican food, and I was not adventurous.
Do you think of your Wisconsin food heritage differently now than when you first moved away?
Like many things about Wisconsin, I can appreciate it a lot more now. At the time it was embarrassing because it was rustic, unsophisticated food. But the way the country is cooking and eating and the whole farm-to-table ethos of the last 15 or so years, that makes perfect sense to me. My parents shared a garden plot with friends and we had fresh vegetables all summer long.
That kind of eating makes sense to me, but I went to New York in 1992 I wasn't telling people I loved cheese curds and kielbasa.
I went to Blue Hill Stone Barns (a farm-to-table restaurant in New York) recently, and one of the dishes was a kielbasa made with an old dairy cow. That really brought it full circle for me. It was the best I've ever had, too.
Bon Appetit just named Chicago the best food city in the country. How do you see the cuisine of the Midwest changing?
Chefs are leaving larger cities like Chicago and New York and Los Angeles who don't feel they want to spend money and time required and they're moving back home. You have these chefs from Racine or Kenosha who say hey, I can come back and make it work. You have a level of sophistication of diners … they can understand that food in a different way.
They're working with local farmers and producers to create a regionally-based food that has more elevated accents. And people get it in a way they might not have 10, 15 years ago.
I wrote about a guy outside of Kansas City who had taken over his grandfather's drugstore and turned it into a place that was more influenced by Heston Blumenthal.
Have you been inspired to return to some of those Wisconsin roots?
I recently had a funny moment. Outside of Racine there was a sauerkraut factory, and I was so scarred by driving past — the smell was not appealing to a child. I'd never eaten sauerkraut until 40 years later, I got a farm box from Farm to People. Last week was an Oktoberfest box and they had a jar of sauerkraut in there, and I made a choucroute.
But they also said drain the liquid and drink it, and it's a powerful probiotic. If you had told me when I was six years old that I'd be standing in my kitchen drinking sauerkraut juice, wondering how I could get more, I wouldn't have believed you.
Now I feel like, "Oh, right, I'm from a sauerkraut place." And it's time to go back to that place.