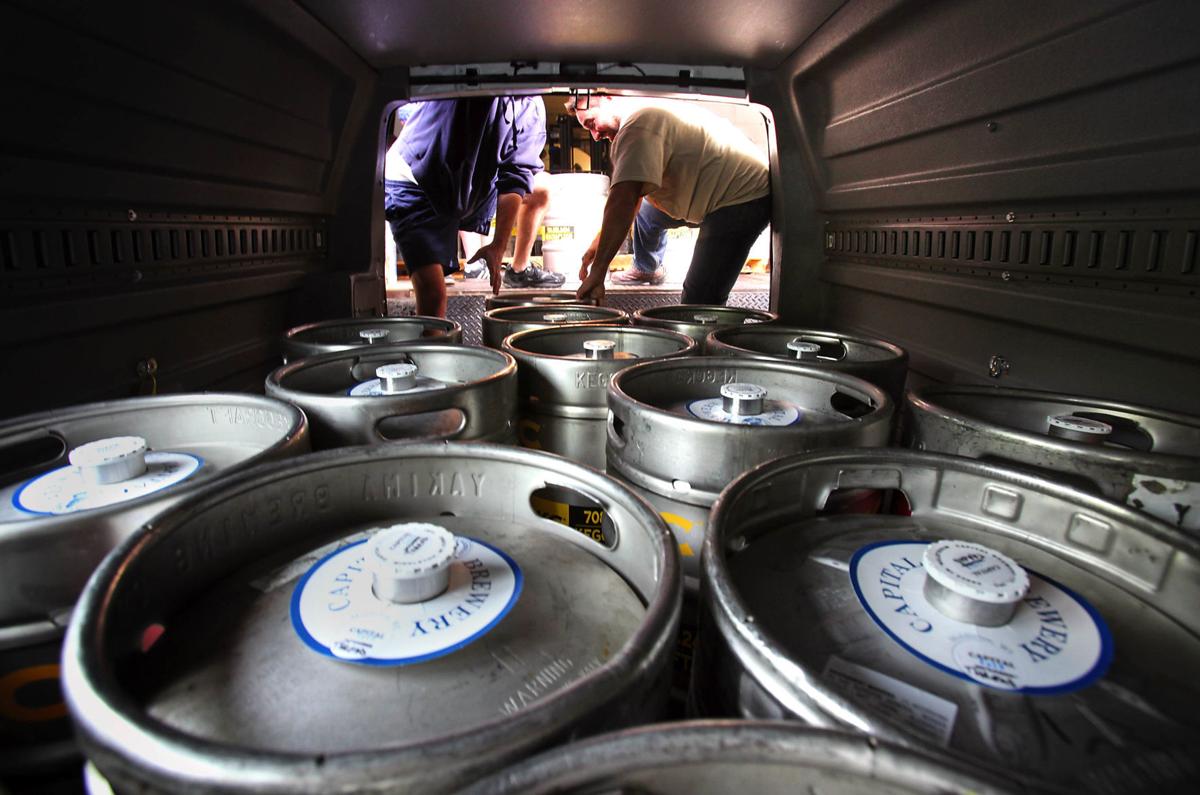 If all goes precisely to plan, The Great Dane Pub & Brewing Company could be pouring its own craft beers in Japan in time for the 2020 Summer Olympics in Tokyo.
"It's going to be the first joint venture between Japanese and American craft brewers," said Rob LoBreglio, Great Dane brewmaster and co-owner. 
The new $3.5 million project includes a production brewing facility with a 12,000-barrel yearly capacity and a separate Great Dane pub — hopefully the first of many — in the nearby city of Sendai. Sendai is the capital of the Miyagi prefecture, about two hours north of Tokyo by bullet train.
Japanese-born restaurateur Shinji Muramoto of Restaurant Muramoto has agreed to develop the pub's menu, which will be smaller plates served in a smaller setting than the typical Great Danes (there are five in Wisconsin). Former Dane brewer Tetsuya Kiyosawa has signed on to run what is informally known as Great Dane Japan.
The ultimate goal, after the 4,000-to-5,000 square foot production facility gets going, is to open several pubs, including at least one in Tokyo. Each would serve beer made with Wisconsin grains and Japanese hops, riding a rising wave of interest in craft beer.
"Craft beer is becoming more popular in Japan, but oddly enough they jumped straight from light beers to IPAs," LoBreglio said. "We want this to be a learning institution. My plan is not to only have production, but a pilot brewery there that I could brew small quantities of other styles.
"Most breweries over there have three, four, five beers. I want to offer 16 to 20, along with exotic styles like barleywine and barrel-aged beers and Belgian beers."
Great Dane Japan is part of ongoing efforts to rebuild the capital city of Sendai following a 2011 earthquake and tsunami that devastated the Pacific coast of Tōhoku. The full story of the brewery's birth spans years and involves government visits, a famous Canadian-Japanese pop musician, a "beer shrine" and a 27-minute documentary film.
Now, as plans move forward on a possible property in a rural town about 20 minutes outside Sendai proper, LoBreglio is closer than ever to this "wacky adventure." He'd thought at first to call it something else, but after some consideration decided keep the Great Dane name (グレートデーン).
"The Japanese love a good story, they love history," said LoBreglio. "Once Tetsu (Kiyosawa) agreed to run the business, it became the true union of a Japanese and American craft brewer.
"It's also, in a real way, the sensei coming together with his disciple. That's the story that's going to catch them."
LoBreglio first connected to Japan through his brother, John, who lived in the country while working on a doctorate degree in the late 1980s. It was indirectly through John that LoBreglio met Tetsuya Kiyosawa, not long after LoBreglio opened The Great Dane Pub & Brewing Company with Eliot Butler in Madison in 1994.
"He loved everything about the Great Dane," LoBreglio said of Kiyosawa. LoBreglio trained Kiyosawa to be a brewer before the latter returned to Japan and took a job at one of the country's few craft breweries. Kiyosawa eventually became a wine and distillery consultant, and "we always joked about opening a brewery," LoBreglio said.
For years the idea was a casual thought. But in 2014, LoBreglio and his brother went on a brewery tour and fact-finding mission documented in the film "Craft Beer in Japan" (directed by Maarten Roos and John LoBreglio, available on Amazon). They discovered a lively craft beer scene and a blended community of beer-loving ex-pats and locals ready to receive them.
"Everyone's raised their game up a little bit," Scott Brimmer of Brimmer Brewing told LoBreglio in the film. "People are starting to have a little bit of a brotherhood, instead of company against company. … We're all craft here. The better one craft brewery does, if you make a good solid product, then someone wants to try another craft beer and the better everyone does."
LoBreglio connected with JETRO, the Japan External Trade Organization, which in turn hooked him up with lawyers and banks. He has since received a very low interest rate government loan to fund the entire project.
"We came back and you know, we had our normal jobs and lives, so we didn't stay on the Japan project aggressively," LoBreglio said.
But JETRO stayed in touch. In spring 2018, it sent a delegation from the Miyagi government. Businesses that invested in rebuilding after the tsunami would be eligible for subsidies, they said. There would be challenges — Japan has historically taxed beer at a fairly high rate. As in the U.S., there would be competition from the larger breweries.
But LoBreglio liked Sendai's young population, and that fact that the city was growing. When he visited, he was "blown away." It felt similar to Madison.
"It's a great city, and some damage from the earthquake had been repaired," he said. "It's a vibrant, modern, progressive, cool city, but they didn't have craft breweries there."
Share your opinion on this topic by sending a letter to the editor to tctvoice@madison.com. Include your full name, hometown and phone number. Your name and town will be published. The phone number is for verification purposes only. Please keep your letter to 250 words or less.
Stay up-to-date on what's happening
Receive the latest in local entertainment news in your inbox weekly!