Bloodsaw looked around at his fellow chefs selling kebabs, paella, crepes and tacos under an inflatable sculpture of Bacchus, the Roman god of wine and good times. It was a beautiful summer day. With 4,500-5,000 people coming through the gates, the restaurants were doing brisk business.
"I was like, 'I want to be a part of this,'" Bloodsaw said.
Bloodsaw plans to bring his 18-month-old vegan comfort food cart, Just Veggiez, to the sixth annual Yum Yum Fest this weekend. The event at Breese Stevens Field on Sunday, Aug. 18 from 3 p.m. to 7 p.m. will cap a busy week for Bloodsaw, who's also participating in Black Restaurant Week (Aug. 11-18).
Since its debut in 2014, Yum Yum has offered an opportunity for established chefs and restaurants to get playful.
This year, Harvest plans to make a "flavors of summer" shaved ice. Sardine will bring a Moroccan-inspired Parisian sandwich called merguez frites: sausage on a baguette topped with french fries, served with salsa verde and preserved lemon yogurt.
Salvatore's Tomato Pies takes tuna poke with melon and pickled peppers and puts it in a fried cannoli shell for a Hawaiian/Italian American mashup. Madison Sourdough is making smoked pork-filled pupusas, a Latin American stuffed pancake.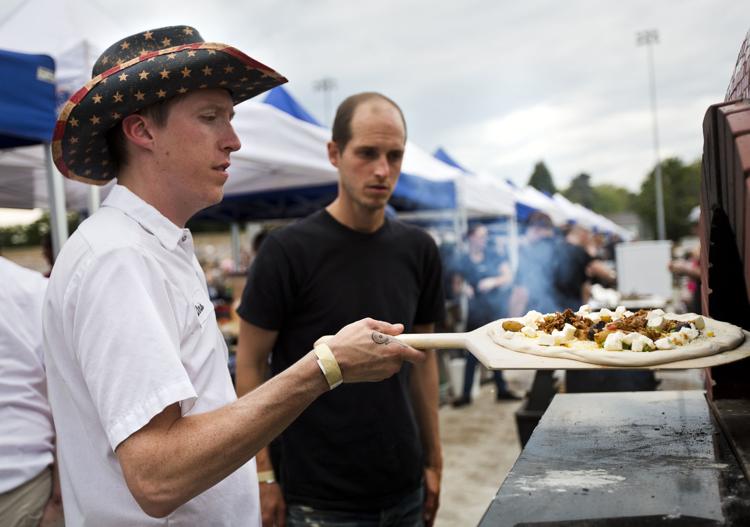 The pan-Asian restaurant Sujeo, which announced recently that it will close Aug. 24, will serve a variation on chicken and waffles: Korean fried chicken and a waffle cone, with ice cream made from bourbon barrel-aged maple syrup. The Culinary Ladies Collective is making frozen s'mores with chocolate ganache and marshmallow fluff.
Yum Yum also gives newcomers like Bloodsaw a chance to show Madison diners what they're about. Bloodsaw knows vegan food is already a barrier for some, which he addresses at other fests by offering lots of samples.
For Yum Yum, "I wanted to do something creative but kind of simple, so people wouldn't be like 'I don't want to try this,'" he said.
He decided to make a taco with vegan chorizo and smoked cauliflower puree on a chickpea tortilla, topped with radish slaw, roasted poblano peppers, lime sauce and fresh cilantro. He has eaten vegan for four years, and this is a variation on a taco he makes at home.
"People love tacos," Bloodsaw said. "I put the twist on it to make it appealing."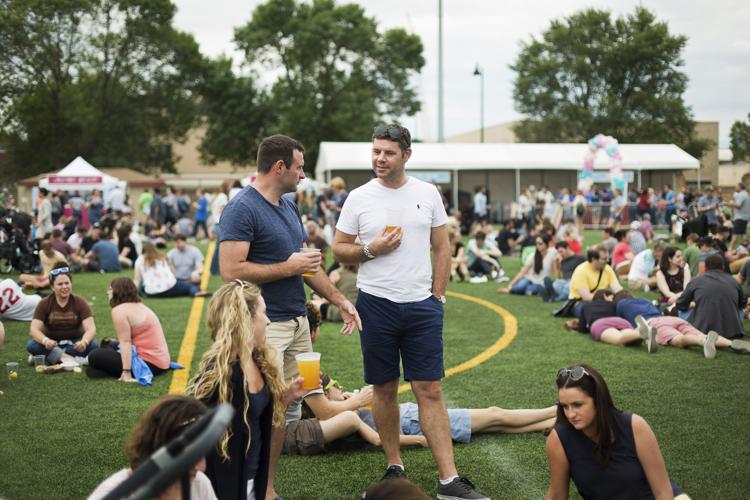 Other restaurants debuting this year include Tangent, a new spot from Vintage Brewing Company that opened a block away from Breese Stevens in January. The Tin Fox on Monroe Street is making an appetizer from its menu, pancake-battered cheese curds with maple syrup. Laila Borokhim, who also owns Noosh, will have a "high tea sandwich saucer" from her more recent spot, Joon. The Edgewater Statehouse, led by chef Juan Martinez, is making a straightforward panzanella with peaches.
A few restaurants will join the Madison group from out of town. From Lark in Janesville, chef Olivia Eckert plans to make "foie-tons," sweet-savory wontons filled with foie gras and cream cheese. Andrew Wilson, formerly of the Madison Club, opened his Cedarburg restaurant Brandywine in June 2018.
"With it being the festival atmosphere and how you have to produce and serve the food, that adds a layer of — not limitation, but it has to work for the festival," Wilson said. "I wanted to do something representative of food we do or food we've done before."
The dish he landed on, a spiedini (skewer) of sage chicken sausage with grilled peaches, smoked corn crema, crisped prosciutto, spicy honey and sourdough, has similar flavors to a dish that was on Brandywine's opening menu.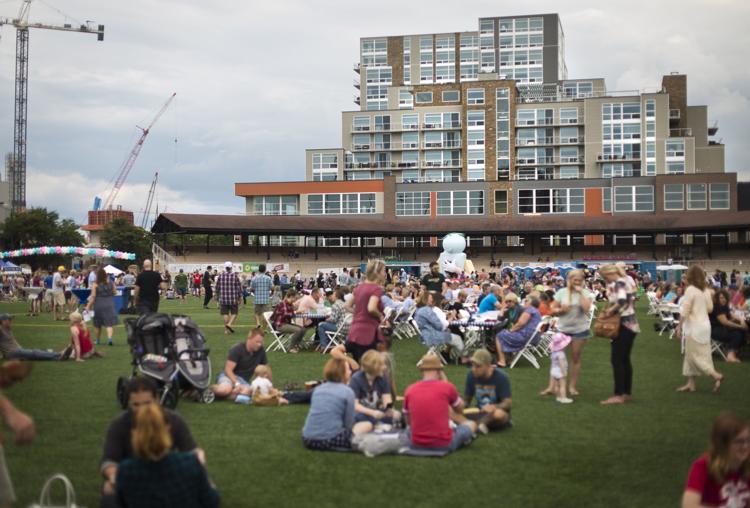 Yum Yum tickets cost $10 to enter the festival grounds, and individual dishes cost $5. That can add up quickly, but it means the chefs are unlikely to lose money on the event and can give something to charity.
Bryan Weinstein, executive director of MACN, emphasized the $10,000 commitment the organization has already made to Community Action Coalition's Double Dollars program. Double Dollars allows people to use SNAP food benefits for double what they're worth at farmers' markets, up to $25 per day.
"Part of the reason why people love doing it is because if you're smart and you create a great dish, you could do really well on that day," Weinstein said. "People come back to this event because they make a lot of money."
The donation to CAC, he said, "can only go up" based on the success of the event.
Yum Yum has evolved since its earliest years. The number of restaurants is always around 25-30, but the roster changes. There are no cocktails this year, just beer sponsors.
And there are more vegetarian options than in the festival's first few years. A decent number of dishes, including a crispy rice salad from Ha Long Bay, a walking taco from Camp Trippalindee and a miso butterscotch budino from RED, appear to be gluten free.
Working a festival is a different business model for the chefs, but MACN's collaboration with Breese Stevens has been beneficial from an organizational and financial standpoint, Weinstein said.
"They handle so many things so well," Weinstein said. "It's not the focus of the MACN to rent tables and chairs. They do things we don't want to do and we do things they don't want to do."
Chefs like Wilson are more interested in the camaraderie and networking at a festival like this than the payout.
 "There's a threshold of what people are willing to pay at an outdoor festival," Wilson said. "But this is honestly something I want to do. I think it will be fun. ... It's a nice exercise to do something outside the box, get out of the kitchen."