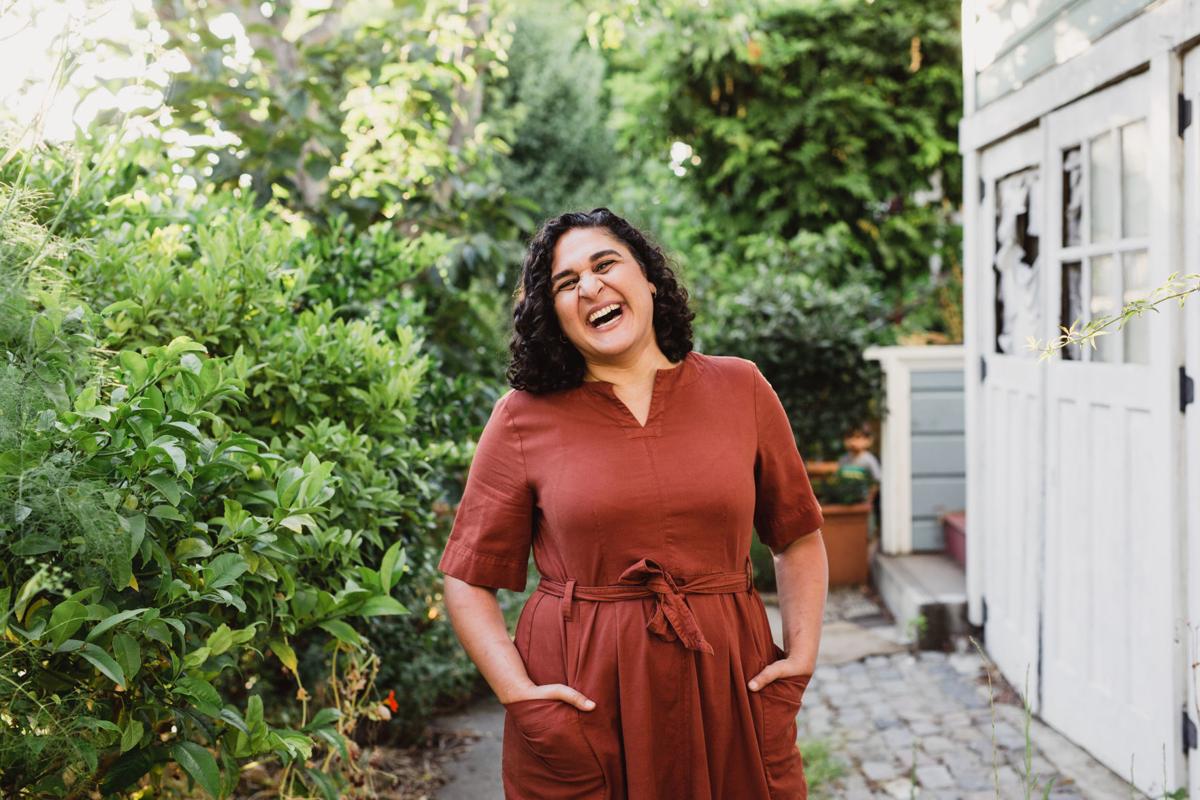 Samin Nosrat knew the tahdig was going to break before she flipped it over.
In front of an audience of about 1,000 people in Overture Hall on Wednesday night, the star and creator of Netflix's "Salt Fat Acid Heat" set the scene for the moment when, toward the end of the "Heat" episode, Nosrat and her mother prepared to invert a traditional Persian rice dish.
"The daylight's fading and we're running out of time, and this is an unfamiliar stove to her and an unfamiliar rice that she doesn't use," Nosrat said. "I can hear the tahdig and I know that it's not setting. I know it's not as golden as it should be. And yet we have no choice. We have to flip it out, finish the scene. And so we do it, and it breaks."
It was the crumble that launched a hundred tweets.
"I actually said it to camera — 'every Iranian lady in the world's gonna judge us for this,'" she said. "They cut that."
From two puffy white chairs center stage, Nosrat spent 90 minutes chatting with Abra Berens, a fellow chef-turned-cookbook author. Nosrat's 2017 book, "Salt Fat Acid Heat," laid out four essential building blocks of cooking, organized by flavor and science. With vivid illustrations by Wendy MacNaughton, the book won a James Beard Award and became a New York Times bestseller.
Berens, an alumna of Zingerman's Deli in Ann Arbor, published her vegetable-forward book "Ruffage" earlier this year with Chronicle Books. She is currently the chef on a southwest Michigan farm.
Punctuated by Nosrat's infectious, inimitable laugh, their conversation flowed easily around the winding path of Nosrat's career, led by the "compass in my heart and in my gut" and goals penned in a little black book. They talked about the books Nosrat has been reading, including a new nonfiction book by Jonathan Safran Foer called "We Are the Weather" that has Nosrat intrigued by partial veganism.
"Sitting here and looking back, it's easier for me to articulate what it is I do and where those things overlap," she said. "It's telling stories ... even recipes are a story. That's what I am, a storyteller who achieves a lot of weird goals."
Nosrat opened a window onto her writing process, which involves perfectionism, procrastination, Post-It notes, and lying on the floor of her office waiting for a feeling to come.
The gestation of "Salt Fat Acid Heat" took more than a decade, the author said. She rewrote it fully three times. She paraphrased the novelist Ann Patchett, comparing an idea to a delicate butterfly. In the act of writing, Nosrat said, "you murder the butterfly."
"Around six years into my cooking career, I was sort of done obsessing about food," Nosrat said. "What I care about is the people. I care about the story behind what eggplant was grown, or why this variety ... what's the history, tradition and geography of that? That's the story I want to tell and talk about when I'm cooking."
It's been years since Nosrat worked in the kitchen at Chez Panisse and taught Michael Pollan how to cook. She might more accurately identify now as a writer, editor, television producer and advocate for artisan foodways. 
"I don't think I know anything groundbreaking. I just think my special skill is being able to put myself in your shoes and have empathy for what it feels like to not know," she said. "To connect with you and convey that to you, I make that my priority."
Nosrat wants to use her widening international platform to bring other writers up, particularly women of color. Black and brown food writers get pigeonholed, she said, while the work of white writers lands easily in the "General Cooking" section at the book store.
When she was fielding snarky comments about that tahdig she made with her mom, Nosrat knew the problem wasn't the crumbly rice. It was that every other Iranian person Americans see on their television screens is a terrorist.
"There's no good press, no good media, about where I come from or the people I come from in this country," she said. "When September 11th happened, I was spit on on the University of California, Berkeley campus. I was afraid for my brothers, for my father, for their safety. That is true for a lot of Iranian people, and a lot of people who are not white in this country.
"When an Iranian guy yells at me because my tahdig crumbled ... it's because I mean so much to Iranians. My presence on camera means so much, because all we've gotten is a few crumbs, a few tiny tahdig crumbs of positive representation in my lifetime."
Nosrat knows it sounds like a joke when she says she's fighting for black and brown mediocrity. What she means is that everyone should have room to fail sometimes in their creative pursuits, just like white people have. That's true equity.
"I have to be perfect," she said. "My tahdig has to be perfect. There's no room for Samin to be mediocre. There's no room for me to mess up."
Stay up-to-date on what's happening
Receive the latest in local entertainment news in your inbox weekly!