I don't mean to judge. But I do not understand anyone who goes to Flix Brewhouse and gets a popcorn and a Coke.
The traditional movie snack options are certainly available at Flix, the new theater located at East Towne Mall. But with a full menu and an in-house brewery, with meals brought right to your seat, it feels like kind of a waste.
I wrote about Flix before it opened this summer, but had to go back and experience the place now that it is up and running.
I also wanted to test out what, to me, is the biggest challenge of these kinds of dine-in movie experiences: eating entrees while watching a movie. Back when AMC Madison 6 offered dine-in options, some of its dishes were too messy, as the bits of sushi on my shirt after one screening would attest.
I have a similar issue with eating at Marcus Point or Marcus Palace, even though I do like a lot of the food there. At Point, you pick up your food at the counter, while at Palace, they deliver it to your seat in several theaters similar to how Flix does it.
But Marcus has those big leather recliners which, while very comfortable for kicking back and watching a movie, are not conducive to eating food. At Point, you either sit up and kind of hunch over the basket of food, or lean back and balance it on your stomach. Either way, if you've got anything juicy, don't plan on wearing your good shirt to the movies. At the Palace, there are little trays that kind of remind me of sitting in an airplane, but it's still a little awkward.
Flix, I think, has a pretty elegant way of dealing with this. Most of the chairs are upright rockers, which are comfortable enough, and in front of you is a long counter. Sections of the counter are on casters that slide noiselessly towards you, making it easy to eat and drink without making a mess. When you're done, just slide it back.
At a "Mission: Impossible – Fallout" screening a few weeks ago, I got my first chance to check out how Flix works. In the lobby, the bar was bustling with an after-work crowd, a reminder that you don't have to see a movie to enjoy Flix.
For those seeing movies, customers are encouraged to get to their seats at least 15 minutes early. While a pre-show program is playing on the screen (mostly clips from other "Mission" movies in this case), an employee comes up to your seat to greet you and explain the ordering process. You can order directly from the server, or write down your order on a notepad, press an alert button, and the server will come back to pick it up.
Flix has 11 serving tanks, featuring six permanent beers and a rotating list of other special beers. I like stouts and porters, so I ordered a pint of the Umbra chocolate stout and the Brewhouse Burger ($11.95), which was a basic cheeseburger with a housemade remoulade.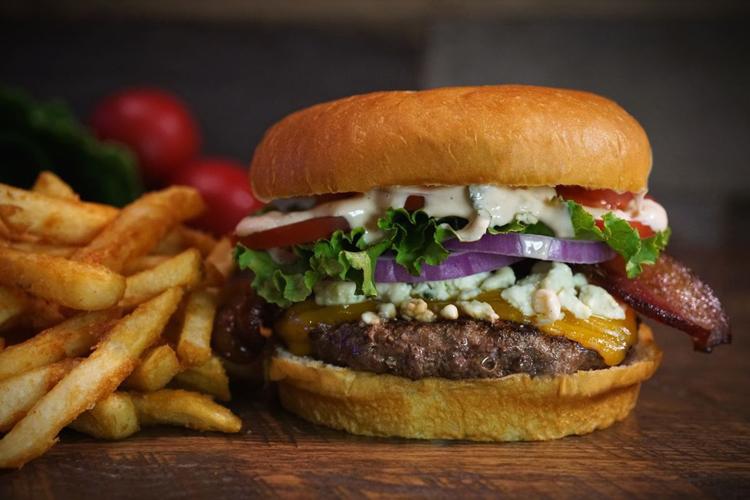 I've had some messy burgers in my day, but the Brewhouse Burger held together admirably in the dark, and they didn't overdo it with the sauce.
When finished, moviegoers put their dishes on top of the counter, and the servers whisk them out of the theater. They're so ninja-like quiet that I was actively trying to catch them taking my dishes away but they took them and delivered my bill without me noticing. Although, to be fair, I was pretty in to that "Mission: Impossible" movie.
I went back to Flix Brewhouse last week to see "Bad Times at the El Royale" and hunt for the messiest item on the menu. I was looking for something really ill-advised, like spaghetti Bolognese, but the Flix chefs are smart enough to focus on handheld fare.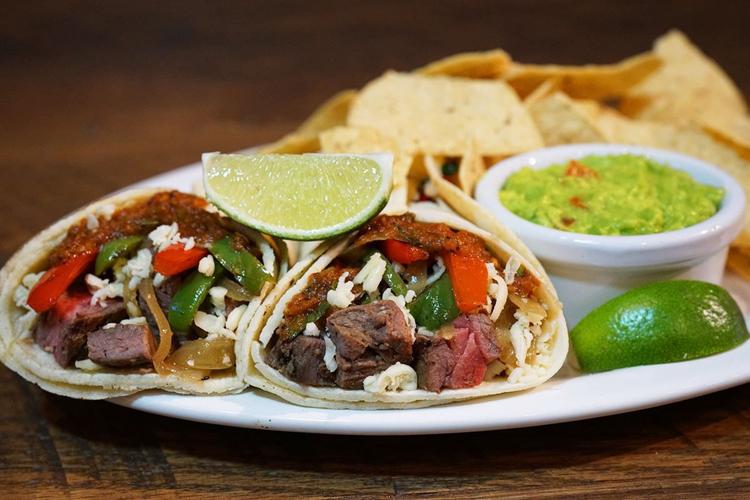 I went with the fajita street tacos ($10.50), which seemed like they'd have the potential to fall apart in my hands. No dice. Wrapped tightly in foil, the tortilla kept the steak, onions, peppers and Chihuahua cheese in place from the first bite to the last. No fuss, no muss.
Beer-wise, I was going to go for another Umbra, but Flix was offering a Surly Brewing tap takeover that included its Darkness Russian Imperial Stout, which is potent and delicious. I also got a free "Halloween" beer glass as a promotion —at Flix, they give away promotional glassware all the time.
The glasses clogging up our cupboards is one thing my wife might not be too thrilled about. On the bright side, at least when I go to Flix I'm not coming home with food stains all over my shirt.