WISCONSIN DELLS — Next to Noah's Ark Water Park and a Dairy Queen along the main drag of Wisconsin Dells' family-focused attractions sits a sleek slice of Madison's food scene.
Part food truck roundup, part hipster bar and part playground, the Grateful Shed Truckyard is as thoughtfully designed as sheds get, tricked out with all the fixins' for family friendly, Instagram-ready dining. The space sits on what used to be a dance club on Wisconsin Dells Parkway. It opened in April with three names that Madison food lovers should recognize: Tavernakaya, Pasqual's Cantina and Melted, the grilled cheese food truck. It also has a full bar and a truck that sells candy.
Each restaurant offers a special menu for the Truckyard, with new dishes developed just for Dells vacationers. They have the look of revamped antique food trucks, but each is licensed as separate a brick and mortar business. These trucks are affixed to the floor of the shed, a mix between a mobile home park and an indoor food truck court.
The shed has ground-to-roof front garage doors that and is otherwise enclosed, allowing it to be open year-round. The idea is akin to food truck pods in Portland and a food truck park in Las Vegas, where developer Daniel Marsich drew some inspiration for the Grateful Shed's design.
"We wanted to bring something in that wasn't already here in town," said Jason Field, who owns Grateful Shed. Field was raised in the Dells, and his family owns and operates the Dells Army Duck tours. Field did some field research before settling on Madison-based businesses to make local, fresh dishes not commonly found in the Dells.
Visitors "feel comfortable having the chain restaurants here," Field said. "Let's bring them those one-offs."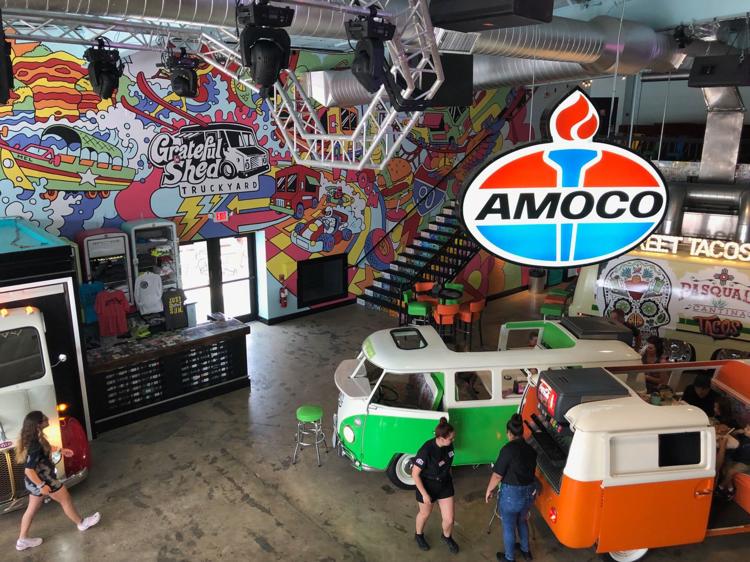 Grateful Shed's design blends pop culture with an open, backyard barbecue feel. Marsich designed the bar, which features VHS tapes with visible titles wrapping around its base and flattened VHS boxes lining the top of the bar. Elevated above the bar is a vintage Greyhound bus, which offers booth seating for families to see out over the shed. Patrons are encouraged to stay, hang out, do work with the free wifi and hold meetings there.
Marsich hopes the vintage touches will help folks "remember the good old days."
"The thinking behind that was to create a conversation, a dialogue between strangers," Marsich said. "Someone can point to one of these and say, 'Oh, I remember that.'"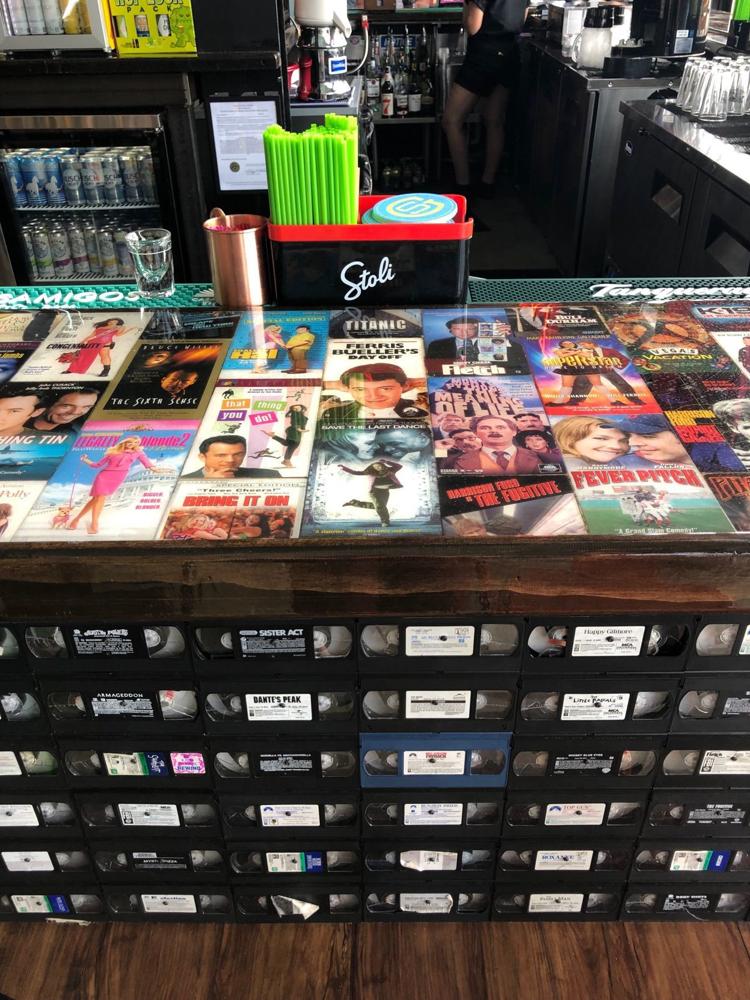 The stationary food trucks themselves were reclaimed from a junkyard in Camp Douglas, then gutted and refurbished. Revamped Volkswagon vans serve as soda dispensers and seating areas. 
"The goal was to build something that has never been built in the Dells and actually elevate the game a little bit," Marsich said. "That's why some things are kitschy, but then you have some refined things like the big chandeliers. We try to mix and match so it appeals to all demographics."
The Grateful Shed has been busy so far, even on Sundays when people are leaving the Dells to go home. It features live music several nights a week and a DJ on weekend nights, with yard games like big-blocked Jenga and bags (that's cornhole to some of us). Next year, Field hopes to expand outdoor seating to the street with fire pits.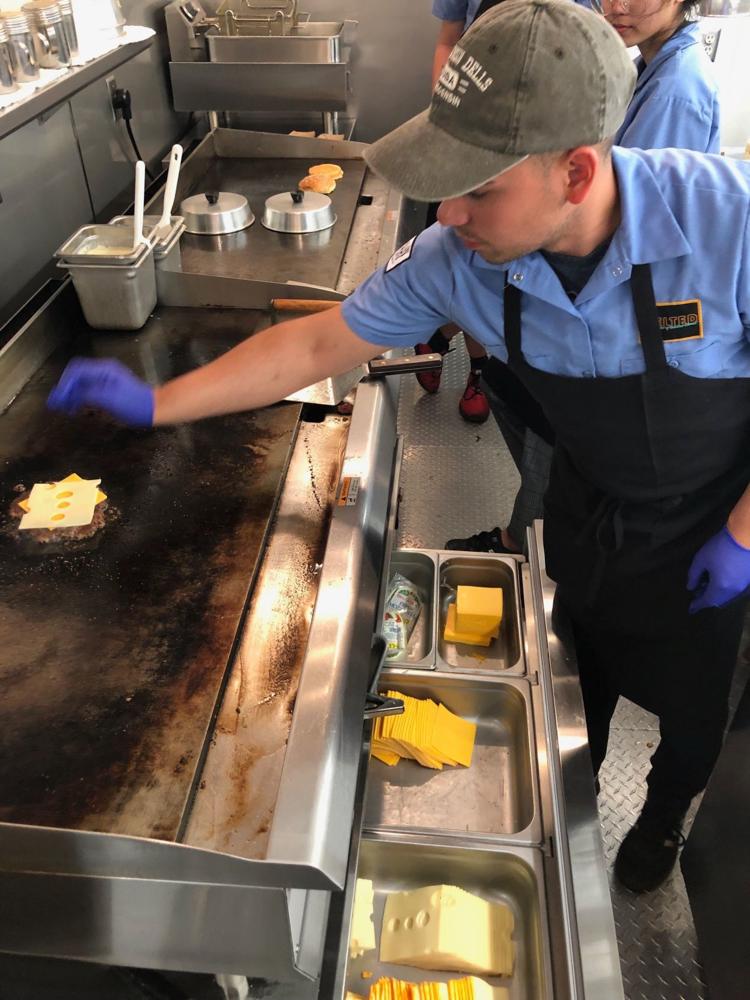 Street tacos are a new addition to Pasqual's menu for the Grateful Shed. Tacos are served a la carte at the cart, and the recipes are ones that owner Ben Roberts said he's wanted to try for awhile. There are six variations, including a Korean BBQ taco ($3.95) and beer-battered Alaskan pollock with serrano slaw, pico de gallo and cotija cheese ($4.25) , which has been the most popular, he said. Dells visitors like to get them as an appetizer. Any three tacos can be mixed and matched for $11.
The limited menu and smaller space "allows us to make it fast and fresh," said Roberts. The Dells location also features a new twist on the snickerdoodle — a chocolate-dipped churro cookie ($2.80). Pasqual's rolls the dough in new dessert tortilla chips developed for the Grateful Shed, made with a mole and cinnamon sugar dry blend that is rubbed on each chip. Both will soon be available at their other locations too, Roberts said.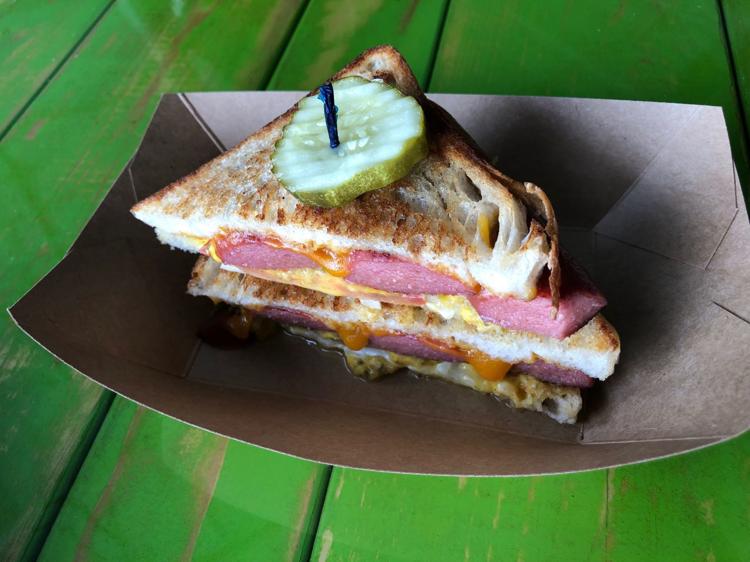 Alex Evangelista trains staff and cooks at the Dells location of David Rodriguez's food truck, Melted. Their take on the smashburger (starting at $8.25 and goes up if you add another patty), rolled out for the Grateful Shed, is always in high demand, made with local beef from Fischer Family Farm near Fall River. Melted's burger is always prepared medium, topped with local cheese and pressed hard into a hot griddle. The seasoning is peppery, giving it a distinct and flavorful kick.
"It's been slammed on the weekends even with people leaving the Dells on Sunday," Evangelista said. They've nearly run out of beef at times.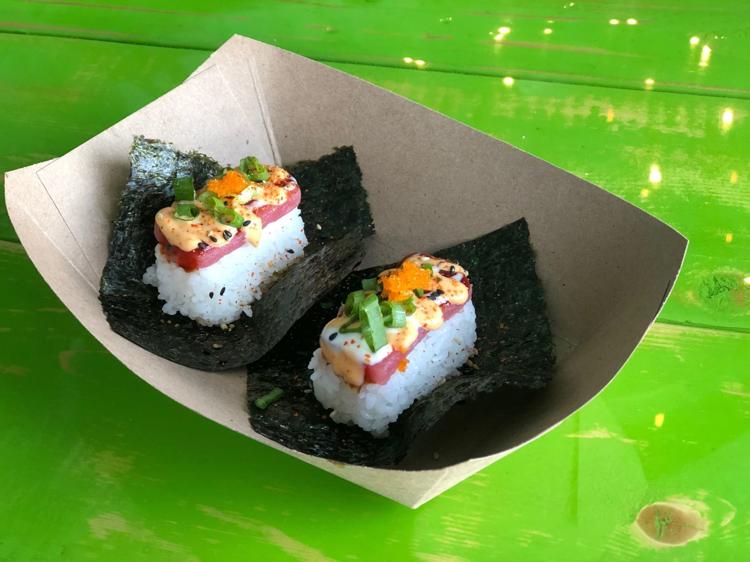 Melted's Chicago dog-style grilled cheese ($10), which has gotten national accolades, is also on the menu. It's built with a beef ballpark hotdog, not-too-spicy pickle and pepper relish, tomato and onion, and two kinds of cheese (sharp cheddar and Muenster). Of course there's yellow mustard and celery salt, all on grilled sourdough. The sandwich sounds complex, but everything works.
Tavernakaya's "unrolled" sushi is a new angle on raw fish, rice and seaweed. Their rolls come in pairs and arrive like tiny tacos, with a neat slice of fresh fish and sauce on a rectangle portion of rice and a square of seaweed. All of these "unrolls" are $7 or $7.50. Tavernakaya's menu also includes a favorite from their Capitol Square location, General Tso's chicken, their version of a Chinese American classic.
The food is meant to fuel Dells vacations, Field said. That's what it's all about.
"When people come to Wisconsin Dells, they come here for reasons similar to when they go to Walt Disney World," he said. "They want to make memories."