For three years, food lovers argued that the best barbecue in the greater Madison area was on wheels.
Robert Bishop, an award-winning Kansas City-style pitmaster, ran his Blowin' Smoke BBQ food cart on the Capitol Square before opening a brick and mortar spot at a new development in Waunakee. (Look for the cart most weekdays at Wisconsin Avenue and Mifflin Street.)
Bishop's business has expanded almost past his ability to manage it, as he balances the cart, catering gigs and the restaurant itself. People keep coming back for the Three Little Pigs ($7.99) — pork, pit ham and maple smoked bacon on a sandwich with Swiss and mayo — and Bishop wants to answer their demands.
"We do our own twice-baked potatoes, and we make our own cheese balls that people are lovin'," said Bishop, who said his fluctuating kitchen team makes "everything from scratch."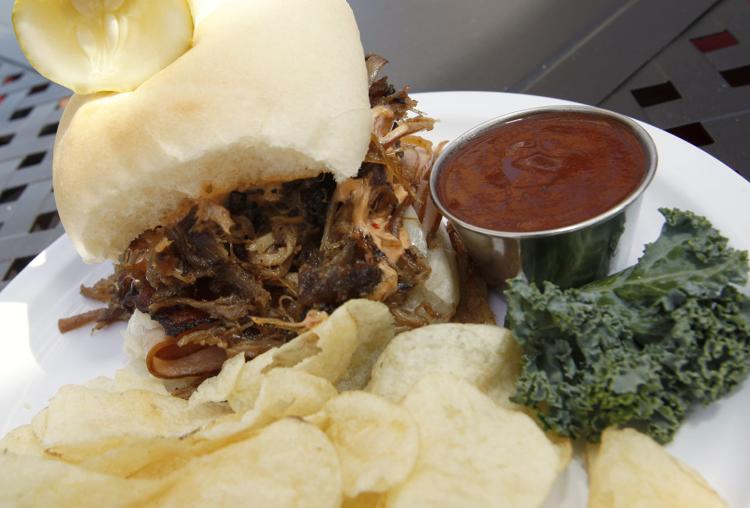 His smoked pork falls apart under a fork, paired with smoky brisket on a "Best of Both Worlds" sandwich ($7.49). Specials, like a smoked turkey sandwich with thick cut bacon ($7.99), highlight Blowin' Smoke's juicy meats in new ways, with sides like cornbread, a classic raisin-and-mayo broccoli salad, potato salad and slaw.
There are a few token salads on the menu, but what fuels cravings are the burnt ends, spare ribs, sausage and smoked chicken. Bishop sources his meat through UW Provisions.
"Quite a few people come from Fitchburg and Verona," Bishop said. "In Kansas City, if you've got your favorite spot, it's nothing to drive 45 minutes."
Transitioning from a cart to a restaurant hasn't been easy. Bishop has struggled to keep staff, and has turned down several catering jobs because he didn't have the resources to take them. He had to take steaks off the menu because people wanted only barbecue.
Blowin' Smoke Barbeque goes through about 500 pounds of pork every week, including about 100 slabs of ribs. He's got his "smokers rolling every day."
Bishop's barbecue journey began in 1995, when he started with a competition team in Kansas. He doesn't want to grow too much larger than this, but he'll keep running specials of the things that he loves.
"Smoked prime rib has gone over really well," Bishop said. "I don't want it to get too big; you start losing touch with the food.
"If we can just fill up the dining room and do catering, I'm good with that. I don't need to own the whole world — just a little slice of the pie."