For 17 years, Guillermo Ayala worked on the line at Oscar Mayer. He misses the job, the company and his coworkers.
But he's ready to move on.
"It was a good experience for me. The company was nice," said Ayala, 45, who grew up in Mexico and moved to Madison in 2000. "But they closed. In this life, everything changes.
"You have to change your life," Ayala said. "I don't want to do the same things ... when the city changes, I want to change too."
As part of this change, a few weeks ago Ayala enrolled in a pilot of a new job training program. FoodWorks, created by local restaurateurs, chefs and food advocates with the help of a city grant, designed its "First Course" curriculum to take novice cooks like Ayala into professional kitchens in just three weeks.
"We didn't set out to hack culinary school," said Matt Feifarek, FoodWorks' executive director. "That's a real thing and it takes two years, and there's a reason it takes two years.
"It was much more from a perspective of, 'What are practical, on-the-job skills?' We were shooting for familiarity rather than mastery. If they hear 'mise en place' or 'mirepoix' and they don't remember that means, they can look in their notebooks."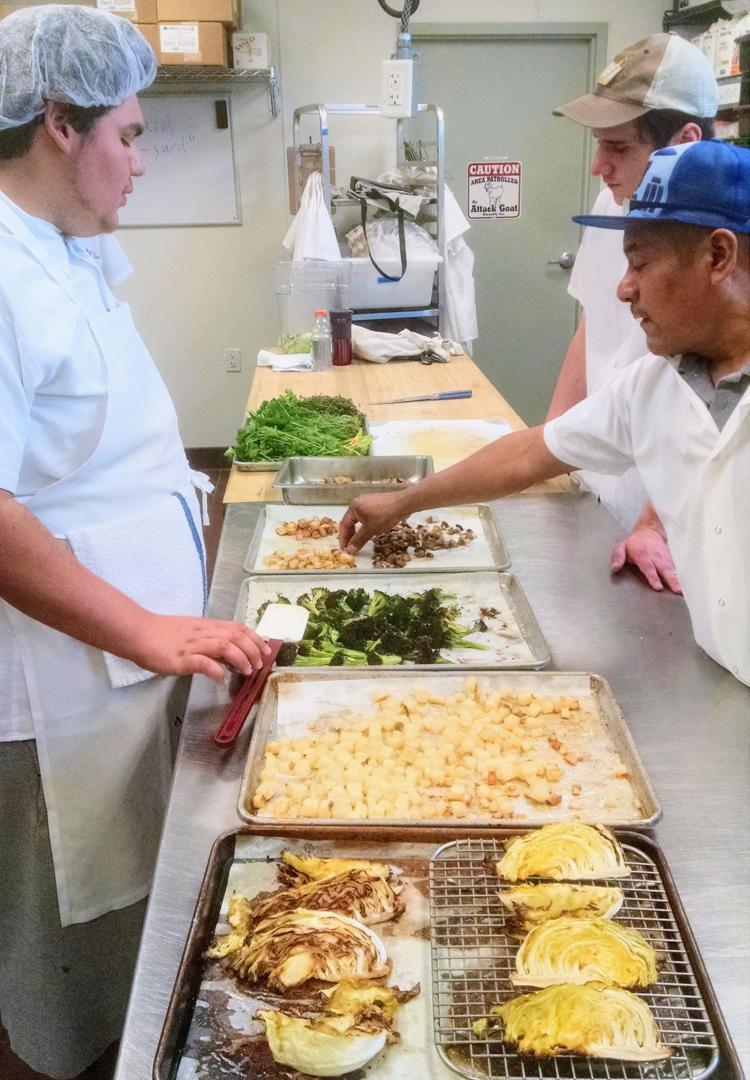 FoodWorks aims to address a growing need in Madison restaurants by training a willing workforce, found through the Latino Academy of Workforce Development, Urban League of Greater Madison and The Grow Academy, a program at the Wisconsin Department of Corrections.
Ayala was among a class of four that graduated from the "First Course" pilot on May 26 at FEED Kitchens on Madison's north side. A $50,000 Kickstarter campaign that closes June 17 would fund future classes and allow the program to grow.
"We're happy with the way the program ran," said Jonny Hunter, a founder of Underground Food Collective who helped develop the FoodWorks curriculum. "We're in the process of making this a real organization.
"We want to make sure the concept and skills that we wanted to transfer worked."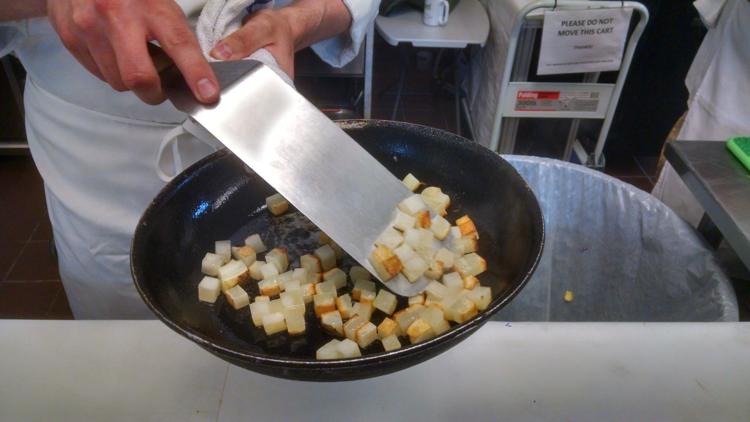 Supply and demand
A restaurant boom here and around the country along with comparatively low wages and long, physically demanding hours has led to a critical shortage of cooks. Nationally, even the highest end restaurants have trouble attracting and retaining kitchen staff.
A New York Times story in 2015 reported that "Cooks joining the profession now are more particular about the kitchens they want to work in, better equipped to move from job to job and from city to city, less willing to work long hours for low wages and more impatient to rise."
That's true in Madison, too. Restaurants are improving wages and benefit packages, hoping to keep employees happy so they'll stay.
"If you have a labor shortage, you should raise wages, and that's happened," Hunter said. "We've seen a steady increase in the wage paid to cooks all over Madison. They're coming more in line with living wages in the city.
"There's been shifts in the industry around what's acceptable and what's not. You use to have to work for free a lot, and now ... there's an understanding that staffing is not something that's always going to be there. People are being treated a lot better."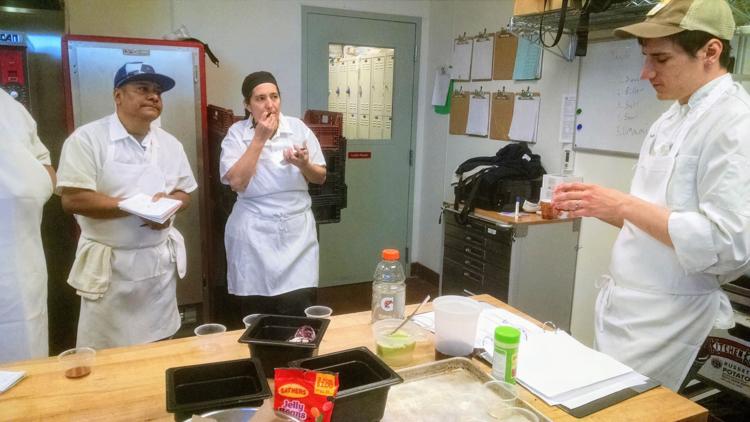 With how rapidly the industry is growing, FoodWorks aims to find under- or unemployed workers who might be uncomfortable walking into a kitchen with no experience. The goal is to teach them enough of the language and basic skills of the kitchen to boost their confidence. 
"We want to give people who are interested in the work an opportunity to succeed and get a better wage," Hunter said.
Partnerships with workforce development programs have been key. The first class of four came from the Latino Academy for Workforce Development, where a focus group also offered feedback on how the entry level course should look.
"The way they were going to recruit for the course spoke to the mission of it," said Carla Garces, co-director of the Latino Academy. "A lot of people would want to take this course, but their focus was people who were unemployed or underemployed, people from communities who don't normally get this opportunity.
"For us that was attractive."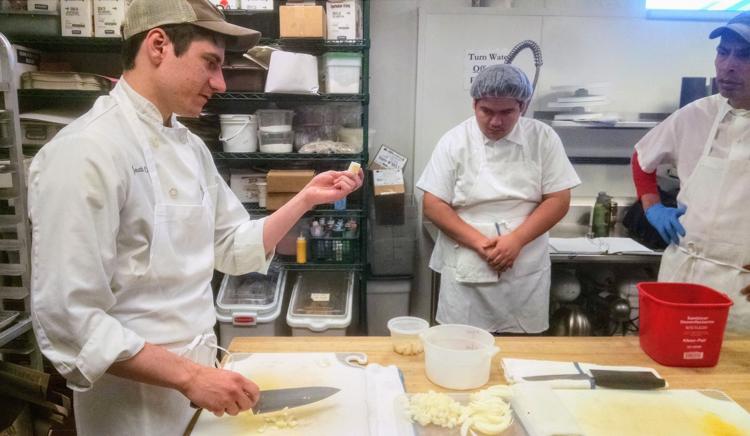 Into the fire
The first class of FoodWorks "First Course" students dove enthusiastically into the training.
With Ayala were Luz Alder Urtubey, already employed but looking for additional work, and Adelaido Duran, who had been working in the Wisconsin Dells but wanted to move to Madison.
The youngest class member was Steven Welnetz, a teenager from the Grow Academy.
Jon Churan, a culinary director and classically trained chef at Underground Food Collective, served as the instructor, with visits from chef Tory Miller of L'Etoile, Philip Hurley of Sardine, Laila Borokhim from Layla's Persian Food, and Bryan Weinstein from the Madison Area Chefs Network, among others.
Feifarek described the experience as inspiring. The students, he said, were "really engaged and cheerful."
"On the day we were talking about the Maillard reaction (browning) and sautéing and searing things, our teacher Jon (Churan) had brought in some Brussels sprouts," Feifarek said. "One of the students couldn't stop laughing.
"He was like, 'I see this in the store, I didn't know what they were! I could cook these for my daughter. She's a vegetarian.' He was so tickled, he was almost beside himself.
"It was really fun."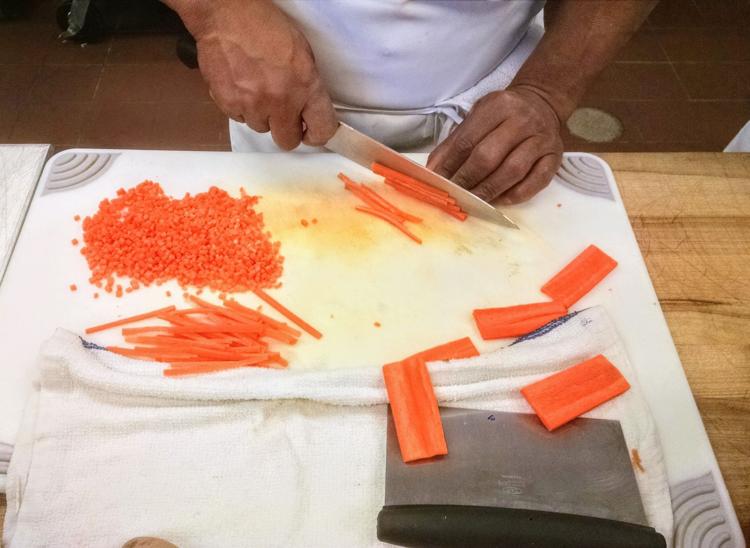 Ayala likes to cook at home, but he quickly noticed the difference in the scale and pace of a restaurant kitchen.
"I was surprised by all the techniques," Ayala said. "I'm used to a small kitchen with little equipment. It was a lot of things I (didn't) know before.
"At home when you cook, you can take all day. In a restaurant, you have to be quick."
Because it was a pilot, FoodWorks could adapt the curriculum based on student feedback. When students struggled with weekly written quizzes, which had little application in a real world kitchen anyway, Churan took a different tack. 
"We decided the next time to do it hands on in the kitchen," Feifarek said. "So instead, during knife skills practice in the morning, Jon would say 'Hey, Guillermo, get a hotel pan and julienne some onions for me and get them ready for roast.'
"That's three things we learned, and they were able to do it."
In the original mission statement, the hope was to teach some of the classes in Spanish. But based on feedback from Latino Academy focus groups, FoodWorks scrapped that idea.
"With any workforce program you have to look at where jobs are," said Garces at the Latino Academy. "If you can get a job and not speak English, that would be awesome.
"But we live in Madison, Wisconsin where you definitely need to be bilingual or have some basic communication skills in order to land a job. For students it would be great, but how are you going to translate that into a career?"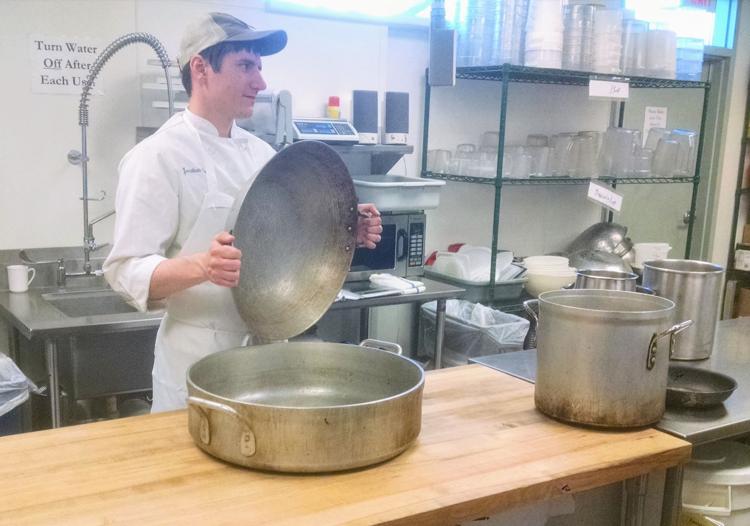 Ready to serve
In a grant application that earned the group a $10,000 boost from the city of Madison last fall, FoodWorks outlined an ambitious plan for growing the ranks of Dane County cooks.
This first pilot, "First Course," focuses on entry level skills for those with little or no experience, with students receiving a payment upon completing the program.
The next step up, FoodWorks Academy, would offer a yearlong culinary intensive with a curriculum developed by Hunter and Tory Miller, chef and co-owner of four restaurants including L'Etoile and Sujeo. Miller has been instrumental in the program's development and could eventually be on FoodWorks' board of directors. 
The academy training would be designed to "complement Madison College's more traditional two-year culinary program," the application said.
Other initiatives in the application include a FoodWorks Lab, helping entrepreneurs with new food and beverage ideas develop the next hot sauce, spicy honey or paleo-friendly granola bar.
There's also a plan for a facility, possibly in StartingBlock, that would act as a "culinary community center," offering space for nonprofits like REAP and FairShare CSA Coalition to host meetings, classes and other events. 
For now, Feifarek said organizers are taking time to figure out what went well this first time, and see how students do on the job market.
"We've got to take a deep breath and talk to the partners, check in with students — 'did this help you in this job?'" Feifarek said. "We'll go back to the city and those organizations and figure out the best way for all concerned."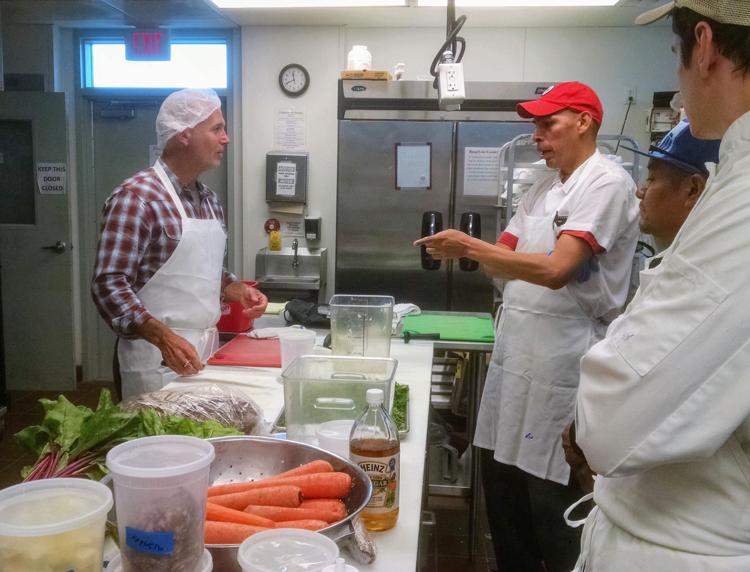 FoodWorks wants to see successful students returning as mentors, something the Latino Academy encourages.
"We focus on students then becoming teachers," Garces said. "That's the best role model, is someone who looks like you who has been through the same process who can give you true insight."
Feifarek and most of the others have been donating their time and supplies to get this program off the ground. In the long term, they'll have to figure out a financial structure that works and find a place where the program can grow.
That could be FEED Kitchens at first and then possibly StartingBlock, a planned center designed to encourage startups and entrepreneurship. Chandra Miller Fienen, StartingBlock's director of operations and programs, is also a FoodWorks founder.
"Our goal is to (teach) 18 students at a time," said Hunter. "We're going to work on organizational building and capacity. We've done it once. It wouldn't be super hard for us to do it again."
Hunter is confident that with "where the market's at," all of the students will have plenty of opportunities.
Ayala has already found a position thanks to Brian Winzenried of Stella's Bakery, home of farmers' market-famous hot and spicy cheese bread. Winzenried came to visit the class, and now Ayala is working early mornings in the bakery from 2 a.m. to 10 a.m.
"Maybe in the future I'll train at a restaurant to learn more about what's in the program," Ayala said. "At this point everything is new for me. It's good for me! I want to change.
"For now I will stay in the bakery, to learn. It's something that's good for me."