From the start of the pandemic, Ina Garten has known what we need.
The Barefoot Contessa caught the mood early on, when she made a Big Gulp version of a Cosmopolitan in a glass as big as her head. Her real gift to us came later, a new cookbook called "Modern Comfort Food," released by Clarkson Potter in October 2020.
"Modern Comfort Food" brings the number of BC cookbooks to a perfect dozen. Previous beginner-friendly volumes have focused on entertaining, parties, France and make-ahead meals.
Since the late 1990s, Garten has drawn devoted followers. Her salting is spot on; her writerly voice is chummy and gentle. I used to get annoyed when she'd tell me to buy the best quality salmon or filet of beef (where does she think I live, the Hamptons?). I bake by weight, not volume, now. My cakes and cookies are better for it.
Yet I come back time and again to Garten's crowd-pleasing appetizers and potluck-friendly mains. I know the "Barefoot Contessa Cookbook" roast chicken by heart. The chocolate orange mousse from the Paris cookbook is my partner's single favorite dessert. I just made it for New Year's Eve.
Despite some 15 years cooking Garten's books, it took a New York Times story last fall for me to realize that "Every cookbook looks pretty much the same as the last, and is likely to hold a roast chicken, a beef filet, a root vegetable gratin, a bitter salad, a flourless chocolate confection."
That's true for "Modern Comfort Food" too. I did not make it to the baking section and we are not really in an appetizer moment, but there's lots to love here! These are a few of the dishes we tried, with links to recipes when available.
Roasted cauliflower with lemon and capers — I bought this book for my mom for Christmas before picking it up myself, and this recipe was a major reason. I love cauliflower prepared this way, caramelized in the oven with crispy edges, sprinkled with salty parmesan and capers, finished with a squeeze of lemon and fresh parsley. It's perfect.
Baked fish chowder — To make this warming stew, we had to do a special shop to refill our spendy saffron and pick up Pernod, an anise liqueur that seems more useful for cooking than cocktails. I am slightly ashamed to say I scaled down the dairy from heavy cream and half-and-half by incorporating some whole milk, but I swear it's only so it wouldn't go bad on me. Go full luxury here! It's winter; we're worth it. feasteveryday.blogspot.com/2020/10/ina-gartens-fish-chowder.html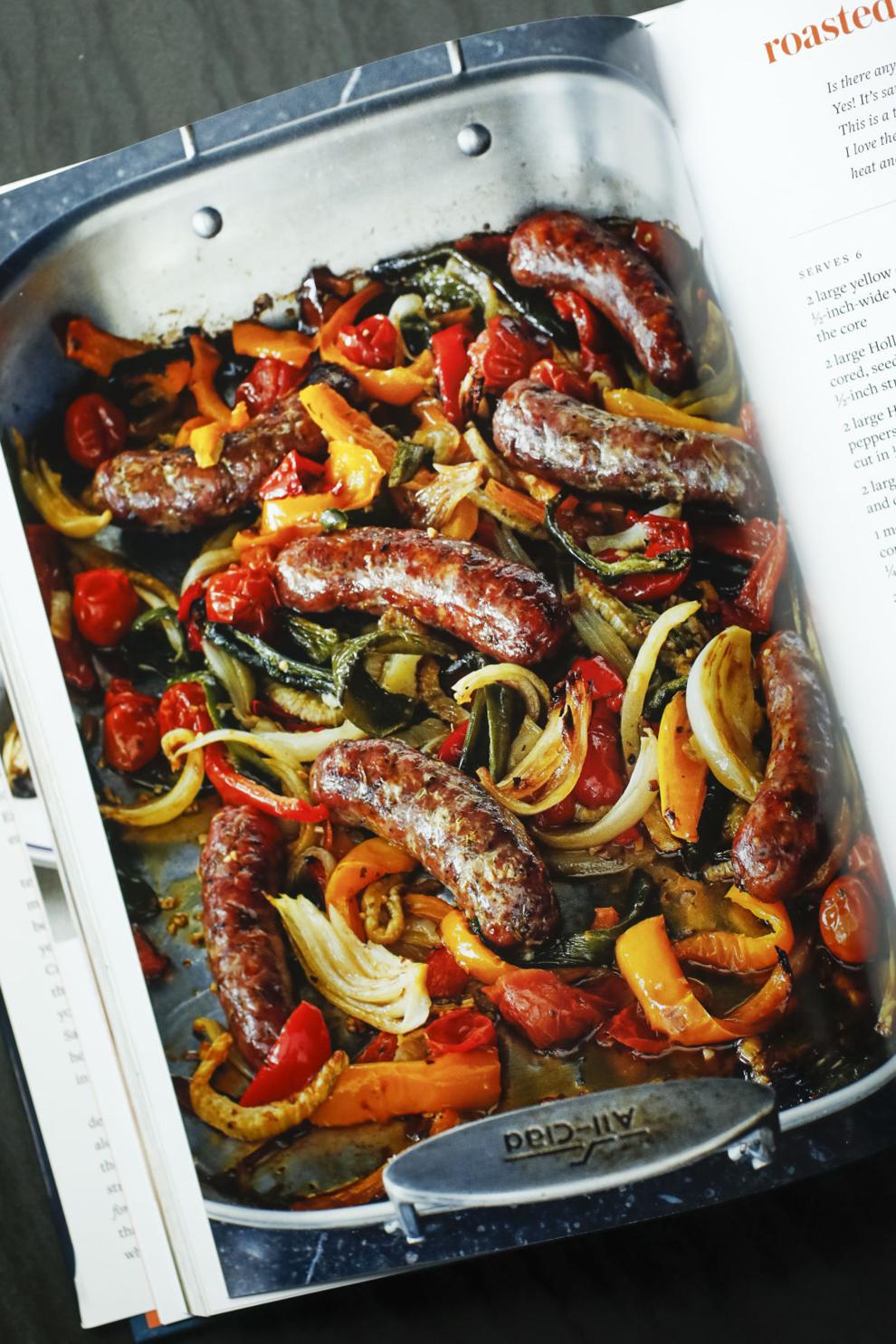 Arrabiata sauce — I had shrimp fra diavolo in mind when I peeled the three heads' worth (!!) of garlic cloves for this sauce, inspired by the Italian restaurants Lilia and Misi in Brooklyn. I ended up using some with sausage on farfalle (bow tie pasta) and freezing the rest to make a fantastic future lasagna. This is the first time I tried the shake-two-bowls-together trick for peeling cloves. It kind of works? Maybe buy them peeled, just this once. washingtonpost.com/recipes/ina-gartens-arrabbiata-sauce/17700
Crispy chicken with lemon orzo — If we're not roasting a whole bird, we're a bone-in, skin-on chicken thigh household. That's what I used instead of the chicken breasts Garten calls for here, and I have no regrets. Crispy skin, lots of lemon in the orzo, fresh dill for color? Happy Wednesday! food52.com/recipes/84026-crispy-chicken-lemon-orzo-recipe
Roasted sausage, peppers and onions — The internet has a million variations on this theme. This is a pretty good one, adaptable for whatever sausage you've got, with fennel and the only kind of tomatoes that still taste OK this time of year (cherry). Put leftovers on pasta or in a bun for next-day lunch. feastandmerriment.com/roasted-sausage-peppers
Broccoli and kale salad — I love just about every variation on Caesar salad, and I love using dark leafy cruciferous veggies like these when it's cold out. Garten calls for a food processor to make the dressing, but if you've got an immersion blender, it's even faster. food52.com/recipes/84025-broccoli-kale-salad-recipe-ina-garten
Apple cinnamon Dutch baby — Dutch babies, also known as German pancakes, are a holiday tradition in my family. They're so dramatic! The eggs make them puff up like a huge popover. Usually we make them with just powdered sugar and lemon, but Garten adds vanilla, apples, cinnamon and maple syrup for a bit more pizzazz.