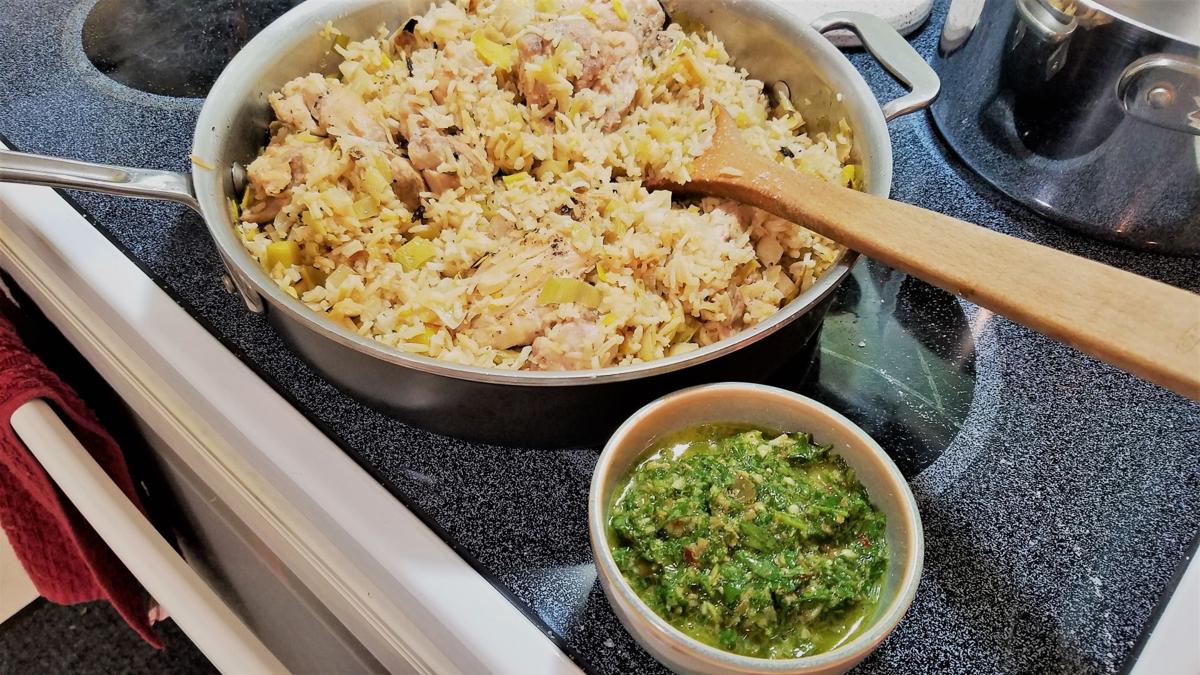 My Sheboygan-born mother-in-law made a version of chicken and rice with canned soup and way too much time in the oven. Gail was generous of spirit, funny, a true character. A cook she was not.
Chicken and rice was one of about 10 meals she made in rotation for the entirety of my husband's childhood. He didn't like it (I think his quote was "gloppy") but Gail's instincts were good; that is a comforting combo. When I spotted a variation on chicken and rice from Smitten Kitchen's Deb Perelman in the September Bon Appetit, I knew it would win.
Beyond childhood comfort food, I have been loving "The Jewish Cookbook" by Leah Koenig (Phaidon, 2019), a tome that looks intimidating but has exceptionally good recipes. Jeweled rice, chicken fricassee and borscht all looked accessible enough, but I was transfixed by babka, almond crescents and hat-shaped cookies. I spent a whole night reading about Hungarian flódni, a layered sweet pie with apples, walnuts and poppy seeds. (If I bake it, I can find friends to eat it. Right?)
I will link recipes when I have them. I hope you find some inspiration here. 
Dijon and Cognac beef stew by Regina Schrambling in the New York Times — Obviously I used Korbel brandy in this stew, which takes its complexity from two kinds of mustard. I threw oyster mushrooms in this because I had them, but buttons work just fine. cooking.nytimes.com/recipes/1017085-dijon-and-cognac-beef-stew
Picadillo from Bon Appetit in September and Milk Street Tuesday Nights — I made this simple Latin American ground beef dinner twice in the last couple weeks, but changed it up with two different recipes. BA's, from Rick Martinez, calls for poblanos and plum tomatoes. Milk Street mixes in capers, olives and raisins. Add a potato, put it in a wrap and it's an easy dinner (or lunch the next day). bonappetit.com/recipe/picadillo
Chicken shawarma from "The Jewish Cookbook" —Real talk: I didn't do the marinating with this; I ran out of time. That shawarma spice blend — cumin, paprika, cinnamon, turmeric, garlic and smoked paprika — was still fantastic. (Another variation: food52.com/recipes/41562-baked-chicken-shawarma)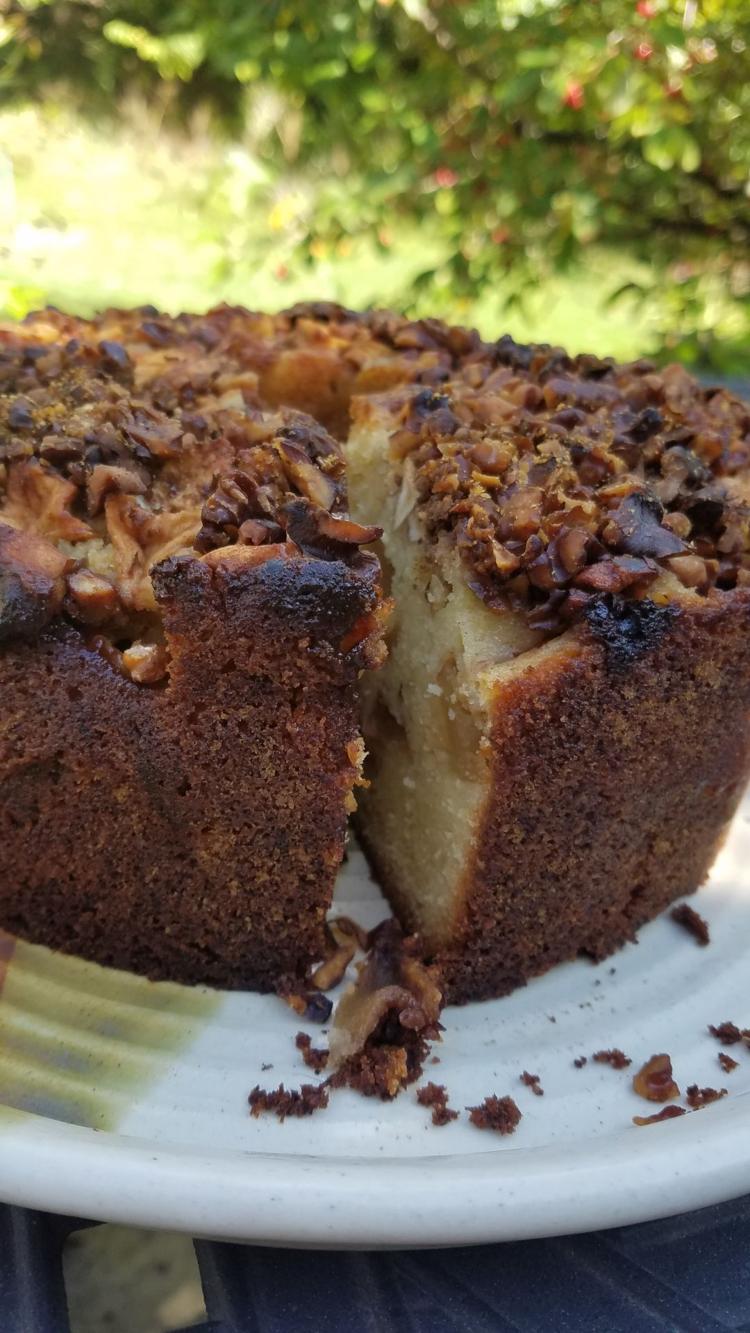 Fish tagine with couscous from "The Jewish Cookbook" — This summer-to-fall tagine, stuffed with zucchini, carrots, little potatoes and tomatoes, calls for a firm fish like snapper or lake trout. You can scale back on the harissa if you're spice averse; the flavors are still comforting and lovely. (Similar: deliciouslymediterranean.com/moroccan-fish-tagine) 
Mom's apple cake from "The Smitten Kitchen Cookbook" – I miss baking for my coworkers. They never cared if I overbaked the cake a little or forgot to put the walnuts into the batter and just lazily tossed them on top. This is a celebration cake; it deserves company. smittenkitchen.com/2008/09/moms-apple-cake
Creamy Thai carrot sweet potato soup from Cookie and Kate — The best tool for soups like these is an immersion blender, which will be in heavy rotation with all the squashes I just bought. This soup is vegan as written, though I made it with ghee. cookieandkate.com/thai-carrot-sweet-potato-soup-recipe
Pan-fried skate wing with capers by Pierre Franey in the New York Times — I'm still on a learning curve when it comes to fish fillets (oil not hot enough/ oil too hot/ not enough oil/ why is it breaking apart again) but these came out almost perfectly. Also: more bell peppers!  cooking.nytimes.com/recipes/9719-pan-fried-skate-wings-with-capers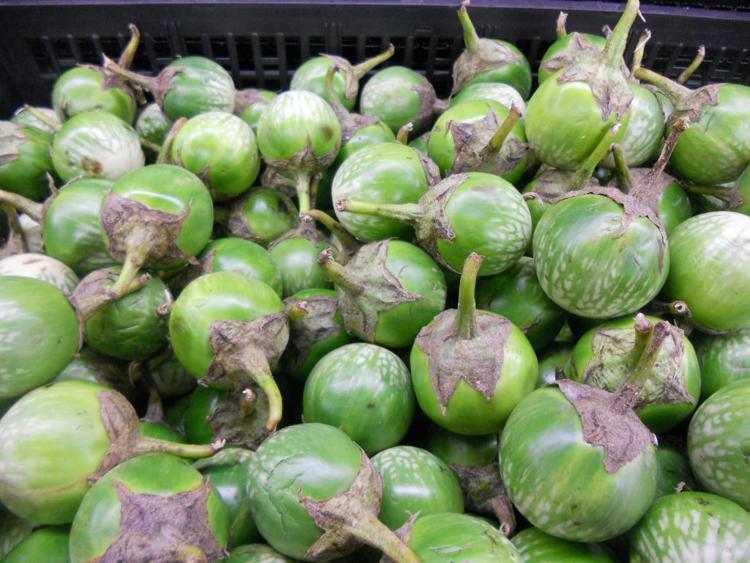 Eggplant and chili garlic pork stir-fry by Todd Porter and Diane Cu, Food & Wine— The little Thai eggplants I spotted at the Monona Farmers' Market were too cute not to take home. (So was a purple cauliflower. So pretty!) On a late weeknight I turned them into this stir-fry, amped up by fish sauce, chili-garlic sauce and rice vinegar. foodandwine.com/recipes/eggplant-and-chili-garlic-pork-stir-fry
Apple cider doughnut loaf cake from Bon Appetit, September 2020 — Here, we take an already delicious thing (cake) and stab a bunch of holes in it to make room for another delicious thing (reduced apple cider). There's just no way that can be bad. If you're into that apple dessert life but don't have bags of fruit from the orchard yet, this loaf cake is it. bonappetit.com/recipe/apple-cider-doughnut-loaf-cake
Stay up-to-date on what's happening
Receive the latest in local entertainment news in your inbox weekly!