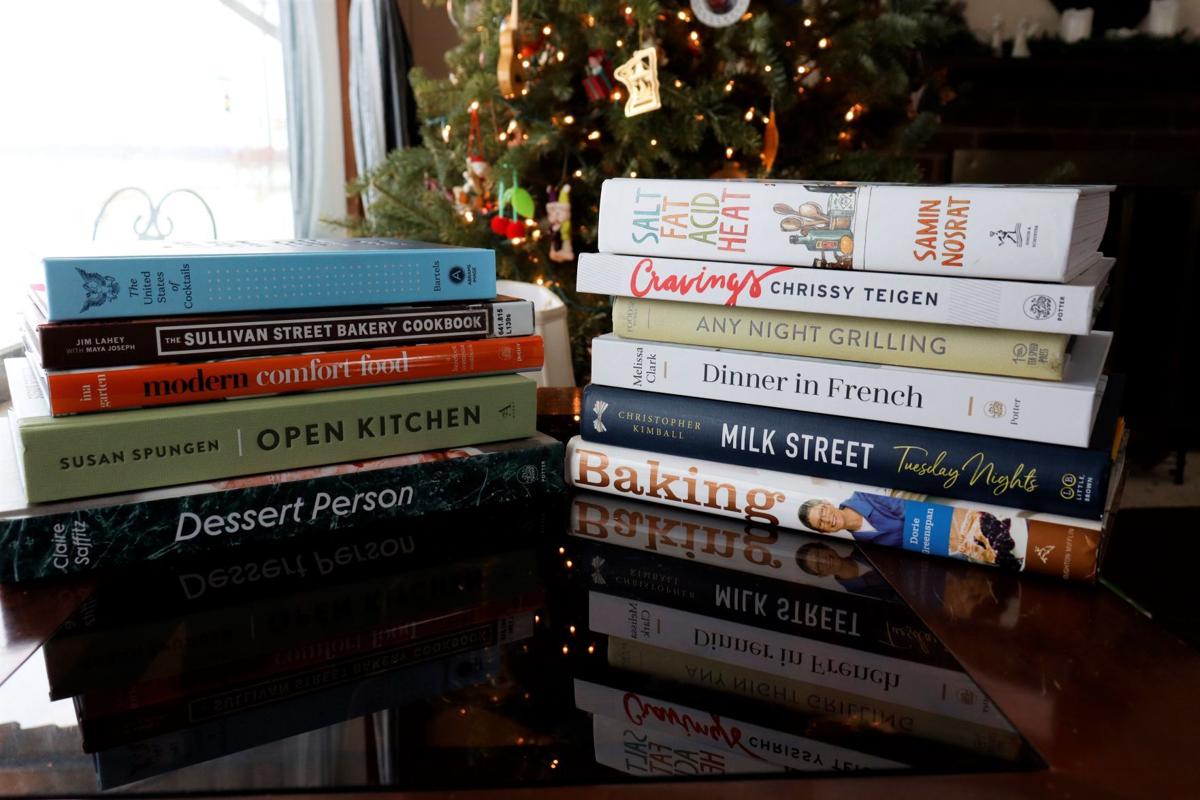 In a universe of recipe blogs and last-minute Google searches, cookbooks have a range of utility. Some are simply to admire — I always think of "Hartwood," based on the Tulum restaurant of the same name, or those beautiful, inaccessible Nordic cookbooks that were all the thing a few years ago.
Some cookbooks we might keep for nostalgia, like my mom's spiral-bound Soupçon from the Junior League of Chicago, or the duct-taped "Betty Crocker Cooky Book" that belonged to my grandmother.
I am most inclined toward the useful. Cookbooks do reliable, tested recipes better than anything else. As I kickstart my cooking for another season of dining in, these are some of the cookbooks (and cocktail books) that drew me back into my kitchen in 2020, and a peek at what's next.
All prices listed are from Bookshop.org, an online bookstore with a mission to financially support local, independent bookstores.
"Salt Fat Acid Heat" by Samin Nosrat (Simon & Schuster, $34.50) — I received this book as a gift not long after it was published in 2017, but it wasn't until quarantine that I really cooked through it. Recipes I've returned to include spatchcocked roast chicken, panzanella, pork braised with chiles, garlicky green beans and Nekisia Davis's olive oil and maple granola.
"Dinner in French" by Melissa Clark (Clarkson Potter, $34.50) — At the risk of sounding sacrilegious, I use Melissa Clark's "Dinner: Changing the Game" like some people use the Bible. When I need inspiration, I close my eyes, flip the pages and make whatever I land on. Released in March 2020, "Dinner in French" has the same kind of bulletproof recipes. I loved the beautiful puff pastry tomato tart, roast chicken with herbes de Provence butter, savory clafouti with bell peppers and cheddar and, of course, Clark's chicken liver pâté.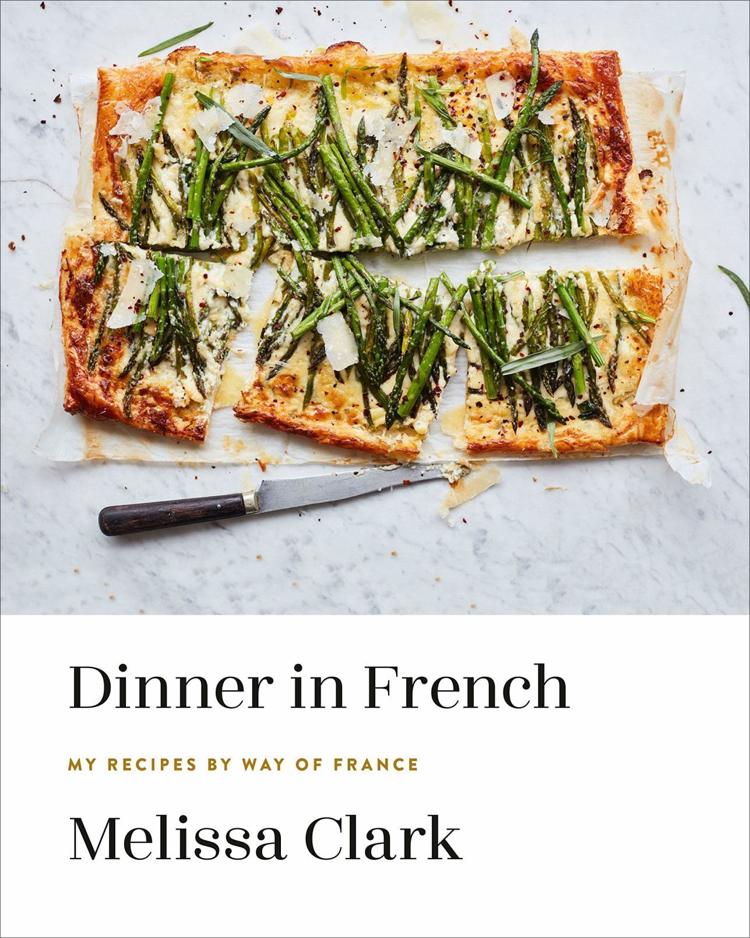 "Madhur Jaffrey's Instantly Indian Cookbook" by Madhur Jaffrey (Knopf, $20.24) — During the Dried Bean Craze of 2020, I checked out a handful of pressure cooker cookbooks. Though it didn't help much with my Rancho Gordo haul, this was one of my favorites. I specifically liked the simple basmati rice pilaf with peas, chicken stewed with potatoes and cauliflower, lamb with spinach (saag gosht) and fresh cucumber mint raita to put on everything.
"The Sullivan Street Bakery Cookbook" by Jim Lahey (W.W. Norton, $32.50) — Thank goodness the library was being so lenient this year, because I definitely wrecked this cookbook during my sourdough explorations last spring. Lahey, creator of a wildly popular method for no-knead bread, walks the hesitant baker (me) through how to turn a healthy starter into a more stable biga, and turn that biga into bread. I doubly recommend the Hamilton buns, made with molasses and whole wheat and inspired by Lahey's affection for the hit musical.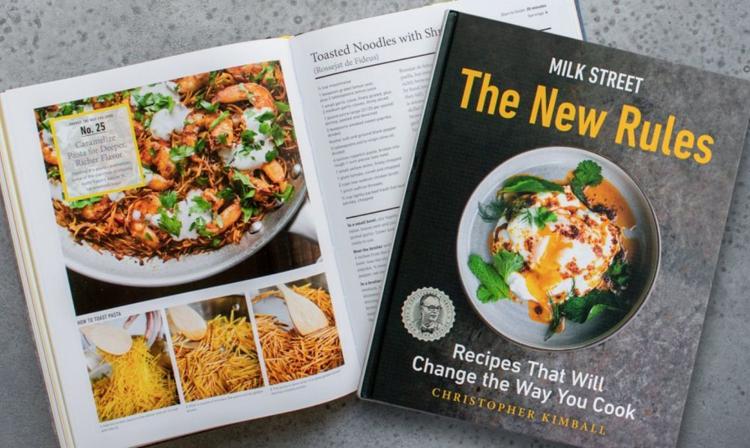 "Milk Street: The New Rules" by Christopher Kimball (Voracious, $32.20) — I'd hoped to visit Milk Street's Boston headquarters in person in 2020 with the now-defunct Association of Food Journalists (RIP). Instead I cooked a lot of Milk Street recipes, from this book and two others — "Milk Street Tuesday Nights" (a perfect starter-kitchen gift) and "Cookish," out this fall. Favorites here: Stir-fried green beans and ground pork, charred broccoli with Japanese-style toasted sesame sauce, pearl couscous with chicken and chickpeas, and toasted noodles with shrimp.
"Food52 Any Night Grilling" by Paula Disbrowe (Ten Speed Press, $22.99) — If I had to have one grilling cookbook, it would probably be the copy of "Weber's Way to Grill" my husband and I got as a wedding gift. If I could have two, this would be on the top of my list. We are near constant summer grillers, and this gave us skirt steak with salsa verde, smoky fattoush with buttermilk dressing, grilled fish with grilled vegetable vinaigrette, and tipsy chicken with smoky pan drippings.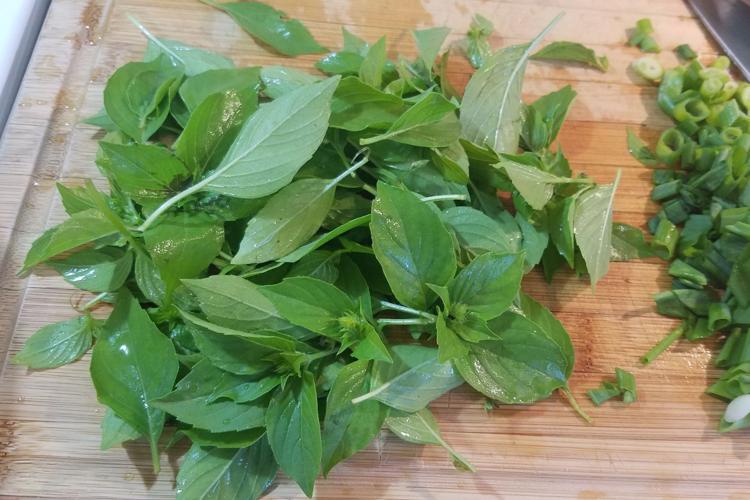 "Cravings" by Chrissy Teigen (Clarkson Potter, $27.59) — I was late to the "supermodel Chrissy Teigen cooks" party, but once I arrived, we ate very well. Yes, "Cravings" is a cookbook about comfort food and includes recipes for a Frito pie bar and pineapple-grilled short ribs (fantastic, for what it's worth). I definitely made margaritas to go with margarita chicken fajitas. But I took some lighter techniques from it, too — how to wrap and steam fish in paper, how to make lasagna noodles out of overgrown zucchini, and a simple way with fish tacos. I'm also a convert to coconut rice. Game changer.
"The United States of Cocktails" by Brian Bartels (Abrams, $22.99) — The cocktails of our Year Inside have come primarily from Andre and Tenaya Darlington's excellent book "The New Cocktail Hour" and this new one from Bartels, a co-owner of Settle Down Tavern downtown. I have it as a PDF as well as in print. That let me quickly figure out how to use a new bottle of amaro in a Stumptown Boulevard (with bourbon, Campari and cold brew coffee) or one of my new favorites, the Paper Plane (bourbon, Aperol, lemon, amaro).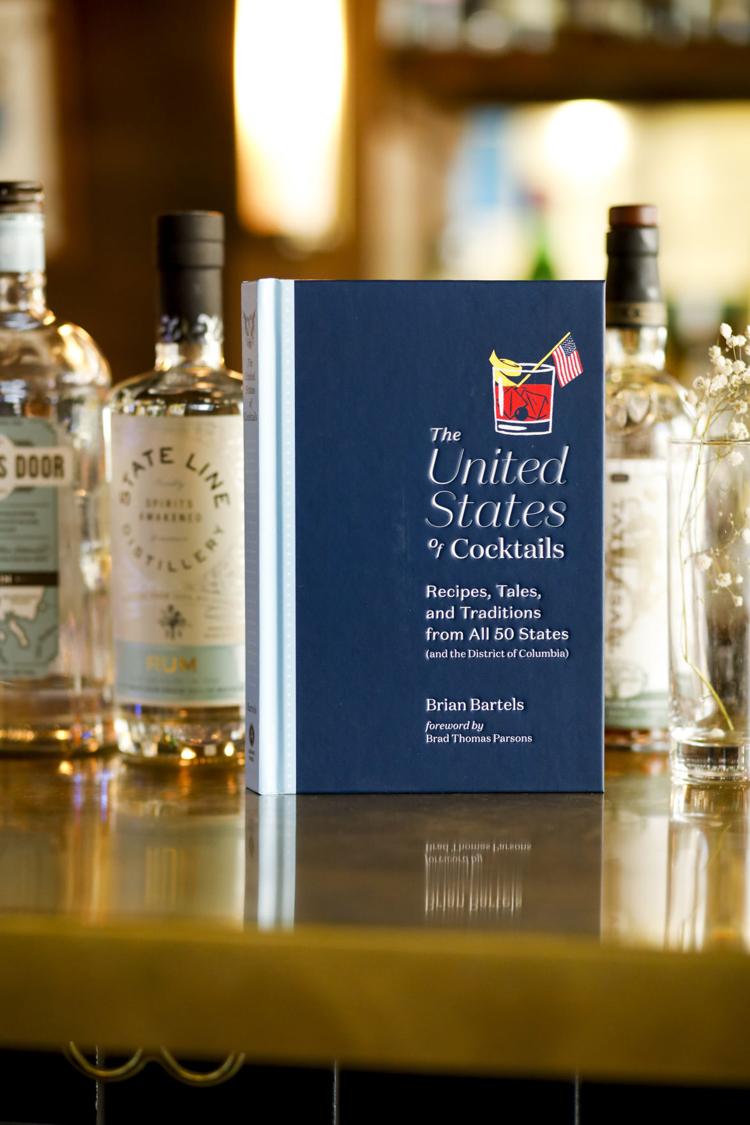 It's because of Bartels that we own an Italian vermouth called Punt e Mes, Dolin Génépy (a good sub for green Chartreuse) and a jar of fancy Luxardo cherries. Our house is so exclusive now.
"Baking" by Dorie Greenspan (Houghton Mifflin Harcourt, $36.80) — Everyone needs a basic baking book, even if it's only for chocolate chip cookies, banana bread and a dump-it-in-a-bowl birthday cake. Let this be it. I started last year with Greenspan's 2018 cookbook "Everyday Dorie," piling sheet pans with chicken, baby potatoes and mushrooms. I finished 2020 with "Dorie's Cookies," including a lumpy first pass at sables (butter cookies). In between there was "Baking," with its perfectly crunchy almond biscotti, brown sugar bundt cake, apple tart and carrot spice muffins. If I have to stay home, at least it smells heavenly.
Coming soon: I just picked up Claire Saffitz's "Dessert Person," which for a sloppy baker like me does inch close to "too beautiful to bake" with croquembouche pastry towers and kouign-amann in 48 or so steps. Still, Saffitz's flourless chocolate "wave" cake was a hit on New Year's Eve and her voice is soothing. I feel like she can talk me through anything.
Honorable mentions from last year: Julia Turshen's "Small Victories;" "Where Cooking Begins" by Carla Lalli Music; "Smitten Kitchen Every Day" by Deb Perelman;" "Six Seasons" by Joshua McFadden, "365: A Year of Everyday Cookbook and Baking" by Meike Peters; David Tamarkin's "Cook90" and Leah Koenig's "The Jewish Cookbook." Find all my 2020 cookbooks on goodreads.com.