FOOD & DRINK
Cook a meal, invent a game, imagine a new world of food at the Sustainable Meal Hackathon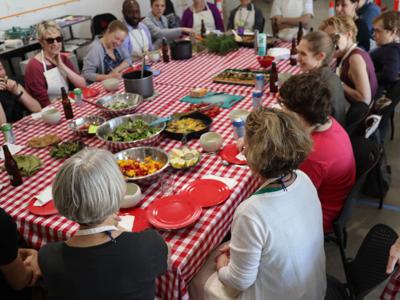 Working through sustainable food solutions draws a lot of energy.
Literally.
At Madison's first Sustainable Meal Hackathon recently, artists Laurie Beth Clark and Michael Peterson filled a university art gallery space with Instant Pots and portable electric burners. Lunch preparation was in full swing when the outlets on one whole side of the gallery conked out. 
It was as though the space itself wanted to remind the participants — academics, farmers, food advocates and a journalist — not to forget the role of energy in our food systems.
"Don't take the equipment for granted," one participant noted later, writing on the gallery wall.
"Value energy!" another added.
Clark and Peterson, two University of Wisconsin-Madison professors known in their collaborative artistic work as Spatula & Barcode, planned a Sustainable Food Hackathon for about two dozen people on a recent weekday. 
The event was part of a conference with a painfully long academic name: the Joint Annual Meeting of the Agriculture, Food and Human Values Society and the Association for the Study of Food and Society. UW-Madison's Center for Integrated Agricultural Systems (CIAS) hosted. Michelle Miller, associate director of CIAS, co-organized. 
The hackathon itself was a smart blend of thought, food and slightly formalized play. Organized around cooking, game creation and the exploration of personal food experiences ("What was your first food memory?" one timeline asked), the hackathon aimed to focus a range of creative people on many layers of sustainability in food.
When the hackathon began, the smell of toasting waffles wafted down the hall as attendees made their way to the seventh floor of the Humanities Building. Peterson was prepping breakfast on a waffle iron, using his own well-traveled sourdough starter (grown in Germany, "carried around the world twice") and kernza, a nutty perennial wheat.
The idea for the hackathon, of which this was technically the second iteration, came from a scientist colleague of Clark's a few years ago. He pointed out to Clark that the question "What is a sustainable meal?" has no simple answer.
"We have all these anecdotal ways of approaching sustainability," Clark said. "We think it should be organic, we think it should be local ... you take down the transportation costs here, you bump up other costs there."
"Almost everything can provoke a certain set of questions about sustainability," Peterson said, pointing to Just Coffee as an example. "This exercise today is not about educating you in some way, but about thinking about exploration of learning, group knowledge."
Clark and Peterson planned the hackathon with intense attention to detail. A table along one side of the space groaned under dozens of ingredients: lovage, celeriac and kale, milk made from oats and hazelnuts and hemp. There were pickled green tomatoes and sheep's milk gouda, and even a container of "mixed bugs" (these ended up on guacamole).
Prompted by the hosts, some attendees brought ingredients to share, backyard strawberries, homemade pickles and "dumpster kiwis." The latter were brought by Emily Highnam, a nutrition educator from Crawford County, who said she gets a third of her food from dumpsters. (Food waste is a hot topic among sustainability advocates.)
One woman brought dozens of single-varietal ciders, made from apples with names like Old Nonpareil and Stembridge Jersey. 
Kay Jensen, owner of JenEhr Family Farm and a co-organizer of the day, brought entire coolers full of chicken, fennel, a mix of greens (mustard and purslane) and Sassy Cow milk and cream.
"At the end of the day, this becomes a gallery," Jensen said. "I think that is fascinating. What we're doing here is learning, but at the same time, there are other people who are going to be coming through looking at our documentation, our process, as a gallery."
That process started as soon as people came in with a series of paper timelines on the wall. People recalled "a moment when food was politicized" with responses like: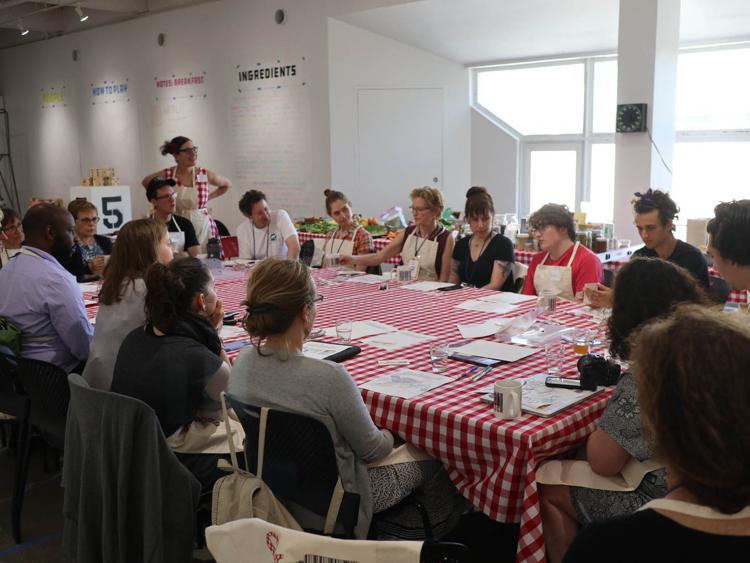 "Reading about dieting and binge eating for a senior thesis."
"When I realized my school friend's mother didn't have time to cook because she had a job."
"My first foray into vegetarianism."
A timeline of early food memories took food toward the personal, with responses like "eating wood sorrel from the cracks in sidewalks," a family fight over the last piece of lefse and "peanut butter eaten off broken glass."
After introductions, participants split into four groups to prep lunch using the tableful of ingredients, each evaluated based on its sustainability. One member of each team documented the work in artistic ways, mapping where the food came from and making flow charts.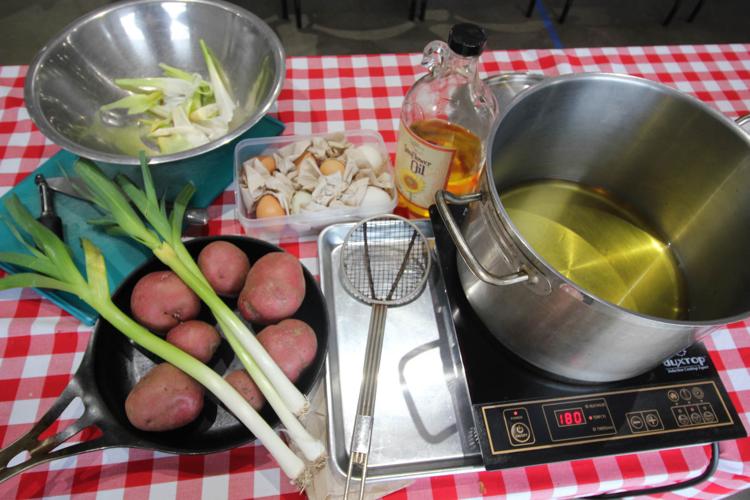 Soon Instant Pots simmered with lamb stew or scarlet runner beans with wild rice. Chicken sizzled in the hallway.
One team make tasty little bite-size stacks of quince paste and cheese. Another team cooked a big egg-filled frittata with fennel, beet greens and parsley. Salvor Jonsdottir, a scholar of Icelandic food systems, made "tortilla chips" for guacamole using leftover waffle batter.
When the power blew, the teams adapted, moving to the hallway or sharing burners. 
"When the electricity went out, that was one of the most important moments in this whole exercise," Jonsdottir said. "It reminded us of the use of energy and where it comes from."
Over lunch, the participant/cooks talked about what they noticed — the trek down the hall to get water, for example. They thought about the seasonality of the ingredients and, after the power went out, the demand for resources.
One woman observed that in her own kitchen, she takes for granted that the tools she needs to cook will be there. She wondered as she cooked, if she had access to this ingredient, could she afford it? If she could afford it, would she know how to cook it? If she could cook it, would her kids eat it?
Walter Gray, a visitor from Virginia, thought about "the sustainability of physical space and geography, the idea of a kitchen being a set place where you're cooking. Perhaps you have a burner under a tree? ... When the power goes out, do you continue to feed and provide for your family?
"I'm interested in the work of food. Food is sometimes seen as an artistic venture, but with an artistic piece you finish it. There's no end point to finish cooking and eating. It's a continuous thing."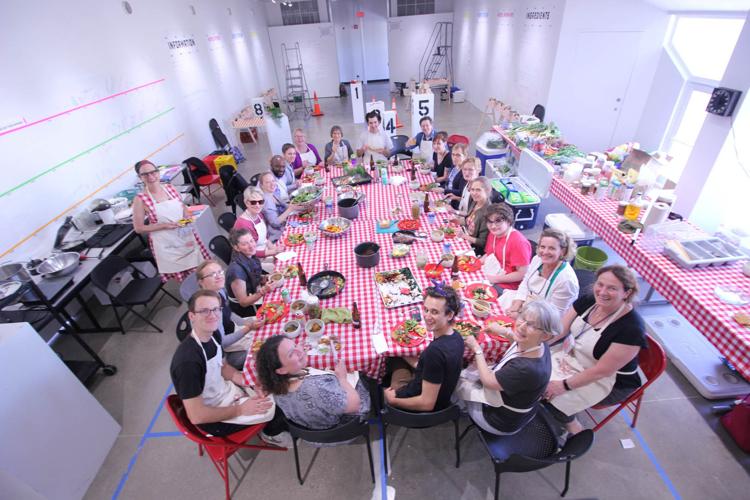 After lunch, the games began. Clark and Peterson had set out dice and cards, and each group was charged with coming up with a game, not necessarily winnable, to teach sustainability.
Both professors are teaching "freshperson" seminars in the fall, about, broadly, arts and food and "how to live." They imagined games about labor, food waste and transportation, not just what to eat.
"Imagine a game we might play with our students," Peterson said. "Think about the structure of the game, the shape of the game, the way in which it provokes you, rather than writing down all the rules."
"You're constructing a playground," Clark added. "Like when you go to a play space that people would walk through. It's an activity course.
"Who wins is like, the planet. The winner is humanity."
Quickly, the teams brainstormed a variety of exercises. There were food cards with sustainability scores, a game called "Blow up the Fridge!" and imaginative challenges around the future of sustainable food.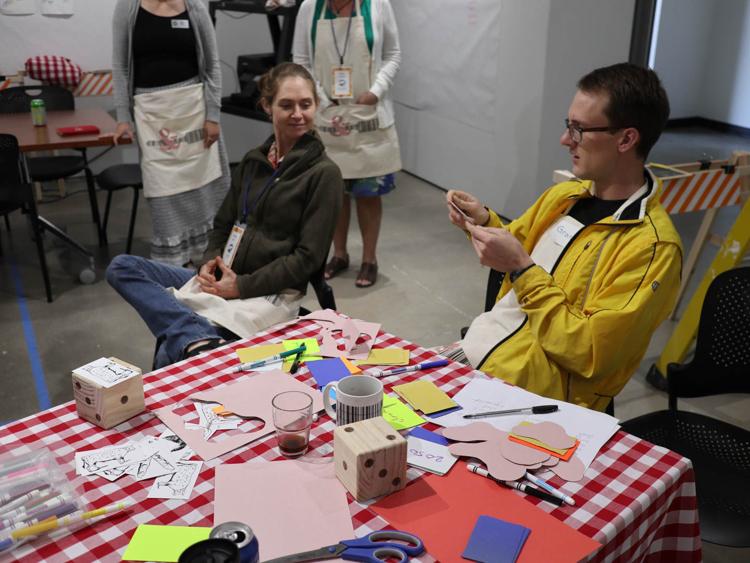 Grant Gustafson, a recent MFA graduate from UW-Madison and creator of some of the ceramic bowls the group had eaten from, introduced his group's game.  
"There's three decks of cards: time frame cards, location cards and subject cards," he said, like 2075, Brazil and water. "The game is for me to, without using any of the words, to speculate on what this future might look like.
"It's basically a storytelling game. It draws on your creativity to create a scenario."
Time was tight, and the games were barely sketched out by the time the day drew to a close. Still, participants left with a few things to chew on.
"I was struck by how the games talked about sustainability in a unique context," said Solveig Hanson, a vegetable breeder and former CSA farmer. "What is sustainable for an individual depends on their socioeconomic status, what foods are around them, how many people they're providing for.
"Sustainability isn't one thing ... it can mean different things in different contexts."
Peterson was initially hesitant to use the word "hackathon," a word from the world of engineering and design. In the process of planning this event, he changed his mind.
"What comes out of it is, 'Let's solve this problem!'" Peterson said. "It does tend to imply that you're going to try to move toward real world outcomes. I felt like that was overpromising.
"But when I think about what we were doing as educators and activist and researchers, 'hacking' our way of approaching that work ... my class this fall is going to be different and probably better because of what we did today."