Jake DeHaven may be a co-owner of the Winnebago, a new "arts cafe" on Madison's east side, but that's not really how he sees it.
"We don't truly own this building," said DeHaven of the 4,000 square-foot space that houses the coffee house, restaurant, bar and performance venue at 2262 Winnebago St. "The neighborhood owns this building."
That proclamation in part acknowledges the building's history. Before Jake and John DeHaven purchased the site in May 2018, the 95-year-old structure served as a gathering spot for the Sons of Norway, a fraternal order of North Americans with Norwegian heritage. It served that purpose since 1964.
DeHaven and the young team of family and friends behind the Winnebago want their cafe to become a neighborhood hub, one that marries art and entertainment with food and drink in an inclusive and accessible venue.
"I want to have this space be open for everybody," said Tori Vancil, cafe manager. "I want it to be a space where people want to come to eat, to talk, to laugh, to listen to music, to dance, to sit down and have meetings, to sit on your laptop and work."
The DeHaven brothers — grandchildren of the legendary Madison jazz musician Doc DeHaven — returned to Madison five years ago to be with their mother, who had been diagnosed with pancreatic cancer. Following her death, they decided to work on a project together.
"We wanted something, bricks and mortar, forever in honor of her," said Jake DeHaven.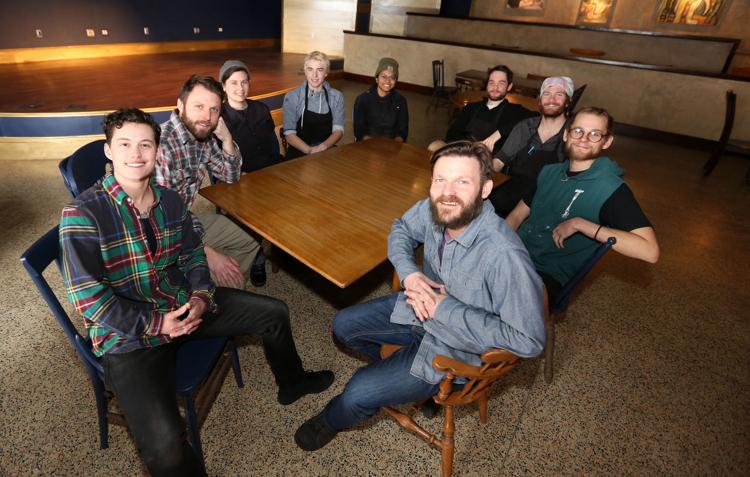 The idea for an arts cafe took inspiration from the coffee houses the DeHavens saw while backpacking and living in Europe.
"We saw that the cafes were kind of nodes where people would pop in, grab coffee and go to work. The whole dream with this space is to introduce more mediums of art together, and to merge them to see what collaborations can come from that," said Jake DeHaven.
After six months of repairs and renovation by the DeHavens and the Winnebago team, that vision has manifested a rustic venue. The front of house keeps coffee drinkers in mind, with a cozy room with mosaic tiles on the floor, wooden furniture and a bar with lots of natural light. 
Down a hallway, the building opens up into a more dimly lit, cavernous space beneath a distinctive barrel-shaped roof. Here, the DeHavens placed tables, a concrete coffee-stained bar, and an elevated stage that takes up more than a third of the room.
Jake DeHaven, an architect by training, said the building's design owes a debt to Europe. They wanted to nod to the Sons of Norway, particularly with the building's brick-and-wood facade.
"The Norwegian presence in this building was very important, and it meant something to a lot of people," he said. "We weren't going to have a Norwegian business, but there were a couple of things I wanted to do to kind of pay tribute to that."
The stage took inspiration from Viennese theaters with its wooden-paneled flanking walls. That it takes up so much of the room was a conscious choice. 
"We want to set a very clear hierarchy for what the space is for," Jake DeHaven said. "When someone musters the courage to get out in front of somebody, we want to pay the utmost respect to that."
The Winnebago could host three to six events each week, from dinner theater to standup comedy to rock bands. This upcoming weekend features performances by the psychedelic funk ensemble Kainalu Jam and queer punk duo Gender Confetti.
DeHaven said he's working on setting up a chamber jazz and classical music series. Vancil is putting together a series of community-oriented talks.
The space's current capacity is 99 people, although DeHaven said that he hopes to expand that by getting a conditional permit to increase the available parking.
The back of house is peppered with art, including quilts stitched together by DeHaven's mother that depict extended family members. DeHaven said that he hopes the room will eventually become a gallery space for local artists.
Chef Charlie Koczela, formerly of Forequarter and the executive director of Slow Food UW, said the menu will be intensely seasonal and locally sourced.
"Right now it's very inspired by the flavors of winter and flavors of Wisconsin," Koczela said.
Menu items include a winter salad with cabbage, shallots, carrots and cranberry vinaigrette. There is a sourdough French toast made with bread baked onsite and shakshuka, a Mediterranean dish of eggs poached in spicy tomato sauce. The menu also has a rotating quiche — one recent offering included carrots, turnips and feta cheese.
Currently, the menu is vegetarian. Koczela said that's a result of his own vegetarian diet, and his insistence on sourcing from local producers with an "eco-conscious" sensibility. In coming seasons there may be more meat on the menu.
Coffee comes from Kickapoo Coffee in Viroqua with tea from Rishi, based in Milwaukee. The bar, managed by Jake's fiancee Ashlee Miller, features a mix of regional liquors and beers.
So far, the team behind the Winnebago has described the opening of their business as "surreal" and "humbling." Jake DeHaven hopes that in a location peppered with other food and arts venues — he raved about the robust "artist's community" at Communication just down the street, and the "slam dunk" burgers at the nearby Tip Top Tavern — the Winnebago will find its niche. 
"A lot of people would dream to be a part of this," he said. "And I got to do it with my best friends."