Chef Tory Miller has a reputation as one of Madison's most prominent champions of local food. 
At L'Etoile, 1 S. Picnkney St., that means he celebrates spring with asparagus and rhubarb alongside Hook's cheddar. Next door at Graze, it's ramps and pickled underripe strawberries and a sandwich featuring Farmer John's Provolone.
Even at Sujeo, the pan-Asian restaurant Miller and his colleagues opened last August in the Constellation building at 10 N. Livingston St., Miller makes ssam with lettuce grown in Stoughton and a papaya-style salad with Wisconsin kohlrabi.
His latest venture, Estrellón, continues in this vein. The Spanish-themed restaurant and wine bar is set to open by early August in the Ovation 309 building at 313 W. Johnson St. 
A pop-up preview late on Saturday night at Sujeo featured more than a dozen little bites, some fried, some grilled, some just slices of cured meat or wedges of cheese.  
Served alongside ham and olive oil imported from Spain was bread from Stella's Bakery and yogurt from Sugar River Dairy. It's a mix.
"We wanted to experiment," Miller said. "There's going to be some stuff on toast, there's going to be some stuff on skewers ... nice, easy, fun things to do at a tapas bar."
Estrellón's menu is still in flux, but many of Saturday's bites were "indicative of what we're going to be doing," he said.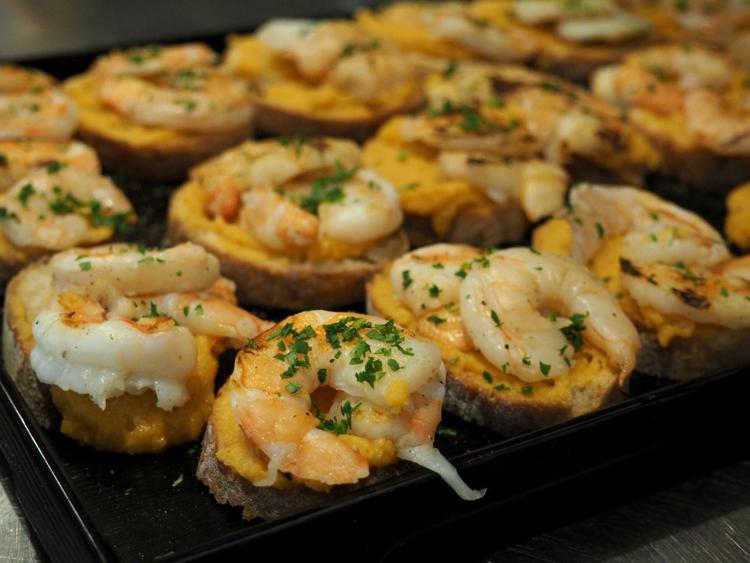 Among those dishes were a variety of toasts: grilled shrimp, sliced in half and served on chickpea puree with parsley, tarragon and chives; chicken liver paté topped with slow-cooked sweet peppers; artichoke hearts, tomato jam and beluga caviar; smoked salmon, Greek yogurt and caviar with a drizzle of honey.
Some of the simplest of these bites were the best, like a croquette (fried potato ball) with "Spanchego" — a manchego-style cheese made by Hook's in Wisconsin — and saffron aioli. 
Pan con tomate, or toasted bread with tomatoes, had little in the way of dressing, just sea salt and good arbequina olive oil. It was fantastic.
"We want to keep it real simple," Miller said. "I really love it. It's one of those things that is so simple and delicious." 
On Saturday, Miller shaved thin slices of sweet, salty jamón iberico, edged with soft fat. The current plan, he said, is to offer five kinds of ham.
In addition to the iberico, others may come from domestic/ local hams from Kentucky (Nashville and Louisville), Iowa and Willow Creek in Prairie du Sac. 
"It's like my favorite thing," Miller said. "I love when I can get a tasting of really awesome ham, like a ham flight."
Saturday's spread included hickory nut honey on housemade mortadella, like bologna studded with whole black peppercorns. Miller's also working on a pig's blood mortadella.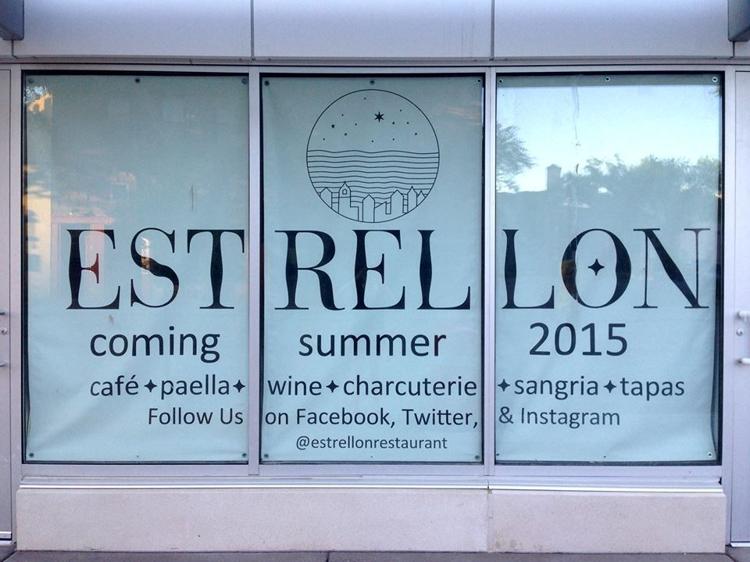 Most of the experimentation for Estrellón takes place at the L'Etoile and Graze kitchens.
The Ovation kitchen was originally planned to include a wood fire, but it would have involved two hoods and major expense.
Instead, Miller will use an Argentine-style gas grill with a wheel that can crank up and down over the fire. Paellas will start on the grill and transfer to either the ovens or burners.
The current sketch of the menu includes three kinds of paella, including a traditional Valencia style with shrimp, mussels and chicken or rabbit, a market-themed paella and a "wild card one," influenced by Korean cuisine or wild mushrooms.
A half size of paella would serve two, a full would serve four.
"We also have a rotisserie in there," Miller said. "We've been slow roasting a lot of different means, and we're just basting the meat with a brine solution" called salmuera, which in his case may include sherry vinegar, garlic, shallots and olive oil. It will change depending on the meat. 
Large format, family-style roasted meats, like roasted leg of lamb, rabbit, chicken and whole fish, would come with salsa verde and seasonal vegetables.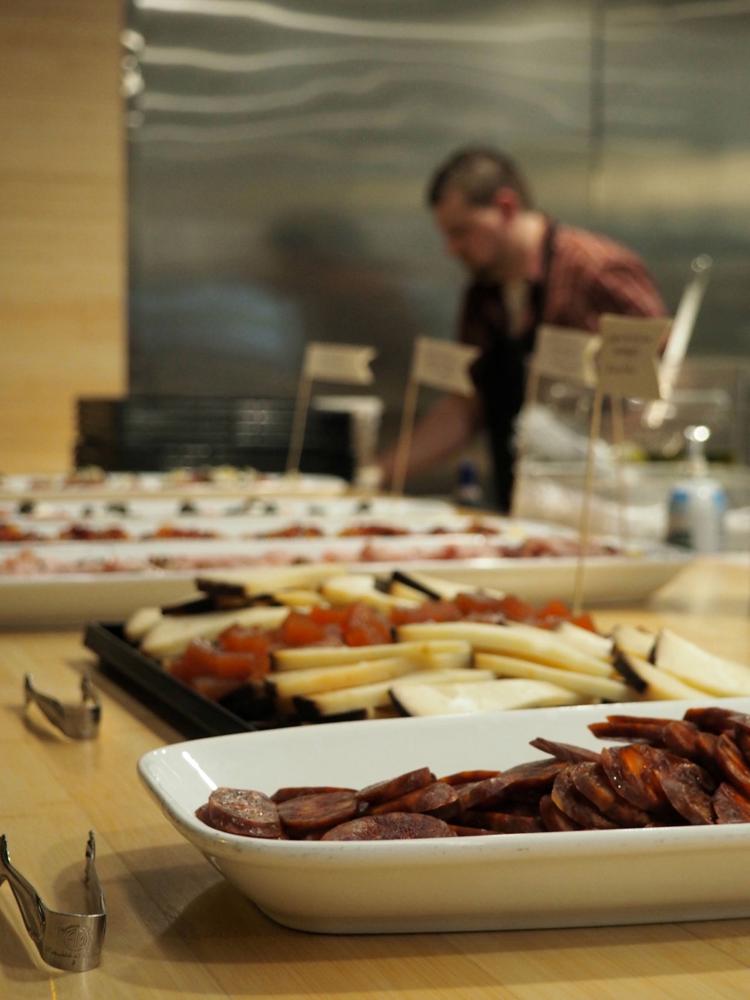 In the tapas bar, Miller plans to have lots of quick bites, like a mix of olives, local ham and cheese. A raw bar could include fresh raw oysters, stone crab claws, fresh clams and more, whatever's in season.
"There's certain things like with olives and paprikas and ham from iberico that we just have to order," Miller said. "For all of our seafood we're sourcing with Sea to Table. I'm focused on having a 100 percent sustainable seafood program."
To capture an earlier crowd, Estrellón has plans for a continental breakfast, like Graze's market stand with a Spanish slant — iberico ham buns, for example, or torijas, brioche soaked in cream overnight, then fried in butter and rolled in sugar.
Miller also wants to do European style crepes with iberico, egg and manchego, as well as jamon and queso baguettes for grab-and-go diners. One dish at the pop-up, a tortilla Española, would work perfectly for this: an egg omelet made with thinly sliced layers of potato, topped with aioli.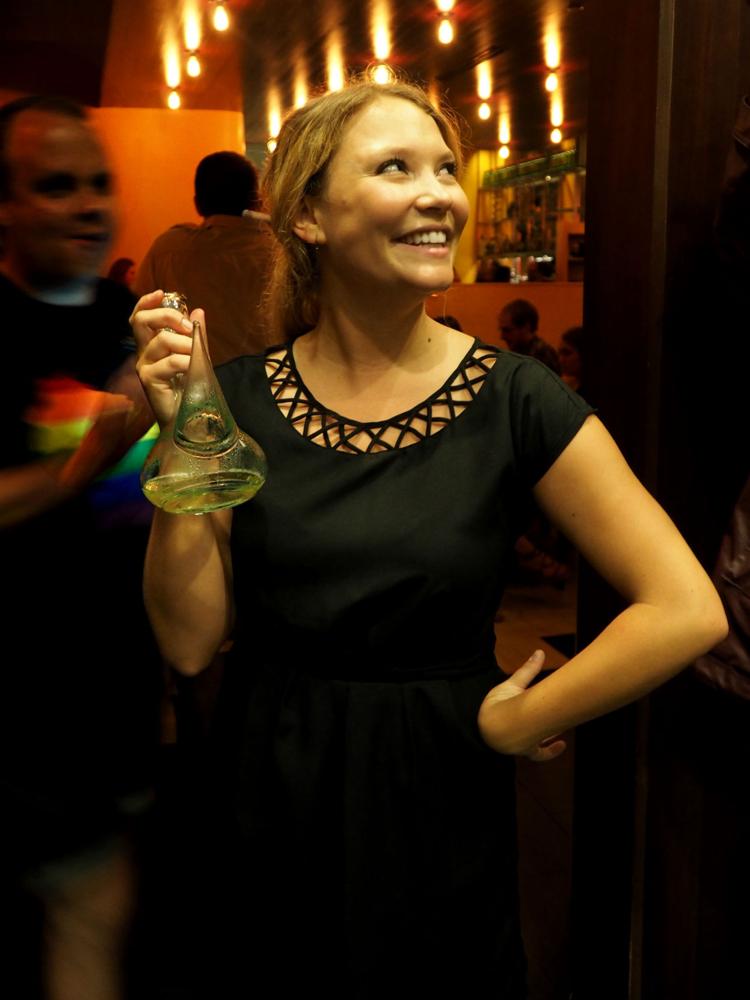 On the bar team are bar manager Mike Lu and wine director Stephen McGinnis, who's been with L'Etoile for more than six years.
Both plan to slant their programs toward Spain. On Saturday, McGinnis poured a monastrell (red) and a verdejo/viura blend (white), passed around by servers in a carafe called a porrón with a long, tapered spout. 
Lu made a fresh strawberry sangria spiked with brandy and a cocktail with Brandy de Jerez and Oloroso sherry. A garnish of starfruit, with the crunch of a pear but less sweetness, drove home the "star" theme in the restaurant's name. 
"I wanted to be able to test us, not only what we were making but how we were making it," Miller said, saying at least 160 people came out to the pop-up.
"I wanted to open it up and get some feedback."