McGee's Chicken opened on Park Street about three months before the first Black Restaurant Week at the end of last summer.
During the week-long, citywide promotion, staff immediately noticed a change in clientele.
"We had numerous people come out, it was very diverse," said Eunice McKenniie, a cashier at McGee's. "I believe it had a great impact. I think it's a good thing to do because a lot of people get to know the black-owned restaurants."
Black Restaurant Week returns Aug. 13-20. Diners will find drink and dinner specials in brick and mortar restaurants like George's Chicken & Fish in Sun Prairie and David's Jamaican Cuisine in Monona. A soul food walking tour of the east side will incorporate several food carts. A widely circulated poster spotlights bakers and caterers, too.
Organizer Milele Chikasa Anana said she talked to McGee's owner Esperdell McGee last year after the event finished.
"He said his business went from almost all black patrons to Hispanic, Asian and white," Anana said. "All the restaurants were the benefactors of increased patronage that week.
"They did a lot of good business ... and those customers came back. Even the food carts, which we didn't emphasize last year, they even benefited."
Anana is the publisher of Umoja Magazine and the "marketing guru" for the Black Chamber of Commerce, which produces Black Restaurant Week.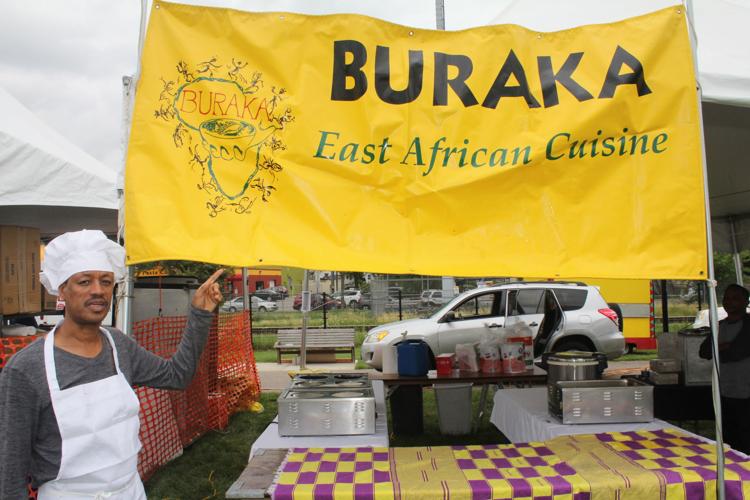 She's hoping for a "banner year" at restaurants like Sweet Tea at the Fountain on State Street, a new Falbo Bros. Pizzeria location on the north side and food carts like Cafe Costa Rica.
"Right now, this awareness thing is so crucial," said Anana. "Each restaurant has a story to tell, you know?"
Anana is thrilled to be able to highlight nine black-owned brick and mortar spots, "quite an achievement for a town this size, a population this size. It shows the entrepreneurial spirit is very high here."
The critical mass of black-owned restaurants is highest on Madison's east side, where Otehlia Cassidy at Madison Eats has put together a Soul Food Culinary Tour.
On Friday, Aug. 18, from 4:30 p.m. to 7:30 p.m., the tour will stop at Buraka Ethiopian Restaurant, Jamerica and That BBQ Joint.
It concludes at Central Park, where those taking the tour can get samples from food carts including Teekela's Sunrise (fast soul food) and Daddio's, a second cart from Haynes Kitchen that serves things like cheese steak and grilled chicken. The food carts will be open to the public then, too.
Though perhaps more challenging to patronize, the poster for Black Restaurant Week includes caterers like Melly Mell's and Kipp's Cuisine. It also lists bakers like Valice's Sweet Potato Pies & Cakes and Mo' Betta Butter Cookies, based in Fitchburg.
Chocolatier CocoVaa, owned by Syovata Edari, vends most Saturdays at 1 Sherman Terrace.
"Madison is a foodie town and we want people to know that we are part of that," said Anana. "People don't think how we contribute to the economy of Madison and how we are an asset."
Black Restaurant Week takes a looser interpretation than the more formal, twice-annual Madison Restaurant Week events sponsored by Madison Magazine. Each restaurant will have a special, like a free drink or a sample platter or a dinner special.
Anana said that last year when the chamber started the event, "there was a lot of reservation" around whether it would work as a promotional tool and why black businesses needed a separate restaurant event.
"It's a niche market in the 'buy local,' 'made in USA' movement," she said. "It's just another way of defining a niche market ... that has a social, political aspect to it.
"People who are interested in good food and Madison being diverse and inclusive, this is a chance for them to show their support," Anana added. "People are more aware of the positive effect that the black population is having in Madison."