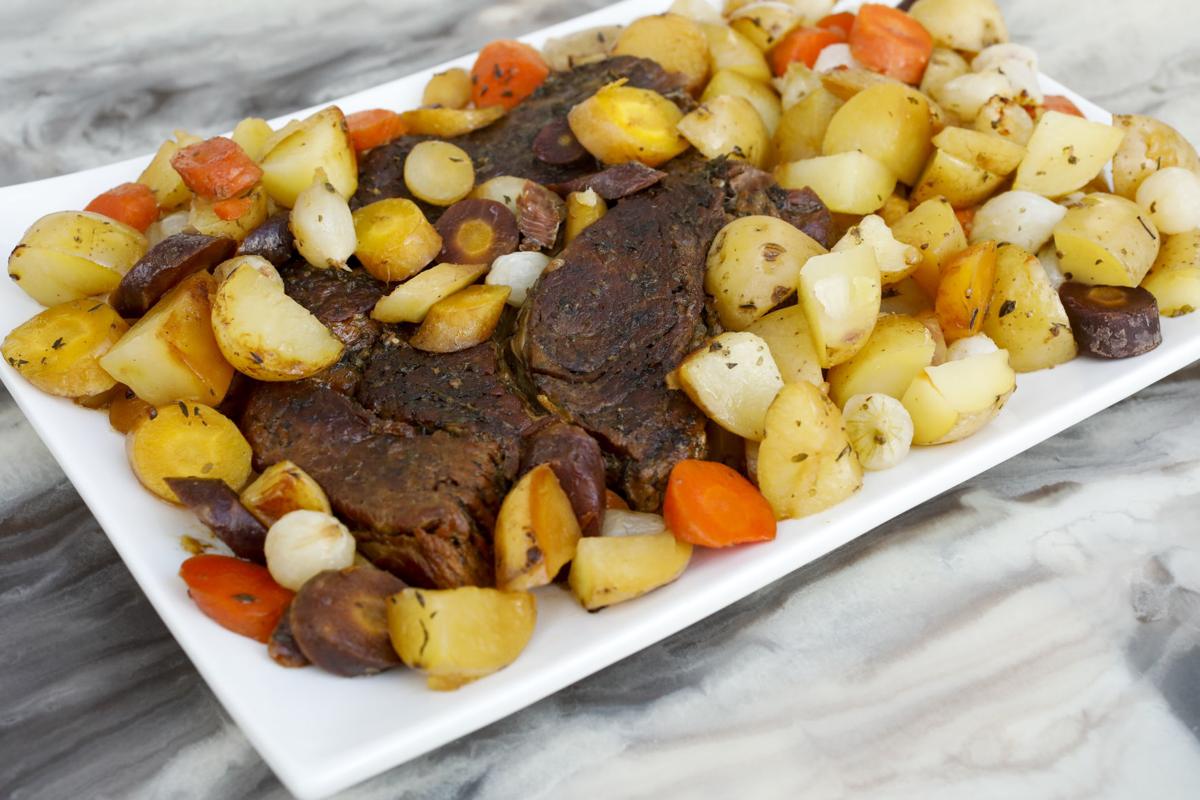 Welcome to the second week of the Cap Times Quarantine Cookbook Club. Every week, we'll bring you ideas of good things to cook for weeknight suppers, simple lunches, baking projects and freezer meals. 
Please submit your own thoughts, ideas and favorite recipes to lchristians@madison.com. Tell us why you love it! And thanks to those who've already submitted, it's already been a source of comfort and joy in my inbox. 
Finally, for more food and drink chatter, tune in to The Corner Table, Cap Times' food and drink podcast! It's available wherever you get your podcasts and at omny.fm/shows/the-corner-table. Last week we talked with chef Adam Haen about how (and why) to keep your knives sharp. 
Caramelized cauliflower with salsa verde from "A Homemade Life" by Molly Wizenberg — Remember food blogs? For awhile there in the mid-2000s, it seemed like everybody had one. Molly Wizenberg got her start writing Orangette in 2005 and punctuated the chapters of her first book, "A Homemade Life," with simple, streamlined recipes. This roasted cauliflower, blasted until charred on the edges and served with a tangy, spicy salsa verde, is one of my favorites (I even blogged about it once, too). 
Miso-marinated skirt steak from "Milk Street Tuesday Nights" by Christopher Kimball (and others) — Whenever the weather makes sense for it, we've been adapting recipes for the grill. Last week it was pork chops and potatoes. This week it's skirt steak marinated in red miso, soy sauce, chili-garlic sauce, and of course, garlic and ginger. I got a couple bags of green beans in my grocery delivery that we blanched and finished on the grill, with a side of kimchi rice. 
Toasted pearl couscous with fried eggs from "Milk Street Tuesday Nights" — "Tuesday Nights" is organized, in part, according to speed: Fast, Faster and Fastest. Spotting a bag of pearl (or Israeli) couscous in my pantry, I flagged this recipe from the "Faster" section, as well as a pasta dish (orecchiette with sausage and chard) and pistachio-mint beef kofta, which I plan to serve with whole wheat pitas and raita made with Greek yogurt. 
Non-recipe recipes — It took a little time to get into The Seafood Center inside the east side Willy Street Co-op, but eventually my partner made it home with half a pound of sushi-grade salmon and an ounce of black-tinted tobiko. (If it's within your means, now might be a great time to get shares of Sitka Salmon.) With the fish, I made a variation on poke bowls: sushi rice seasoned with rice wine vinegar; salmon tossed with a soy sauce, lemon juice and toasted sesame oil; and lots of veggie toppings. I like crunchy stuff, like radishes, cucumbers and snap peas, onion (red onion steeped in lime and scallions), and crispy bits, like fried shallots and furikake, a Japanese seasoning blend. I added mango this time and made a quick spicy mayo with chili garlic sauce, then topped the whole thing with microgreens from SuperCharge! Foods. It was like going out for sushi, almost. Sort of. 
What Ruthie's cooking
New Cap Times photographer Ruthie Hauge cooks for her husband and two young boys (4K and second grade) in a mostly paleo style, meaning lean meat, fish, veggies, fruit and few grains. She doesn't cook with sugar, wheat or dairy, and she keeps an eye on sodium. Recently, she made a paleo-friendly corned beef (without nitrates), chicken noodle soup and shrimp and tofu pad Thai (feastingathome.com/15-minute-pad-thai) with sweet potato noodles. 
About a decade ago, Hauge got her go-to recipe for pot roast from her mom. She cooked it again the other night and said she has not needed to adapt it very much.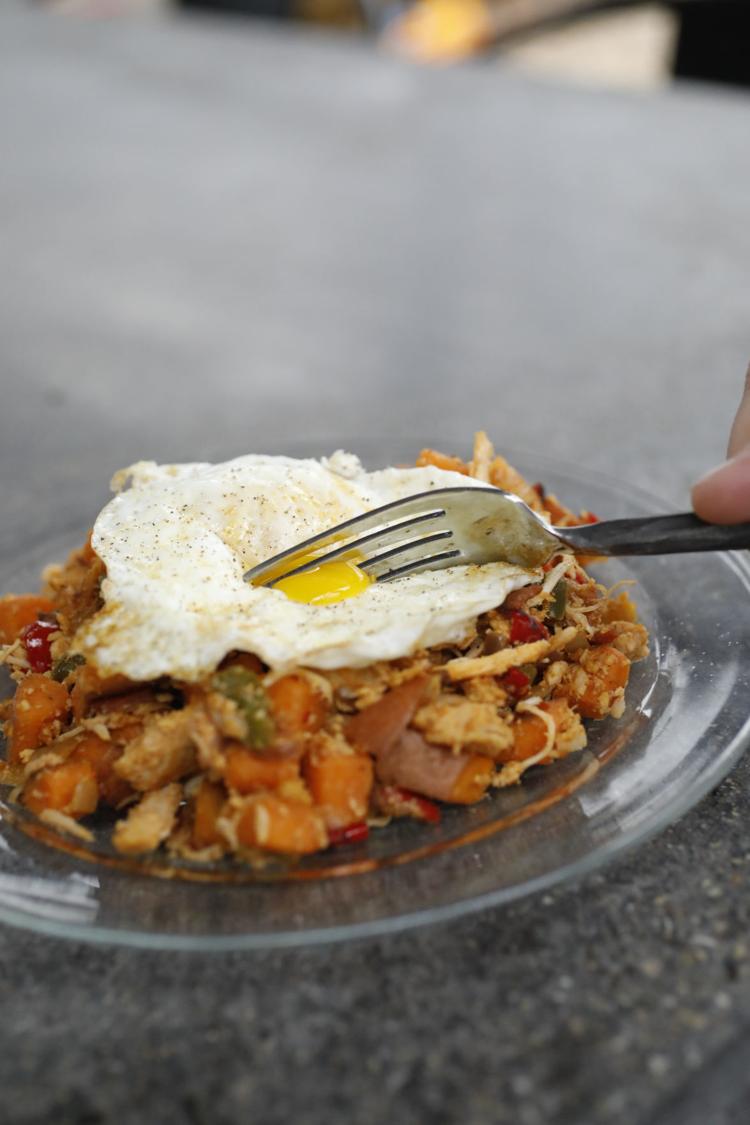 "I do cook it longer than the recipe says at a lower temperature," Hauge said. "It goes into the Le Creuset with pepper, marjoram, thyme and crushed garlic. Then I pour water in there and let it bake at 280 for about six hours. In the last hour, I add pearl onions, carrots and potatoes." 
In the spirit of quarantine cooking, Hauge opened a can of chicken for a dinnertime hash with chicken, bacon and eggs. Her husband and one of the boys liked it, but if Hauge makes it again she'll use fresh chicken breasts and/or thighs. "The canned chicken has a weird flavor that I wasn't very fond of," she said. 
Reader Submissions
The overarching themes from the recipes submitted so far to the Cap Times Quarantine Cookbook Club are soups — you all love soups! — and lentils, a pantry staple. 
Susan Fiore sent a recipe for "by far, the best mushroom soup we've ever had," made with crimini mushrooms, a quick roux to thicken and lemon juice and sour cream at the end. It's very similar to this recipe (themodernproper.com/hungarian-mushroom-soup) though Susan uses about half as much butter.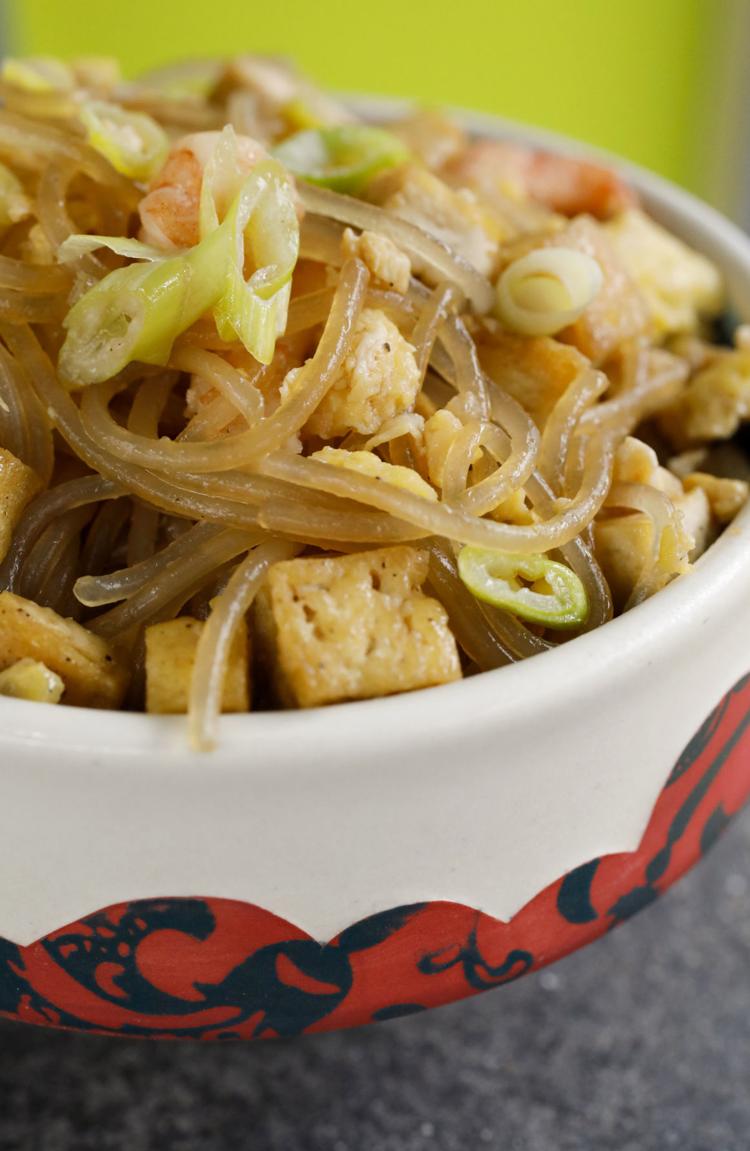 Emilee wrote in to recommend a lentil curry (allrecipes.com/recipe/16641/red-lentil-curry), which she adapts by cooking the lentils in a vegetable broth, adding diced canned or fresh tomatoes instead of a puree, and adding a cup of chickpeas toasted in the skillet until crispy. "This recipe is delicious, easy to make, and yields lots of servings," Emilee wrote. "But right now my favorite thing about it is that the ingredients are perfect for storing for quarantine." 
Jean Krieg, a reader from Madison, sent in this recipe for a quinoa, lentil and sweet potato stew. She uses both red and green lentils, she said, adding that "it's perfect with hot buttered bread or rolls." 
Crockpot Sweet Potato and Lentil Stew
28 oz can fire-roasted diced tomatoes
1 tablespoon extra virgin olive oil
1 med/large sweet potato, cut in 1/4"-1/2" cubes
1 sweet bell pepper, diced
2 tablespoons garlic, minced
1/2 teaspoon onion powder
Combine ingredients in a slow cooker and cook on high for five hours. Season to taste.
Stay up-to-date on what's happening
Receive the latest in local entertainment news in your inbox weekly!