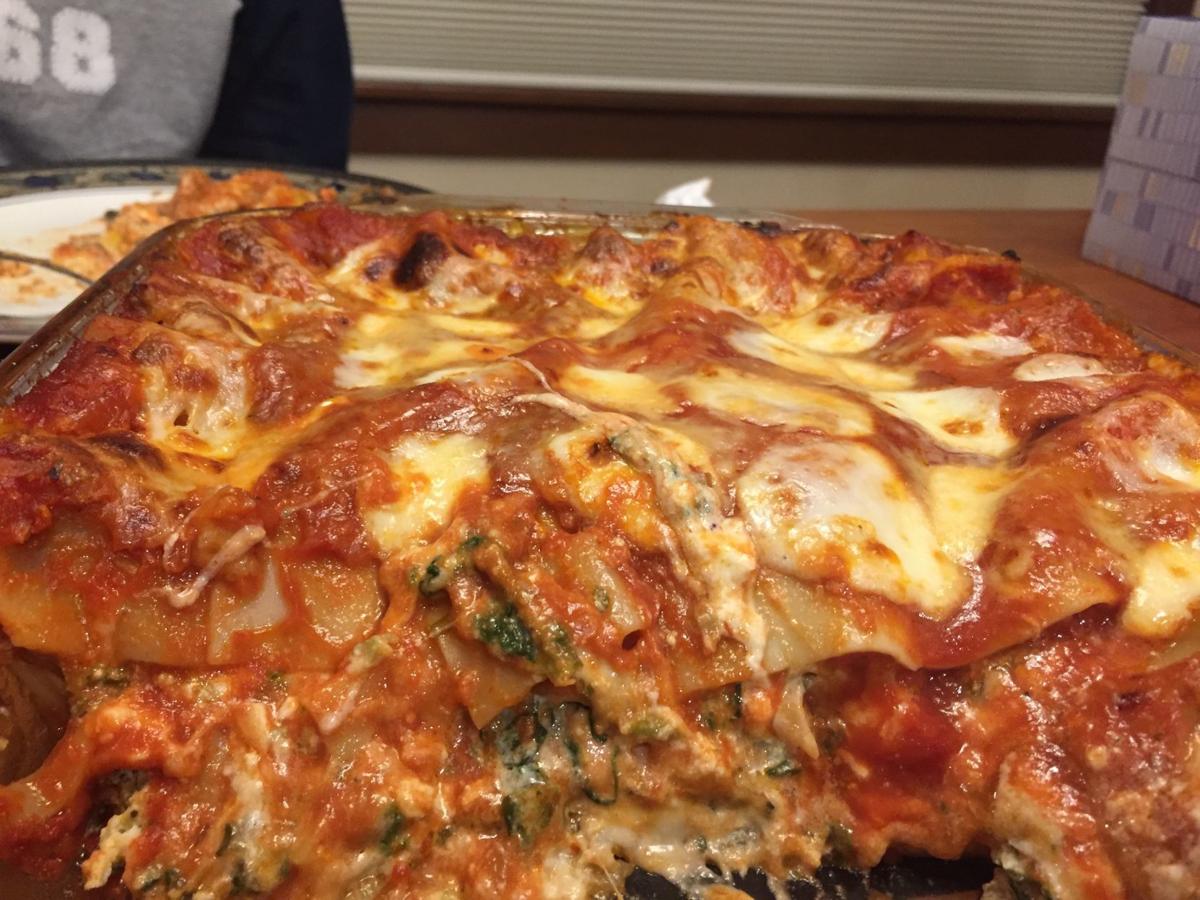 It's the sixth week of the Cap Times Quarantine Cooking Club, and I'm over here braising until the weather's nice enough to grill again. Every week in this series, we bring you recipe ideas for weeknight suppers, simple lunches, baking projects and freezer meals. 
My cooking lately has had some failures. Sweet potato tofu curry had the texture and taste of baby food, and of course I made a ton of it. Cabbage salad was boring. My third try on sourdough was very soft and pale.
Luckily I also found a life-changing roast chicken hack, splurged on fresh fish and hauled out the pressure cooker for an aromatic lamb tagine. Also this week, we've got inspiration for moong dal, nourishing broth from leftover bones and a lasagna made with every cheese in the fridge.  
WEEK SIX
Raspberry ricotta cake by Alison Roman in Bon Appetit, March 2015 — We started the week with another cheesy pasta bake, which left me with several ounces of ricotta. This not-too-sweet cake, another dead simple Alison Roman recipe, was forgiving as I subbed some Greek yogurt and dumped in three half-full bags of berries from my freezer. 
Coq au vin rosé from "Dinner in an Instant" by Melissa Clark — My copy of this slim 2017 cookbook has so many sticky notes in it right now I can barely turn the pages. Coq au vin is a good fit for pressure or slow cooking, and another great way to use up leftover (or just "meh") wine. We skipped the pearl onions even though they're tasty because I don't want to send my partner to more than one grocery store. The recipe below from Bon Appetit is a cousin to the one I made, but if you have a pressure cooker, pick this cookbook up.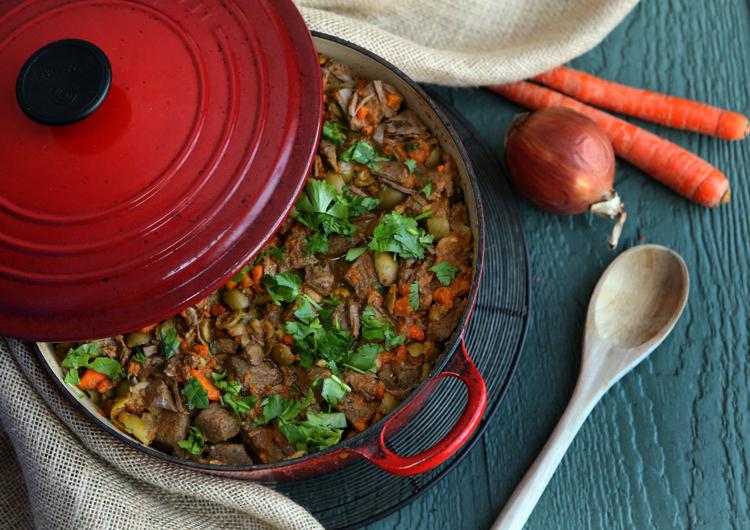 Lamb tagine with apricots and olives from "Dinner in an Instant" by Melissa Clark — The spice combination is what sold this stew for me: ginger two ways, cinnamon, turmeric, nutmeg and saffron. You brown the lamb first, then finish it off with toasted almonds in butter, green olives, parsley and a squeeze of lemon. I served it with couscous and a side of green beans. (Note: The linked recipe is not for a pressure cooker, but the ingredients are mostly the same.)
Garlic and thyme-roasted chicken with crispy drippings croutons from "In the Kitchen with A Good Appetite" by Melissa Clark — Last Monday, I needed to use up some old country bread from Batch Bakehouse. I remembered Tami Lax, the owner of Harvest, telling me her grandma used to roast chicken over stale bread. I tried it and my god, I've never had such glorious, crunchy, chicken-y bread in my life. These were to "croutons" what a Gail Ambrosius truffle is to an M&M. You don't really need a recipe. Do this tonight. 
Sheet-pan roasted fish with sweet peppers by Melissa Clark from The New York Times — Truly I did not realize how hard I lean on Melissa's recipes until I started writing this column! She often calls for hake, a fish I can never find, so we adapted this sheet pan supper for halibut. Drizzling any kind of fish with a parsley sherry vinaigrette is an easy win and a quick meal.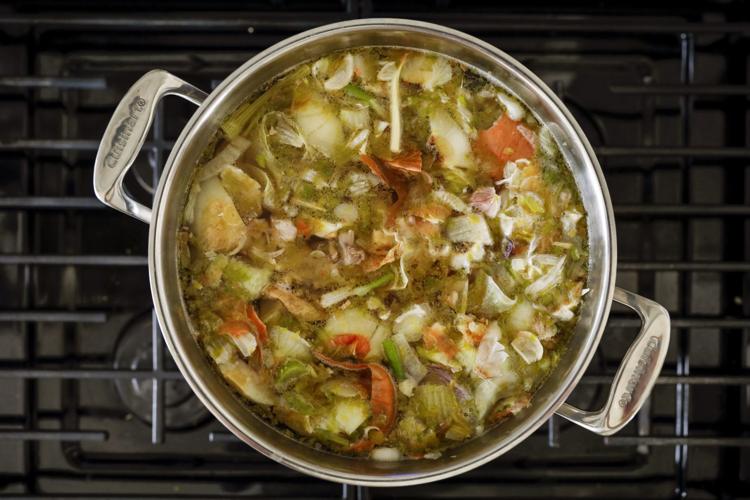 Non-recipe recipe — Every six to eight weeks, Cap Times photographer Ruthie Hauge makes bone broth, which is basically stock that cooks for 24 to 36 hours. 
"You know it's bone broth when the bones are crumbling," she said. This releases their marrow and collagen and gives the broth a deeply rich flavor.
Ruthie puts (clean) onion skins, bits of celery, carrot scraps and herb stems in her broth, adding water as it cooks down. She keeps jars in her freezer at all times, using bone broth in place of water in couscous, rice and quinoa. 
"I make it in a huge stock pot on the stove," she said. "The boys and I will drink it while it's cooking, just strain some into mugs. It's the best way to break a fast if you do intermittent fasting. Some people will drink it instead of coffee. It makes you feel awake."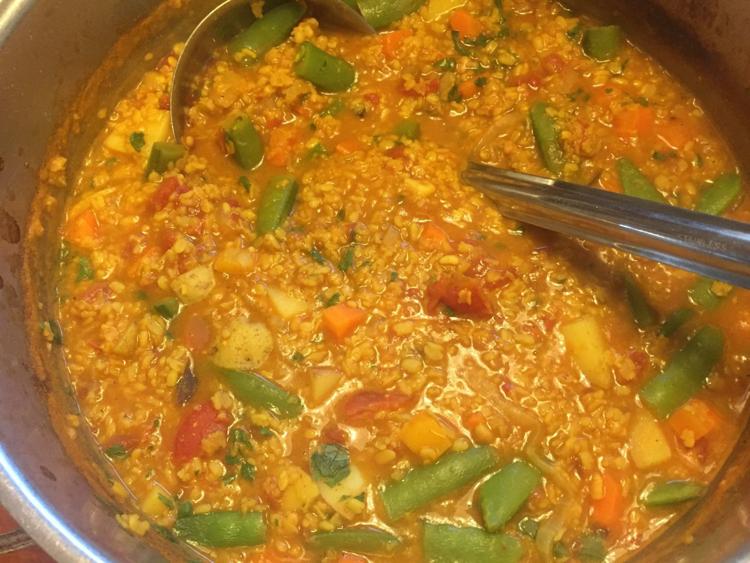 What Pat's cooking
Patricia Mulvey is one of the savviest cooks I know. A cooking teacher and personal chef, Pat founded Local Thyme, a menu planning service for community supported agriculture (CSA) boxes. She's a fellow cookbook lover — we met in 2012 at a book signing for Mark Bittman. 
Pat has been fielding lots of requests from friends over the past month for what to do with pantry staples. Her two teenage kids have put in their own requests (orange chicken, "regular tacos") and she's trying to use up a substantial freezer stockpile, working from most to least perishable. She's been using the Regent Market Co-ops curbside pick-up ("they're fully stocked!") and she's trying not to read cookbooks, which might tempt her toward specific ingredients. 
"I don't want to cook a recipe, I want to cook what I have," Pat said. "I've wanted to limit myself and just play with the food. Anything that's leftover in the fridge I'm trying to reuse or repurpose."
A shopper at Pick 'n' Save substituted a tiny baggie of snap peas, a bell pepper she hadn't ordered and carrots on a recent order. Pat put them all into a moong dal, an Indian dish of mung beans and aromatics. 
"I put in mustard seeds, garam masala, asafoetida, turmeric, cumin and coriander," Pat said. "Use what you have! If you have a curry powder, it's going to taste good. Maybe it's not authentic but who cares about authentic right now."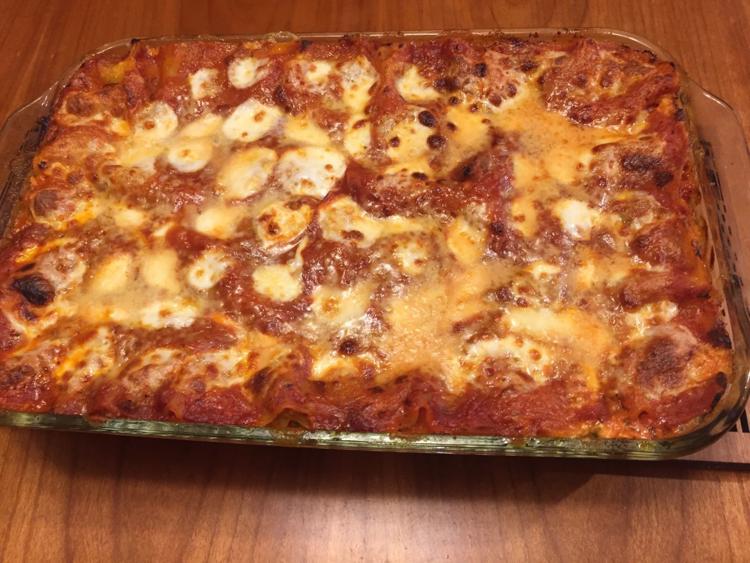 "One of the tastier things I made, I can't begin to write a recipe for," Pat said. Her "clean out the cheese drawer" lasagna used some leftover ricotta and mascarpone ("not much flavor but lots of glue, it'll hold things together"), feta for saltiness, and Boursin, a soft creamy cheese leftover from a trip to Costco. She had romano and a few kinds of mozzarella, and some freshly grated parmesan for the top. 
"There's no way to recreate it because it was all whatever I had," Pat said. "But it was so good." 
Pat's west side neighbors have been gathering remotely for cocktail parties every other week, at which her husband, Brad, is the "cocktail master." Try their Quarantini: St. Germain elderflower liqueur, lime, cranberry juice and gin or vodka, with a little sugar on the rim. 
"I am Zooming left and right, and we have to have a toast during our Zoom parties," Pat said. "The bright side of this calamity is I'm spending so much more time with friends and family right now. We weren't doing that before this."
Stay up-to-date on what's happening
Receive the latest in local entertainment news in your inbox weekly!