Author Amelia Morris has turned having fun with failure into a personal brand.
In a recent video on her food blog, Bon Appétempt, Morris prepares shrimp tacos with a salsa verde and goat cheese cream sauce. The shrimp look perfect and plump, the salsa spiky with jalapeño and fresh garlic.
She offers her toddler son, Teddy, a bite of what she's made, a process he's watched most of while playing with a balloon whisk and kitchen tongs. He spits it out in disgust.
In the video, Morris just laughs.
"A little spicy?" she asks, before taking a big bite of a taco herself. "I disagree with Teddy. I think it's delicious. It's refreshing, it's spicy, it's cheesy.
"I love this meal. I'm sorry that you don't, Teddy!"
The bulk of Morris' first book, named for her blog and subtitled "A Coming-of-Age Story (with Recipes!)," follows Morris' failed experiments in travels (Costa Rica), family relationships (her grandmothers) and finally, Morris' own kitchen.
She'll read from "Bon Appétempt" at the Wisconsin Book Festival on Friday night.
Morris' husband, Matthew Bookman, features prominently in her stories, first as a friend from school and later as a partner as they both try to succeed in creative careers in Los Angeles. (Bookman shoots both photography and video for Morris' website).
Their relationship, as well as Morris' arguments with her divorced parents, her rift with her grandmother and rivalry with her brother, offer fodder for stories — and recipes — throughout the memoir. 
But it's the failures in the kitchen, documented on her blog, where Morris finds her unique voice and, eventually, a loyal readership. She caught the eye of editors at Saveur Magazine, where in 2011 she won a Best Culinary Essay award and, in 2012, a nod for Best Food Humor Blog.
"I share this failure with you as yet another example of me trying to do too much and then doing things poorly, instead of slowing down and doing one thing right," she wrote in a post from 2012. "I need to work on this."
One of the things I loved most about your food memoir one was its self-deprecating attitude. Like that moment when you have to put a collapsed chocolate peppermint cake into a bowl and think, "I've discovered a new scientific element! And it's failure (Fa)."
Have you always been so open about the things that didn't work out?
One of the things I discovered was that it was easy for me to be open about my failures through food.
It wasn't easy for me when I was sending my novel out and it wasn't getting published. That wasn't easy for me to talk about. I identified as a writer. I didn't identify as a cook. It wasn't painful to admit my failures.
Your husband, Matt, is a huge part of both the blog and the memoir. Did he have to eat a lot of those failures?
I started the blog in January 2009, and at the beginning for sure there were things like, "I think the chicken's done?" With the pasta carbonara, my husband couldn't really get into it, but I was like — it's fine. I ate it.
I think I have some of my grandma's Depression element in me where I can't waste food.
This memoir felt particularly honest, sometimes painfully so, about your relationships with your family. How have they responded to the book?
The family that I'm close to have been very supportive. I was definitely nervous to let my mom and brother read it.
But at the end of the day, my mom is proud of me. She's cool with it. She's cooler than I would be probably.
I was listening to this Jonathan Franzen interview on Fresh Air, and he's talking about his book "The Corrections" and how he was worried about his brother's reaction. What he ultimately found to be true is that those people accept him for who he is, they're fine with it. It would be hard for Jonathan Franzen to be any other kind of person.
My past and the family stuff was important. When I got the book contract I knew (my family) was going to be part of it from the beginning. So I just wrote it.
Did you share the unedited manuscript with your family before you submitted it to your publisher?
I had a lot of conversations about this. As a memoir, it's my point of view. It might be flawed but it's my truth. It didn't want to give it to my mom before (editing).
I was more worried about my brother wanting to change things. I gave it to them five or six months before it was published; they both knew what was going in it.
CT: Among your various career paths in the book, you tried for awhile to be a comedy writer. Both your book and blog have a humorous tone. Do you think of yourself as a comedy writer more than a food writer?
AM: I set out to be a fiction writer; I wrote a novel. My fiction was always a blend of funny and truth. I think that's what life is.
Right now I'm working on what I hope to be a novel, and I hope for it to be both funny and truthful. I don't see myself going off in one direction or the other, but being a blend.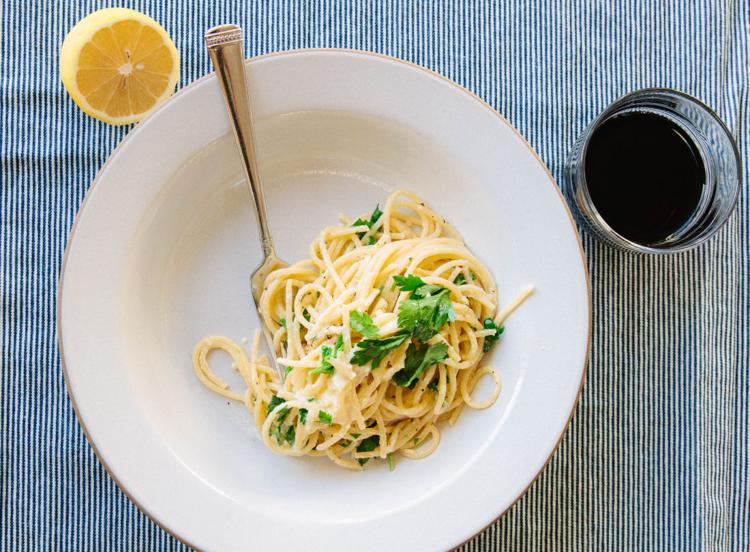 Can you talk a little bit about your writing process?
Right now, my son is in day care, so that's helping the process in general. I've always written in the morning and it took a while for me to find a rhythm again with my writing life.
I feel like it's gotten harder. When I was in school there was less distraction and I could slip into this space where my thoughts were open and free. I was reading all the time.
It's been harder to find that time with having a kid, and I'm pregnant (her second child is due in January). And the Internet's more pervasive now.
I find if I can make some time for reading and slowing things down, it all comes back to me. I've got to retreat from the world and mostly that mostly means the internet.
CT: What things did you learn about yourself and your family through writing the memoir?
AM: I learned a lot about myself. There were definitely moments where I was trying to fit the food in with my life and it would come to me, how it all fit together.
All the lessons boil down to self-acceptance. Like the moment in the book where Matt and I were pushing so hard to be artists, pushing pushing pushing, and it wasn't working out. We didn't make it as high-paying famous artists, but this is our life and it's great too.
And in a way I'm glad we didn't, because then I wouldn't have this cozy life ... I might not be as deeply satisfied.
That's the lesson I kept learning through the writing process, and have to keep learning.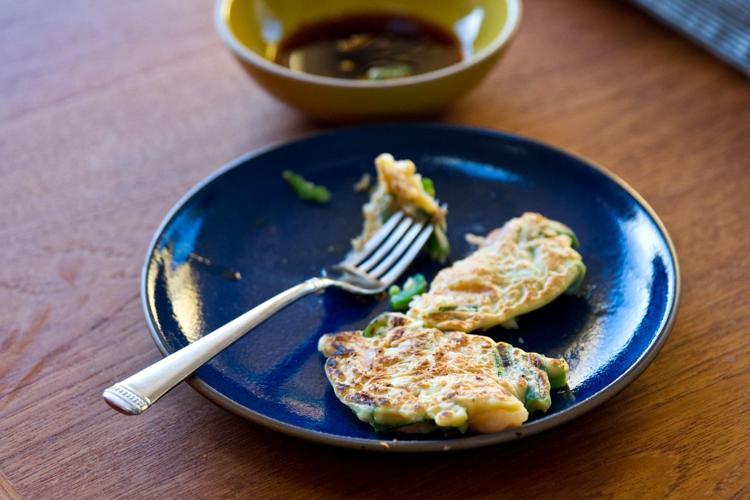 What are some of the culinary techniques you've been proudest to master?
I've mastered knowing the steps you can't really skip and knowing what's essential. And also seasoning.
I really needed recipes when I first started. I've gotten confident with being able to improvise more. I can do a soup without reading a recipe; I can throw things together.
Was it hard to narrow down the recipes you wanted to include in the book? What are some that didn't make the cut?
In retrospect, I really didn't see myself as a cook. I still don't. I wanted to include recipes I knew I could do and that I had made my own, which was kind of limiting. I don't have a huge repertoire, but I think the things that got cut were kind of boring,
Like there's a lentil soup I make all the time that I love and think is great. But it's just lentil soup.
Are there other food memoirs, or memoirs in general, you particularly admire? What are you reading now?
I just got Ruth Reichl's new book ("My Kitchen Year: 136 Recipes That Changed My Life") and I'm inspired by her. She seems like such a self-assured cook and she's so adventuresome. It's also a part memoir.
And I also got Heidi Swanson's new book ("Near and Far: Recipes Inspired by Home and Travel"), which I think is so different than Ruth's book. Everything is so clean and so pretty. It's an escapist cookbook.
It's always a little too healthy for me, so I add more butter. But I appreciate it.