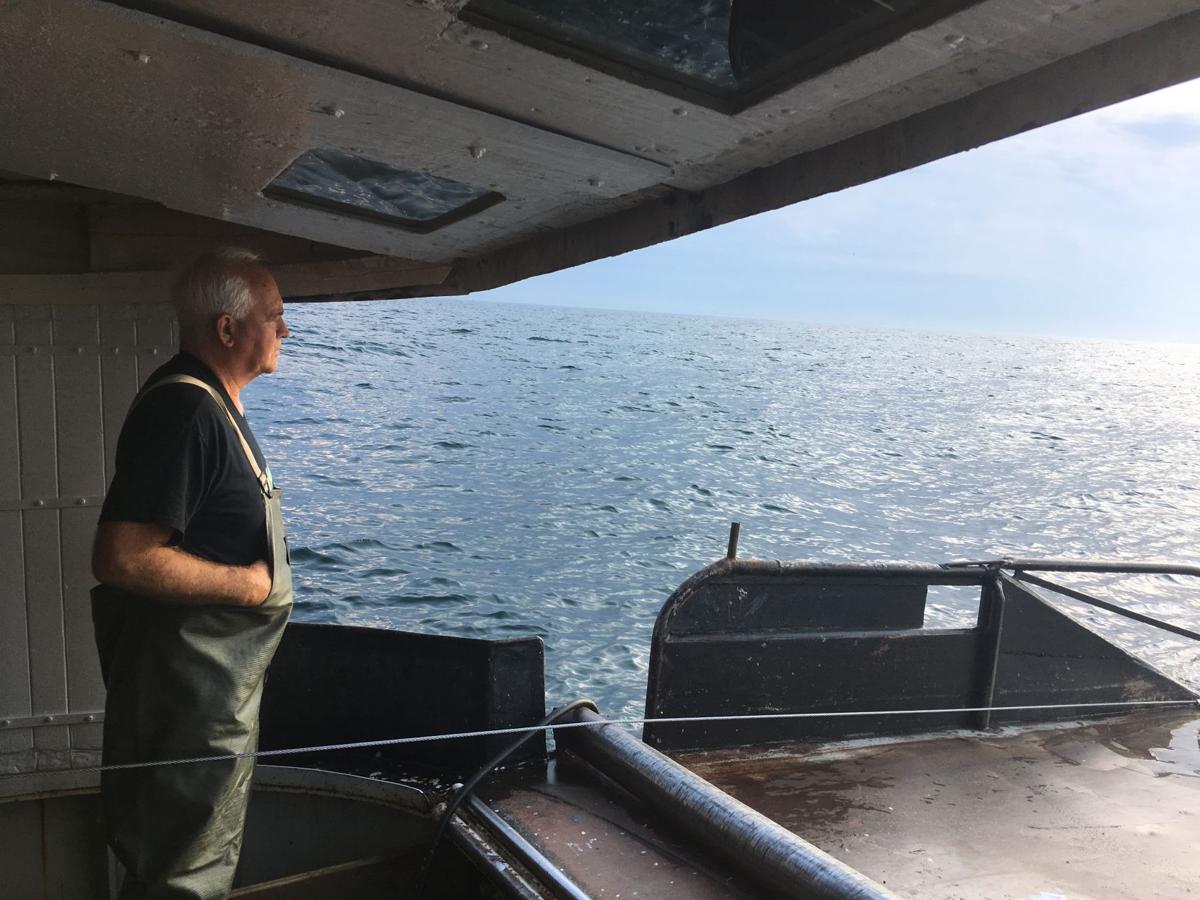 If it's a windy day, captain John Kulpa, Jr. and his younger brother, Jeremy Kulpa, might be out on the choppy Lake Michigan water past noon.
On the July day the Peter Paul caught whitefish for buyers in Madison, the weather was good, above 70 degrees on land by 7 a.m. The Kulpas finished by 9 a.m., bringing in 2,000 pounds of whitefish — a decent catch, but about half as much as they bring in during winter.
"We bring ice on the boats," said Paul LeClair, whose family has run the Susie Q fleet since the 1950s. The fish "is dressed on the boat and then we further process it and fillet it the same day."
After processing that day, a small fraction of the Kulpas' haul went into an insulated FedEx box bound for Madison.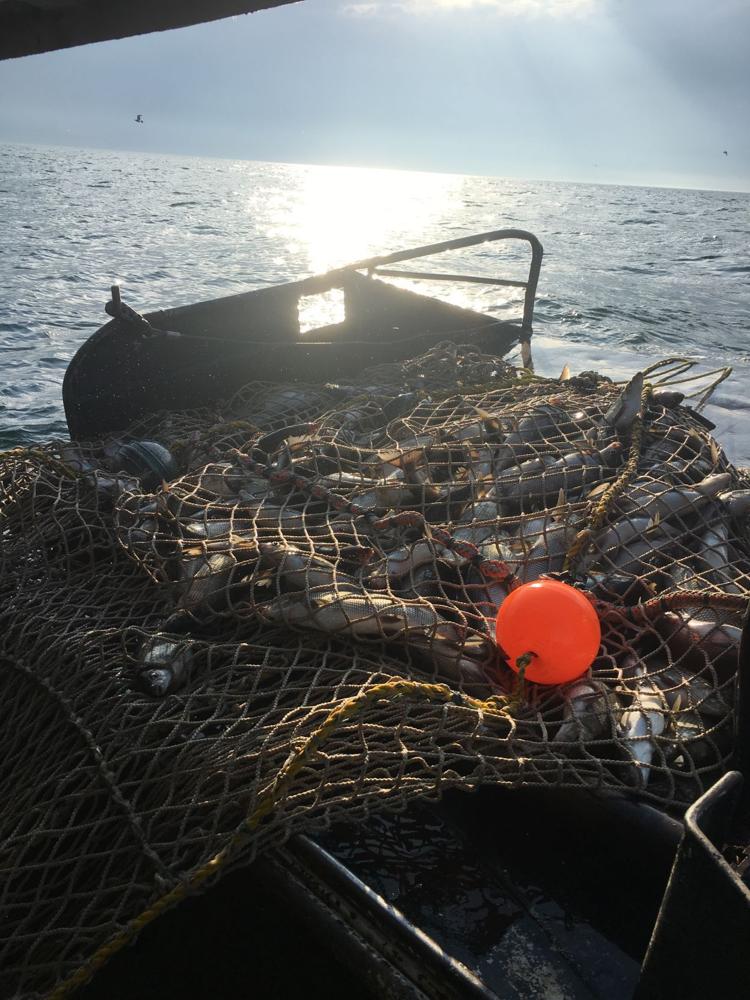 A few days after that, Susie Q whitefish appeared in the kitchen at Graze, prepared with carrots, leeks and new potatoes and swimming in an anisette broth.
In south central Wisconsin, this is what farm to table looks like when applied to wild fish. Madison chefs and consumers have begun to transfer the principles of a food movement that prizes locally grown and environmentally friendly food to a protein that is wild and harvested hundreds, sometimes thousands, of miles away.
"Chefs are on this mission to create a network and really push for sustainable seafood to become the next farm to table," said Graze chef/owner Tory Miller. Dock-to-door distributors are helping to make that happen.
"I was going out to farmers' markets," Miller added, "being so vehement about where everything was coming from and then turning around and being like, 'OK, I guess I'm going to get this tuna because people love it.'
"I was on the fence about even serving seafood anymore. It's hard to cultivate a relationship over a weekend."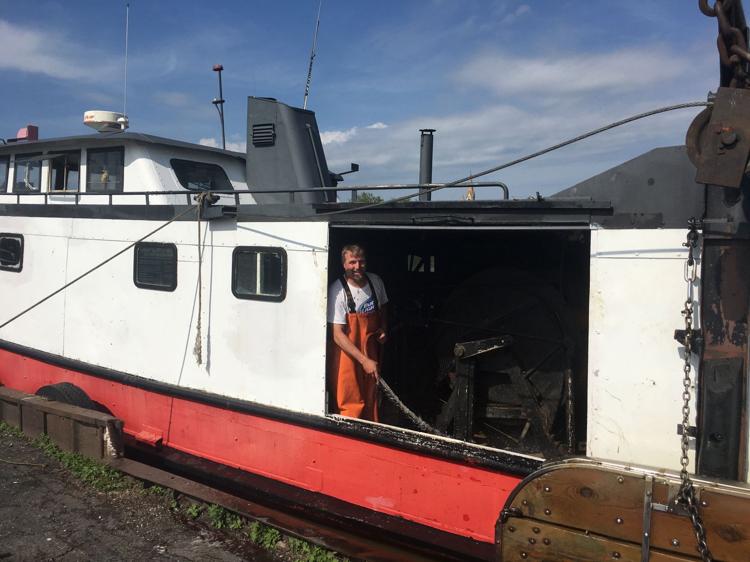 Americans don't eat much fish individually, but it adds up. Average consumption of fish in 2015 was about 15.5 lbs. per person for the whole year, so less than a pound and a half per month. The National Oceanic and Atmospheric Administration estimates that more than 80 percent of the fish Americans eat is imported, and half of that is farmed.
One result is that the variety and quality of locally available seafood has been steadily improving (often with prices to match). New distributors like Sitka Salmon and Sea to Table connect chefs with fishermen, making for better accountability and fewer hands between open water and restaurant cutting boards.
Grocery stores and restaurants are using Monterey Bay Seafood Watch and a new program from the James Beard Foundation called Smart Catch to find out whether formerly unsustainable skate wing can go back on the menu.
To encourage more domestic consumption, a University of Wisconsin-Madison program called Eat Wisconsin Fish educates shoppers about the wonders of wild Lake Superior whitefish and rainbow trout from nearby fish farms.
"Making that connection between the producers and people who want the fish is one of the big challenges," said Kathleen Schmitt Kline, an outreach specialist for UW Sea Grant. "People are still trying to figure it out.
"(In Madison), we've lost connections between fishermen and people from Wisconsin. With the interest in local food, we're trying to rebuild those connections."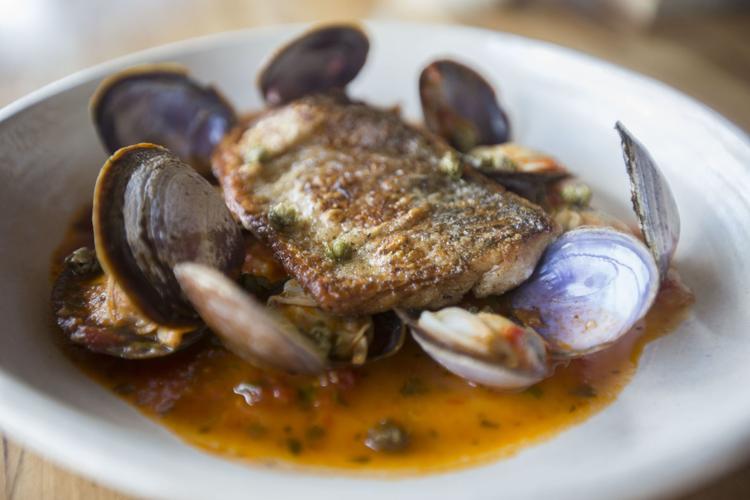 When Forequarter opened on East Johnson Street five years ago, whitefish was a key part of the menu. Recently, the firm, oil-rich fish appeared as a lightly smoked spread and an entrée, pan-fried and served with mahogany clams, fresh tomato marinara, fried capers and garlic toast.
"We've been buying Great Lakes whitefish since Forequarter has been open as one of our staple ingredients," said Jonny Hunter, a chef and co-founder of Forequarter and Underground Food Collective.
"We went out there and made direct relationships with the fishermen, because we wanted to make sure that we could get the product all year long and that we were sourcing from more than one dock."
Sea to Table overnights fish via FedEx from docks to chefs around the country, which is how Forequarter has gotten some of Susie Q's Lake Michigan catch. More common on Hunter's menu now are Lake Superior whitefish, caught by independent fishermen and processed by Bodin's Fisheries.
Bill Bodin's family has been fishing in Lake Superior since his great-grandfather emigrated from Sweden in the 1880s. It wasn't until recently that foodie buzzwords appeared on the company's website: Local. Sustainable. Authentic.
"That's what people want to hear," said Bill Bodin, a fourth generation fisherman in Bayfield and vice president of Bodin's. "It's been this way forever."
The Lake Superior fishery for whitefish is strong and healthy, Bodin said. But it's tough to market that fish to Madison diners when it's not "sexy" and has such a generic name.
"I still come back to the old adage 'Sell it or smell it,'" he said. "If you don't find a home for it or create the opportunity to move it, then you lose it, right? It goes bad.
"You've got to have a mix of the wholesale and restaurants, grocery stores as well as other distributors that can move your product."
Bodin works with fishermen like Matthew Hipsher, a tribal rancher and fisherman from the Red Cliff Band of Lake Superior Chippewa. Hipsher has two boats, a 40-foot trap net boat named the Courtney Sue and the Cindy Marie, a gill net tug.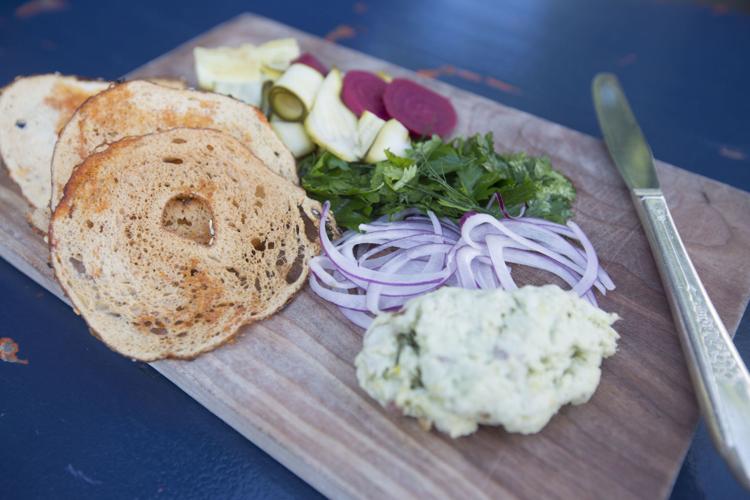 Rather than sell to Bodin's, Hipsher would like to establish his own freezer space, processing facility and routes to Madison. He's worked with Dan Cornelius at the Native Food Network, which plans to feature his fish at Taste of Madison this September.
"The area I live in is economically depressed," Hipsher said. "There are not a lot of full-time jobs ... it's a competitive industry. I'm trying to provide my children an opportunity in the future."
"Red Cliff fishermen are catching some of the best fish in the world," Cornelius said. "The whitefish, the herring. There's walleye, there's siskiwit — it's high oil content, like a trout. People in Madison don't even know this fish.
"We've done a little work with some of these restaurants but we're trying to build more connections and distribution channels."
For chefs like Hunter, it's the direct connection that's important.
"People do care about sustainability," Hunter said. "But it's harder to understand, right? That isn't a traceable relationship we have in the Midwest.
"We are creating a direct relationship with the docks, from the lake directly. We know more about where our product is from."
Next week, Sitka Salmon will fly three chefs — Francesco Mangano of Osteria Papavero, Sushi Muramoto owner Shinji Muramoto and Joe Gaglio of Gotham Bagels — to Stika, Alaska, to show them salmon coming onto the docks and, if the weather holds, take them out on the boats.
Merchant and Lucille chef Evan Dannells went up a few years ago and caught some Coho salmon. He serves Sitka's Pacific cod on Merchant's dinner menu as a salt cod dip made with potatoes, butter and cream, served with piquillo peppers, olives and baguette.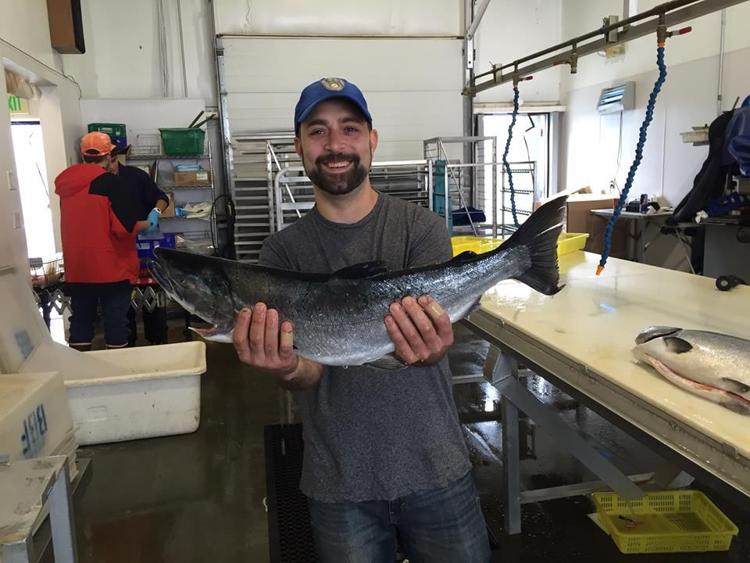 For Sitka, chef junkets are key to keeping demand for their salmon as healthy as the fisheries.
"Our challenge is getting chefs to be OK with frozen product and getting over that mental barrier," said Sitka vice president Marsh Skeele, an Alaskan fisherman himself. "Frozen can be really good if it's frozen perfectly and treated perfectly."
Stika is based in Illinois but it launched early in Madison, where founder Nic Mink earned his Ph.D. Skeele said it was a logical place, because of the city's "strong farm to table ethos."  
"Having a connection builds accountability in quality," Skeele said. "You know how your fish is caught, and the fishermen know if they deliver perfect fish. Having that traceability is important."
Sitka has about 800 members in Madison who purchase salmon shares of its community supported fishery (CSF). The company also sells at local farmers' markets, like the Eastside, Hilldale and Northside, and works with six to eight local restaurants at any given time.
On a smaller scale, salmon fisherman Noah Locke at Kwee-Jack Salmon offers shares in Madison as well. Both Sitka and Kwee-Jack ship their fish flash-frozen, which keeps it "as close to the original state as possible," Locke said.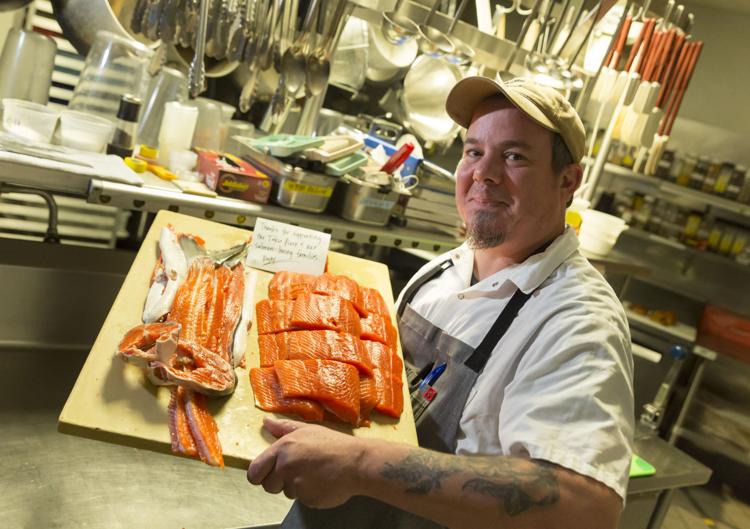 "When you're catching any sort of seafood product you have to start thinking about quality from the minute you're pulling it out of the water," Locke said. "We need to get fish on ice as quickly as possible after they're pulled out of the water. Fish start to break down pretty quickly.
"A lot of the seafood that is frozen gets thawed by the grocer and sits a display case for three days. You've defeated the purpose of freezing and let it get mushy."
Salmon sellers know that even if their fishermen catch beautiful salmon,  it's not a sustainable business if there aren't ways to process those fish quickly and get them to what Alaskans call "the lower 48."
"It doesn't matter how many fish you catch if you can't sell them," said Kirk Hardcastle, an owner and fisherman at Taku River Reds in Juneau, Alaska.
"When it's a wild harvest, it's not like farming when you know how many bushels you can get. You have to hope that you're in the right place at the right time."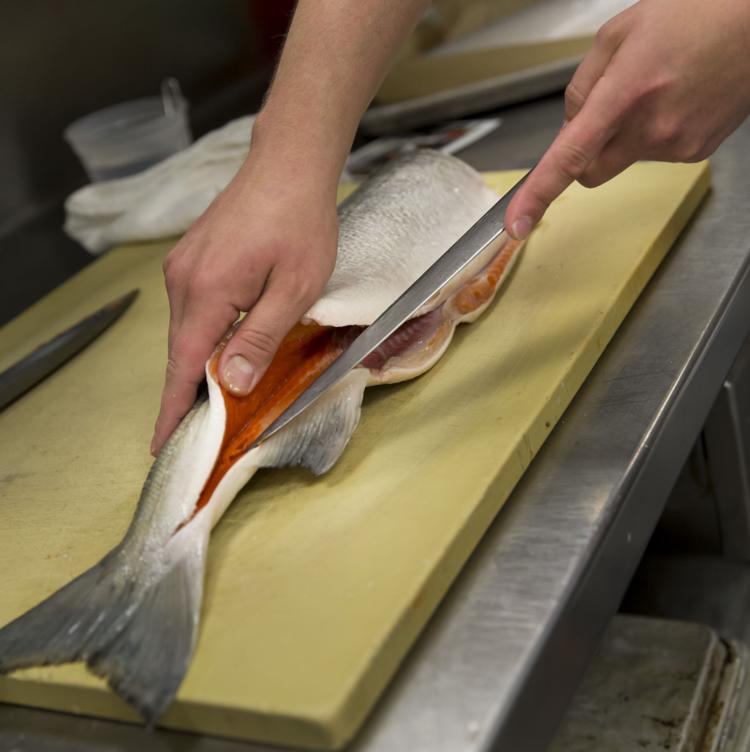 Alaska's salmon fishery is highly regulated to keep the waters clean and fish plentiful. As Hardcastle said, "there are more restrictions on our fishery than the health care industry."
But he doesn't blame Midwesterners for their reticence when it comes to ocean fish. If it's not his, he's usually not interested.
"Most fish is so poorly handled that when you get the fish, you need to cook and eat it right away because of cellular degradation," Hardcastle said. "Salmon is like a tomato or a strawberry. They don't age very well."
Promega culinary director Nate Herndon calls Taku River salmon "the best salmon I've ever tasted." He's used it in a spicy salmon sushi roll, as a lunch dish in the cafeteria and as a tartare for catering menus.
"That concept of sustainability really fit in with what we do," said Herndon. "Part of what's important to me is knowing where your food comes from. To be able to do that with seafood was unheard of."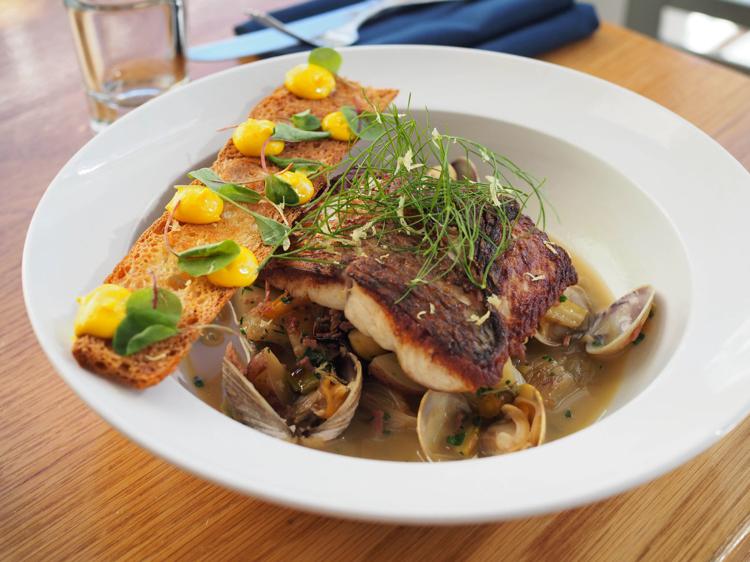 Customers who linger at Ron Pohlman's Monona Farmers' Market booth on Sunday mornings tend to ask the same few questions about the fish in his cooler.
"They always ask me, 'Is it wild caught?'" Pohlman said. "'Has it ever been frozen? Is it sustainable? Is it domestic?'"
Pohlman works for Janesville-based South Padre Sea Food selling mostly wild-caught fish, the majority from the U.S. with a few fillets from Mexico.
Pohlman explains to customers that most of the fish he sells is sustainable, but it's hard to meet expectations for every snapper fillet and juicy sea scallop.
"It's like trying to buy tennis shoes made in the U.S.," Pohlman said. "It's hard to do, but we try."
Return buyers like Michael Harryman from Monona appreciate South Padre's "direct distribution" for clams, Atlantic salmon and mahi mahi, vacuum-packed on ice in his cooler.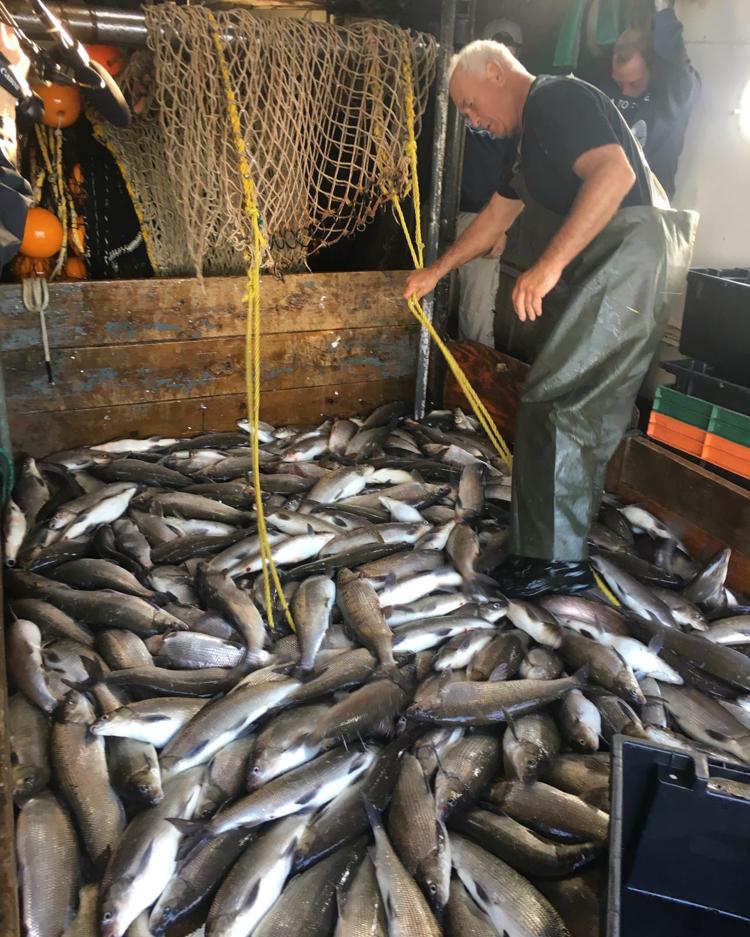 "You can't get it any fresher, frankly," said Harryman. "It's a trust thing. I grew up in Wisconsin and my parents used to buy fish like this. They'd stop at a roadside stand and it was all about word of mouth.
"You knew that guy had someone at the coast, pulling stuff in fresh."
For fish-lovers living hundreds of miles from the source of their seafood, keeping tabs on what's sustainable can be a headache. How something is caught, the time of year, and the quantity coming out of the ocean all affect how sustainable seafood really is.  
And even chefs with good intentions don't always know exactly what they're asking for.
"If someone says, 'I want to have sustainable seafood on my menu,' well, what is sustainability in your eyes? What do you deem as sustainable seafood?" said Stacy Schultz, the director of marketing and sustainability coordinator for Fortune Fish & Gourmet, located near Chicago's O'Hare International Airport.
"It's a lot of keeping up to date on scientific data," she said. "It's about education."
Though Fortune handles fish in much larger quantities than Sea to Table, some of the fishermen it works with are the same. From the Susie Q fleet in Two Rivers, Fortune buys whole fish and processes them in Illinois before sending them back up to Madison as fillets.
"With the local food movement, there's been a definite increase in knowing where our food comes from," Schultz said. "We've become complacent in the fact that we can walk into a seafood market and everything's there."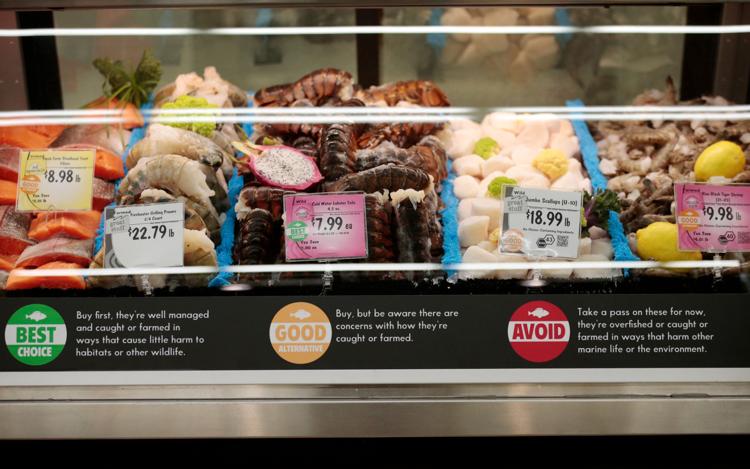 Just two local grocery stores use the "best choice" and "good alternative" ratings from Monterey Bay's Seafood Watch program: Whole Foods and Festival Foods on East Washington Avenue.
Ryan Pernat, Festival's meat market manager, oversees a seafood counter that sells farmed salmon from Norway and Chile, as well as Atlantic cod and haddock fillets from Boston.
"We're not getting a whole lot of questions from customers," Pernat said. At the meat counter, "more guests ask where the beef was raised, if it's a local product. I explain the best way I can."
For chefs, the James Beard Foundation is trying to take the guesswork out of that "what does sustainable mean?" question. Smart Catch, a smartphone app, officially launched in June after a two-year trial in Seattle.
The app rates seafood based not only on Monterey Bay's measures of sustainability, but also attempts to incorporate how fishermen are treated (a possibly tricky thing to gauge boat to boat).
"We want to help chefs better understand what we mean when we talk about sustainable seafood, and for customers to find restaurants that align with their own values," said Katherine Miller, the James Beard Foundation's senior director of policy and advocacy.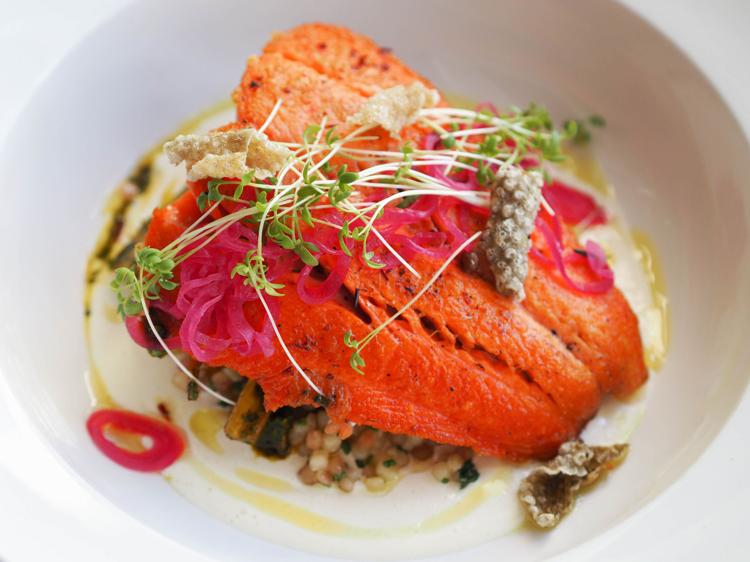 L'Etoile and Graze's Tory Miller was one of 66 chefs who participated in the Smart Catch pilot, testing the tool in January. Several chefs say they've already taken the Smart Catch assessment and hope to appear on the Beard site soon as "leaders" in the program.
"It's understanding the catch method, and that there are farmed alternatives that are sustainable like Australian barramundi," Katherine Miller said. "It's understanding how to communicate to your team about what it means to be frozen.
"We have some things in our head that don't match the realities on the plate anymore, especially around farmed and frozen fish."
Katherine Miller sees chefs as more than individuals. Together, she said, they're a powerful market mass for increasing consumption of farmed trout, spiny dogfish or mackerel.
"The chefs we work with make delicious food," she said. "We can also make that food tell a story."
One facilitator of that story has been Sea to Table. The company has been a presence in Madison since 2007.
It expanded more widely seven years later, after the Madison Area Chefs Network came together and chefs began splitting orders from docks in Beaufort, South Carolina, and Santa Barbara, California, among others.
"Chefs see the importance of sourcing seafood like land-based produce, which is easier to do given the great number of farms and farmers that exist in Dane County," said Lindsay Haas, an operations manager at Sea to Table.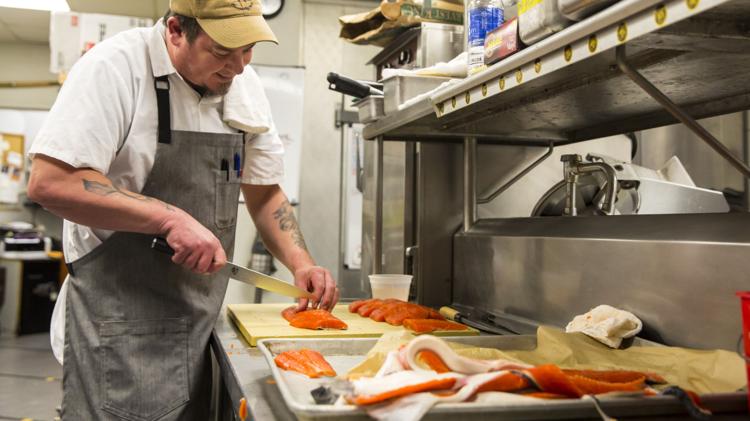 "The traditional seafood distribution chain is long and opaque and convoluted," Haas said. "Chefs see a difference with our direct model in the freshness of the fish they get. They get a longer shelf life out of it. It has bright clear eyes and red gills.
"They can tell it hasn't spent a couple days or a week in transit."
John Gadau, a chef and co-owner of Sardine, Marigold Kitchen and Gates & Brovi, said using Sea to Table has made his team more flexible, as well as better informed.
"When we order fish we have them give us an explanation, how it's fished, what they think about it," he said. "They have relationships with these guys, like, 'Bob caught this fish.'"
For Haas, companies like hers are about responsibility as well as access. Sea to Table recently started direct sales to consumers of wild Gulf shrimp, Maine redfish and Northwest Pacific cod, among other things.
"We have a responsibility to ourselves and our environment to support those traditional fishing communities that have been longstanding and are well-managed," she said. "Instead of having more and more of them go out of business because all we care about are cheap fish from out of the country.
"It's becoming easier to not get frustrated," Haas added. "The best fish is the one you caught yourself. The second best is the one you bought from the fishermen on the dock. We're a great third best option."
In June, 30 Madison-area restaurants participated in the first Sustainable Seafood Week, offering $10 seafood specials like smoked bluefish, grilled mackerel and pizza with Little Neck clams.
Some restaurants stayed solidly in their wheelhouse. The Old Fashioned on the Capitol Square served a fish sandwich with butter-poached Pacific cod from Sitka. At Sujeo, the kitchen prepped a Korean-style Dover sole ceviche. Tempest Oyster Bar offered a bay scallop and oyster in puff pastry.
Others branched out a bit more. At Lombardino's, wood-grilled Alaskan spot prawns came with accents of Calabrese chili, lime and ginger. Oliver's Public House incorporated green curry and kefir lime into a tea-encrusted whitefish dish.
During the week, Sardine hosted an oyster night, and Layla's Persian Food did a fish boil. Madison Sourdough hosted an "east coast versus west coast" seafood dinner with a half-dozen chefs.
"For me the challenge is, do people care about sustainable seafood?" said Sourdough chef Molly Maciejewski, who served salmon meatballs in a grain bowl with sprouted rice. "People are really involved in the idea of local, sustainable meat and dairy.
"But when it comes to seafood, are people really asking where is it sourced and where do you get it from? You have to do your homework."
Henry Doane has been wrestling with questions of domestic versus imported and frozen versus fresh since opening the now-closed Blue Marlin on the Capitol Square in 1990.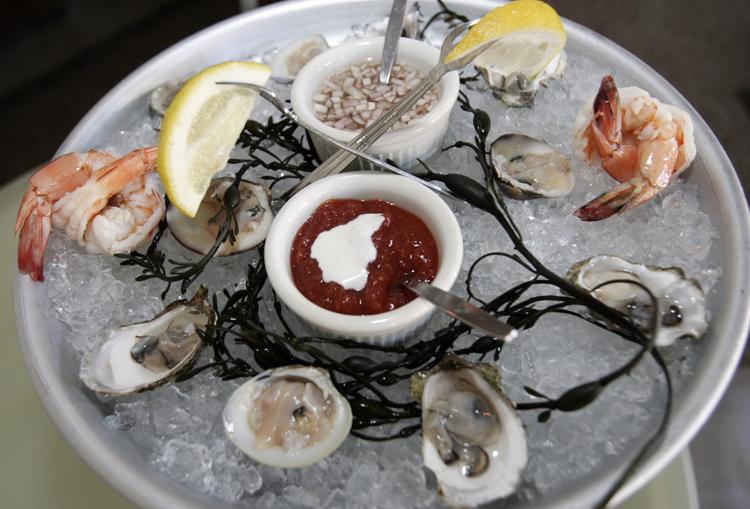 "Some fish that were unavailable 20 years ago have become available again," said Doane, who owns Tempest Oyster Bar and Tornado Steakhouse downtown.
"Back in the Blue Marlin days we were one of the first to sell Chilean sea bass and it was called Patagonian toothfish.
"It was a great fish. The meat is beautiful and it cooks really nice. But it became super popular and completely overfished, so we stopped serving that decades ago."
Doane estimates that at Tempest, 80 percent of the fish he serves is domestic (though, he allowed, "I don't look at every box").
"I'm wary of imported shrimp," he said. "I don't get anything from Asia. I get line-caught tuna; I don't do bluefin. I try to do a lot of whitefish and walleye, mostly from Lake Michigan and Lake Superior."
Farm to table restaurants like Oliver's Public House or Salvatore's Tomato Pies have made sustainable seafood an extension of their local mission. Salvatore's owner Patrick DePula said Wisconsin's "fish fry mentality drives down expectations of what's available."
"If you're looking at a $9, $12 all-you-can-eat fish fry, you're not thinking about where the fish came from," DePula said. "That's what consumers want.
"Then you have this fish dish is going to be $21.40 because it's pole-caught tuna that was sustainably caught by a family fisherman ... and it's not going to sell based on price. It's going to sell based on story."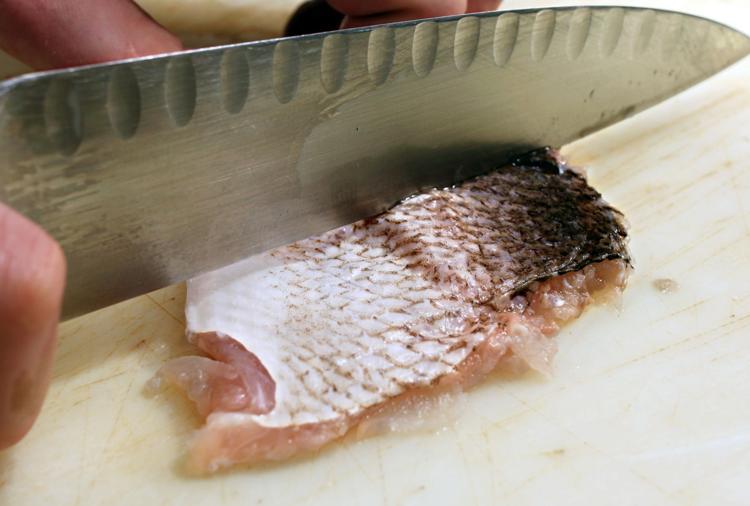 Papavero's Mangano wants to encourage people to eat fish they're not used to, like cuttlefish (similar to squid) and oily bluefish.
"There's a million varieties of fish you could be possibly eating," Mangano said. "Sustainability pertains to niche fish, things that people wouldn't typically eat or cook. I'm thinking about different kinds of rockfish, many different kinds of cephalopods, squid, cuttlefish.
"We get the whole fish and clean them ourselves."
Advocates acknowledge that it's harder for seafood-centric spots to make the more expensive, sometimes limiting choice of sustainably caught fish.
"There's usually something out there in the medium range," said Doane at Tempest. "We get a Scottish salmon that is not farm raised in that bad way. The price is reasonable — it's still high comparatively, but then you just have to reflect that on your menu.
"Our costs are pretty high, but we're getting more per person than a lower priced restaurant would."
"There are certain types of fish people expect to have on the menu," said Kline at UW Sea Grant. "Restaurants can only do so much. They need to be serving food that people want to order."
What's the future of sustainable fish in the U.S.? Kline thinks it's more domestic fish farms, like Rushing Waters in Palmyra, or butter lettuce-and-tilapia outfits like the aquaponics systems Montello-based company Nelson and Pade is setting folks up with.
"There are probably more large fish farms on the horizon for Wisconsin," Kline said. "You can be involved in decisions about how locally farmed fish is raised because it's our state, and regulations come down to who we vote for. We can have a voice in that."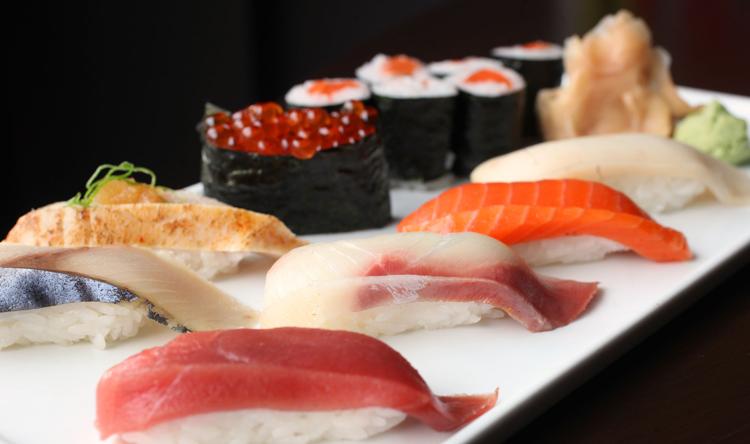 "Personally, I don't eat any imported farmed fish, only domestic," Kline said. "I'm not saying any of that is bad, but if I'm going out to eat I can do my little bit for supporting domestic seafood."
The good news is, in Madison, that's very possible, even so far from the coasts.
"There's a bias against seafood in the Midwest because we think we're so far away," Doane said. "It goes back to when the only seafood you could get was this semi-smelly frozen stuff. As a kid, you would hate it.
"It's really not the case anymore. It's really not bad like it used to be."
Editor's Note: This story has been clarified to indicate that South Padre Sea Food sells primarily domestic, wild-caught fish. 
Stay up-to-date on what's happening
Receive the latest in local entertainment news in your inbox weekly!