In the 1950s, freight trains were essential to Milwaukee's brewing industry, to dump grains directly into factory reserves and whisk away cases of beer.
Now, a traveling photography exhibition has asked microbreweries in the Madison area to celebrate those historic freight trains. "Milwaukee's Beer Line," a collection of 12 photographs with historical notes, is on display through Oct. 23 at Octopi Brewing in Waunakee.
After that, the show moves to the upstairs pizzeria at Grumpy Troll Brewery in Mount Horeb, with a "grumpy hour" reception on Tuesday, Oct. 24.
The exhibit documents a 6-mile branch in the once extensive Milwaukee rail system. Known as the Beer Line, it ran north of downtown along the Milwaukee River and served the city's three largest breweries of the post-Prohibition era — Blatz, Pabst and Schlitz — by bringing in grain and other raw materials and hauling away finished beer.
"Beer and trains have a really great history in Wisconsin," said Scott Lothes, president and executive director of the Madison-based nonprofit Center for Railroad Photography and Art, which owns the collection and organized the exhibit.
Photographer Wallace W. Abbey, a former editor at Trains magazine who died in 2014 at age 87, captured tens of thousands of images of railways across the country.
He photographed the Beer Line in the 1950s, when post-World War II mass-production of beer flourished in Milwaukee thanks to railroad switch crews working around the clock to pull about 50 cars of beer every day.
Before the Beer Line and its associated rail network, "Milwaukee was really very isolated for industry," said Hailey Paige, a graduate student in historical administration at Eastern Illinois University.
Paige is an intern at the Center for Railroad Photography and Art, and it was her idea to circulate the exhibit at breweries.
"Our membership is very strong in the rail-fan crowd," she said. "But we're always looking to broaden our membership.
"Everyone's interested in beer these days."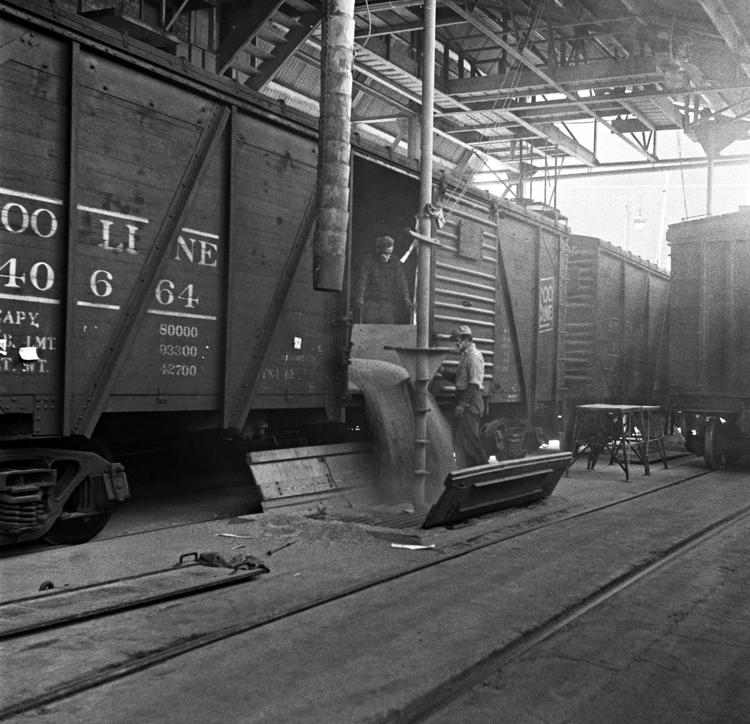 Paige curated the photographs to balance images of locomotives and people. One of Abbey's aims was to capture the blue collar workers on the Beer Line.
Mark Vinje, bar manager and event coordinator at Octopi Brewing, joked that the "grumpy-looking guys unloading empty kegs" in the photos remind him of his coworkers.
Just about everything else in the brewing industry has changed, however. The MillerCoors brewery in Milwaukee receives grain by rail, but less than a mile of the Beer Line remains in service, according to Paige's research.
The former industrial corridor has been turned into residential and business development and a bike path with a planned "linear park."
Of the biggest historical producers on the Beer Line, Pabst is the only one to still exist. Now headquartered in Los Angeles, it returned to Milwaukee to open a satellite brewery and taproom in April.
Pabst also owns the Schlitz and Blatz brands and has capitalized on the cool nostalgia of "grandpa beers."
Celebrating the past of big breweries' at small breweries isn't as much of a stretch as it might seem. Hosting the photography exhibit at Octopi, a 2-year-old brewery, "plays off that juxtaposition" of old and new, Vinje said.
"I actually have some Blatz in my fridge right now," Vinje said. Drinking cheap lagers like Blatz (and Hamm's, which Octopi stocks) "helps us from getting too pretentious."
Besides, Vinje added, switching to a quality IPA after a Hamm's "makes it taste that much better."
The Beer Line exhibit is sparking conversations on history, Vinje said. One older man who came in told Vinje he spent his career making the railway ties used on railroads throughout the state.
Milwaukee breweries may join in on the exhibition soon. After the Grumpy Troll next month, Paige hopes to bring the Beer Line exhibit to Milwaukee's Lakefront Brewery.
The 30-year-old brewery is on the path of the Beer Line. In a 21st century nod to nostalgia, it even produced an organic barrel-aged barleywine called "Beer Line."