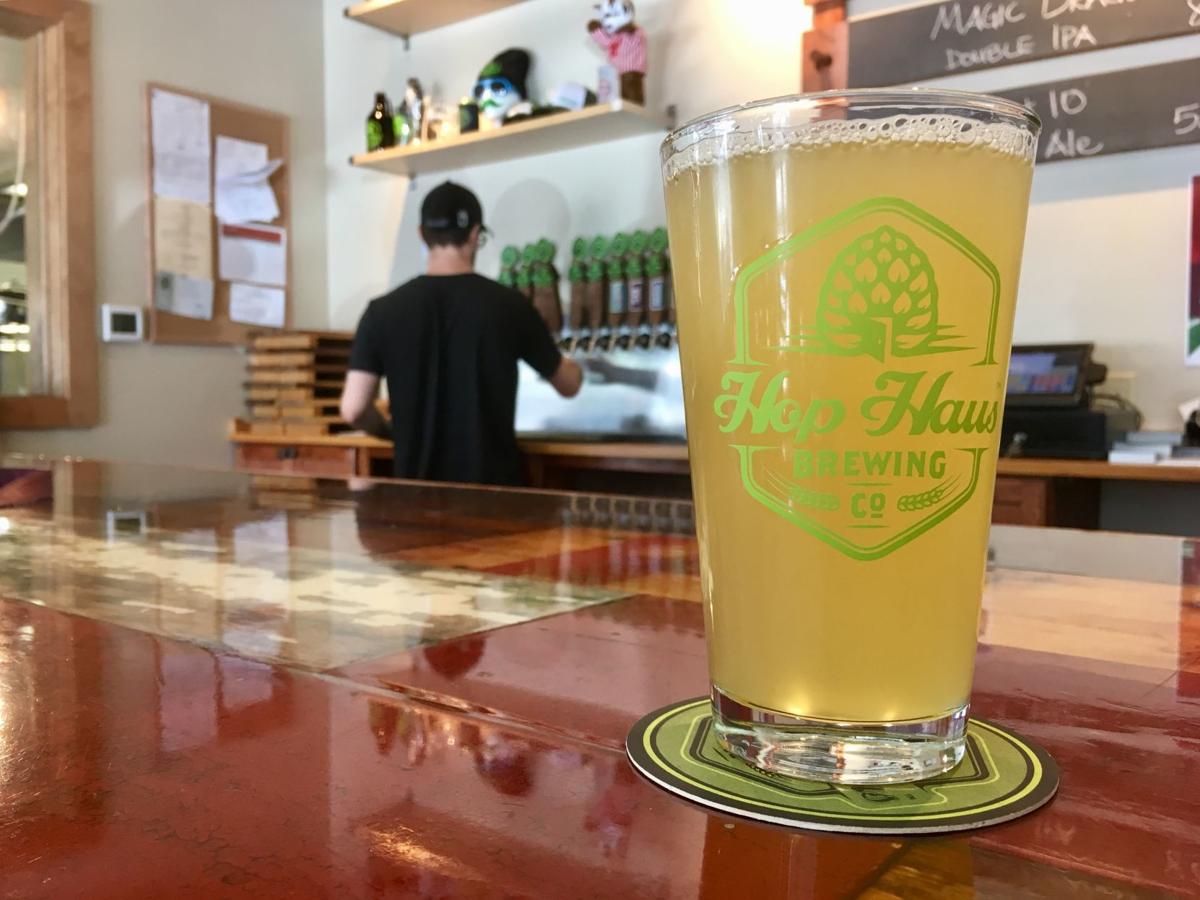 I had never touched the tread of my bike tires to the Military Ridge Trail before last weekend.
But that's where I found myself on Saturday afternoon, sweating through my cotton T-shirt, halfway between Madison and Verona with a few dozen other cyclists.
We were riding for the best reason imaginable: ice cold beer.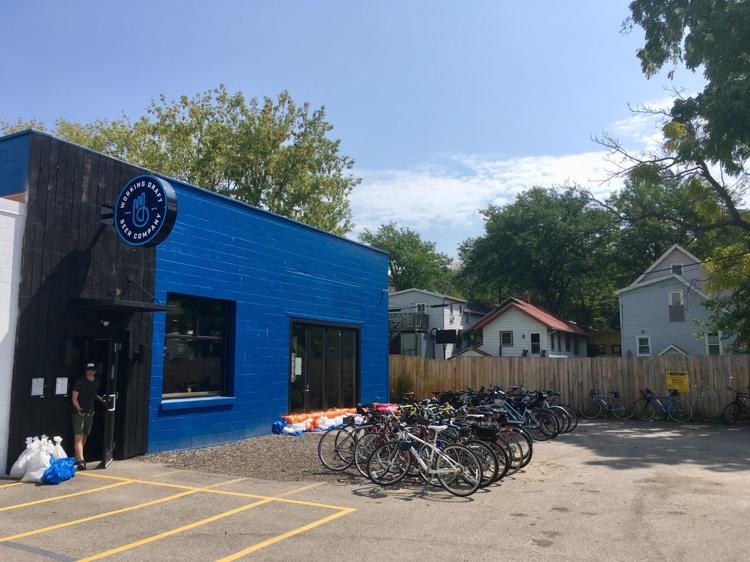 With the parking lots of the breweries connected more or less directly along a single bike path, this was as straightforward a concept as either destination could have hoped for. That it gave both Working Draft and Hop Haus the opportunity to debut a pair of collaboration beers made the ride even more appealing.
Riders checked in at Working Draft around noon, picked up a cobranded water bottle, filled out paperwork for their one-day trail pass (included in the $20 registration fee). We then were the first to sample Peachin' To The Choir, a pleasantly hazy peach milkshake IPA that hit just the right balance between juicy citrus and the sweet gumminess of late-season peaches.
After everyone had tossed back a beer or two, Tom Gosse, the Working Draft "beertender" who organized the ride, led a pack of 50 or so cyclists along a route that started on the Capital City Trail before branching over to the Military Ridge Trail.
Our destination brought us to the second beer of the day, Hop Haus's So Fresh So Clean radler. At 3.8 percent alcohol by volume and packing a bright lemony punch, the radler was a perfectly refreshing way to mark the halfway point of the afternoon jaunt.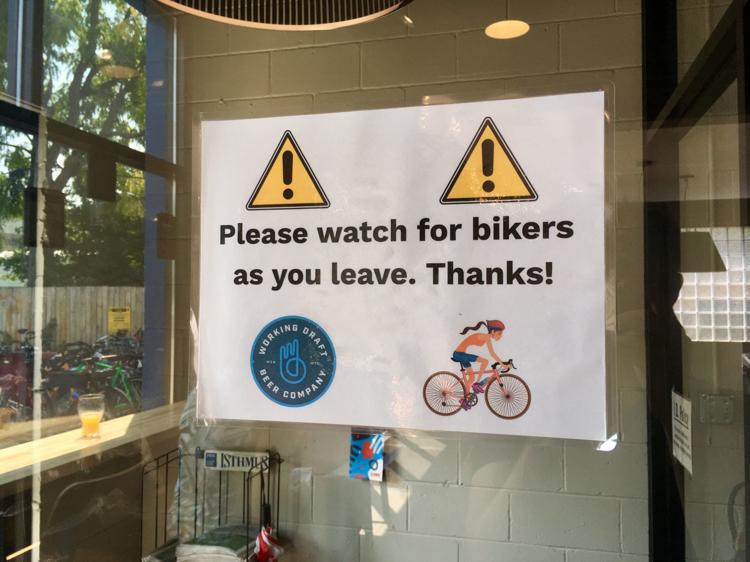 Both the Peachin' To The Choir IPA and the So Fresh So Clean radler were small batch brews, likely only available from their respective breweries for another week or so, tops.
While I was sitting at Hop Haus with my radler I ended up making new friends who, as luck would have it, were part of another beer-and-bike organization: the Capital Brewery Bike Club.
Boasting a membership of over 400 cyclists, from beginner to advanced, Capital's club meets at the company's Middleton headquarters for evening rides every Tuesday, Wednesday and Thursday between the last and first snowfalls of the year, give or take a week or two.
Founded in 2009 by Capital Brewery president Scott Wiener and director Richard King, each ride varies in route and intensity. Shorter and longer options clock at roughly 15 or 25 miles respectively, and riders organize into faster and slower groups so no one gets left out.
Cyndi Pysani, Capital Brewery's director of marketing and special events, has organized the club for five years. She formalized the membership process ($30/year) and connected the group with Bike Fed to offer early-season classes about changing flat tires and bike etiquette.
Capital cyclists partner with charitable events like Trek 100 and the UW Carbone Cancer Center's Roll and Stroll for Pancreas Cancer earlier this month. Pysani said the latter raised $75,000 to help support research. In addition to community building, education and philanthropy, membership in the club earns each rider access to a pig roast at the end of the season.
Those who are more Isthmus-based in their riding (and drinking) might be interested in the Madison Audubon Society's upcoming Birds, Bikes & Brews event on Sept. 29. The annual event has been growing steadily since 2014 when the Society first partnered with Next Door Brewing to act as home base for an all-ages ride around Lake Monona.
Birds, Bikes & Brews is designed to highlight the types of birds in south central Wisconsin the Audubon Society is working to protect. The registration fee ($20 in advance, $30 day of) gets riders a birding checklist, an event pint glass and a free beer at Next Door Brewing Co. after they've made their way around the lake.
According to the Audubon Society's Matt Reetz and Brenna Marsicek, late September is an ideal time to spot birds as they start to migrate south for the winter. Riders can stop at four viewing locations where volunteers with binoculars will point out unique types of feathered friends along the route.
One of the stops is just a few blocks from a nest of American bald eagles. Riders lucky enough to see one can crow about it later at Next Door Brewing Co. over a post-ride frosty glass of Owl Have Another or No Egrets (both actual beer names from previous years).
Winter may soon weed out all but the heartiest of Madison's bikers. But if the end of this cycling season is any indication, next year will bring even more events and organizations pairing local suds and cycling in fun and frothy new ways.
Share your opinion on this topic by sending a letter to the editor to tctvoice@madison.com. Include your full name, hometown and phone number. Your name and town will be published. The phone number is for verification purposes only. Please keep your letter to 250 words or less.
Stay up-to-date on what's happening
Receive the latest in local entertainment news in your inbox weekly!