Matthew Riedel wouldn't think of getting behind the wheel of a car after drinking. But he doesn't think twice about hopping on his bike.
"I use good judgment," said the 31-year-old construction worker recently during a cigarette break outside Mickey's Tavern on Williamson Street, steps away from the Capital City Bike Path. But after a moment of reflection, he added, "But that's what everybody says before they get drunk, so it's hard to say."
Riedel saddles up for the six-mile ride from his south side apartment to the popular Williamson Street bars "at least twice a week," taking advantage of Wisconsin's hands-off attitude toward the mixing of two of its signature cultural traits: biking and beer.
And legally, that's good enough. Wisconsin is one of 29 states that has no law against drinking and biking. Riedel sees that as good policy.
"Otherwise," he said, "somebody's going to say, 'F--- it. I might as well drive if I'm going to get busted for drinking on my bike.'"
With warm nights, street festivals and a vibrant brewpub scene, biking to beer-soaked venues is becoming a summer tradition in Madison. And there's a good chance that among the swarms of late-night bikers are those who ride with blood alcohol concentrations that exceed the legal limit for operating a motor vehicle. Some biking advocates, police officers and even some biking bar patrons have a problem with that. But those who have mixed biking and excess drinking argue that it's safer to straddle a bike than to barrel down the road in two tons of steel when intoxicated.
"It's really only yourself that you're putting into jeopardy, and even that is pretty minimal if you're not acting like an idiot, wearing a helmet and using lights and that sort of thing," said Manny Wagnitz, a 27-year-old bartender who forays out to the bars on his bike two or three nights a week. "I think the chances of hurting yourself are pretty minimal, and the chances of hurting anything else are pretty much nil."
Not everyone who pedals to the bars agrees. Michael Donnelly, a member of the city's Alcohol License Review Committee, said he regularly bikes to bars, but he adheres to the same standard as driving a car: If he's buzzed, he walks home.
"The odds that you're going to harm somebody are a lot lower, but you can still hit somebody on your bike," he said recently while enjoying a beer at One Barrel Brewing on the city's east side.
The increasing popularity of bar hopping by bike is a natural extension of the biking boom that is sweeping America. According to the U.S. Census Bureau's American Community Survey, bicycle commuting has grown by nearly 62 percent between 2000 and 2013. In Madison, more than 4.8 percent of commuter trips are by bike, according to the League of American Bicyclists.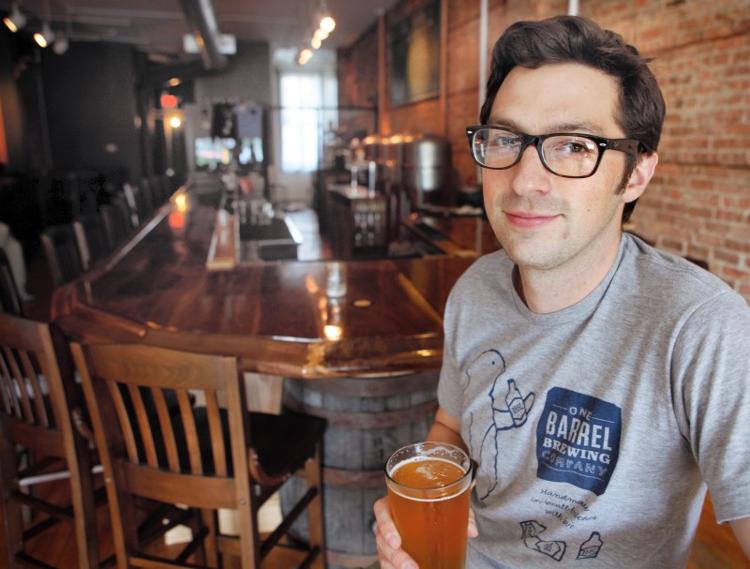 And as more people embrace biking culture, some of those same people are dedicated fans of the growing craft brew scene. That scene is particularly strong on the city's east side where bicycle parking near bars and at street festivals can be hard to find.
"In this neighborhood in particular a lot of people are into that culture," said Peter Gentry, owner of One Barrel Brewing, 2001 Atwood Ave., where bringing in a bike helmet on Thursdays gets you a draft brew for $1.
Gentry stresses that the beers available for a dollar aren't the pub's high-octane specialty ales.
"We certainly don't want anybody doing anything dangerous," he said. "I encourage people to enjoy their beers responsibly. With that said, if you do make a bad decision, you're a lot less likely to put other people in danger."
Still, it's not uncommon for someone to hop on a bike after pushing their blood-alcohol level beyond the legal driving limit. And biking buzzed, of course, is less safe than biking sober. An oft-cited 1997 Johns Hopkins study found that at a .02 alcohol concentration, a cyclist is six times more likely to suffer a serious or fatal injury. At .08 percent, the risk increased 20 fold. The study also found that intoxicated cyclists are less likely to use a helmet and more likely to engage in reckless behavior.
"If you get behind the wheel of an automobile and you've been drinking and you're over the limit, the consequence of your mistake is that someone else might pay the price," said Dave Schlabowske, deputy director of the Bike Federation of Wisconsin. "On a bicycle, you could theoretically be the one to pay the ultimate consequence."
Locally at least, fatalities are rare. In 2000 David Wilson, owner of the former east side restaurant Supreme Pizza, was struck and killed when he tried to cross East Washington Avenue on his bike in heavy traffic. Police said he'd been drinking before the accident.
And in 2001 Ryan Tripke, biking home from the Great Taste of the Midwest beer festival at Olin-Turville Park on the bike path along John Nolen Drive, died after crashing over the rocky embankment that lines the Lake Monona shore.
But examples of less-than-lethal drunken biking mishaps aren't difficult to find. And those responsible for the incidents don't always escape legal consequence.
Madison police don't keep track of bicycle accidents that involve intoxicated cyclists. But using various keyword searches in their records database, they were able to produce some examples of intoxicated bikers who were the victims of their own bad choices.
Among them was a 33-year-old man who was interviewed by police from his hospital bed last spring. The last thing he remembered was leaving Whiskey Jacks Saloon, hopping on his bike and heading up State Street. He had no memory of the abrupt turn he made in front of a Toyota Tundra on East Washington Avenue, which resulted in numerous bruises and cuts to his head and a citation for making an improper left turn.
Then there's the 19-year-old University of Wisconsin-Madison student who in 2013 consumed 10 beers, lost control of his bike on a hill then crashed into the side of a squad car. The misadventure earned him a citation for underage drinking.
But while both of those bikers suffered what might be seen as self-inflicted wounds, not everyone sees blitzed biking as a victimless crime.
"If you ride out into traffic and get hit by a car, what do you do to the person driving that car?" said Madison police officer Chris Masterson, a veteran downtown bike cop. "Because they are a victim now, regardless of whether they were injured or not. They're the one who's struck and killed somebody now. Even if you're not at fault, you're going to feel horrible."
Not to mention, he said, the very real possibility that an erratic biker could cause his or her own brand of mayhem.
"You could cause cars to swerve off the road," Masterson said. "You could cause a lot of problems."
Masterson said for those reasons, he'd consider supporting a law that would hold intoxicated bikers accountable. But he also suspects that the buzzed biking contingent might have a point.
"It could be counterintuitive," he said. "If you made a law saying we're going to write people up for operating while impaired on a bicycle, are you going to just push people to cars?"
For the most part, police practice leniency.
"If someone's too drunk to bike we've convinced people to lock their bikes up and we'll give them a ride home," Masterson said. "We don't want someone to get seriously injured for making bad decisions when they're impaired."
According to the League of American Bicyclists, 21 states and the District of Columbia have laws against tipsy biking. And while they might not be enforced as vigorously as drunk driving laws, there are times when police see fit to invoke them. The penalties can be stiff.
In June, a Hubbard, Ohio, man spent 12 days in jail for drunk biking after police pulled him over. He was also fined $100 and ordered to serve three years probation.
In California, a San Francisco man last year was arrested after he was found unconscious in the middle of the street next to a pink kid's bike he'd been riding. The citation cost him $250.
California also treats drunk biking as a misdemeanor criminal offense, creating a vast dichotomy between that state and Wisconsin, which remains the only state that doesn't prosecute a first drunk driving offense as a crime.
"Isn't that crazy?" said Clayton Griessmeyer, a local attorney who specializes in bicycle injury cases. "Here you can drive your car drunk and not get a criminal conviction, and there you can get a criminal conviction for riding your bike at .09 (blood alcohol content)."
Pennsylvania goes so far as to prosecute drunk cycling as a drunk driving offense, which can include the revocation of a driver's license. But the sanction is so severe that police officers rarely enforce it.
While the intoxicated use of a bicycle is not specifically banned in Wisconsin, it still can have implications in court, especially in determining fault in a bike versus car collision.
According to Griessmeyer, when a biker is taken to a hospital with a significant injury, hospital personnel usually draw and test blood. If toxicology tests indicate that the biker had been drinking, an otherwise open-and-shut case might get complicated.
"Chances are then that the driver's insurance company, assuming the driver's at fault, would see those records and they would consider it a helpful issue to them that the cyclist was drinking or if they were over the limit," he said. "If someone was drunk it would probably be relevant, and it would become an issue for sure."
But it's probably not an issue people think about before walking from bar to bike. In fact, said Griessmeyer, most of those who bike buzzed do so despite thinking, mistakenly, that it's illegal.
"I don't think (the lack of a drunken biking law) encourages them because I think most people don't even know," he said. "A lot of times I get that question from people, 'Can you get a DUI on a bike?' And most people actually think they can."
While Gov. Scott Walker and the Republican-led state Legislature have exhibited a marked anti-biking bias — proposals include defunding bike infrastructure projects and banning municipalities from painting bike boxes at intersections — no one has proposed any measure to put the hammer down on drunken biking. And there's little expectation that they will.
"That will never happen in Wisconsin," said Schlabowske of the Bicycle Federation. "I don't know if you've had any legislator run down the top lobbying groups in terms of strength and influence in Madison. I can tell you the Tavern League is in the top three."
The Tavern League of Wisconsin is a key force in heading off laws that might present obstacles to bar traffic. Some credit the group with preventing the state from stiffening the penalties against first-time drunk drivers, a proposition that has been repeatedly shot down in the Legislature.
Tavern League executive director Pete Madland said of using a bicycle as an alternative to a car, "I suppose some would argue that's a responsible thing to do, in rural areas especially when there's no mass transportation."
But he said he wouldn't comment on what position the Tavern League's board of directors might take on the issue unless such a law is actually proposed.
Some bike advocates don't see laws against biking drunk as a bad thing. Groups like the League of American Bicyclists have spent years trying to give bicycles the same status as motor vehicles in terms of road rights. And cyclists who claim a special dispensation for operating while intoxicated don't help the cause.
"Our mantra is that we're a vehicle," said Andy Clarke, president of the League of American Bicyclists. "We have the same rights and responsibilities as vehicle operators. So you should no more be drinking and cycling than you should be drinking and driving. You should no more be texting and cycling than you should be texting and driving."
So when it comes to drunk biking, Clarke said, bikes should be held to the same standard in terms of the rules, although the punishment should be realistic.
"A $25 ticket that's actually enforced is probably more impactful than a $217 ticket that's never enforced because it's not considered fair or equitable," he said. "I think there's a good argument to be made to make sure that sentencing is appropriate to the impact that one could have with different vehicles."
Schlabowske said his organization's position is simple: "Don't get drunk and ride your bike."
He has participated in his share of bike pub crawls. He even founded the Santa Cycle Rampage in Milwaukee a few years back, a winter biking event that has since fanned out to other cities.
"They're great rides," he said. "They bring out a lot of people and everyone enjoys them."
Because the Bike Fed can't insure such events, it doesn't sponsor them. But Schlabowske said the cycling community is generally a responsible group.
"Pub crawls are fine, but people have got to be adult about it," he said. "Just like going to a Brewers game or anything else where alcohol's being served, you can't have a shot and a beer in every bar if you're going to four bars in three hours."
While bike pub crawls have become common nationwide, they have a special place in Wisconsin, where beer is woven into the fabric of nearly every pastime.
"Having lived in California, people definitely drink more here," said Griessmeyer, the bike lawyer. "It's kind of like everything you go to involves drinking here."
In Madison, bike pub crawls most often consist of small groups trolling the extensive bike path system, located near dozens of bars.
"Most of my stomping grounds are right on the paths," said Wagnitz, the bartender. "And that is tremendously helpful, to live in a city like Madison that has that infrastructure."
Fern Schultz, a 33-year-old restaurant employee, said she doesn't bike while intoxicated. But she feels that the city's bike paths provide a safety net for those who do by minimizing the interaction with cars.
Schultz, nursing a beer recently at Mickey's, her bike helmet affixed to her belt loop, said the biking and beer culture that's so prevalent in the state has been distilled into a defining characteristic of her east side neighborhood. And the bike paths are a big part of that.
"Madison is so well equipped with bike trails that there's not as many safety concerns," she said. "That's part of the beauty of Madison."
Riedel, the south side construction worker, is also bullish on the bike paths, which make it easier for him to frequent the city's east side bars he prefers without posing a danger to himself or anyone else.
"You should really push it" as an alternative to drunken driving, he said. "If somebody wants to go to bars on their bike, it should be encouraged and not in any way discouraged."