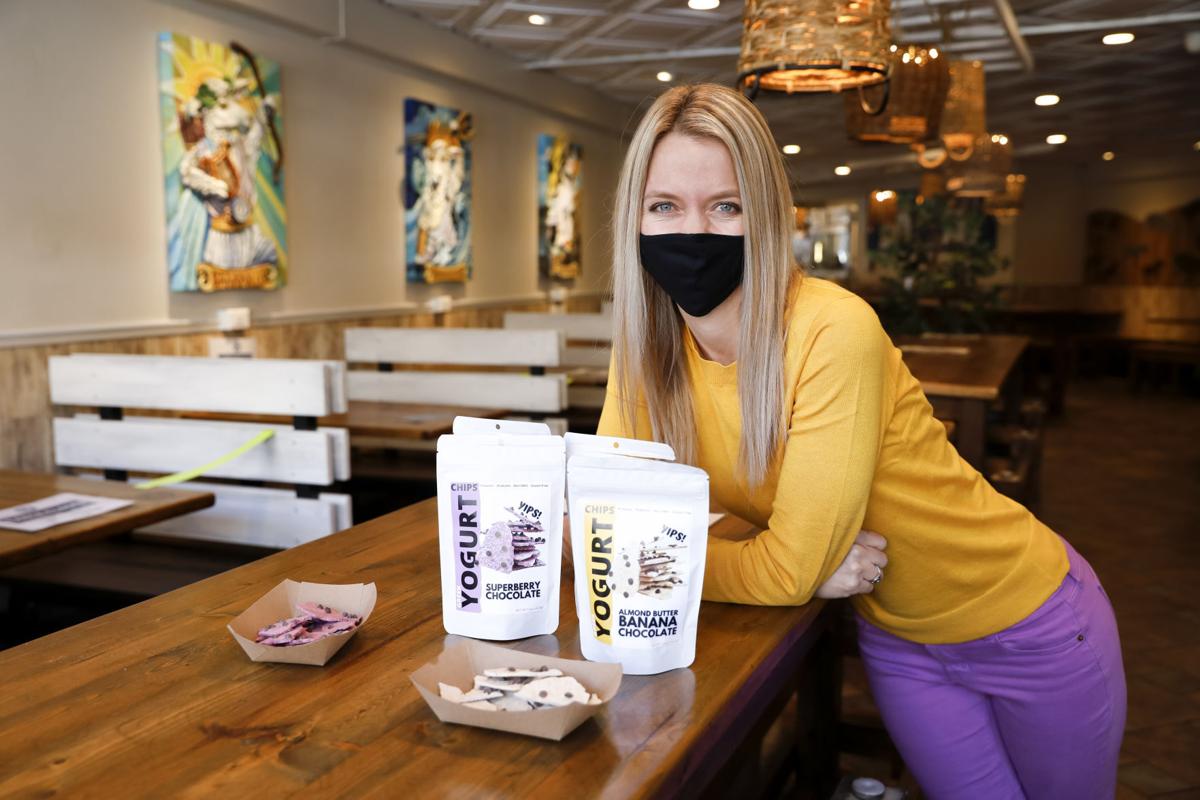 For almost 50 years, Parthenon Gyros has been a Greek cuisine staple on State Street. It claims to be the first restaurant to bring Greece's signature meat sandwich wrap to Wisconsin in 1972. Now, Parthenon is introducing Wisconsin to another first with Yips Yogurt Chips.
"Imagine a bowl of Greek yogurt with all your favorite toppings, all packed into a chip," said Erin Vranas, co-owner of Parthenon and Yips founder or, as she puts it, "head Yipster." "It's a sweet, crunchy, guilt-free snack."
Vranas owns Parthenon with husband Dimitri Vranas, whose family has run the restaurant for three generations. Vranas met her husband at Parthenon while studying at the University of Wisconsin-Madison in 2006 and started working at the restaurant in 2010. Vranas and her husband bought the restaurant from Dimitri's parents in 2017. 
A massive remodel put their own spin on Parthenon, adding a "playful and fun and witty and loud and quirky," voice, as Vranas said, to the restaurant's branding. There's now art of animals in togas and hordes of miniature Blue Man Group-esque statues along the walls.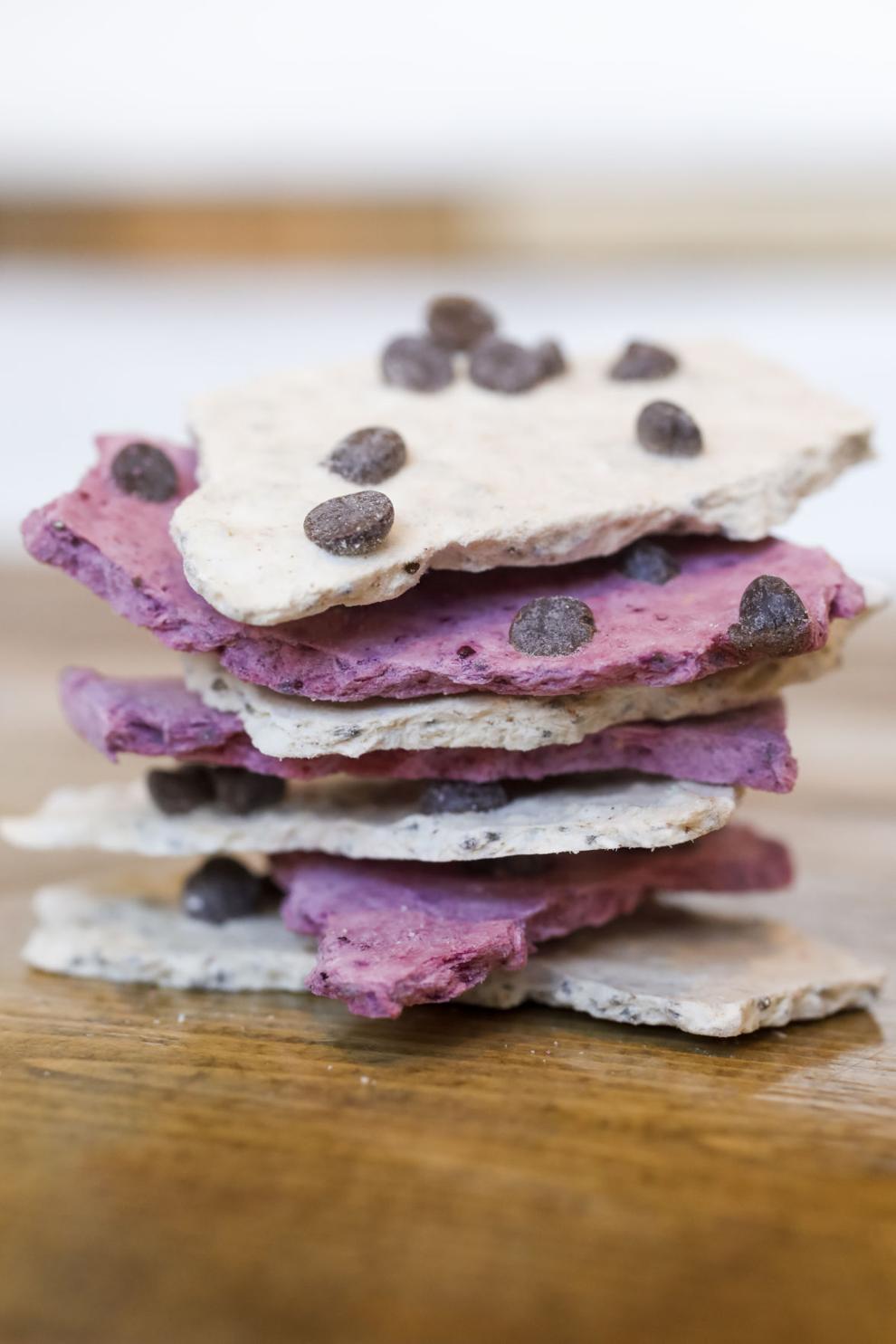 Yips yogurt chips are another twist on tradition that Vranas brings to the restaurant. Parthenon has been making its own cultured-milk Greek yogurt for both stand-alone orders or as the base for their popular tzatziki sauce.
"We're really good at Greek yogurt and, not to toot my horn, but I make really good Greek yogurt bowls, which is where the idea for Yips came from," said Vranas. "Last spring, I was taking business classes at the UW. I'd wake up super early, go take classes for several hours, then come here to Parthenon and work all day.
"I really wanted a healthy snack to get me through, but what I was finding is that the options are either junk food, or junk food disguised as a healthy snack. And it just wasn't what I was looking for. So I decided to create it."
While the yogurt chips aren't made with yogurt directly from Parthenon, it is made the same way: purely milk and cultures.
"A lot of yogurts that you look at, you might see that it has some sort of preservative or it might have some sort of a thickening agent," said Vranas, a self-pronounced Greek yogurt geek. "What we wanted to do with our yogurt and with this new product is have a very clean label where you know exactly what you're putting in your body and can pronounce all of the ingredients."
The gluten-free Yips currently has two chocolate-chipped flavors ($11.98 for two packs, $35.94 for six packs) available for in-store ordering and online purchase: superberry chocolate, made with strawberries, blueberries, raspberries and acai; and almond butter banana chocolate. Both Yips also include chia seeds, honey, unsweetened chocolate, cane sugar and Himalayan pink salt.
While the superberry has been the front-runner in sales, attracting those with an affinity for fruity flavors, Vranas prefers the almond butter banana's more savory flavor. Though they buy the yogurt base through a distributor, the Yips themselves are made at Parthenon.
"We mix all the ingredients here and we have a really unique drying process that uses cold and a vacuum chamber to remove all of the yogurt's moisture from a frozen state into a vapor state," said Vranas. "Which makes the chips really light and airy since about half of the weight has been removed."
Vranas adds that's also why the chips are "so shelf-stable," and last up to six months in a properly sealed bag, three days once the bag has been opened, with all the nutrients preserved.
"It took hundreds of trials and playing with the recipe for almost nine months to get it right," said Vranas. "But in the last three months it's really come together. That's when we started honing in and getting samples out to people, having them fill out surveys and taking all of that input and then tweaked the chips even more."
Parthenon officially began selling Yips the first week of February this year and launched online ordering just last week. Yips is also slated to be sold in eleven Foxtrot Markets in Chicago, DC and Dallas, as well as three of Madison's Metcalfe's and listed on Christine's Kitchens' website.
"We really wanted to start in Madison because people here know Parthenon," said Vranas. "This is our community and they know our rotation and that we care and we do a good job with our food. But it's also where our hearts have been for 50 years. So if we're going to expand this brand, this is where we'd like to start."
Vranas hopes Yips can bring health and efficiency to those running ragged with schedules like her own.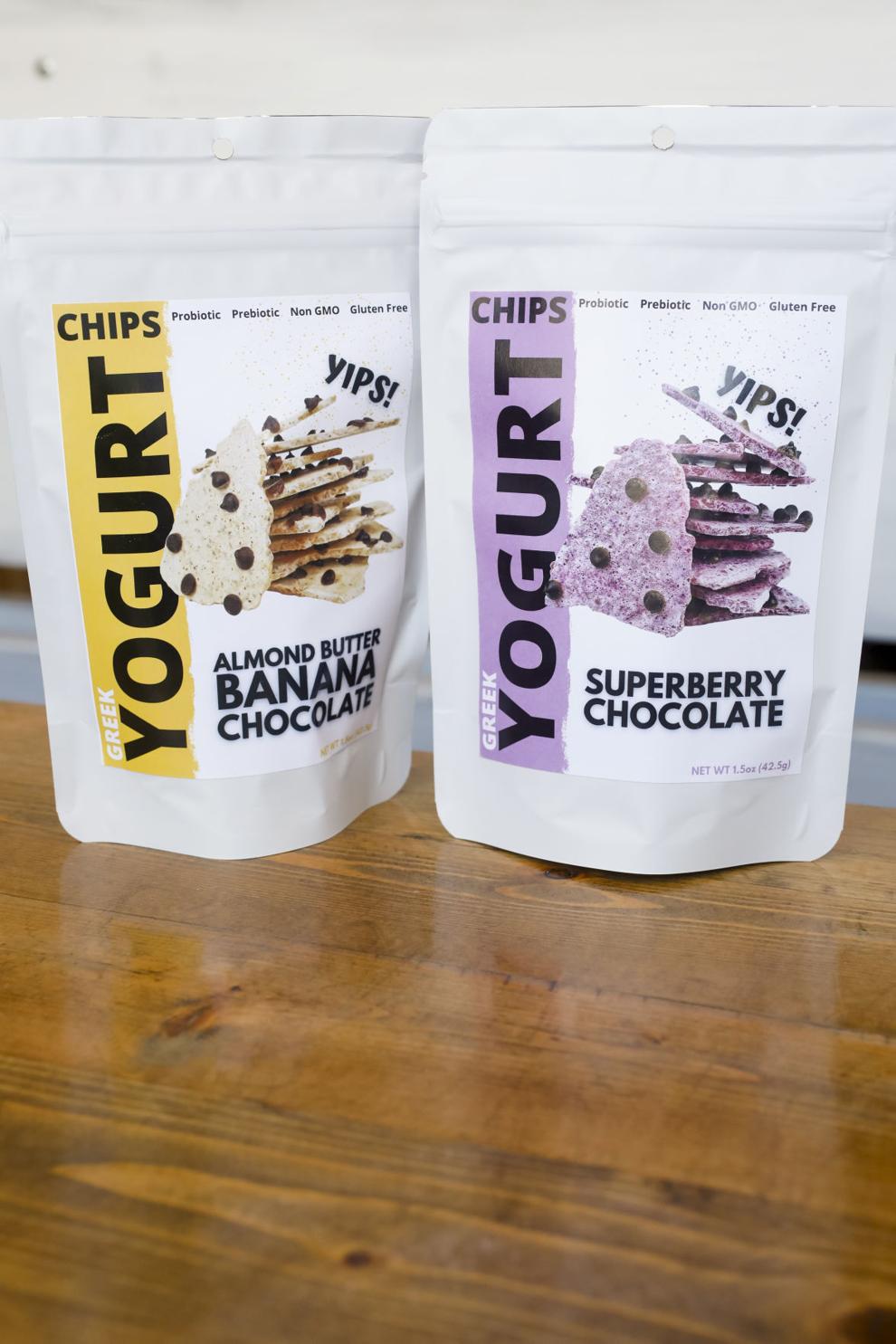 "We are targeting people with on-the-go lifestyles and who are health-conscious," said Vranas, a former competitive figure skater. "It may be that you're into sports or it may be that you are a millennial mom, who is running her kids all over the place, and an executive at the exact same time.
"My biggest thing is that I really wanted to carry this Greek yogurt bowl with me, but I can't fit a fridge in my bag," she added.
Vranas also hopes Yips reminds people of the bonds made over sharing food, safely, during a pandemic.
"That's what food does, and how it's always been used," said Vranas, who is currently working on developing more flavors. "Especially in the Mediterranean, in Greece. Food is a vehicle to get people to come together. If I've got a beautiful yogurt bowl in front of me with all my favorite toppings, especially these days, I'm not going to share my spoon. But you can open up a pack of Yips, and you can share it. It's a fun light in a time that can seem pretty dark."