FOOD & DRINK
After disaster: When a restaurant suffers a catastrophe, the road to recovery is complicated and public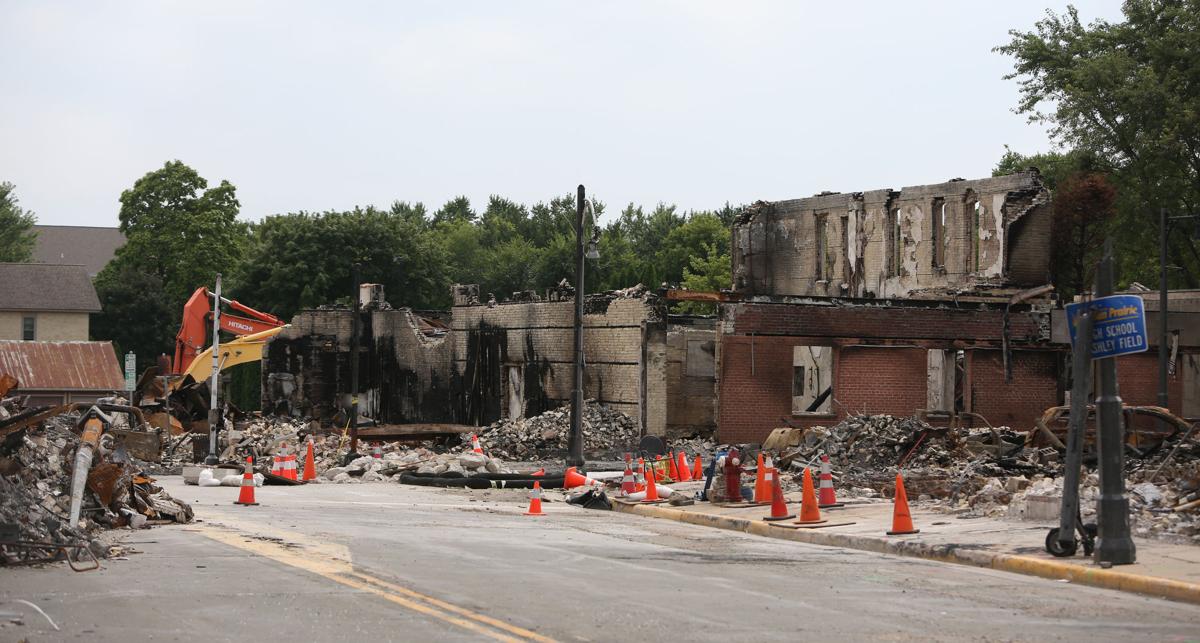 The Tuesday night dinner rush was already starting when Adam Bougie got a call from one of his employees at the Glass Nickel Pizza Co. in Sun Prairie.
There'd been a gas leak, the employee said. The street was being evacuated.
Bougie, who owns the pizzeria and the building at 101 W. Main St., lives half a mile away. He was at the restaurant within minutes.  
"I wanted to get telephone numbers for deliveries that were still in the oven or waiting to get delivered," Bougie said. "Obviously they weren't going to let me in."
Less than half an hour later, Bougie was standing on Lane Street when he saw, heard and felt the explosion that leveled the Barr House, took the life of a local firefighter and destroyed the building where Bougie had worked for nearly 14 years.
"When my building really started on fire and I could see flames start coming out the windows, I'd had enough," Bougie said. "I didn't really feel the need to watch it burn to the ground."
Bougie's was one of many businesses affected on July 10 by a massive explosion. A portion of downtown Sun Prairie is still fenced off and asbestos and lead were found in the debris, which complicates cleanup. Nine of the impacted businesses served food, drink or both.
A disaster can happen to any business. A car crashes through the front door of a housing nonprofit. An electrical fire takes out an interior design company. A burst pipe floods a newspaper office.
But when problems like these affect a restaurant, particularly a busy one that everyone loves, it's big news. Concerned diners may start crowdfunding campaigns for a favorite café or chocolate shop, only to be surprised at some negative reactions. Restaurants have insurance like any private business, some say, so why do they need additional support?
Behind the scenes, food businesses experiencing a major crisis wrestle with different complications than a chamber of commerce or a craft shop.
"You can't sell anything. You're closed down," said Tera Johnson, founder of the Food Finance Institute. "Are you going to have funds coming in to keep the business afloat? In the meantime, other restaurants around you got your customers and it's hard to get them back."
Food spoils quickly. Margins are tight. Employees need their lost wages covered. To add to the stress, no one can say when the ordeal will be over.
"There's no known timeline," said Brian Greenwold of Avid Risk Solutions, an independent insurance agency in Middleton. "Everything is different, every city is different with different ordinances and permits."
"It takes profound resilience to survive one of these things," Johnson said. "A lot of people would give up at the scope of the problems."
Business, interrupted
With a major disaster like a fire, a car crash or flood, restaurants have a particular set of complications to address. And because they rely on daily engagement with diners, they handle those complications in a sustained public way.
On Feb. 25, a few hours after an electrical failure sparked flames in the basement of 2004 Atwood Ave., the first post appeared on a near east side Madison Facebook group.
"I think the Chocolaterian is on fire," an observer wrote. Neighbors quickly began sharing photos of smoke pouring through the windows of the two-story building and ladder trucks on the scene.
"I got there 15, 20 minutes after the phone call. There were flames shooting out of the roof," said Leanne Cordisco, who shared ownership of the Atwood Chocolaterian with Alex Aulisi. (Aulisi has since stepped down as managing partner.)
"My first thought was, 'Oh my god, I'm bankrupt.'"
Chocolaterian Cafe, other tenants damaged from 'significant fire' at #Madison building https://t.co/otZrqkjaxQ --> pic.twitter.com/JqGoKV6aCx

— Go Madison (@GoMadisonWI) February 26, 2018
Chocolaterian had been open on Atwood since 2012 and gained a following, but Cordisco was in a particularly vulnerable time for her business. She'd invested in a new location in Middleton that had opened just eight months prior, a stressful project with its own set of delays.
Before that, in February 2017, an espresso machine at the Atwood location leaked overnight, "like leaving a faucet on," Cordisco said. It flooded so much that when a manager opened the shop on a Sunday morning, "water poured out like in a Bugs Bunny cartoon."
In the course of doing repairs, contractors found asbestos in the floor. Chocolaterian-Atwood was forced to close for three weeks that summer.
All of those things were fresh in her mind that day in February as the former Schenk-Huegel building belched smoke.
"In the first year, the number one thing that can kill a business is cash flow," Cordisco said. "Do you have enough money coming in to cover the bills going out? Something like that (flood) takes all your free cash."
A friend set up a crowdfunding campaign on GoFundMe that raised more than $23,500, but Cordisco was initially uncomfortable with it. She wasn't sure if the Atwood café would be able to return. Taking money from patrons felt like a promise.
Chocolaterian's challenge was compounded by the presence of another, related business: Christine's Gourmet Toffee. Packaging for the toffee, including a display box and individual toffee bags, was damaged by water and smoke.
If production moved to Middleton, the labels themselves would have to be changed and reprinted because the toffee is sold over state lines and federal law requires the location of production to be accurate. To get her bulk costs down so the pricing works, Cordisco would have to spend nearly $40,000, cash she doesn't have right now.
And the bills keep coming. She still has to pay for utilities in the space where her east side café used to be. She's tried to save anywhere she can.
"When the fire happened, I went back into the old days of ... conserve cash, tighten labor, tighten costs of goods sold," Cordisco said. "I asked all our vendors for extended terms. We pulled invoices we'd been paying and found free shipping on Amazon Prime.
"With all those things combined, we were able to ride out the storm of 60, 90 days without an insurance payout."
For now, Cordisco has decided to focus on the nearly two dozen employees in Middleton, some of whom came over from the Atwood store.
"Business owners, when they go through this kind of catastrophic loss, it's a little like death," Cordisco said. "Long term planning for me right now is six months. I'm still mourning the loss of Atwood."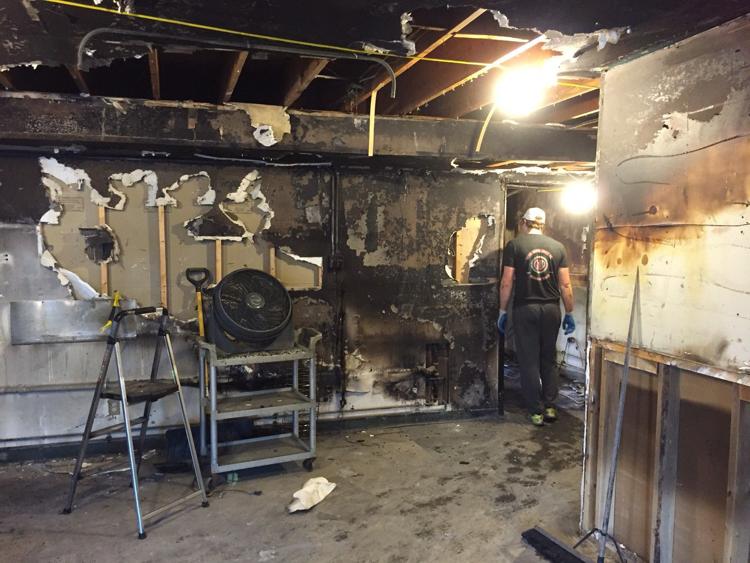 Like Cordisco, co-owner Noel Johnson was asleep when the call came that her restaurant was on fire. A pile of rags left in a dryer at Glass Nickel Pizza at 5003 University Ave. still had enough grease in them to spontaneously combust in the warm, dry air. (Editor's note: Noel Johnson is married to Cap Times news editor Jason Joyce.)
"Initially, the outside didn't burn down," Johnson said, remembering the fire in February 2016. "We're part of a strip mall, and the outside of the business was still standing. We lost everything inside, but the initial report was the damage wasn't too bad, maybe $200,000."
Soon though, Johnson and co-owners Katie Bracey and Neil Spath learned the space was a total loss, from floor to drywall.
Glass Nickel had been in the same spot since 1999, and by 2016 the owners were actively looking for a larger location. When the fire happened, staying suddenly seemed both easier and a smarter move financially.
"The reason to stay at the same spot after a disaster is you know how everything fits in the space," Johnson said. "You have not much time and 50 employees you need to get back to work. Not having the income come in was very scary."
Glass Nickel's owners began digging up invoices and receipts to prove their numbers to their insurance company. An architect drew up plans for reconstruction, including some improvements they'd long wanted to make.
Insurance is designed to make the business owner "whole" again, not to accommodate changes. On top of a final claim of more than $700,000, Glass Nickel owners spent an additional $30,000 on improvements after the fire, moving the front counter and redesigning the dish room.
Thankfully, after the space was declared a loss, the insurance company did pay out some of the claim in advance. Glass Nickel used those funds to pay the most pressing bills.
"We were running out of money and needing to pay invoices from a month ago," Johnson said. "We have health insurance for employees and we kept the insurance while we were down so nobody had a lapse in coverage."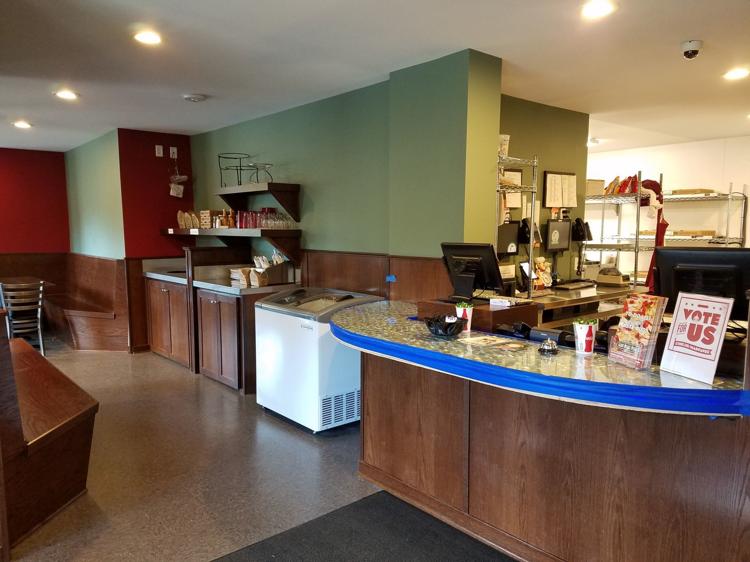 Like at the west side Glass Nickel, the cause of the Underground Kitchen fire at East Mifflin and North Webster streets in summer 2011 was presumed to be greasy rags. (The reason is still officially undetermined according to the Madison Fire Department's report.)
Unlike Glass Nickel's insurance the company Underground worked with fought their claims, according to co-owner Jonny Hunter. It took lawyers, fees and a year-and-a-half of waiting for Underground Food Collective, the owners of Underground Kitchen, to receive final payments.
"We built that restaurant ourselves," Hunter said. "It wasn't like we hired contractors. Everything in that restaurant, we found and sourced. It's hard to estimate that ... It was hundreds of thousands of dollars of loss."
Restaurants run on tight margins and may not have ready cash flow to continue to pay debtors, vendors and utilities while they're closed. Because liability insurance can be costly, many are underinsured.
Brian White, a representative from Nationwide Insurance, said seven out of 10 small business owners either don't have or aren't sure if they have business interruption coverage.
For Underground Kitchen, actual losses from business interruption took a very long time to figure out, and the fire had left 30 employees without work.
"We're well connected in the Madison community, so we could help people find work," Hunter said. "Everything was in limbo. We didn't know what was going on with the building."
The collective soon decided to cut its losses and walk away. Some employees took catering jobs with Underground or moved to the sausage making business, Underground Meats. In 2012, the group opened Forequarter and Underground Butcher in new locations.
Underground's fire happened before the popularity of online crowdfunding platforms, but Hunter recalled a benefit at Graze that helped.
"People really helped support us," Hunter said. "It was hard to explain to our vendors, 'We're waiting on insurance money, it's not that we don't want to pay you.'"
Don't fund me
Until recently, the 9-year-old Southeast Asian restaurant Ha Long Bay had a big, bright front window. Among light fixtures shaped like pagodas and a smiling Buddha statue, a trio of tables offered street views of passersby.
That window is boarded up now, and has been all summer. On a Friday afternoon in early May, a 68-year-old man drove a silver Jeep Cherokee through the side of the building, shattering the window and spraying bricks and glass onto diners. (No one was seriously injured.)
Ha Long Bay owner Jean Tran was in the basement when it happened and said it sounded like the ceiling had collapsed. She still has nightmares about it.
"When I go to sleep now I'm thinking, 'When I reopen, will it happen again? Is someone going to get hurt?'" Tran said. "I want to talk to the city. Is there anything we can (do to) prevent it happening again?"
The city immediately shut off power to the restaurant, which meant Tran and her team had little time to rescue produce they'd stocked up on for graduation weekend.
Tran gathered 10 family members and other staffers and donated food to friends at Rising Sons Deli, Sala Thai, and a brother-in-law with a restaurant in Hartford. She gave beer and wine to family members with graduation parties.
"We do have insurance to cover the food costs but they have maximums," Tran said. "I know I lost more than that, a lot more. If we'd opened in two weeks, a lot of it I would not have lost, like dry food. But now everything has to go. After three months, you cannot use (it)."
Ha Long Bay hopes to open in the next week or two after approvals from the city. Renovation has cost more and taken longer than Tran anticipated.
She bought a new exhaust hood for the kitchen, only to have it stolen from behind the business after it was dropped off.  The age of the building at 1353 Williamson St. — it was built in 1929 — meant that structural repairs had to be approved by the Landmarks Commission. That led to more delays.
Tran has been grateful for community support, even support she didn't accept. Two days after the crash, a woman from the neighborhood started a crowdfunding campaign for Ha Long Bay. Tran quickly asked the woman to shut it down and refund donors.
"A lot of my local customers, the neighborhood, they wanted to do fundraising for us," Tran said. "I tell them that I appreciate it, but we have good insurance, we don't want to take the funds. Leave that fund for someone that needs it more than us.
"We're OK. I don't want to take the money we don't need."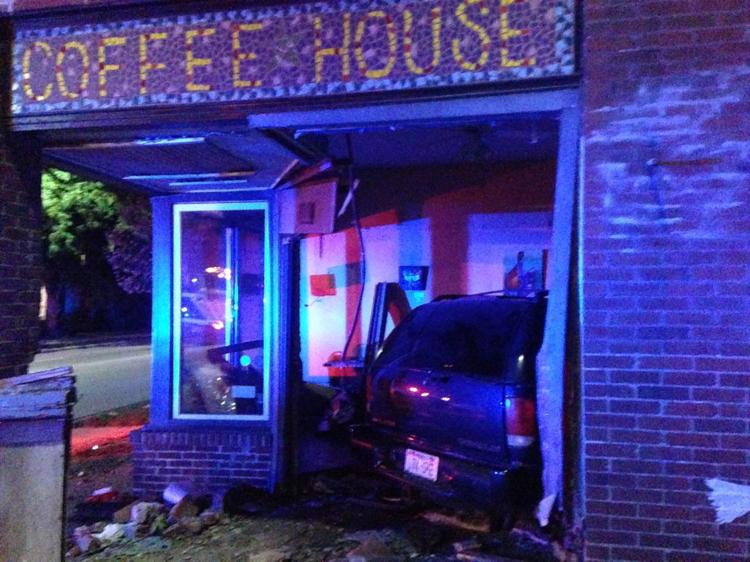 Down the street, Jon Hain and Stephanie Rearick, co-owners of Mother Fool's Coffeehouse at 1101 Williamson St., did need support when a similar situation struck.
In the early morning hours of Sunday, Aug. 21, 2016, Mother Fool's "became a drive in," as Rearick wryly joked in the café's GoFundMe pitch. A drunk driver in a van hit an SUV, which itself crashed into the shop's mosaic-edged window.
Hain had been in Minneapolis at a concert. When he got back and saw the shattered glass and wrecked mural, he was sure the café was over.
"I was convinced we were out of business," Hain said. "Sunday is generally our biggest day of the week. We had payroll that Wednesday that, without the revenue of Sunday, we couldn't meet."
Low sales, a side effect of construction on nearby Jenifer Street, had already made it a tough summer for the café. All they had, Hain said, was general liability insurance.
So Rearick posted the campaign, and friends and neighbors rallied. Crowdfunding raised $15,300, half again as much as the $10,000 Rearick had asked for.
Combining crowdfunding and insurance, Mother Fool's was able to replace furniture, redo the floors where gasoline had spilled and hire mosaic artist Laurel True to make a new façade. It was the third since Mother Fool's opened, due to a less severe hit-and-run a few years before.  
Perhaps most importantly, Hain and Rearick were able pay employees so they wouldn't have to find new jobs while the shop was closed.
"My accountant said, do anything you can to retain your staff," Hain said. "If they all go and get other jobs, you're going to work really hard and rebuild your building and have no institutional knowledge to run the business."
Tera Johnson, the Food Finance Institute founder, advises entrepreneurs about challenges like this. She knows margins are notoriously tight, but she tells entrepreneurs that insurance, a lot of it, is "part of the cost of doing business."
"There are so many problems with the GoFundMe campaigns people do," Johnson said. "They're like, 'Well, if something happens, I can do a GoFundMe campaign.' That might help for three weeks, but not if you can't be in there for another year."
What Johnson tells restaurant owners about insurance is "you're going to need way more than you thought."
In the case of a catastrophic event, "you're not running a GoFundMe campaign for a month of salaries," she said. "The interruption is bigger than that, and that's what entrepreneurs miss."
Patrick DePula, owner of Salvatore's Tomato Pies in Sun Prairie, felt conflicted about setting up a GoFundMe after the gas explosion.
The business has insurance. The building at 121 E. Main St. is still standing, despite being trapped within the city's "hot zone" for days while the seafood rotted in the fridges and dough balls bloomed red with mold.
"Usually we are the ones who are donating," DePula said. "It felt kind of uncomfortable."
When he and another restaurateur launched simultaneous GoFundMe campaigns for Salvatore's three days after the explosion, payroll was fast approaching. Insurance checks hadn't come, and Sal's cash flow was still recovering from a plumbing accident in May that required it to close for two weeks of lunches while contractors worked in the building.
DePula estimated that the difference between what his insurance will likely cover and Salvatore's actual losses could be between $9,000 and $13,000. He lost thousands of dollars in food, from fresh octopus and cod to stocks, frozen fruit purees and pickled ramps made months ago.
As cleanup began, DePula had 35 employees "sitting idle, that don't know what's going on," he said. "And you're telling them cash tips aren't covered under insurance, but that's part of what they make."
The two crowdfunding campaigns raised more than $11,000, and Salvatore's reopened on Aug. 1 for dinner service. Four days after the blast, staff from Sal's, Glass Nickel in Sun Prairie and the Oaks Golf Course pulled together to cater firefighter Cory Barr's funeral.
Unexpected education
After they heard no one was critically injured in an early morning crash at their tiny east side bakery, Susan Detering's team at Batch Bakehouse got to work.
"My business partner Lauren Carter said, 'No, this will not stop us,'" Detering said, recalling the day after the 2012 crash. "We put the dough sheeter in the retail area, moved the retail case three feet closer to the door and re-opened in four days.
"It was insanity. It was a testament to Lauren's will that we weren't going to be stopped."
Batch, then located at 1511 Williamson St. where Banzo Shük's catering kitchen is now, was just three years old at the time of the crash. The owners were worried that a closure, even a relatively short one, "could be fatal."
"The greatest fear was people were going to see this public safety barricade and think our business is closed, and they're never going to come back," Detering said. "We made signs: 'Get Your Buns In Here!' We were hanging anything on those construction barriers. We needed the revenue.
"There's this perception from consumers that because you're busy and you have a line, you're printing money," Detering added. "I don't think anyone realizes how tight the margins are in food."
That's why White from Nationwide calls business interruption coverage essential for restaurants in particular. Expenses don't stop, he said.
"We see a lot of restaurant failure within the first one to three years," White said. "Being able to insure that gap is critical.
"It's critical for the business owner to reduce the amount of time they're not in operation. They want to get customers walking through the doors as soon as they can."
Well that doesn't seem great for the Old Fashioned 😬 pic.twitter.com/bwJxtVUch7

— Nate Leggitt (@NateLeggitt) June 8, 2018
When The Old Fashioned in downtown Madison had a fire in its kitchen on June 8, owner Tami Lax pushed for a similar turnaround.
Just before dinner service a fire started in the Old Fashioned kitchen in a hood over a wood-burning element. The fire suppression spray nozzles kicked in and should have taken care of it, but they sprayed in the wrong direction.
The fire was the second crisis of the year at Lax's two businesses. On March 2, a broken pipe flooded the offices of Harvest and The Old Fashioned, wrecking the point of sale (POS) system and hard drives. The restaurants share some space at 21 and 23 N. Pinckney St., and Lax owns both.
As the smoke billowed out of the ceiling in June, the fire department got onto the roof and used a chainsaw to cut holes in the building, Lax recalled.
Putting out the fire "brought gallons and gallons of water into the building that then flooded our kitchen, our prep kitchen downstairs," Lax said. "There was a lot of smoke damage in Harvest. My wine room was completely under water and foam ... when they use that chemical, you have to dispose of everything."
Despite this, general manager Jennifer DeBolt, the team at the The Old Fashioned and cleaners from Servpro had the restaurant back open by the following Monday.
"A lot of people in restaurants are living paycheck to paycheck," Lax said. "Even a one-week interruption is devastating."
Does one disaster prepare you for another? Lax doesn't think so.
"I don't think you could prepare for it," she said. "I really don't.  ... It's more mental strength than physical strength that gets you through this. You lose nights and nights of sleep. I don't wish it on my worst enemy."
It's been two months since the fire. The final insurance checks have not arrived.
When Mike Ding opened Tavernakaya with his business partner, Kai Kuo, he already had one restaurant disaster on his resume.
Ding owns Umami Ramen & Dumpling Bar in a converted house on Williamson Street. Shortly after it opened in 2011, the owners discovered that what they thought was a "fire-rated wall" was not.
"A stockpot was kind of close to the wall, which had stainless steel on it but the back started smoldering," Ding said. "Then one day it just caught on fire. We were shut down for 10 days while we got it repaired."
Tavernakaya also didn't have much time open before it was forced to shut its doors. On a freezing day in December 2015, a pipe burst in the ceiling and flooded the restaurant, wrecking the brand new floors. They'd barely been open a month.
"We were trying to catch water with buckets and bus tubs, garbage cans," Ding said. "We have those (floor-to-ceiling) windows in the front of the restaurant. We opened that up and squeegeed, pushed out all the water from the restaurant onto the sidewalk.
"Then it iced over, and we had to stand outside and tell people not to walk because they would slip. We were pouring salt over that front area, setting up cones."
It was a mess. The new izakaya at 27 E. Main St. was closed for three weeks to rip out the floors and replace them.
Ding tried to look on the bright side. Management got extra time for training, and he's always preferred to be "overinsured." He would come out alright.
It was a disappointing start to the business, though.
"You have the momentum and then all of a sudden it's gone," Ding said. "It was frustrating ... but you have to roll with the punches. In the restaurant business, you're putting out fires all day. 
"It's just a bigger fire than usual."
Back to business
With a disaster as big as the one in Sun Prairie, business owners have found a variety of ways to keep going.
Dan and Elizabeth Donoghue, owners of The Chocolate Caper at 107 N. Bristol St. have moved operations to their flagship store in Oregon.
Dan was able to go back into the store, still in a "hot zone" behind a metal fence, on July 27 more than two weeks after the blast. The window was shattered and there was debris piled outside the building. Inside, though, he was astonished to find the display case in pristine condition.
"The display case looked like you could put it out in a store and they would be ready to sell," he said.
"We expected it to be a melted puddle," Elizabeth said. "But that case really does keep temperature, whether it's on or off!"
The Donoghues lost more than half their business for the year since there's no way they can be open in time for the holidays. They hope to be back in Sun Prairie in time for the Valentine's Day candy rush.
"We really can't start double production without knowing for sure we'll have someplace to take the extra product," Elizabeth said. "We'd been in that space for eight months."
Tom Hebl's building at 105 E. Main St. is also in the Sun Prairie hot zone. Francesco Mora and Adriana Perez, owners of the Mexican grocery and taqueria Abarrotes El Primo on the lower level, were able to go in and dispose of spoiled meat, but not much more.
"I've been in once with a fireman with a flashlight," said Hebl, who said his family has owned the building since 1936. "We would like to rebuild there. The restaurant and grocery store are a fantastic business. They were setting tables and chairs out front, people liked that a lot.
"(Mora) would like it back. He stops in or calls almost every day, wondering what's new."
Bougie has been scoping alternate locations to keep Glass Nickel in Sun Prairie, even while his building is being rebuilt. He's hoping to open a carry-out and delivery-only pizzeria in the next couple of months. Eventually he could move his new equipment into a permanent space, hopefully at or near where he'd been before.
"I have history with the downtown," Bougie said. "I'm vice chair of the BID (business improvement district). The downtown means a lot to me, and I've spent a lot of my volunteer time advocating for a good spot for businesses, trying to keep it relevant."
Perhaps ironically, Bougie is better off today because of the other Glass Nickel fire in 2016. That's when Bougie added business interruption insurance to his own policy, which covers wages for all employees for two months and his full-time staff for a year. It will even cover advertising costs for a new location.
"After what happened to them, I learned what I should do to protect myself," Bougie said. "It hit close to home when people that were close to me were going through it. I made sure if something similar happened to me, I would be covered."
Some days after the explosion, Bougie went downtown and watched a front-end loader grab Glass Nickel's fireproof safe out of the rubble. Incredibly, the bags of cash inside were relatively undamaged.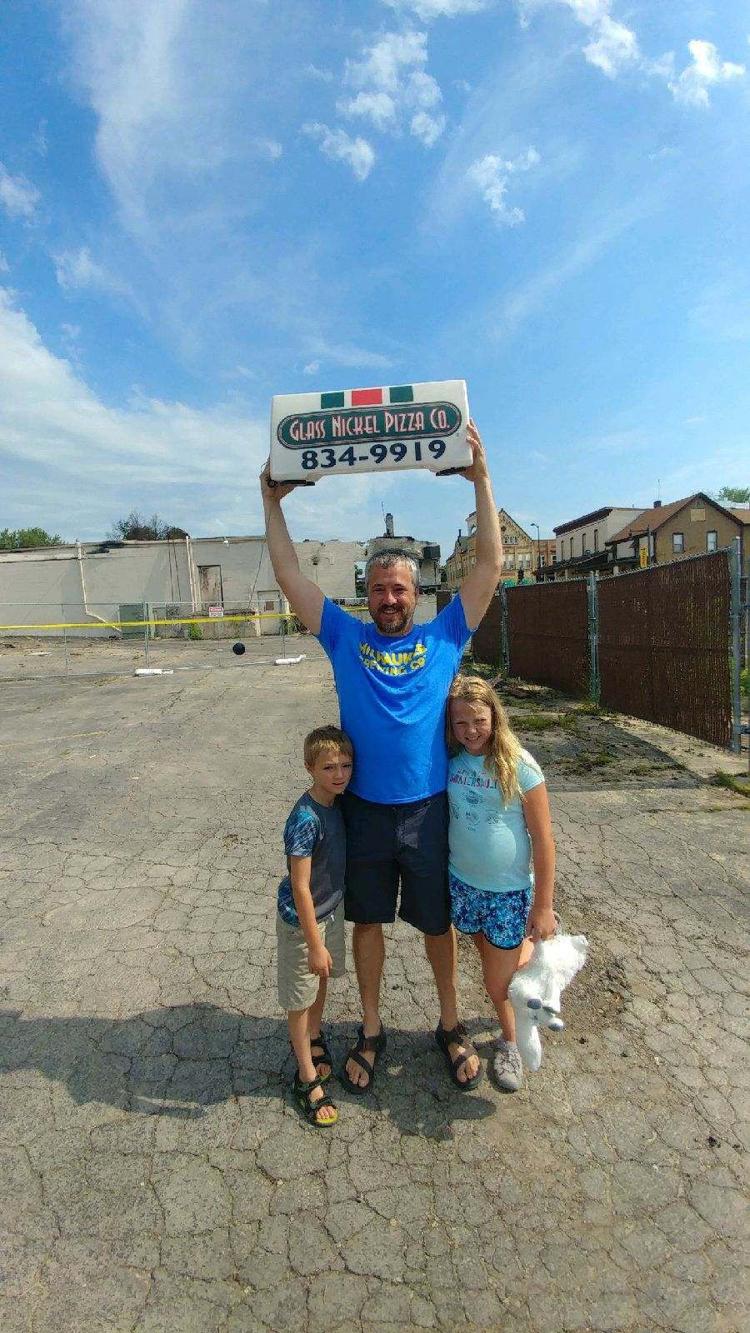 "Deposits, petty cash, change money, driver bags, it all adds up pretty quick," Bougie said. "The money was just wet, it wasn't burnt at all. I had planned on laying out and drying it all myself ... but there was like $150 in ones. I brought it to the bank."  
Bougie would like to get a nickel from the old Glass Nickel bar to put in the new place, if he can. He held back a few of the dollars from the rescued safe too, maybe to dry out and frame.
"I'm not over-sentimental," he said. "But it was hard watching a building I occupied for close to 14 years be finished, the remainder of it leveled. I'd like to save some bricks, use those in the new building."
A disaster like this, Bougie said, "changes your perspective on things."
"You don't take little things for granted as much," he said. "It could have been so much worse."